17 Wild WWE Birthday Party Ideas
Table of Contents
An amazing collection of WWE Birthday Party ideas, including cakes, decorations, games, party supplies, favors and invitations
If you have boys, chances are you've walked into the room and found one of them pinning the other to the floor. Wrestle mania is a real phenomenon.
Join the crazy by throwing a party using any of these 17 wild World Wrestling Entertainment party ideas we've rounded up for your (son's) viewing (and partying) pleasure.
Fun party game ideas, WWE ticket-style invitations and an awesome WWE dessert table are just a few of the ideas. No head locks or body slams necessary. Mama says they are NOT allowed.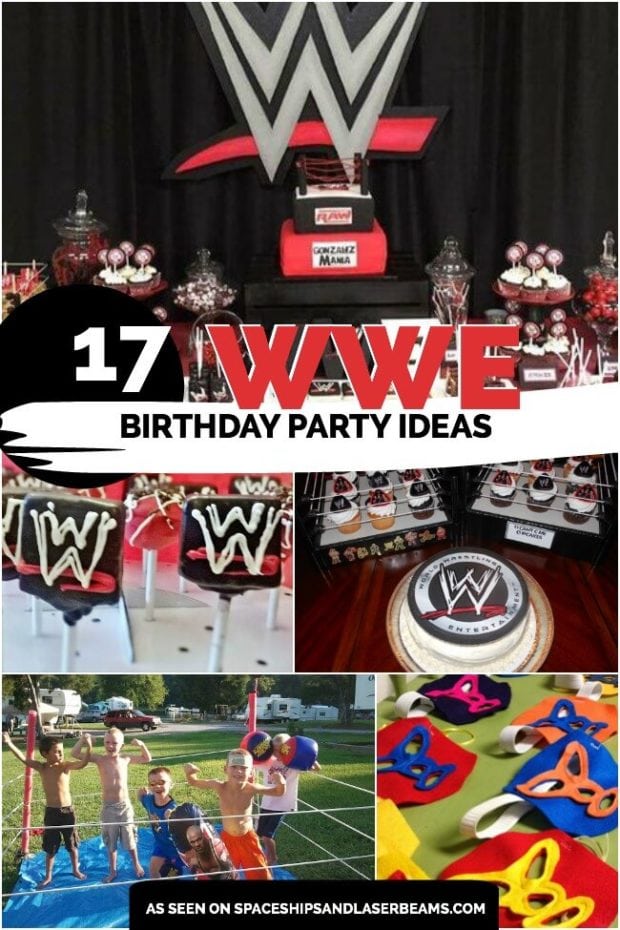 ---
See Also
---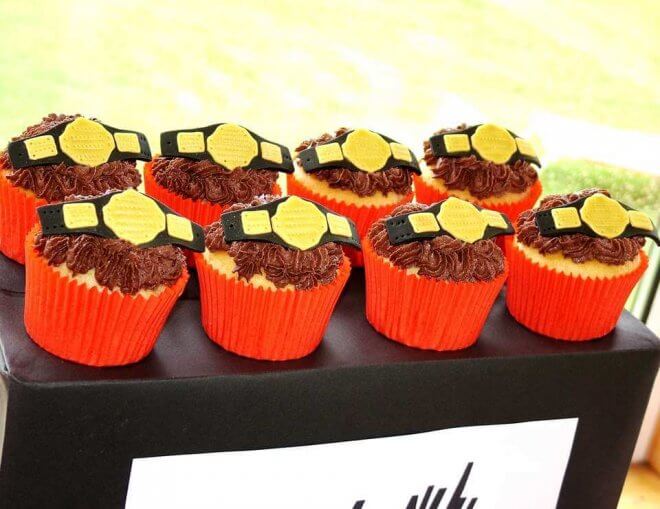 1. WWE Wrestling Belt Cupcakes
From Stunning Party, as seen on Catch My Party
To replicate the look of these WWE wrestling belt cupcakes, start by making an appropriately sized template out of cardboard to use for creating fondant pieces for the belt. The fondant pieces are hand cut and embellished with golden dust.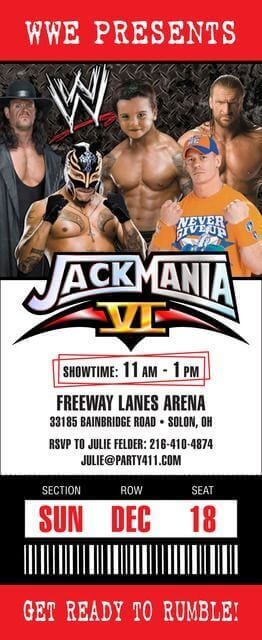 2. WWE Ticket Style Invitations
From Julie F., as seen on Catch My Party
Guests will be happy to get themselves ready to rumble upon receipt of these clever WWE ticket style invitations! Instead of the WWE presenting "WrestleMania", be prepared to invite guests to "JackMania" or "OliviaMania" (insert party guests' names followed by Mania)!
3. WWE Wrestling Ring Cupcake Display
From Poston Press
This DIY WWE Wrestling ring cupcake display just might be the coolest WWE party idea you've ever encountered! The cupcake display looks just like a boxing/wrestling ring and features cupcakes topped with WrestleMania toppers.
4. WWE Party Games
From Party Games Plus
Don't get tied up in knots stressing over WWE party game ideas. Check out this list of great ideas for keeping your wrestling party guests entertained. They can make a championship belt craft, participate in a balloon man "take down", play "Pin the belt on the champion", practice their punches with a WWE punching bag, and so much more.
5. WWE Cake
From I Crave Cake
Looking for a WWE cake idea to lay the smack down on all other WWE cake ideas? This three tiered cake may be the champion of all champions featuring a championship belt, wrestling ring inspired top tier, and incredible fondant details that scream WWE—including popular wrestling action figures.
6. WWE Logo Cookies
From Cookie Connection
If you're a fan of Wrestle mania, you're no stranger to the WWE logo! For a fun nod to WWE, have the recognizable logo added to cookies for instant smiles. Your WWE party just got cooler!
7. WWE Sugar Cookies
From Julie F., as seen on Catch My Party
Another take on World Wrestling Entertainment sugar cookies, this assortment features the WWE logo and some custom designs paying tribute to the guest of honor (in this case Jack, turning 6). Hype up the wrestle mania with super cool WWE sugar cookies!
8. Nacho Libre themed Mask DIY
From Mothering with Creativity
If you're feeling crafty, whip up these Nacho Libre themed wrestling masks. Not only do they make for some fun in-house party entertainment, they double as a take home party favor! These masks were made by tracing a paper template onto inexpensive felt, stitching the two pieces together and cutting eye holes. Elastic or ribbon is then sewed to the sides to complete the mask.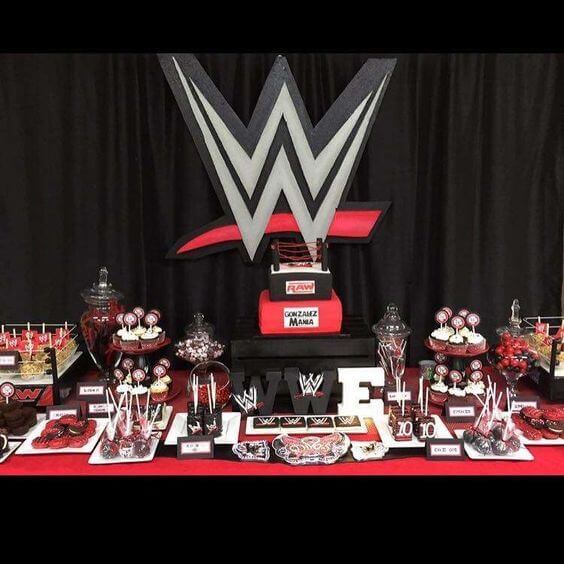 9. WWE Dessert Table
From Cecy C., as seen on Catch My Party
Bring you're A-Show to your WWE dessert table using takeaways inspired by this example. No dud desserts allowed. Highlights include an oversized cutout of the WWE logo used for the backdrop and wrestling wring inspired dessert stands featuring ringside party treat favorites in red, white and black embellished with frosted logo designs and toppers!
10. WWE Cake Pops
From Pink Ann's
Hype up your WWE party theme by including some custom designed desserts such as these WWE cake pops! Dipped in black candy melts with the WWE logo piped on in white and red, every fan of the World Wrestling Entertainment world will instantly be drawn to the pin-worthy treats!
11. WWE Favor Buckets
From Party City
There's a lot of smack downs at WWE events, but your guests will be doing their own smack down post-WWE party as they enjoy the gum gifted to them in these WWE gumball party favors. You'll love how easy they are to assemble! Simply package red gumballs into cellophane packages and attach a WWE circle logo using black and white twine. Let the smacking ensue!
12. DIY Wrestling Ring
From Friends, Family & East Tennessee
If you want the best WWE wrestling party of all time, follow the tutorial for DIYing your own wrestling ring! You'll need a blue tarp, 4 pool noodles, 4 metal fence posts and elastic rope to complete this project. Add some blow up boxing gloves for a fun interactive wrestling party game.
13. WWE Wrestling Party
From Stunning Party, as seen on Catch My Party
Winning WWE wrestling party ideas are what you'll find in this World Wrestling Entertainment party! Some of our favorite champion ideas include: a wrestling ring cake with plastic wrestling action figures, brigadeiro superstars, championship wrestling belt topped cupcakes, layered Jell-O cups, and mini cupcakes with fondant WWE logos.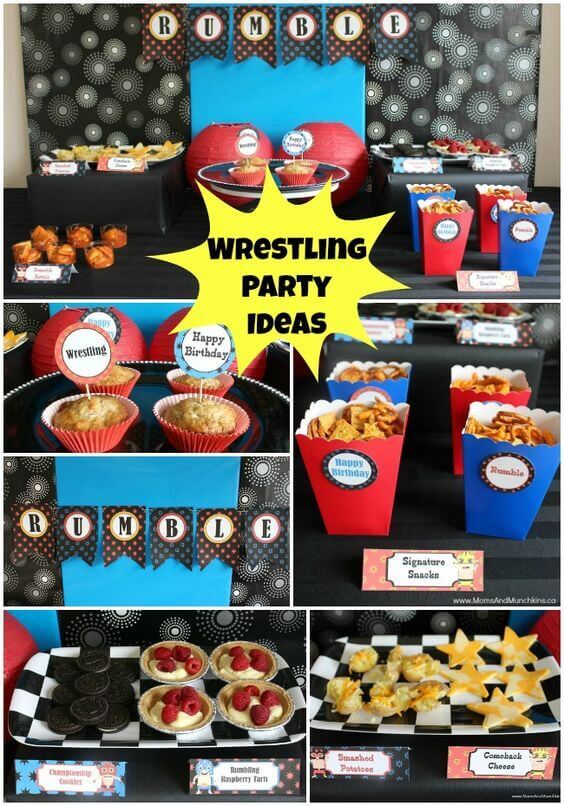 14. Wrestling Party Ideas
From Moms & Munchkins
Are you ready to rumble? This party mom is sharing some wildly fun wrestling party ideas, including an outdoor wrestling ring water balloon activity! This championship event features the coolest party menu with matchups like rematch ravioli, comeback cheese, smashed potatoes, rumbling raspberry tarts and championship cookies. Plus, the decorations are winning!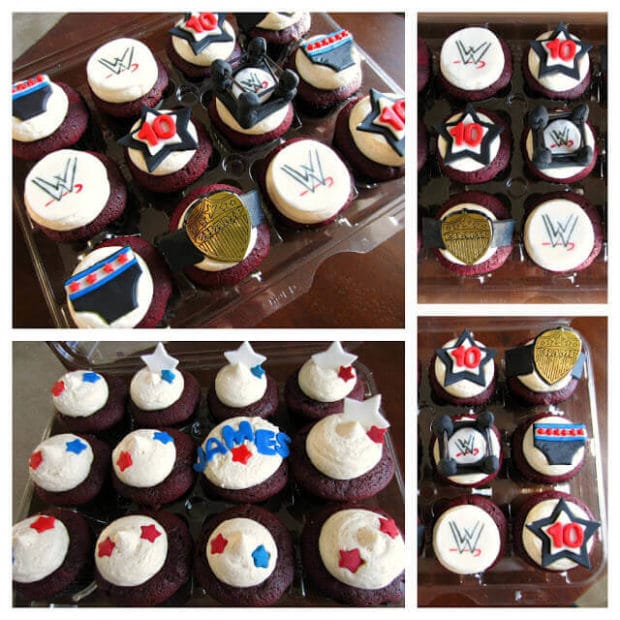 15. WWE Wrestling Cupcakes
From Sugarcoated
Create unique WWE wrestling cupcakes for your WWE party! Using a mix of fondant and edible ink markers, you can add championship wrestling belts, wrestling suits, fondant stars, the WWE logo, and even a mini wrestling wring to the tops of your cupcakes. The A-team cupcakes are in the house!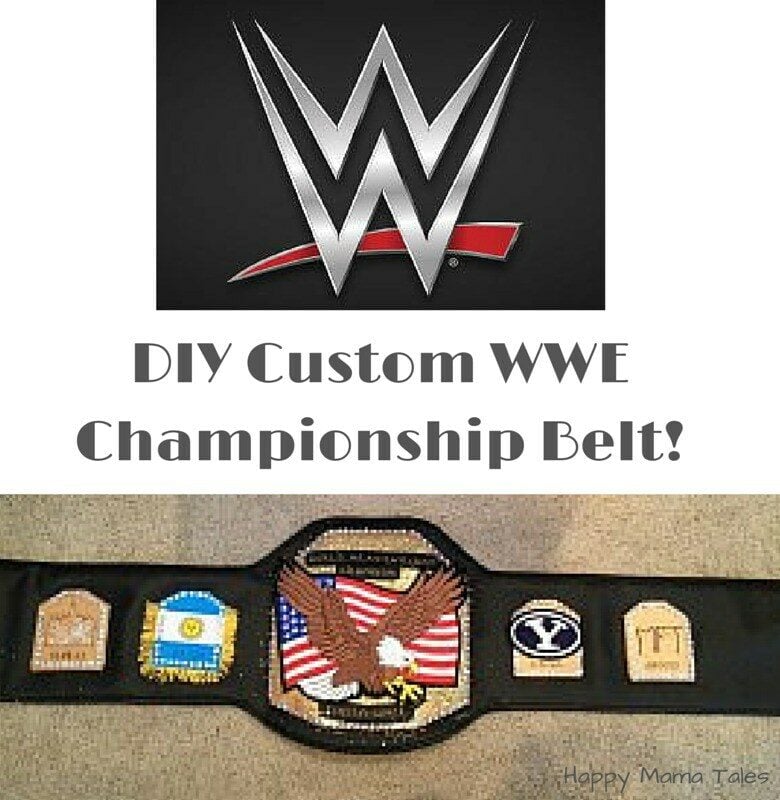 16. DIY Custom WWE Championship Belt
From Happy Mama Tales
Love to craft? You might consider putting your passion to work DIYing these awesome WWE inspired contender belts, perfect for a WWE party guest of honor to sport at his birthday party! While a true labor of love, the recipients will love wearing them while they practice their wrestling moves and prowess.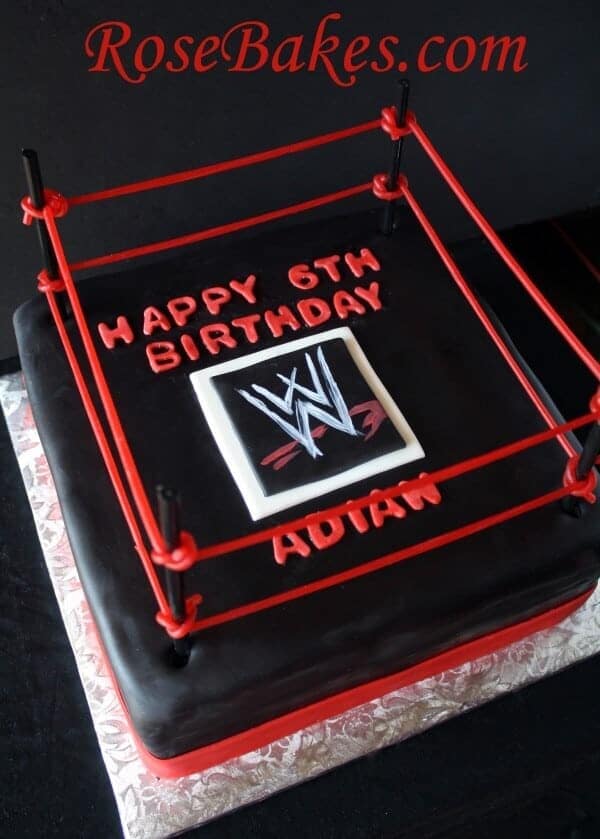 17. WWE Wrestling Ring Cake
From Rose Bakes
It's not very often that the pros reveal all of their power packed secrets, but the creator of this WWE wrestling ring cake is laying everything out for you! We happen to think the use of licorice for the ring ropes is genius! And can you believe that the WWE logo is hand-painted? Pretty awesome! Almost the entire cake is edible, but you'll have to read to find out which small details are not!
Plan your own wild wrestling birthday party with these great party sources gathered by the crew from Spaceships and Laser Beams.
(Amazon Affiliate Links)
WWE Printed Birthday Balloons
WWE Deluxe Party Supply Pack
WWE Birthday Party Scene
Wrestling Ring Cake Set
Cupcake Rings
WWE Birthday Banner
WWE Birthday Party Favors
WWE Temporary Tattoos
WWE Birthday Party Table Decorating Kit
WWE Hanging Party Decorations
WWE Birthday Party Candles
WWE Championship Title Award Belt
Check out more birthday party ideas perfect for boys.
Boy's Music Themed Birthday Party
Plus, don't miss 10 Boys' Birthday Party Ideas…