Adorable Golf Birthday Party Ideas
Table of Contents
Any type of sports party makes a fun birthday theme, but if you want to score a hole-in-one with your next celebration, throw a golf-themed party.
Mom, Rebecca, styled this fun celebration in preppy shades of aqua and lime, mixed with argyle and polka dot patterns that pack a punch. Just wait until you see the golf-inspired cake and cupcakes and view the party favors! Don't miss any of the details captured by Studio E Photography.
---
See Also:
---
Rebecca contacted invitation and party printable designer Maureen, of Anders Ruff, to design her son's party invitation and coordinating collection. Guests were invited to "Swing on by for [the] par tee". We love the play on words, which clearly communicated the golf party theme. Plus the cute graphics and adorable photo of Rebecca's son, Declan, really drove it home!
The dessert table looked amazing! Rebecca wrapped a large piece of foam board with artificial turf to simulate the look of a putting green. She affixed the "Happy Birthday" banner with white golf tees (genius!). Next, she added DIY printable golf flags for a preppy, custom on-the-green look.
The goal of the dessert table was to have Declan's cake serve as the focal point. And when you look at the argyle masterpiece by Cake Couture, complete with oversized golf ball and a bow-tied little guy figurine on top, we think you'll agree that goal was accomplished!
Cupcakes with grass-like frosting and golf ball lookalikes seem especially cute when embellished with mini flags from the printable collection. Notice the number 3 on the flags, representative of this boy's 3rd birthday.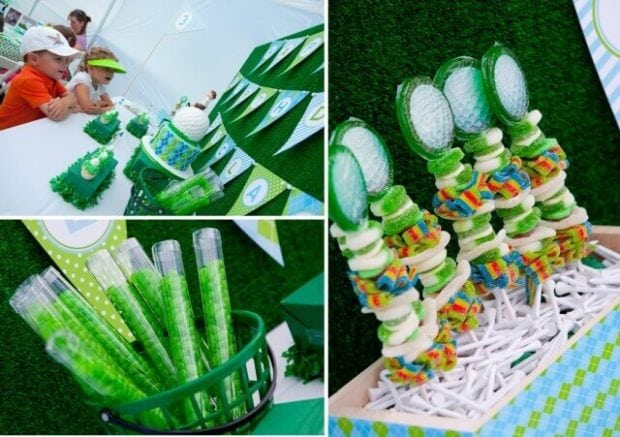 To creatively display candy kabobs from Sweets Indeed, Rebecca dressed up boxes in argyle patterned paper, filling them with tees. Such a fun touch! Candy tubes from Shop Sweet Lulu were filled with green apple-flavored jelly beans, and displayed in a pair of golf ball buckets.
Darling cookies made to match the printable logos were baked and decorated by Cake Couture. Each was individually wrapped in a cellophane bag, tied with ribbon.
Dining tables were decked out in color-coordinating polka dot tablecloths, scrapbook paper placemats, and cute plates and napkins. Golf ball piggy banks worked brilliantly as centerpieces.
Sweet photographs of the guest of honor playing golf were framed for display on each table. To dress up the seating, child-sized sets of plastic clubs and a green golf visor were placed on each chair. A printable hang tag cleverly thanked guests for "…playing a-round with Declan".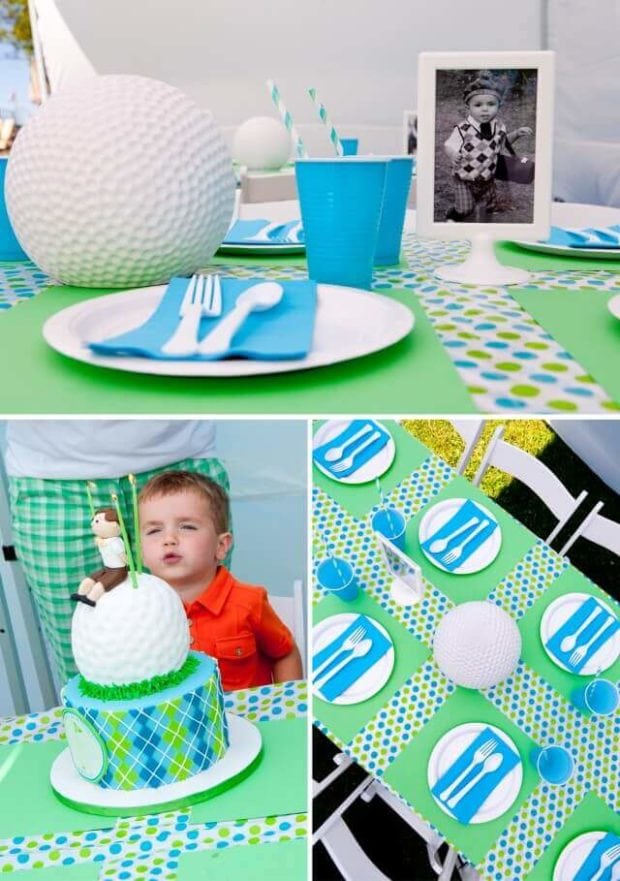 A full course menu was served, including "Birdie Burgers", "Dog Leg Dogs" "Mickelson Melon", "Chips", "British Open Veggies and Dip", "The Master's Fruit Cones" and "Iced Tee".
Water bottles were marked with creative "Water Hazard" labels. A golf-themed birthday just wouldn't be a golf party without hitting a bucket of balls. Guests were given tokens to hit a bucket of balls on the range. Little golfers enjoyed playing with their miniature golf sets.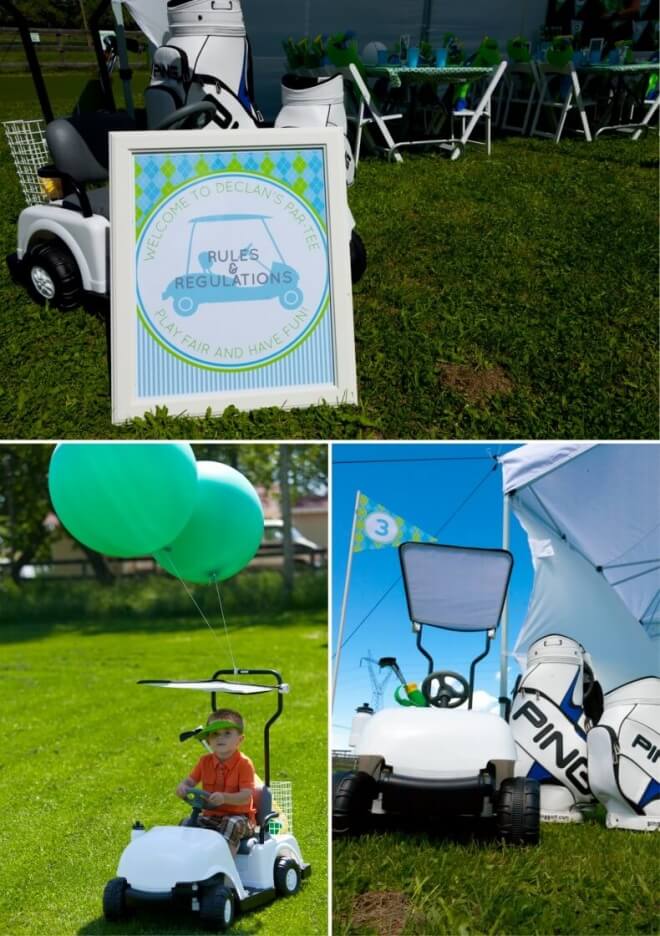 Guests also blew bubbles and played a golf ball-on-a-spoon race. One of the highlights of the day included giving kids turns driving the mini golf cart around the range.
Before heading home, each guest was surprised with a Callaway golf ball customized with "Declan's Par-tee". What a ball! Any aged golf enthusiast would love this party!
Be sure to check out more themed party ideas here: