29 New Year's Eve Party Food Recipes
Table of Contents
A New Year's Eve party calls for great party food. This roundup of savory appetizers and menu ideas will have guests raving all night long. With so many finger-licking choices it may be hard to narrow down the menu. Add a few dip recipes, a crowd favorite like meatballs or potato wedges, and some sliders or, any of the other recipes are sure to bring a smile to your guest's faces and pleasure to their palates.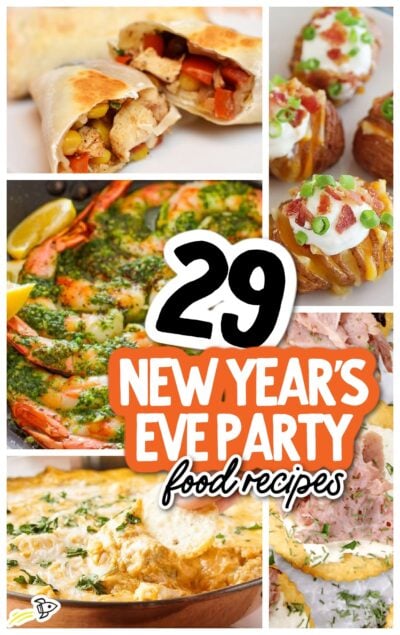 ---
See Also:
---
Bringing out the fancy finger foods for your New Year's Eve party doesn't mean you have to slave away in your kitchen. You can assemble dozens of these prosciutto and mixed greens Triscuit crackers in a matter of minutes! The combination of prosciutto, greens, and mozzarella makes for a great snack or appetizer option.
Combine your love for buffalo wings and egg rolls into one mouthwatering dish and serve it up as a great New Year's Eve party dish! This recipe does require some frying, but isn't that why it probably tastes so good? Inspired by that incredible buffalo wing flavor, this recipe doesn't actually feature buffalo wings, but rather boneless, skinless chicken breast cutlets, flavored to perfection.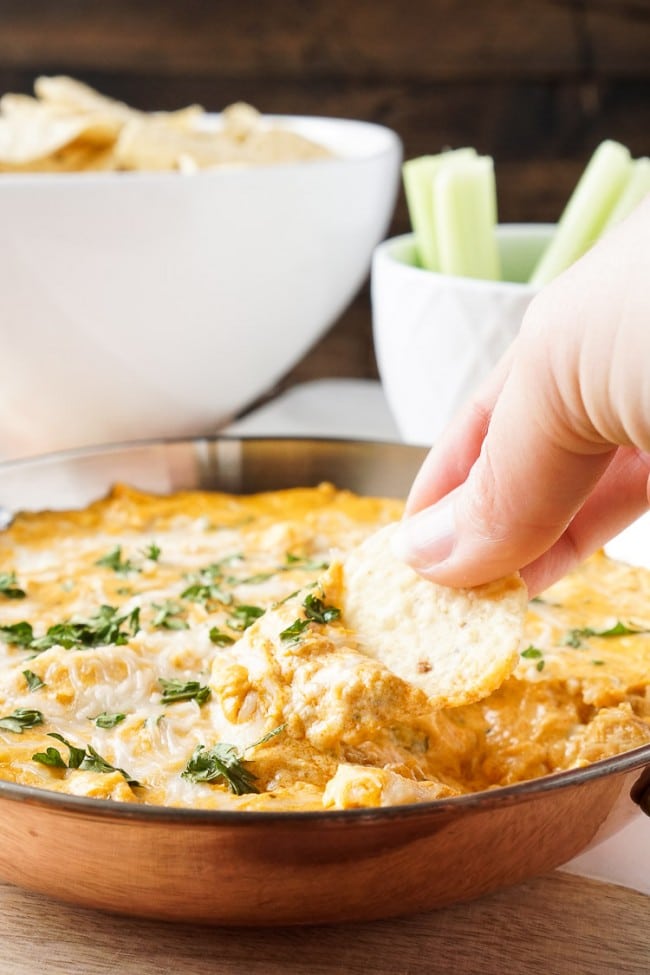 Also referred to as "crack dip", this sensational baked buffalo chicken dip is so good that it is addicting. Made with real cream and blue cheeses, hot sauces, spices, and rotisserie chicken, it's a great New Year's Eve party appetizer that is sure to please a crowd. This marriage of egg rolls and buffalo wings is certainly worth celebrating!
Bacon-wrapped water chestnuts require just two core ingredients—bacon and water chestnuts—plus toothpicks to keep the delicious combination together. These tasty treats are versatile as well. You can eat them with a dip, make them spicy or bake them with brown sugar for something sweet. Stretch your ingredients by making whole water chestnut sized, or cutting the water chestnuts into halves or fourths for a mini bite.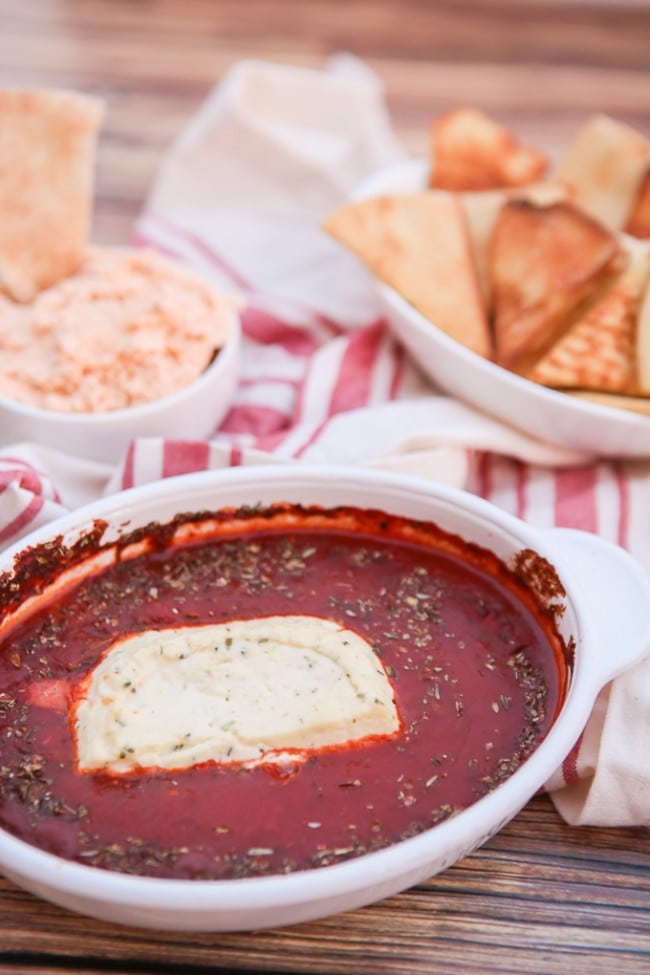 5. Easy Baked Boursin Tomato Dip
An appetizer that you can make in the slow cooker? It is sure to be a winner, right? This easy-baked Boursin tomato dip is simple to make and is a perfect appetizer for serving with hot homemade pita chips. Hot and creamy, it is a wonderful holiday party appetizer.
Another great slow cooker recipe, this cheesy bacon onion dip is delicious. You'll love that the ingredients list is less than 10 items long, and the finished dip is cooked in the crockpot and stays warm your whole party long.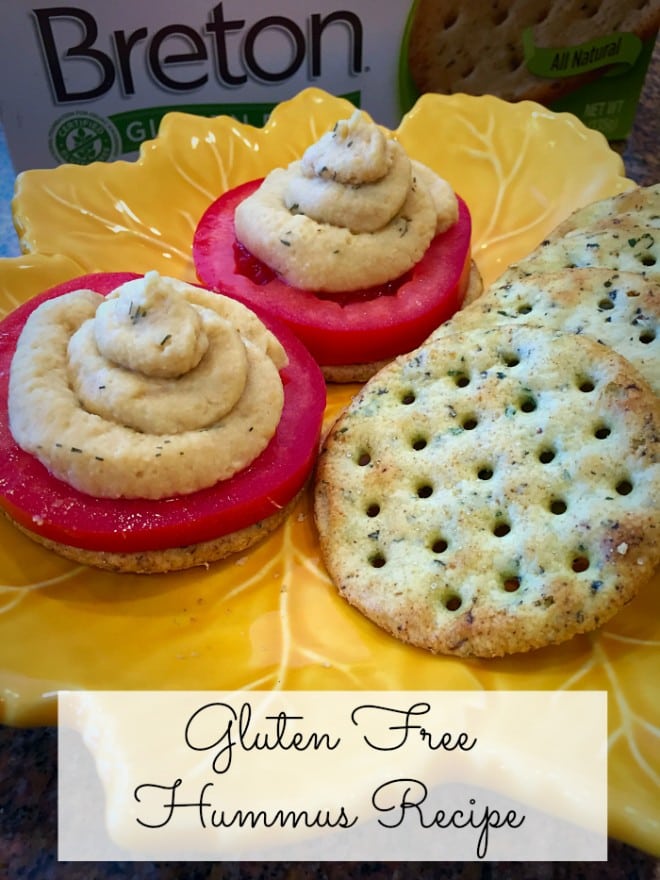 Did you know you can create your own hummus from scratch? This easy recipe is made from a can of garbanzo beans and a variety of spices and optional add-ins for spice and texture. Serve it up with your favorite crackers or chips for a great holiday snack.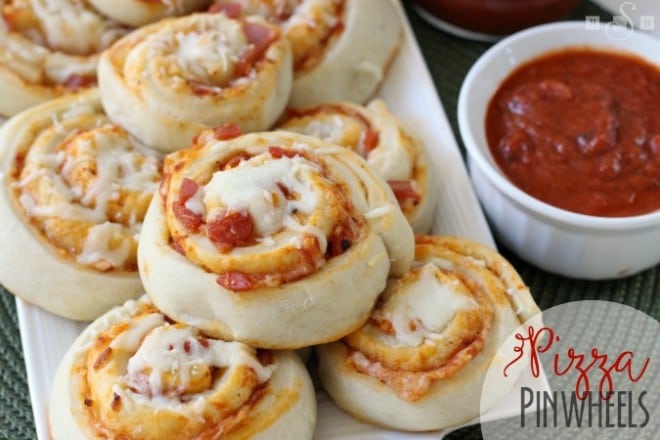 Guests will be popping these pizza pinwheels at your NYE celebration like there's no tomorrow. Crescent roll dough, pizza sauce, and cheese, bits of pepperoni (optional) make for one tasty finger food!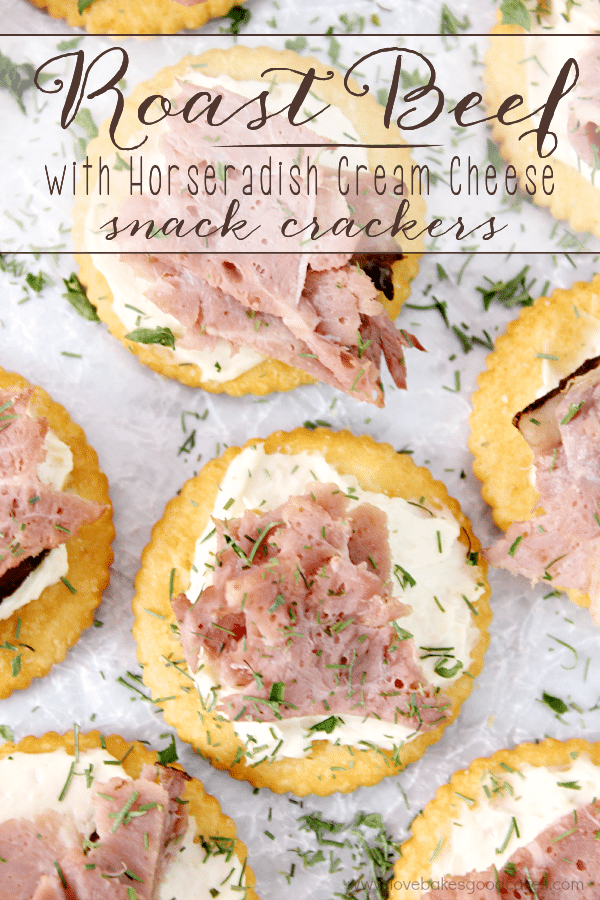 Add these roast beef with horseradish cream cheese snack crackers to your party appetizer lineup! RITZ crackers make the perfect foundation for a variety of delicious toppings. You can make this simple recipe using cream cheese, horseradish, Dijon mustard, thinly sliced roast beef, and a garnish of chopped parsley or dill weed.
If we told you that you could have a delicious New Year's Eve party appetizer with only 3 ingredients, would you believe it? It's true! Serve these up with a creamy blue cheese dip, and watch them disappear! Olive oil, potatoes, and store-bought wing sauce are the ingredients you will need for this fabulous NYE party appetizer.
If Mexican cuisine and comfort food is synonymous with you, check out this delicious recipe for fiesta chicken enchilada dip. Be the talk of your New Year's Eve party by bringing this flavorful, easy-to-make dish and plenty of tortilla chips. Don't be surprised by how quickly the dip gets devoured.
Chips and dip are a New Year's Eve party staple. Destined to be a crowd-pleaser, this creamy chipotle bean dip combines the flavors of refried beans, cream cheese, chipotle chilies, and pepper jack cheese. Quick and easy, but oh so good—try this today!
For the perfect make-ahead party appetizer, prepare these cheesy bacon-stuffed mushrooms and simply throw them in the oven when you're ready to party! Bacon, mushrooms, shredded cheese, mayo, and garlic salt are the only ingredients that separate you from this tasty appetizer!
Only 3 ingredients, these spinach artichoke zucchini bites are the perfect dip without all of the carbs! They are simple to prepare too! Top slices of zucchini with spinach, a little shredded mozzarella, and then broil until melted.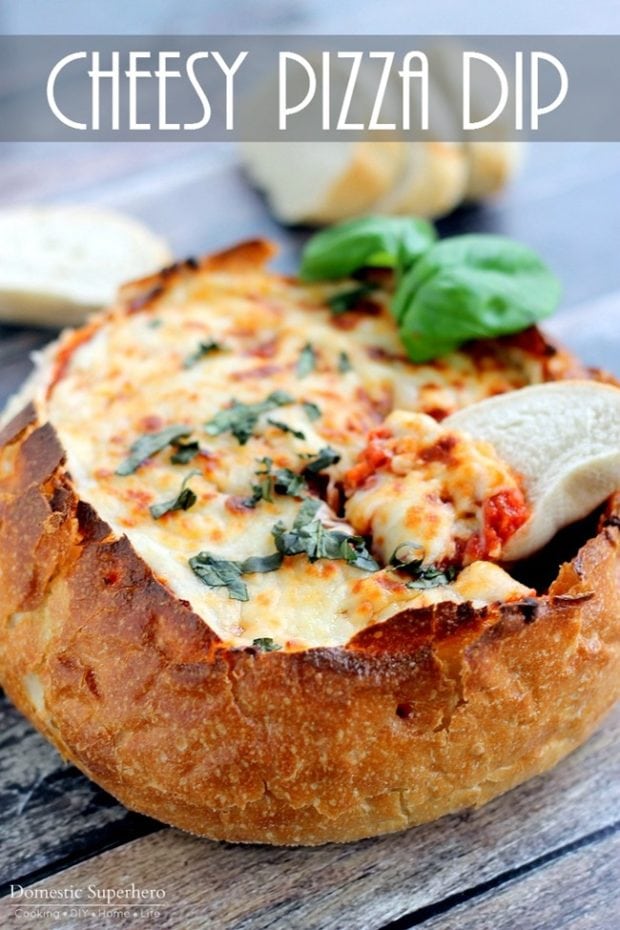 If your criteria for your New Year's Eve party menu include a beautiful appetizer that is easy to make and only uses 4 ingredients, this cheesy pizza dip is for you! Crispy bread, spicy tomato sauce, and loads of gooey cheese make this recipe so good! Just be ready for it to perform a disappearing act before your eyes. It's that good!
Shrimp lovers will go crazy over this recipe for garlic and parsley butter shrimp. Just imagine beautiful jumbo shrimp slathered in a delicious garlic and parsley butter and cooked to perfection. Prep time is only 5 minutes and the total cook time is around 25 minutes. Surprise your shrimp-loving guests with this at your next New Year's Eve party.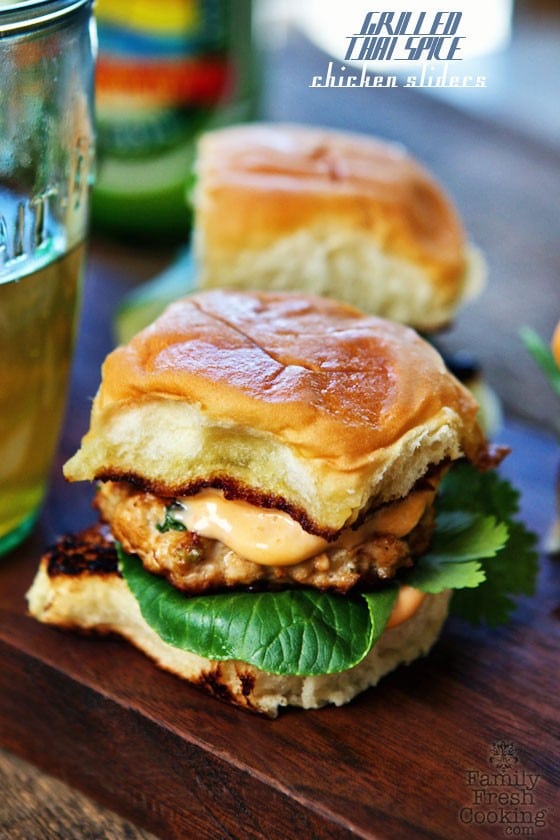 Sliders—small burgers perfectly seasoned with all kinds of creative toppings—are a great New Year's Eve appetizer. These grilled Thai spice chicken sliders may be mini, but they definitely don't lack flavor. Thai spices and seasoning paired with green onion and cilantro mean they are packed with flavor. Grill your buns and them top off with Sriracha mayo sauce, bok choy leaves, and fresh cilantro. We had you at "sliders", didn't we?
Fried crab and cheese wontons sound like a delicious NYE party appetizer, don't they? The only downside? Crunchy and creamy wantons and a perfectly tangy and tart lemon dipping sauce certainly won't last long! The good news is that both the sauce and the wantons freeze well, so you can make up a big batch and freeze them to pull out as needed.
Are you looking for the perfect party meatball for your New Year's Eve celebrations? We are certain everyone will love these sweet and spicy cranberry meatballs. They are so easy to prepare, and the recipe results in moist meatballs seeping in flavor. The sauce is incredible. You'll love the ease of cooking them in your slow cooker.
Get your New Year's Eve soiree off to a great start with this spicy cheese corn and tomato dip. This recipe brings the heat, so get ready for some spice! In just over a half hour, you'll have a winning appetizer for New Year's Eve or any party!
21. Crispy Loaded Hasselback Potato Bites
Party guests will be excited to dig into these crispy-loaded Hasselback potato bites! Using small potatoes, you'll make several skinny cuts (not all the way through), give them a good olive oil rub down, a sprinkling of salt, and then bake them for 30 minutes. Here comes the best part! Remove the small potatoes from the oven and add small cheese slices in between each slice of the potato and slip them back into the oven until you've achieved melted cheese perfection. Top them with sour cream, bacon, and green onions.
Grilled cheese sandwiches and tomato soup are the quintessential comfort food. This recipe for sun-dried tomato and cheese soft pretzels marries the best parts of grilled cheese and tomato soup into one big soft pretzel! Serve these up as a fabulous way to spoil your party guests.
23. Roast Beef Crostini
Fresh baguettes topped with a yummy horseradish cream mixture and topped with slices of roast beef and green onion sound like a flavorful appetizer idea. The horseradish gives these warm roast beef crostini appetizers a nice spicy kick.
Semi-homemade recipes are time savers, especially when you are busy planning a holiday party. These raspberry balsamic meatballs start with pre-cooked meatballs to make this a super quick and easy party food choice. The balsamic and raspberry flavors definitely make a flavorful pairing.
Do yourself and your party guests a favor! Whip up some of these sweet chicken bacon bites! They are perfectly seasoned pieces of chicken, wrapped in bacon (everyone's favorite meat, right?), rolled in brown sugar, and baked to perfection. They make a great party appetizer and are the perfect addition to your party menu!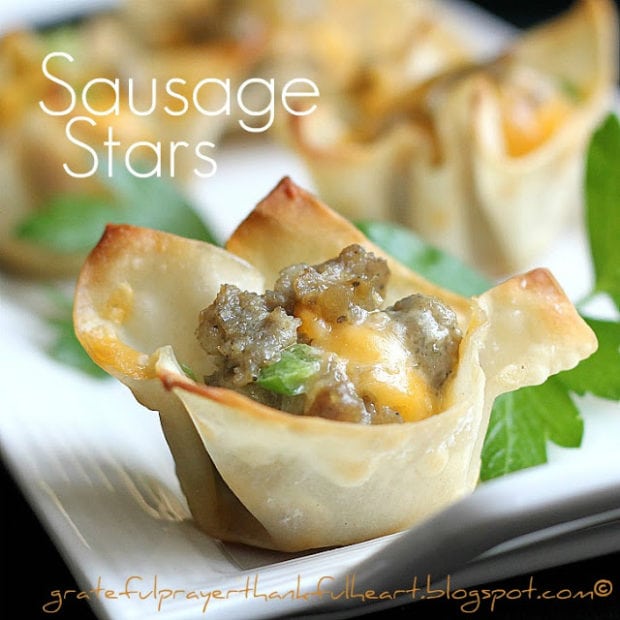 You'll definitely want to incorporate the tradition of sausage stars into your appetizer plans for New Year's Eve! What makes them so great? How about the flavor of the cheesy sausage filling paired with a yummy ranch dressing that's served up in a crisp wanton wrapper? Yumm!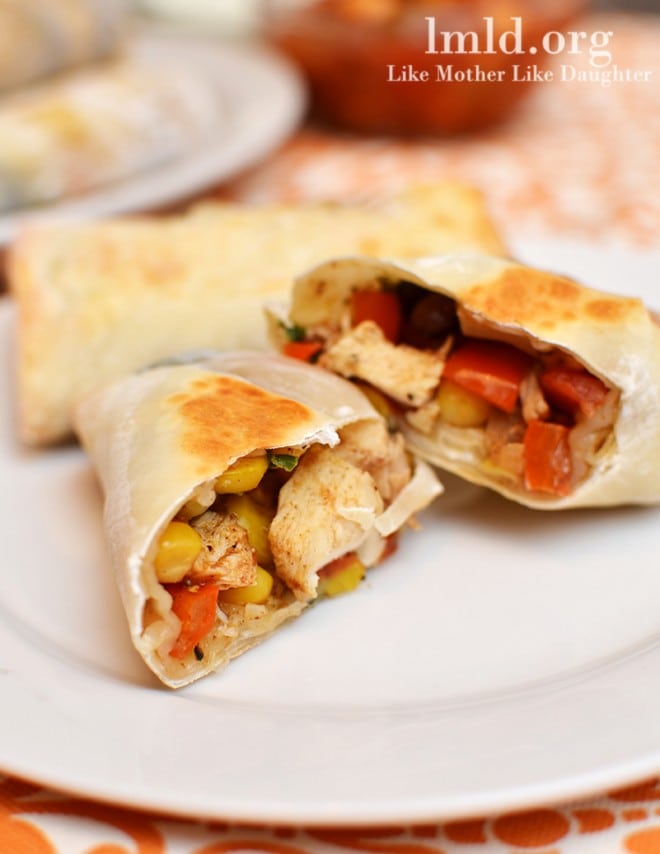 Southwest chicken rolls make a great appetizer, side dish, or main dish. The flavors of the chicken, corn, black beans, tomatoes, onions, spinach, and spices all wrapped up in an egg roll wrapper are amazing!
If you're scrambling to throw together a delicious New Year's Eve party recipe that is sure to be a hit, never fear. This ranch chicken cheese dip can be thrown together in just a few minutes. It's a great last-minute dish, but can also be prepared a few days in advance. Serve it with crackers, vegetables, or chips!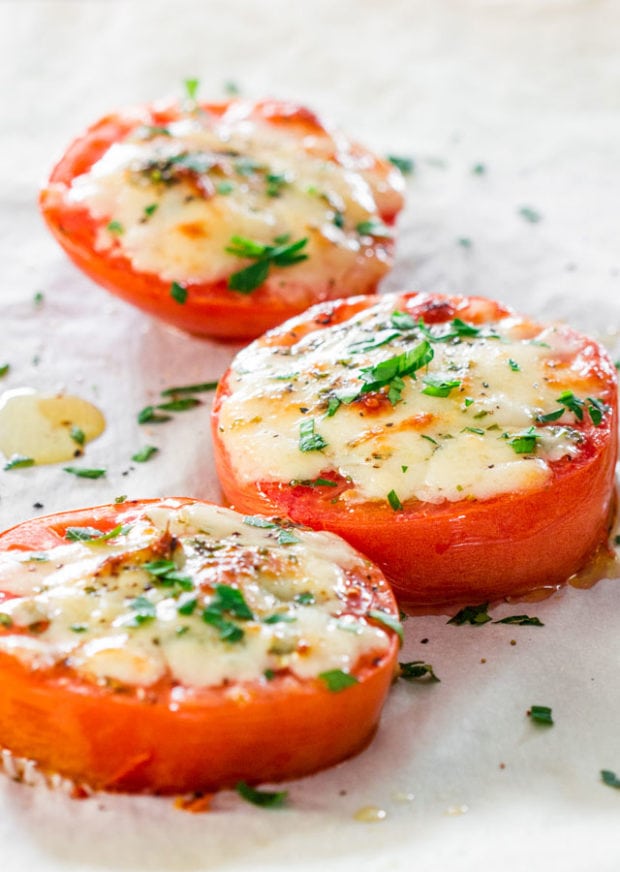 This super simple appetizer idea is a great marriage of parmesan and tomatoes! Fifteen minutes total separates you from this baked parmesan tomato and deliciousness. To get started, you'll need tomatoes, parmesan cheese, dried oregano, salt & pepper, a drizzling of olive oil, and a parsley garnish. Serve up tomatoes in a new and fun way!
Celebrate with more great party ideas for Christmas and the New Year: