10 Christmas Party Food Ideas
Table of Contents
If you're planning a
Christmas party

, I've found some super cute Christmas party food ideas!

Your kids will be happy to help you out in the kitchen when they see what fun you've got in store.

DIY Snowman Cake is the perfect centerpiece for your dessert table, while the Cheese Reindeer, Santa's Boots, and 25 Creative Christmas Appetizers will be crowd-pleasers at your Christmas party.

The boys will love making (and eating!) the Ice Cream Cone Christmas Trees, Snowman Hot Chocolate, DIY Marshmallow Snowman Cupcakes, Santa Hat Brownies, Santa's Belly Cookies, and Nutter Butter Reindeer.

You'll also want to check out this Ultimate List of Christmas Cookies.
---
See Also
---
1. DIY Snowman Cake
From The Cake Blog, Submitted by Miso Bakes
Thumpetty thump thump! This pint-sized snowman cake is bringing a dose of merry to us today. This adorable little guy is made from two different sized round cakes stacked high.
It is perfectly decorated with white frosting and coconut flake snow, chocolate chip buttons, and special fondant touches like a striped scarf and winter mittens.
2. Ice Cream Cone Christmas Trees
From She Knows
What's better than a craft you can eat? Your kids will love making and eating these treats.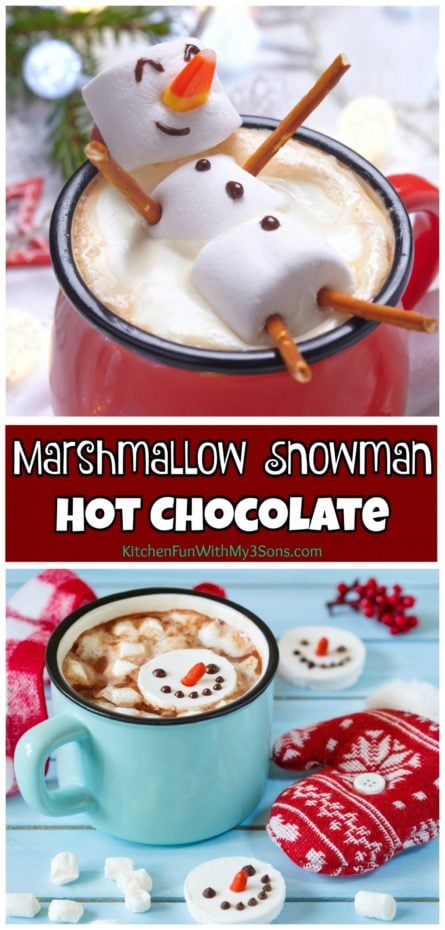 3. Snowman Hot Chocolate
From Kitchen Fun with My 3 Sons
You won't mind if these snowmen melt. It adds delicious flavor to your rich hot chocolate. It's a fun beverage for your Christmas celebration.
4. 25 Creative Christmas Appetizers
From Living Locurto

Planning a Christmas party this season? You are going to want to add this list of twenty-five amazing Christmas appetizer recipes to your favorites page.
With just a little creativity and some delicious ingredients, these fun food recipes will be sure to entertain all season long.
Be inspired to make holiday wreath dips, Christmas tree tortilla wraps, and snowman cheeseballs.
5. DIY Marshmallow Snowman Cupcakes
From Catch My Party
Impress your holiday party guests with these adorable Marshmallow Snowman Cupcake Toppers. They are fun to make with the help of your kids and are surprisingly easy, too.
Top your favorite cupcakes with a swirl of frosting dipped in coconut flakes, then top with a sweet snowman made from two marshmallows decorated with Oreo cookie hats and a fruit roll scarf.
6. Santa Hat Brownies
From Daisy's World
Aren't these Santa Hat Brownies adorable? They are fun and simple holiday treats that look super festive on the dessert table at your Christmas party.
Feel free to use ready-made brownies or your favorite homemade recipe for the brownie base, then top each one with a few swirls of vanilla mascarpone buttercream and a fresh strawberry.
7. Cheese Reindeer
From Cute Food for Kids
I love finding creative ways to serve traditional snacks at holiday get togethers. These super easy cheese reindeer hit the mark.
Create adorable Rudolph faces using a wedge of Laughing Cow cheese, two twisted pretzels, a little bit of olive and roasted red pepper.
They only take a few minutes to make and add a whole new level of fun to your snack spread.
8. Santa's Belly Cookies
With the overwhelming number of holiday parties coming up, I am on the hunt for quick and easy Christmas themed treats. These Santa's Belly Cookies had to be included! Follow three simple steps with three simple ingredients to make them yourself.
Winter Oreo cookies are separated and then decorated with a stripe of black gel icing and some sugar pearl sprinkles.
9. Santa's Boot
From Cute Food for Kids
The kids at your Christmas party will definitely go crazy for these awesome Hot Dog Stockings. One wiener dog can turn into a pair of stockings with a few expert cuts and some cream cheese decorations.
Add a skewer to each stocking and poke into a foam block for a tasty and festive treat. Don't forget to serve them with some ketchup or mustard for dipping.
10. Nutter Butter Reindeer
From Family Circle
Nutter Butters turn out to be the perfect base for these cute candy reindeer from Family Circle.
Nutter Butter cookies get dipped in milk chocolate then decorated with pretzel antlers, candy eyes, and Rudolph noses made with red peanut butter M&M's.
They make adorable gifts wrapped with a little bit of cellophane and a festive ribbon bow.
Celebrate the holiday spirit with these festive craft ideas:
(Amazon Affiliate Links)
Holiday Charm Bracelet Craft Kits
Snowman Photo Frame Magnet Craft Kit
Button Wreath Ornament Craft Kit
Legend Of The Gingerbread Man Ornament Craft Kit
Beaded Candy Cane Ornament Craft Kit
72 Christmas Holiday Glitter Temporary Tattoos
Christmas Favors Tree Gift Star
Inflatable Reindeer Antler Ring Toss Game
Christmas Toys and Novelty assortment
Check out these great holiday party recipes perfect for your next holiday gathering: