15 Genius Recipes To Make This Winter
Table of Contents
Winter is one of the best seasons for staying home and cooking up a delicious treat for your family. Nothing is better on a cold winter night than a cup of hot soup and a yummy treat to top it off! Not only are sweets satisfying to make and eat, but they also make great holiday gifts.
Here are some of the best-looking yummy recipes to make this winter from awesome blogs around the web with delights such as homemade Swiss Chocolate Toblerone, Cinnamon Roll Cookie Bars, Salted Caramel Oreo Icebox Cake, Clean Eating Peanut Butter Cups, Double Chocolate Zucchini Pecan Muffins, Banana Cups, Butterfinger and Reese's Cheesecake Ice Cream, Hot Chocolate on a Stick, and Peppermint Popcorn Bark. Is your mouth watering yet?
---
See Also:
---
If you have ever had a Toblerone bar, you know how incredibly delicious they are. This copycat recipe has the same amazing, smooth, melt-in-your-mouth taste, without all the guilt. A simple mold makes it easy to recreate your favorite chocolate bar in its classic triangular shape!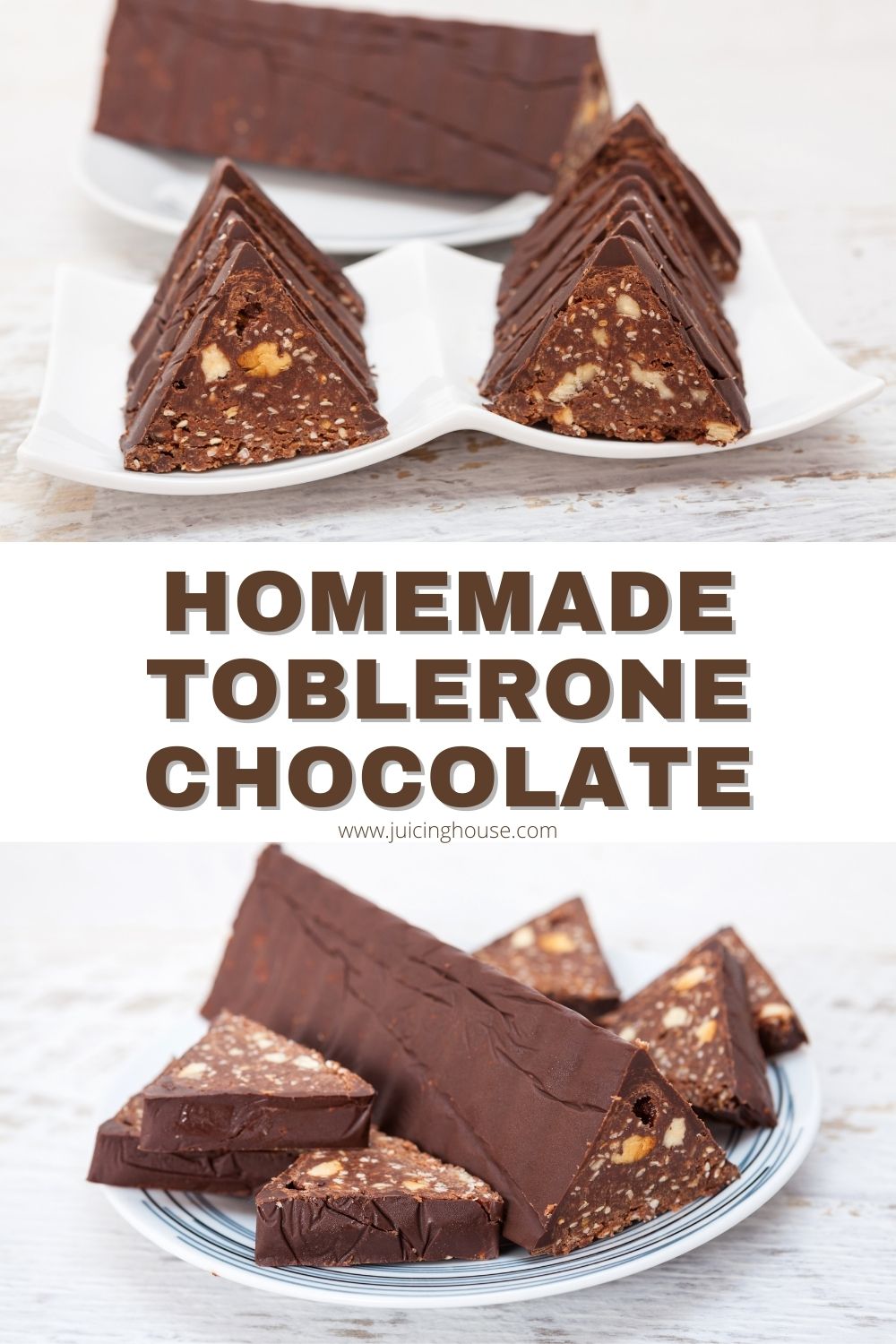 A delicious take on homemade cinnamon rolls, these Cinnamon Roll Cookie Bars are packed with cinnamon roll flavor and topped with the most delicious frosting (try our copycat Cinnabon cinnamon rolls, too!). These guys start with a cake mix and pudding so you know they are going to be good. All you have to do is dump all the ingredients into a bowl, stir, and bake. Top your bars with a sprinkling of cinnamon sugar and you have a yummy cinnamon treat.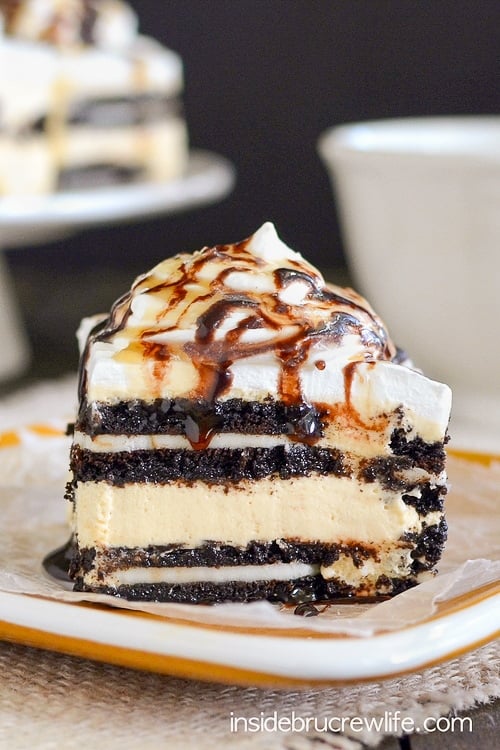 When the weather starts to turn chilly, we all await the arrival of salted caramel mocha flavors. This Salted Caramel Oreo Icebox Cake has all those same flavors in an easy-to-make no-bake dessert. Layers of coffee-dunked Oreo cookies and no-bake cheesecake are topped with fluffy Cool Whip, chocolate caramel drizzle, and a sprinkle of sea salt. Plus, this cake is seriously easy to put together, like 15 minutes easy!
Let's face it. We all need a little something sweet every once and a while. These homemade peanut butter cups are a delicious treat every now and then and are made healthier with clean ingredients. They are made with a delicious mix of chocolate chips, almond milk, and natural peanut butter. Chop them up and serve them with some banana ice cream for an extra special treat.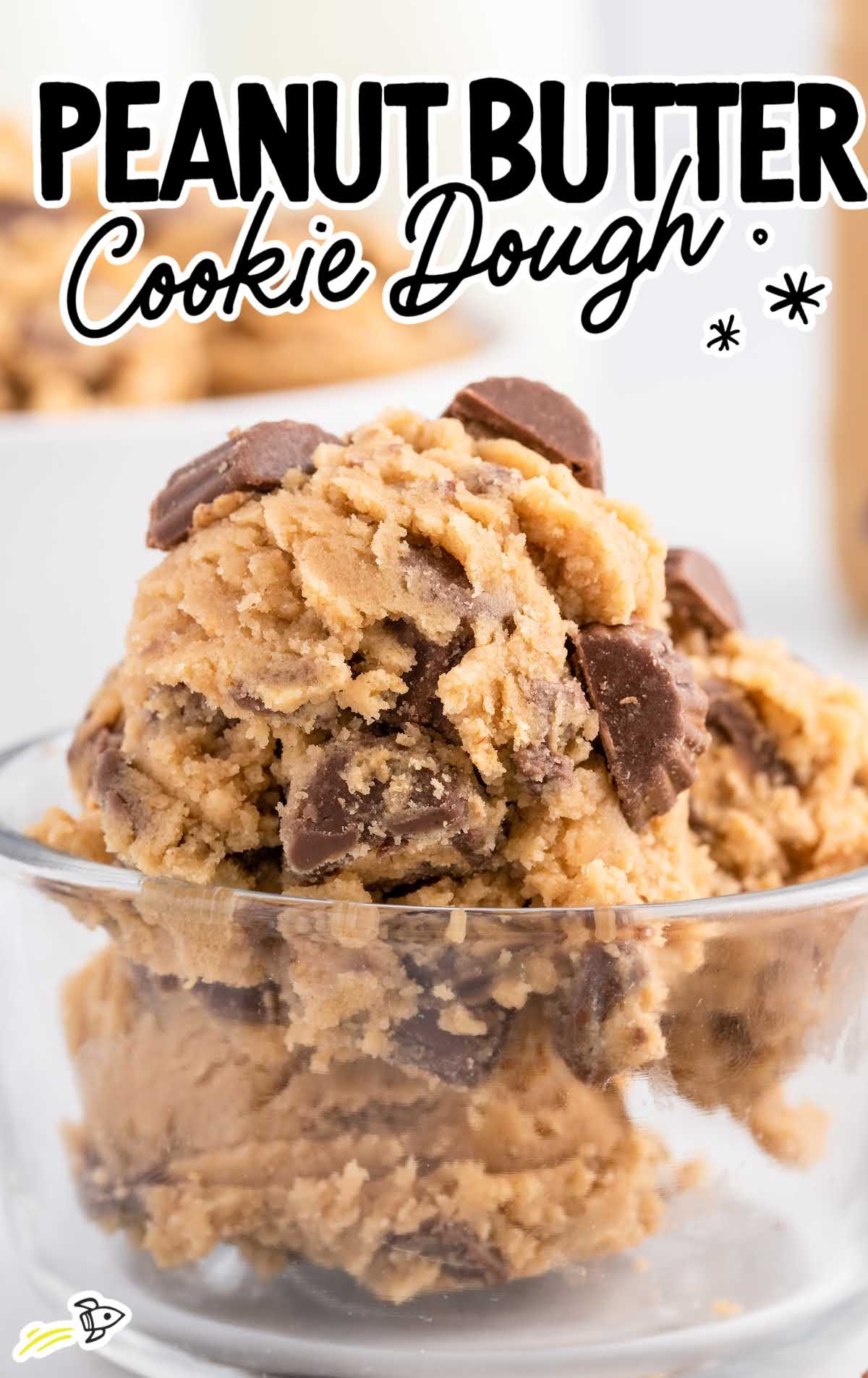 Reese's Peanut Butter Cookie Dough Cups are the perfect way to eat your cookies and your cookie dough too! These cookie dough cups are rimmed with chocolate jimmies, stuffed with a mini Reese's peanut butter cup, and topped with a big scoop of Reese's peanut butter cookie dough. They are an incredibly yummy treat and they are so, SO easy to make.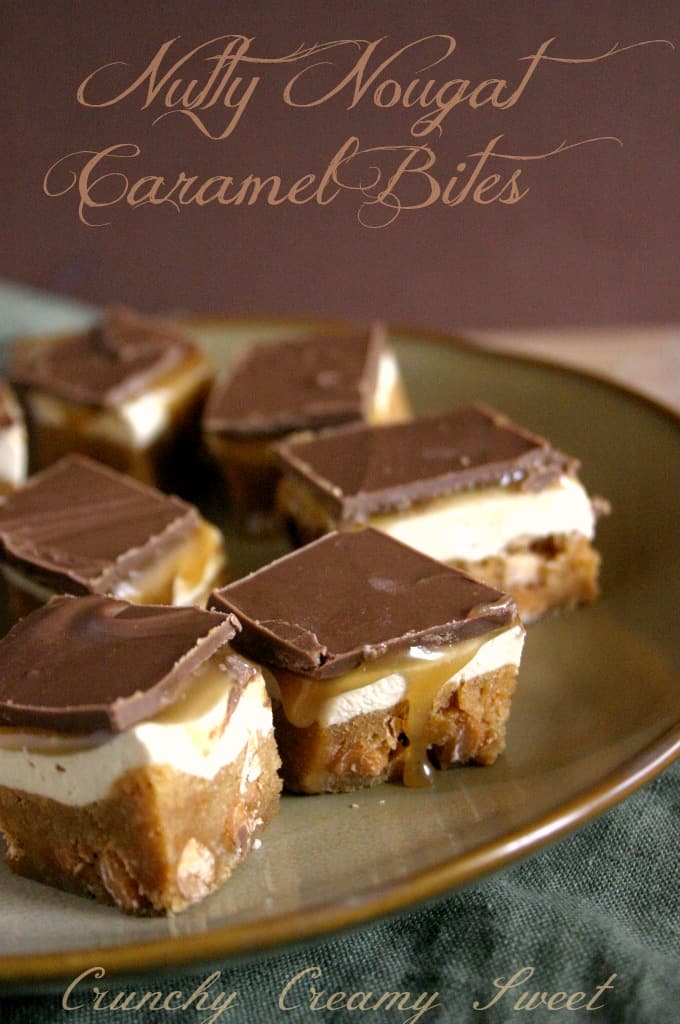 Delicious butterscotch cookie base, peanut butter nougat, silky caramel, butterscotch, and sweet chocolate frosting. If you are a fan of candy bars or any kind of sweets, you are going to love these Nutty Nougat Caramel Bites! This recipe is easy to make and a tasty favorite for bake sales, potlucks, parties, and more. Don't be intimidated by the number of steps either, these little bites are truly worth it.
Cinnamon Roll Cake Pops are an easy and yummy treat for special weekend breakfasts or brunch parties with family and friends (try our yummy crescent roll cinnamon rolls, too!). They are made with premade cinnamon roll dough and icing, so all you have to do is plop pieces into a cake pop pan. Drizzle with some sweet vanilla icing and you have the perfect, bite-sized treats for your next get-together.
Salted caramel everything seems to have taken the world by storm. These little Salted Caramel Chocolate Cups are the perfect bite for when you need something sweet and a little bit salty. They are super easy to make and take less than ten minutes of prep time. They get stored in the freezer for a ready-to-eat snack when you are on the go!
Recreate the delicious favorite dessert from TGI Fridays with this copycat recipe for Oreo Madness. Smooth vanilla ice cream gets sandwiched between two super thick, cookie-shaped pieces of Oreo crust, then the entire thing is drizzled with copious amounts of fudge and caramel. For serious Oreo lovers, this easy and decadent treat is an absolute dream come true. Find a good hiding place in your freezer or your kids will gobble them up in no time!
Everything you love in a campfire store nestled into a bite-sized, heavenly treat. These S'mores cups will take you back to your camping days. A buttery graham cracker crust is stuffed with creamy milk chocolate with a fluffy marshmallow plopped on top. These treats are done in just a few minutes and are the perfect dessert for big game nights or any party imaginable. Plus they keep for a week if they last that long!
Kid tested, mother approved! These Skinny Double Chocolate Zucchini Pecan Muffins are lightened up with no-fat vanilla yogurt and applesauce without compromising any of the taste. They are the moistest, most chocolatey, and most addicting muffins ever. Bursting with sweet chocolate chips and crunchy pecan pieces, they make a great on-the-go breakfast or after-school snack for you and your family.
Three-ingredient banana cups are a super simple and guilt-free treat for when your chocolate craving hits. Made with frozen bananas, dark chocolate chips, and a splash of almond milk, they have no added sugar or fat. The recipe is the easiest to make and the end result tastes absolutely amazing. Pop one out of the freezer on your way out the door, when you get home from the gym, or when you just need a little pick me up.
Looking for a delicious dessert that includes both Reese's and Butterfinger candy? You don't want to miss out on this cheesecake ice cream that is simple to make and includes both of your favorite chocolate candies. Perfect to cool down on a hot summer day or something sweet to end the night.
It's a known fact that everything tastes better on a stick. Wrap these festive hot chocolates on a stick in cellophane, tie them with a ribbon, and you've got yourself an instant gift for neighbors, teachers, coworkers, and more. Simply add the sticks to hot milk or water and allow them to melt into a creamy and comforting mug of homemade hot chocolate.
People go crazy over this stuff! Peppermint popcorn bark is coated in creamy white chocolate and then sprinkled with crushed candy canes for the ultimate winter treat. The recipe makes a nice, big batch so it is a great treat to package up for holiday gifts or bring to a winter party. It's also a kid favorite, making it perfect for school parties or bake sales.
Check out more great cooking ideas with these great recipes: