Christmas Tree-Themed Crafts & Food
Table of Contents
Christmas is a favorite family holiday where you can go all out with holiday food, crafts, and decorations. Here are a few of the Christmas tree-themed food and craft ideas we are inspired by this season. They include Pinecone Christmas Trees, Fingerprint Christmas Tree, Handprint Christmas Tree, Christmas Tree Ornament, Cupcake Liner Christmas Tree Ornament, Paper Christmas Tree Craft, and Coffee Filter Christmas Trees.
Not to mention Christmas Tree Pull Apart Bread, Strawberry Christmas Tree Brownie Bites, Pasta Christmas Tree, Fruit Christmas Tree, Snap Pea Christmas Tree, and a Festive Cheddar Christmas Tree. Ahhh…it is Christmas tree heaven!
---
See Also:
---
Make sure you take a hike outside and scavenge for some pinecones at the beginning of winter so you can create a few of these adorable pine cone Christmas trees for the holidays. The tips of the pinecone's scales are painted with green paint and sprinkled with a little bit of glitter. The whole thing is snuggly nestled into a mini flower pot and topped with a festive silver star.
If you are looking for a cheap and kid-friendly craft for Christmas, this one is absolutely perfect. All you need are some washable paints and your little one's fingers. Have your kids dip their pointer fingers into different colored paints and design a Christmas tree made out of their fingerprints. Even the red star on top is drawn using a finger. It's a very cute art project for crafters on a budget.
This festive keepsake project is easy to recreate and looks beautiful hung up on the walls or fridge around Christmas time! The tree trunk is magnificently topped with green handprint boughs and brightly colored fingerprint ornaments. Handprint crafts are always a hit with the kids and keep the memory of their age around for years to come. Grandparents would also love this as a Christmas gift.
4. Easy Christmas Tree Ornament
You can use these easy and adorable Christmas Tree Ornaments to hang on the Christmas tree, decorate gifts, or give as a gift to friends and family. A painted popsicle stick Christmas tree frame is decorated with the sweetest button ornaments, but you could use just about any craft supplies you have on hand. We would love to see one jazzed up with some sequins or glitter!
So you made some delicious cupcakes but have a couple of (green) cupcake liners left? Let your kids make this Cupcake Liners Christmas Tree Craft. It's a fun project on its own, add a string to it and you get an amazing-looking DIY Christmas tree ornament.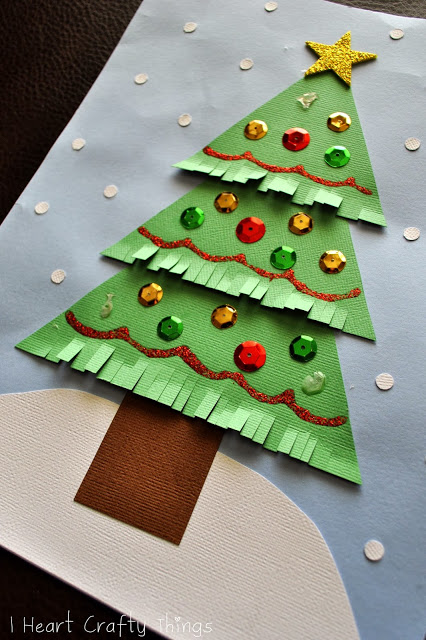 This one is quick, easy, and oh-so festive. What are you waiting for?
7. Christmas Tree Pull Apart Bread
Christmas is almost here and whether or not you have already planned out your Christmas Eve menu, you are going to want to find space for this adorable Christmas tree pull-apart bread. It is an easy and quick appetizer that everyone will love and takes just minutes to make. Using Pillsbury's pre-made pizza crust cuts out time without cutting out any flavor. Each pizza crust ball is loaded with a surprise cheesy center, ready to be dipped in warm marinara!
Strawberry Christmas Tree Brownie Bites combine two all-favorite desserts into one delicious morsel. These tiny Christmas trees are placed right on top of a bite-sized brownie, and then the strawberry gets beautifully decorated with some piped green icing pine needles and candy decorations. It would be really cute to make a platter of these little Christmas trees to bring to a family dinner or a holiday potluck.
9. Pasta Christmas Tree
Everybody loves a good pasta craft and this Pasta Christmas Tree project is no exception. Layers of dyed green penne pasta are attached to a paper cone frame, then sprayed with fake snow for the beautiful look of fresh-fallen snow. The whole tree gets topped with a homemade star and wrapped with ribbon for a magical effect. Don't stop there. You could also let your imagination run wild and decorate this tree to the nines.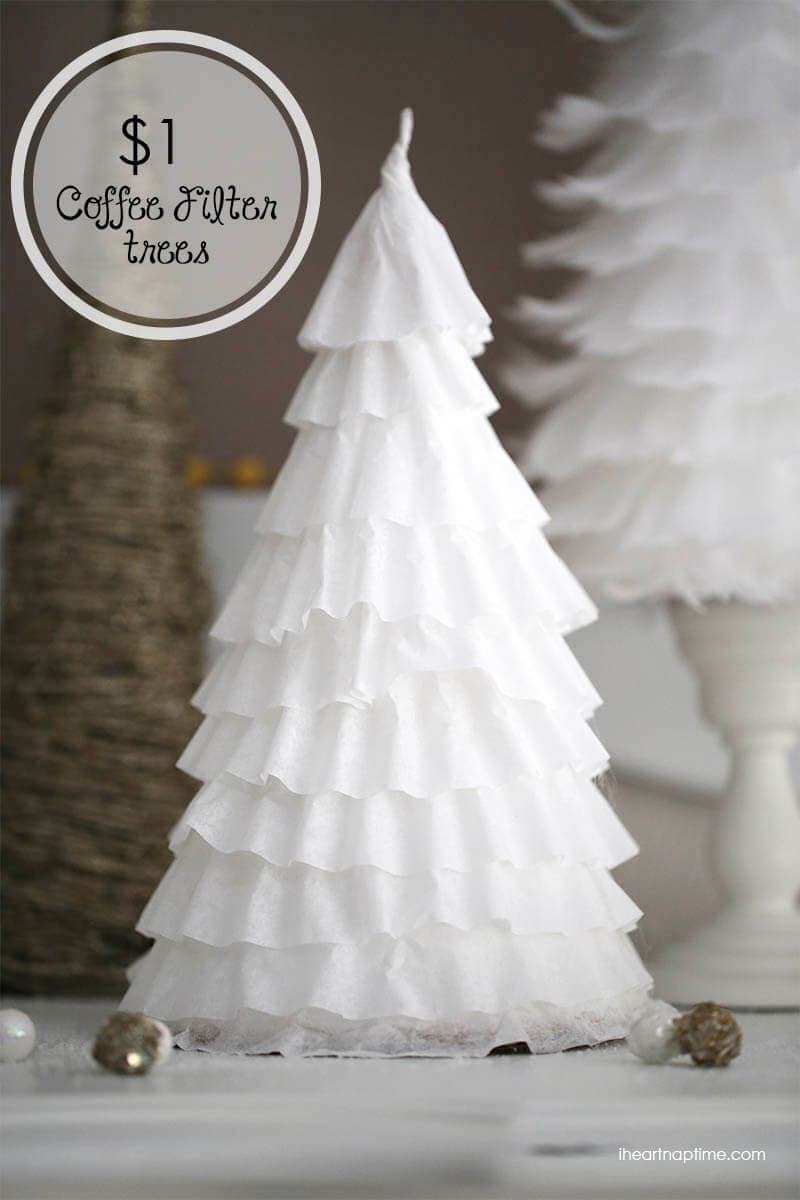 Get your family and friends together for a crafting party to make these easy and festive coffee-filter Christmas trees this holiday season. Layers of white coffee filters expertly folded over a paper cone make a beautiful centerpiece for the dinner table or a smaller decoration for the coffee table. Who knew that cheap coffee filters could look so elegant?
You know there are bound to be endless sweet treats at all holiday celebrations. Take a healthy spin on festive desserts with this deliciously fresh Christmas tree made with cut fruit. Slices of ripe kiwi make the perfect pine tree, perfectly places berries to make up the ornaments, and a pineapple star tops it all off. This fruit tray will be gobbled up in mere moments.
What a cheerful way to celebrate Christmas and get some tasty veggies in! Even kids won't say no to this healthy holiday tree. Why not make it a tradition?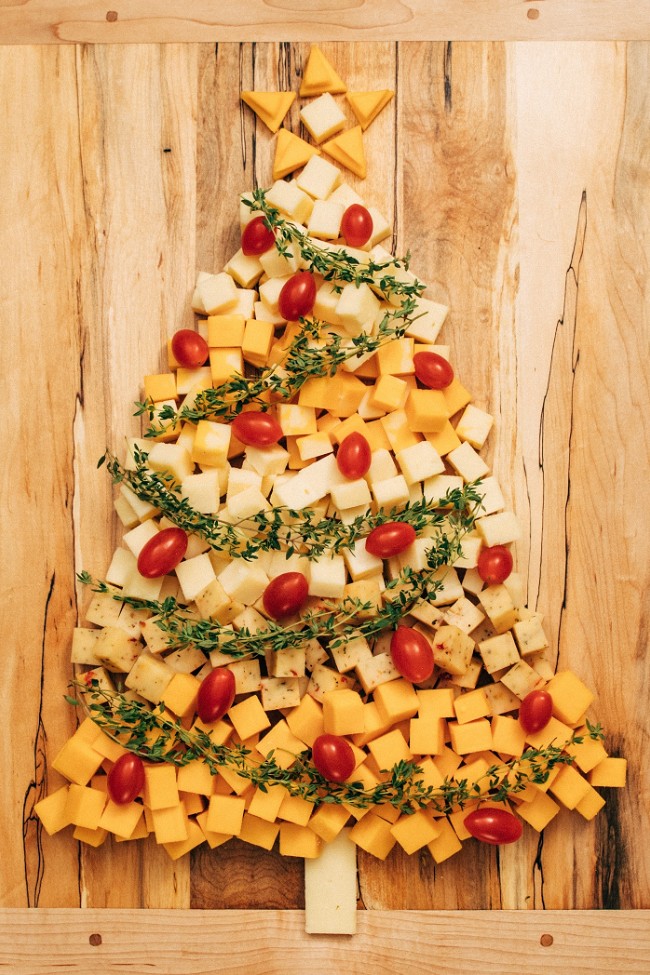 At your next holiday gathering, try this fun and festive idea for displaying a variety of cheeses! This creative take on the traditional cheese platter livens up any food table and is loved by kids and adults alike. Cubes of cheese are arranged in the shape of a tree, then decorated with thyme sprig garlands and cherry tomato ornaments.
Don't miss more great Christmas craft ideas kids will love: