10 Unique Ways To Display Christmas Cards
Table of Contents
These great ideas for creating your own DIY Ways to Display Christmas Cards will help you show them off. There are plenty of tree options, like the Washi Tape Card Tree, String Art Christmas Tree Card Display, Hanging Christmas Card Tree, and Wire Tree Christmas Card Holder.
There are also great nontraditional ideas like the DIY Framed Christmas Card Display, Christmas Card Handbound Book, Canvas Christmas Card Display, and Wood Wreath Christmas Card Display. If you're feeling really crafty, make the Window Shutter Christmas Card Display or Lattice Christmas Card Display. Whichever way you craft it, a Christmas card display is a terrific way to enjoy seasonal sentiments.
---
See Also:
---
1. Washi Tape Card Tree
Creating a unique display for your Christmas cards doesn't get any easier than this. You can create a clever washi tape card tree using washi tape, string, tinsel garland, a decorative Christmas star, clips from IKEA, and thumbtacks. You can really get creative by making washi tape Christmas ornaments to dress up your card tree.
String art is definitely on trend and makes for an eye-catching Christmas card display. This string art Christmas tree is created using 3M hooks, so no damage to your walls is done. Simply follow the tips and tricks in this tutorial for creating your Christmas card display.
3. DIY Framed Christmas Card Display
You can create a framed Christmas card display using corkboard, paint, fabric, tape, and ribbon. Fun, colorful stripes are made using both ribbon and paint. You can easily slide Christmas cards in between the ribbons to tuck them into place for a season of enjoyment.
4. Hanging Christmas Card Tree
Grab a bundle of beautiful tree branches from your yard and create a hanging Christmas card tree. Using the branches to create a simple tree, use bits of ribbon and a hole punch to turn your Christmas cards into ornaments for your card tree display. Everyone will enjoy this festive arrangement.
Christmas cards can be sentimental, and throwing out precious pictures or handwritten sentiments is hard. You can create a special hand-bound book for saving and displaying your favorites. This one includes cards sewn onto ribbons with a layer of PVA on the spine. You can make a new book for each Christmas and pull out old books to reminisce each holiday season.
A coat of red spray paint can transform a discarded window shutter into a beautiful Christmas card display. Hang this unique card holder on your wall. As cards arrive in the mail, simply push them into the slats of the shutter, and enjoy seeing the smiling faces of and reading holiday wishes from your friends and family this Christmas season.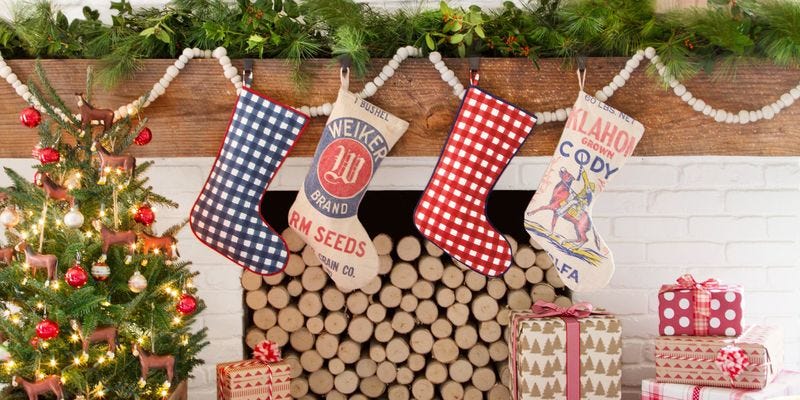 Transform an artist's canvas into a creative Christmas card display. You can attach ribbons using hot glue to create rows for displaying cards with clothespins. Add a few Christmas stems (poinsettia) to spruce up the canvas. You can reuse this display year after year.
8. Lattice Christmas Card Display
If you need a clever, inexpensive, and simple way to display your Christmas cards this season, this is it—a lattice Christmas card display. You can grab a sheet of lattice from your local home improvement store. Pick up clothespins. Spray paint the lattice and clothespins white. Add leftover Christmas decorations to the top of the lattice using hot glue. Christmas picks and festive holiday ribbons are easy choices. Use removable hooks for easy hanging.
9. Wire Tree Christmas Card Holder
You'll love this unique wire tree Christmas card holder that also functions as a fun Christmas decoration. The wire is simply twisted into a quirky tree shape. Triangles are formed out of the wire used to make the branches and help provide a fastener for securing the cards to the tree. You'll have fun all holiday season long, securing glad tidings received in your mail to your wire tree.
10. Wood Wreath Christmas Card Display
What do you get when you pair an embroidery hoop with wood clothes pins and add some festive holiday ribbon for hanging? The answer is a festive wood wreath Christmas card display. A little hot glue can be used to attach the wood clothes pins to the hoop. Hang the card display by tying the wreath with a ribbon bow.
Don't miss these great ideas for more festive holiday fun: