11 Cute Thanksgiving Party Food Ideas
Table of Contents
Can you believe that Thanksgiving is right around the corner? It seems like this year has just flown by! If you are always looking for party food ideas that will make everyone smile while they fill their hungry bellies, this one is for you.
These cute Thanksgiving party food ideas from across the web are a great inspiration with treats such as Pumpkin Rice Krispie Treats, Turkey Fruit Platter, Gumdrop Turkey, Acorn Brownie Pops, Nutter Butter Turkey Cupcakes, Fall Acorn Pudding, Turkey Shaped Cheese Tray, Oreo Turkeys, Turkey Cheese Ball, Waffle Cone Cornucopia, and a Turkey shaped sandwich!
See Also:
We have seen multiple versions of these fun little pumpkin Rice Krispie treats popping up all over. They are the perfect fall-themed treat for autumn bake sales, Halloween parties, and family Thanksgiving celebrations. Use orange food dye to color regular Rice Krispie treats, form them into little pumpkin-shaped balls, and add a tootsie roll stem and some green melting chocolate leaves for the perfect dessert.
Perfect for a Thanksgiving party at school or a family celebration, this turkey fruit platter is definitely an idea to keep on hand this fall season. It's a great way to incorporate some healthy treats into your holiday feast. Feathers are made from expertly arranged slices of fruit and then a simple construction paper turkey head is attached to a half apple. This festive tray would look great sitting at any buffet.
Bright, cheery, and tasty gumdrop turkeys. With a few simple materials from the grocery store, you can make these adorable edible crafts with your kids this Thanksgiving. A great activity for the kids during your family celebration, these gumdrop turkeys are easy enough to make with kids of any age and they are sure to love eating the candies after.
Transform your basic brownie mix into fun acorn brownie pops with this wonderful tutorial from the Pint-Sized Baker. All you need to recreate these cute little brownie pops is a brownie mold, a brownie mix, and a little bit of creativity. The acorn hat is made with a dip in some dark chocolate and chocolate sprinkles. These brownie pops look fantastic on their own and even better poked into some brownie squares with fall-themed sprinkles.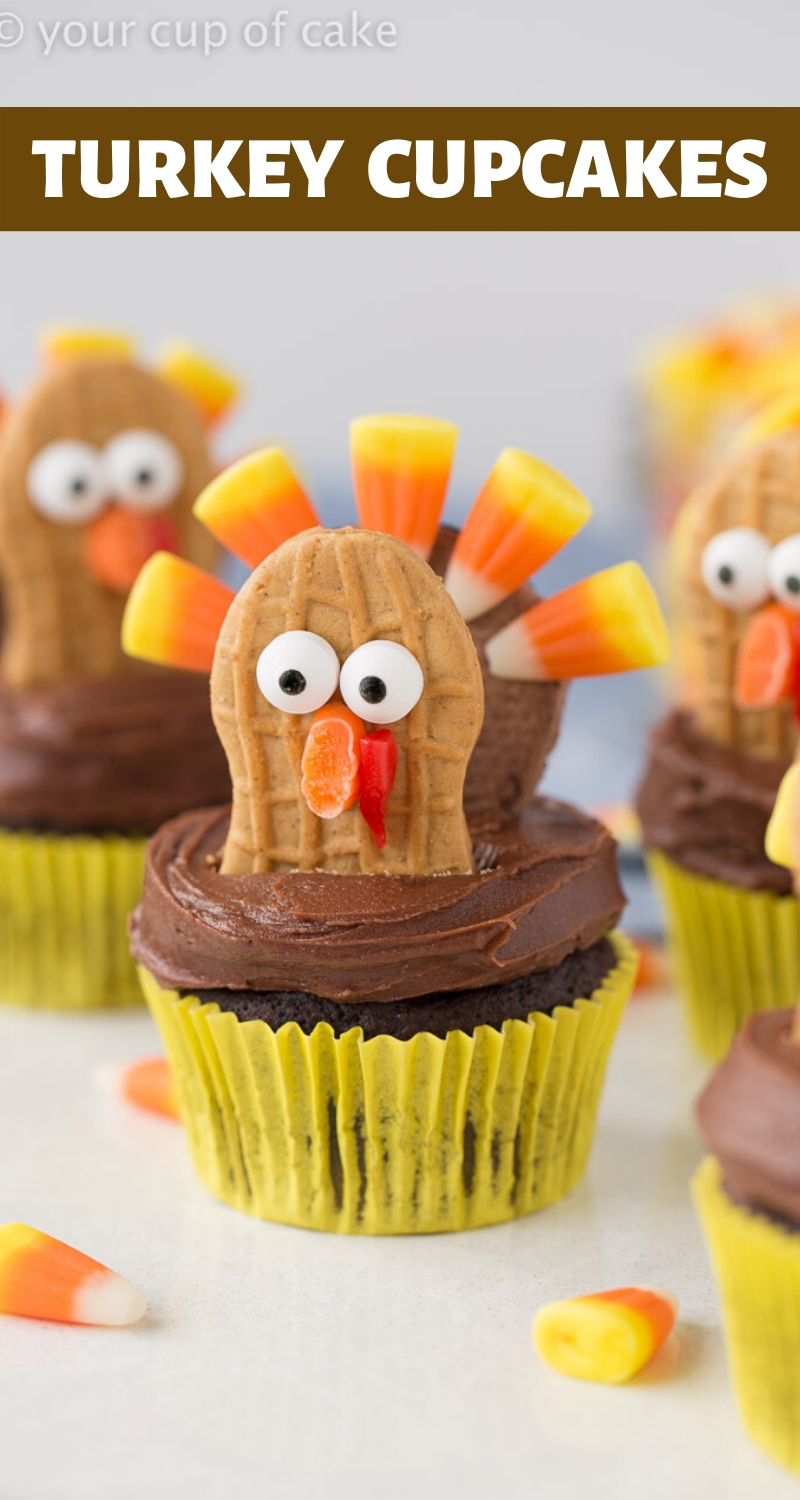 How cute are these Nutter Butter Turkey Cupcakes? They are another baking project that makes adorably silly faces with Wilton candy eyes. Bake up your favorite flavored cupcakes, ice them with chocolate frosting, and then decorate each one with your Nutter Butter turkey bodies and candy corn feathers. These cupcakes are great for any Thanksgiving celebration you can think of.
Spice up some vanilla ice cream with the addition of some fun decorations and chocolate cookie acorns. We think the fall-themed sprinkles around the rim of the glass combined with the exaggerated candy acorns on top make such a fun and festive presentation. Anyone sitting at the Thanksgiving table would love these fun desserts. Get the recipe for the homemade pudding and learn how to make candy acorns now.
If you love funny turkey-shaped cheese boards as much as we do, we highly suggest you try this out for your Thanksgiving celebrations. It's simple to throw together and is a total fan favorite with party guests young and old. All you need to make this turkey cheeseboard yourself is a few blocks of your favorite cheese and a few packs of pre-sliced cheese. They also used an olive for the eyes and a little piece of red pepper for garnish.
Turkey-themed treats are always a favorite at our family's Thanksgiving dinners, so these Oreo Turkey Cookies are definitely being added to my list of treats. They are easy to make with tasty Oreo cookies, candy corn, peanut butter cups, candy eyes, and Maltesers. They also make a great activity to do with kids during some Thanksgiving downtime.
Cheeseballs are hugely popular appetizers for parties and potlucks right now and for good reason. They are so easy to make and can be decorated to fit so many fun themes or holidays. This Turkey Cheese Ball is the perfect example. Soft cream cheese mixed with shredded cheese, Worcestershire sauce, taco seasoning, and green onion makes the base. It then gets decorated to look like a cute little turkey.
Using sugar cones or waffle cones, this one is easy peasy. Plus it's a real crowd-pleaser!
There are more than a few fun, yummy, and easy-to-make dishes you can make for your kids or your next Thanksgiving party. Enjoy!
Check out more great ideas that are perfect for your next family gathering:
Plus, check out Free Thanksgiving Games, Crafts, Coloring Pages, Decor, and More