18 Of The Best Pumpkin Decorating Ideas
Table of Contents
Need fresh ideas for your Jack-O-Lantern this year? Have fun family time or decorate pumpkins for a kid's party activity by using the ideas in this round-up where you'll discover cute to creepy pumpkin décor. Don't want the kids to use a knife? No problem! See how to do a spider web wrap, a gauzy mummy, or a funny face, and use glitter and rhinestones or buttons and bows.
---
See Also:
---
Perfect for all the cat lovers out there! This adorable feline-themed pumpkin is sure to be a crowd-pleaser this Halloween. With just a few simple cuts, this cat-carved pumpkin will be gracing your front porch in no time!
All of the LEGO-loving kids out there will be delighted with this pumpkin! With this particular pumpkin, you can avoid the messy insides and just carve the very outside of it, creating that iconic LEGO head. The LEGO characters on the outside make it even more fun!
3. Stitched Up Jack-O-lantern
This pumpkin is perfect for Halloween and easy to create too! Simply cut a face out and either paint white stitches on it or use white tape to create them. It doesn't get much easier than this!
These spooky pumpkins will look like they're about to fly right off your porch! These aren't only fun to look at but can be fun to create too. Give each pumpkin bat its own facial expressions for a little bit of character. The whole neighborhood will be sure to notice your front porch this year!
Don't let this creative pumpkin scare you away if you think it seems difficult because it's not! This may be one of the easiest pumpkins to recreate simply because, once your take care of the insides, you just cut the pumpkin all the way through. Popping a small candle or light inside this mummy will make him light up for everyone to see your handiwork!
This pumpkin is sure to be an eye-catcher in your neighborhood this year! With some paint and carving tools, this pumpkin will come together quickly. This would be a perfect creepy addition to your front porch that is sure to scare you!
Little ones will love these familiar characters. They can even help in making them by painting or adding on fun extras like noses or hair. Once you do all the necessary carving, they'll be able to create their own pumpkins!
Who wouldn't love to see this little guy glowing on the front porch this year? There's not a whole lot of carving involved with this design either. The light inside is a perfect way to make it light up and gives it a unique touch!
A perfect way to use smaller gourds is by creating these pumpkin owls! Perch them on top of a fence or a window for a cute outdoor addition to your home this fall. All of the little details on these owls are fun and eye-catching.
Front porches aren't the only place for pumpkins! These pumpkins with bats painted right on them will look great in your front yard. These are much easier and less messy than carving an entire pumpkin and are definitely a unique decoration.
These pumpkins use things that maybe you don't use anymore. It should be easy to find some interesting bits and pieces around your house to attach to a pumpkin. These make interesting and textured decorations that no one else will have.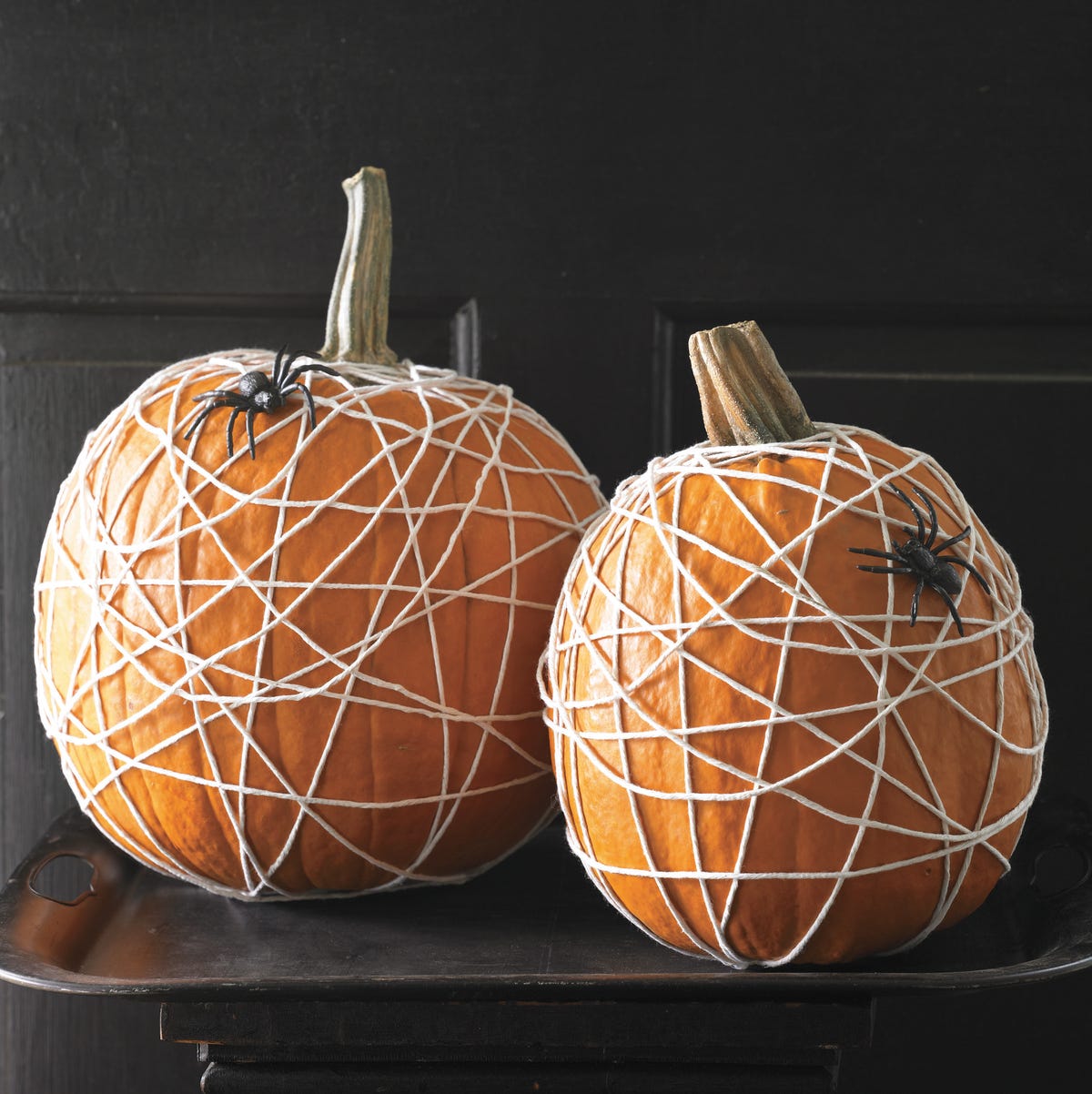 No one will want to touch these pumpkins! Winding some string around each pumpkin is easy. It will give you the perfect addition to your front door this Halloween!
Some gauze is all you need to create this guy! Wrap it all the way around to create a perfectly mummified pumpkin. Add in some eyes peeking out from underneath to make it look like he's watching anyone who comes by.
Anything could use a little sparkle, even Halloween decorations! This sparkly pumpkin nails it with gems in a spider web pattern. You could do different colored rhinestones such as orange, purple, or black for a more Halloween-themed design.
Have this friendly fellow greeting your guests this fall! Simply stack some pumpkins on top of one another, kind of like a snowman. If you wanted a scarier feel, give your pumpkin person an angry or scary face instead.
This pumpkin would be an adorably perfect addition to your home this fall! Instead of buttons, you can try rhinestones, ribbon, or paper, whatever suits you! If you wanted the lettering to stand out more, you could always paint the pumpkin white or black for a great contrast.
Give your plain pumpkins a little creepy touch by adding some string spider webs to them. Adding some spider decorations to the web will make it look even more realistic. This may give your fall visitors a fright when they come to your door!
These friendly turtles are sure to please you at your next Halloween party! They get their green features from the watermelon they're carved out of, so no painting is involved. Light them up with some glow sticks for some extra fun!
If you want to try something a little different than the traditional pumpkins or gourds, then this list is for you! Try something new this year, neighbors and friends are sure to be intrigued. You might even find something worth doing every year!
Don't miss these great ideas for more fun parties and craft inspiration: