Easy DIY Halloween Projects & Crafts Ideas
Table of Contents
It's never too early to start planning those Halloween parties and projects you have always wanted to do. We have gathered several great projects and crafts for Halloween. Find free printable party games and cupcake toppers; see how to make treat bags, a Monster University Trick or Treat bucket, an easy Halloween wreath, front door decor, spirit jugs, a spooky garland, Mason jar mummies plus costume pieces for pirates, astronauts, and capes. Your next kid's Halloween party will be extra spooky!
---
See Also:
---
These would be fun additions to any Halloween party. You can pick from either Halloween-themed charades or guessing the creepy pair or Halloween costume duos. This will get all of your guests interacting with each other quickly. All family and friends will have a great time guessing the answers for each of the games!
Another fun and free printable that's perfect for your Halloween gathering this year. There's a kid's version and an adult version, that way everyone can participate in the fun. All your guests will have fun guessing the answers throughout the night. Include some fun prizes for some friendly competition as well!
If your mantle needs a little more decoration for the spooky season, this easy DIY garland is for you! With some simple items, this garland will come together in no time and be ready to hang wherever you may need a little something. If you're not a fan of this design, try making pumpkins instead!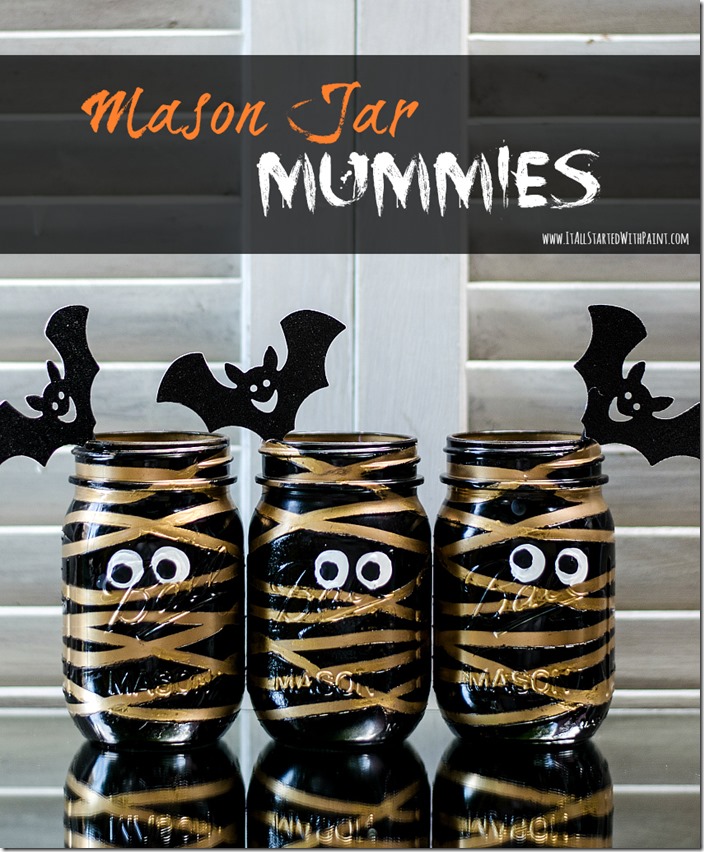 A perfect and creepy addition to your kitchen counter this Halloween. These mummy mason jars would make a perfect party favor container or just a fun decoration to adorn your kitchen. They're super simple to make as well, simply using spray paint and rubber bands.
This wreath captures the spirit of Halloween perfectly. It's easy to create with sticks and black paint, you'll have creepy door décor in no time. Instead of the bat, maybe try a small skeleton or pumpkin to hang in the middle.
Treat your guests this Halloween by giving them a party favor as they leave. These bags are easy to create. Toss in some of your favorite candies to give your guests a sweet send-off. Then it's as simple as attaching these labels, and they're all set!
Try out these cupcake toppers to give your dessert table a little bit of a Halloween feel. Place them right on top to make decorating your Halloween desserts super simple. Just print, cut, and stick!
It'll feel like somebody has always got their eye on you with this wreath in your home. To make it even more eye-popping, use glow-in-the-dark eyeballs to give your house guests a fright. This wreath is easy to put together and will be sure to get people talking this Halloween.
These would look great lining a driveway or sidewalk. Light the way to your door for trick-or-treaters this year with these easy-to-make spirit jugs. By drawing faces on empty milk jugs and adding lights on the inside, these ghostly decorations will brighten up the night of Halloween!
Instead of the traditional boring, store-bought wreath, try out this fun door decoration this Halloween. This boo sign is easy to put together; the hardest part may be getting rid of the glitter afterward. Give it a try this year with this simple tutorial!
Ditch the usual pumpkin bucket this year for these cute and personalized bags instead! Easily paint decorations onto each burlap bag for easy personalization. Kids will enjoy using this year after year. There also won't be any confusion as to whose candy is who's since their names are right on the bag!
Take your traditional trick-or-treat bucket and make it fun. Kids will love this easy-to-create Monsters University design. This friendly monster is the perfect addition to your trick-or-treating on Halloween night this year!
If you're in desperate need of a jet pack for your kid's Halloween costume, but can't find one, this DIY is here for you. Chances are that you might even have a few of the things needed already, making it even easier for you. This would be the perfect addition to a space costume!
In need of a last-minute costume? This one is easy to get together at the last minute. All of the things needed you probably already have or could easily be found at a local thrift store, making it inexpensive as well!
Check Out These Fun PARTY Ideas: