19 Halloween Door Decorating Ideas that are Hauntingly Awesome
Table of Contents
This list of hauntingly awesome Halloween door decorating ideas will get the creative juices flowing
Scare the boo crew that lands on your front steps with doors decorated like monsters, Frankenstein or mummies. Get creative with a witch wreath or spooky cobwebs. This list of fiendish ideas might make you wish you had more doors. (Pssst…having a Halloween party? Entertain guests with some fun Halloween games!)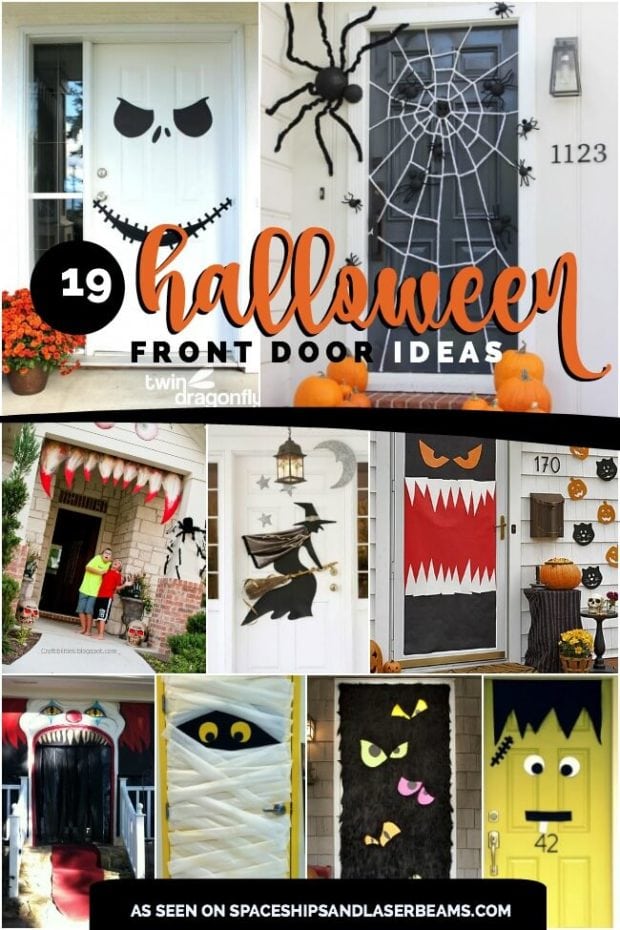 Add some Halloween magic to your porch this year by decorating your door!
1. Frankenstein Halloween Door
More cute than creepy, this felt and paper version of Frank is most comfortable hanging around under a covered porch.If you have a green door, this Halloween decoration is perfect for the outside of your home.
If you don't have a green door, you could always cover your door in a green plastic tablecloth, fabric, or paper. This project is easy enough to accomplish that your children can help. From East Coast Creative
2. Mummy Halloween Door
With kids helping to cut the crepe paper, this mummy inspired Halloween door decorating idea would be a wrap in no time. Here's lookin' at you, kids.
While a variety of materials would work for this decorating idea (paper, fabric, felt, etc…), you will want to choose appropriate materials for the location of your door (inside vs. outside, exposed to the elements or not). Create eyes and a shadowed face, and simply criss-cross white strips to mimic mummy bandages. From My Classroom Ideas via Mrs. Hodge and her Kindergarten Kids
3. Monster Halloween Door
Poster paper and tape. That's nothing to be scared about. This monster Halloween door may be constructed from simple, non-threatening materials that are easily transformed into an awesome Halloween door decoration, but the door itself may be scary enough to keep some trick-or-treaters from knocking at your door. From HomeJelly
4. Witch Door
From Good Housekeeping
Which door should guests use? This one, of course! Halloween visitors will love seeing the resident witch flying on her broom with her cape trailing behind.
What a fun Halloween door decorating idea! Vinyl and Styrofoam make it happen.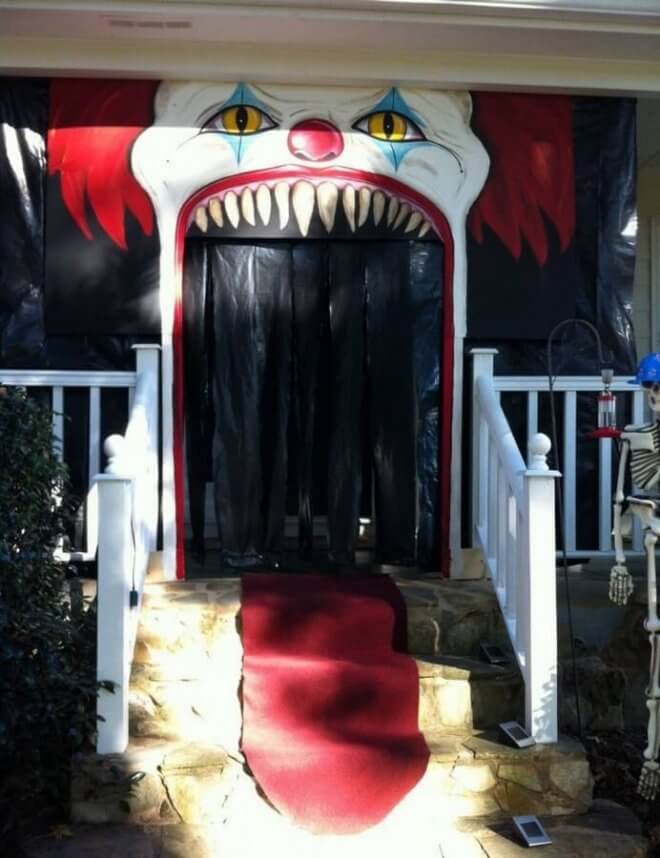 5. Creepy Clown Halloween Door
Clowns are supposed to bring laughs and smiles, right? Not this clown. Something that should be for laughs doesn't look so funny when it has spiked teeth—creepy.
This creepy clown Halloween door isn't for the faint of heart, but it is impressive. Check out the paint job. Plus, gotta admit, rolling out that "red carpet" tongue definitely gets your attention. From Residence Style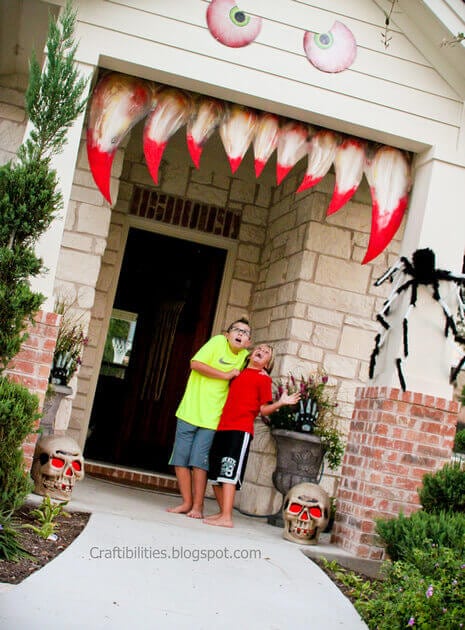 6. Monster Teeth Halloween Door
From Craftibilities
Make your house come alive this Halloween with a DIY monster teeth Halloween door. This monstrous mouth is brought to you by plywood, a little paint, and a crafty mama.
To replicate this Halloween door decoration idea it will require using a saw, so be sure to proceed with caution.
7. Jack Skellington Halloween Door
This Jack Skellington Halloween door is easy to make using a free printable template. And the supplies to recreate the look are simple too: paper and tape. So simple. So effective.
Adults and children can participate in creating this fun Halloween décor.
8. Coffin Entrance Halloween Door
From Screaming Scarecrow via Parr Lumber
Would you dare to knowingly step foot into a coffin?
How about if Halloween candy was at stake? This coffin entrance, made from wood, takes unsuspecting Halloween party guests into the spooky unknown, all for the promise of a few treats.
I don't know about you, but I might keep a few tricks up my sleeves, just in case.
9. Halloween Arch Door
From My Fun Projects via About Ruth
Some definite skills were used to create this awesome Halloween arch door entrance.
Made from a combination of routed Styrofoam and 2×4" backing, plus a list of other materials, this door decorating idea is not for those easily spooked, but definitely results in one massively cool Halloween decoration.
Styrofoam never looked so impressive.
10. Felt Bats Halloween Door
From Country Living
Make the exterior of your house look extra spooky by adding felt bats. They are easy to make using the provided free bat template.
Just download the file, print the template, trace the shape on felt, and cut it out multiple times.
Once you feel like you've gone batty, you'll know you have enough to decorate your front porch and doorway.
11. Monsters Inc. Halloween Door
From Events to Celebrate via GooDSGN
Mike Wazowski would definitely approve of this Monsters Inc. inspired Halloween door. We're pretty sure Sully and Boo would too.
A green door makes the perfect Halloween backdrop for this decorating idea.
Poster paper and markers are used to add the Monster's facial features, which happen to be all hand-drawn in this example. To create a look that will last, laminate the pieces to withstand the weather.
12. Keep Out Halloween Door
From Woman's Day
Halloween visitors might second guess their trek to your front door once they see these troubling "Keep Out" decorations. Nothing like a warm welcome for guests.
Check out the instructions to create your own version of this haunting door decoration.
13. Jack-o-lantern Halloween Door
From Woman's Day
Add the quintessential look of a toothy jack-o-lantern to your front door and bring a smile to all your fall and Halloween visitors.
This jack-o-lantern is one that you don't have to carve, but you do have to cut wrapping paper.
The look is easy to put together using orange gift wrap, gold glitter gift wrap, and double-sided masking tape.
Include assorted pumpkins and collections of fall leaf branches to bring a beautiful autumn look to your porch.
14. Halloween Witch Wreath Door
From Reason to Come Home
You won't need to concoct a special magic potion to help with this DIY Halloween door decoration. This Halloween witch wreath is easy to put together and makes a perfect front door decoration.
The hardest part will be sourcing the materials, many of which can be found online.
Here are the items you will need: broomstick, witch legs, witch hat, ribbon, floral wire, burlap colored wreath, and a roll of poly burlap mesh.
Work your magic with these materials, and you'll have a great witch to welcome guests to your home.
15. Spiderweb Halloween Door
From Jane Can via Idea Stand
Arachnophobia? Your skin may crawl when you see this Halloween door decorating idea.
Don't get caught unaware…this spider is no itsy bitsy thing, and neither is her web.
Use white rope to make your own version of this spider web-guarded Halloween door. Don't forget to add a jumbo spider and her family of babies.
16. Spooky Eyes Halloween Door
From Rust-o-leum
Want to costume your door for Halloween in a truly monstrous way? We've got our eyes on this awesome Halloween door decorating idea.
Using the provided eye template—which you can download for free—enlarge to various sizes, print, and cut.
The eerie eyes really pop when they're arranged on black faux fur.
17. Poison Apple Halloween Door
From Jaipupdate via Brit Co
I can't quite put my finger on it, but for some reason, this poison apple Halloween door is pretty spooky.
If suspended body parts give you the creeps, here's your poison.
Trick-or-treaters will have to reach past all of these hands, overcome fears, and knock on the door to earn their Halloween treat. Could you do it?
18. Hanging Cobwebs Halloween Door
From HGTV
Add some spook to your front porch by creating ghostly cobweb draperies to hang from the rafters.
You'll need several yards of cheesecloth, strips of poplar, and some construction tool basics (staple gun and staples, scissors/utility knife, tape measure, mitre box and saw), plus hot water, a bucket and bags of tea.
19. The Dark Knight Halloween Door
From Black and White Obsession
Are you a movie buff? Why not decorate your door for Halloween based on a favorite movie theme? This The Dark Night Halloween door is easy and inexpensive, but big on impact.
Would you believe the door is covered in a $1 tablecloth, and the details are created from poster board and acrylic paint?
more Halloween ideas: