14 Halloween Handprint & Footprint Crafts
Table of Contents
We love doing crafts with kids and then being able to display them during holidays. These ideas are SO adorable, and they're a great visual record that lets you see how much your boy or girl has grown throughout the year. Handprints, footprints, thumbprints, and even knuckle prints are the inspiration for Frankenstein, a vampire, scarecrow, black cat, spiders, ghosts, witches, candy corn, and pumpkins. Choose one of these craft ideas to use for a great hands-on, best-foot-forward Halloween activity, too.
---
See Also:
---
This neon-colored Witch would be the perfect way to let your kids have some messy fun. Draw out the background and then let them create their very own witch with neon finger paint. Let them add a hat or maybe even a bat or two to make the scene more fun.
Creating these gift bags for trick-or-treating, school parties, or Halloween parties would be super easy and a great party favor or snack bag. These are so simple to create and look adorable as well. Simply get some orange paper bags, and a clothespin, and have your child's handprint ready for some crafting. The kids will have fun painting, and all you have to do is quickly throw the rest together.
3. Handprint Spider
What's creepier than a spider on Halloween? Or maybe any time of the year for some people! Have your kids put two of their handprints together to get these creepy crawlies. Hang them in windows to spook anyone who comes to your home!
4. Halloween Keepsake Canvas
This would be a fun decoration to bring out year after year and see how your kid's handprints grow. Simply prep the canvas, let dry, then let your child place their handprint on the canvas to create this little spider. Create this canvas in any color you want like purple and black, or maybe orange and yellow.
These cute pumpkins take no time at all and are absolutely adorable! Create the orange part of the pumpkin from little knuckles and then paint the stem and leaves right on. Put them on a canvas to put out every year and see how the pumpkins grow!
These little guys are so cute! They're simple to create with a thumbprint and some extra paint strokes. Either paint or apply the googly eyes for some extra fun!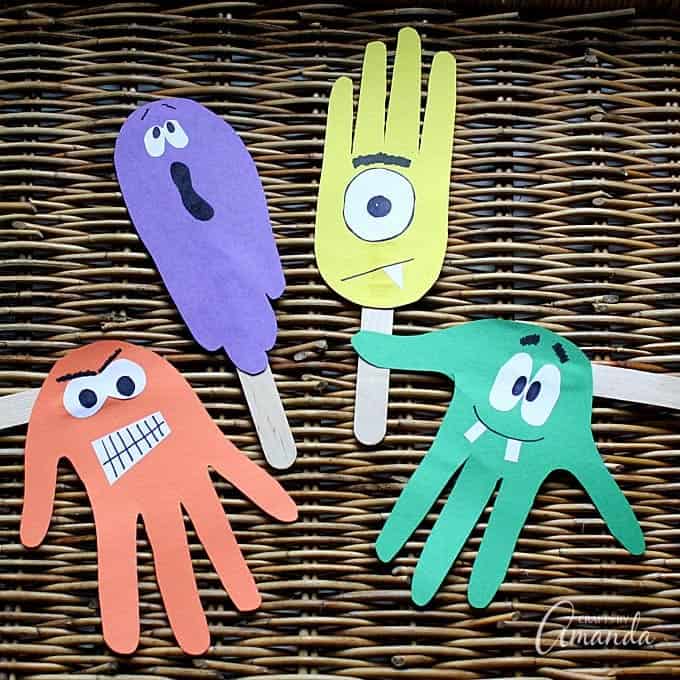 Have some monstrous fun this Halloween with these cute hand puppets. Create different shapes with little hands and cut them out from construction paper. Apply eyes and spooky mouths to create spooky faces and fun.
8. Halloween Handprints
Create some spooky ghosts this Halloween just from handprints. Once you get the white handprint on there, let the kids create their own creepy faces right on the canvas. Be sure to date them so you know how the ghosts grow each year.
Change it up and make these ghosts out of footprints instead. Place the footprint with white paint then simply use a Sharpie to create little faces right on the footprint. To get the ghost shape, you can outline it or leave it alone depending on what you like.
Change it up from the classic ghosts and spiders and try making this creative vampire instead. Make his head out of a handprint then add his outfit after. Let the kids design their vampires just how they want.
Not everyone loves candy corn over Halloween, but this one you're sure to love. Create a keepsake footprint out of candy corn colors for an adorably sweet craft. Place them on a big sheet of paper and make them year after year to see how they grow.
Create creepy monsters out of handprints and footprints. Add some googly eyes to make this monster a little less frightening and a little more fun. Make footprints in fun colors and see how creative your monsters can get.
To add some more detail, paint the canvas before you place the scarecrow on the canvas. This would be a fun decoration to have out each year.
Create this black cat from a footprint. The addition of a fun poem makes this craft all the better! Don't forget to add a name, age, and year to remember how long ago it was as you look at it each year.
Don't miss these great ideas for fun crafts and party ideas: