An awesome list of Halloween games kids and adults can play at your Halloween party!
We've searched Pinterest to provide a list of fun party games that appeal to all ages — from toddlers to tweens to teens to college students to the elderly.
We've also ensured they work for a large group or school class parties, as they can be played both indoors or outdoors at home OR in a classroom or gym at school.
They are perfect for those who don't have a huge budget for supplies or prizes — as they can be made with everyday items like boxes, buckets, tissue paper, toilet paper, marshmallows, balloons, candy and apples.
How about fun games you can play at home or on a budget like Pop the Pumpkin, Witch's Hat Toss, Newspaper Eating Monster, Pumpkin Tic-Tac-Toe, or Pumpkin Golf?
Get everyone up and moving with party activities like Halloween Bowling, Spider Web Walk, Giant Bubbles or Ghost Toss.
A Halloween game of Cornhole is always fun, and grab the blindfold for Pin-the-Nose on the Monster! There are coloring pages, activity mazes, word search sheets and photo booth props.
We've featured all these fun Halloween Party Games and Activities, and more, in this round up. Bonus: you can easily make most of the games yourself. Nothing spooky about that!
---
See Also
---
1. Poke A Pumpkin 
From Project Denneler
Orange cups, napkins and rubber bands hide tricks AND treats in this fun game that puts a new spin on treasure hunting.
You can create your own version of this thrilling Halloween game by hiding prizes inside orange cups and affixing napkins over the tops using rubber bands.
Hot glue the cups to a piece of black foam core in the shape of a pumpkin. Treats could include things like candy, stickers, and small toys. Tricks could include toothpaste, socks, and gag gifts.
2. Pop Goes The Pumpkin 
From Martha Stewart
Are you looking to kick off Halloween with a bang? You don't have to buy your fun when you can make it! This pop goes the pumpkin game will keep the Halloween "boos" at bay!
Confetti and candy filled balloons start the party off with a bang! This Halloween party game is great for older kids up to 10 to 12 years old who won't be alarmed by the loud popping of balloons.
Bonus—this classic balloon pop game also makes a festive wall decoration for your party!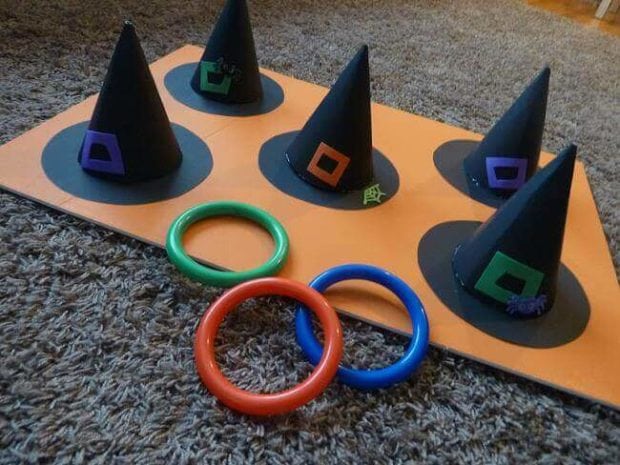 3. Witches Hat Toss 
From Sometimes Creative
Such a great game to play! The witching hour definitely calls for a wickedly fun party game. Everyone's favorite carnival favorite game of ring-toss is given a twist by using witch hats in place of cones.
Feeling crafty? You can make the witch hats out of craft paper and glue. Short on time? Pick up some readymade witch hats.
4. Newspaper Eating Monster Toss
From House of Baby Piranha
Halloween party games bring plenty of excitement! Here's another fun and easy toss game you can incorporate into your next Halloween party.
A couple of simple embellishments + a bucket = squeals of delight when you call it "feeding a monster."
This is an especially great game for preschool (pre-k) children as young as three years old, kindergarten, and grade one and grade two.
Hang on to those old newspapers and use them for this thrilling newspaper eating monster toss game. Great for home or school parties and carnivals.
5. Spider Web Walking Halloween Game 
This game gives "searching the web" new meaning. It actually requires balance and problem solving, with a few spiders thrown in for excitement.
6. DIY Monster Bubbles 
From Project: Party Perfect via Spaceships and Laser Beams
Are they monsters or disappearing ghosts? Whatever you call them, chasing bubbles is fun for kids of all ages.
7. Autumn Fun Tic-Tac-Toe Table 
From It's Overflowing
Washi tape and miniature pumpkins give this classic a seasonal update.
8. Printable pin the nose on the Monster 
From Spaceships and Laser Beams
Wearing a blindfold and trying to pin-the nose creates the best kind of suspense. Kids loveplaying this perennial favorite.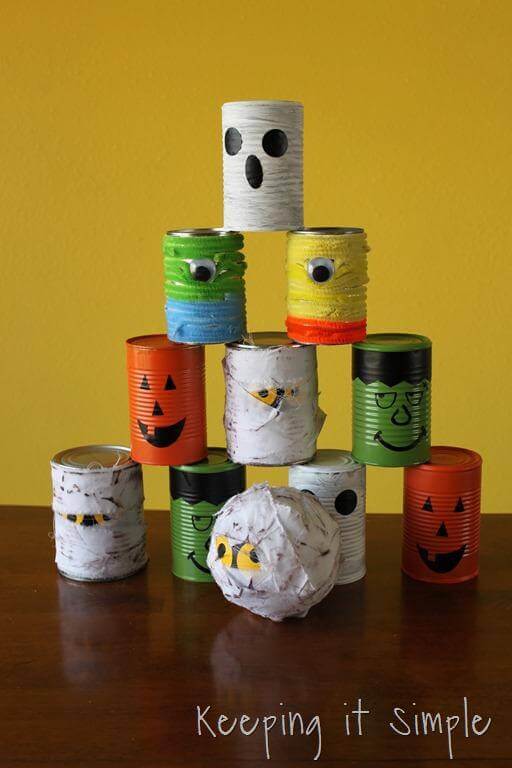 9. Halloween Can Game 
From Keeping it Simple
Dress up a few empty tin cans as Halloween characters and you've got a great knock 'em down game. Kids as old as 10-12 years will enjoy this activity.
10. Pumpkin Bowling 
From I Dig Pinterest
Starring Toilet Paper as Ghost and Pumpkin as the Ball, this uncomplicated game can entertain little ones for ages.
11. Pumpkin Pickin' 
From HGTV
Another punch hole idea, but this version can be reloaded with prizes to keep the fun going. Kids as old as 4th or 5th graders will enjoy it.
12. Cornhole Halloween Game for Kids 
From Crafts Unleashed by Consumer Crafts
Step one: make spiders as a craft activity. Step two: spiders scurry to hide in dark holes, with a little help from your kids.
13. Pumpkin Golf 
From Eighteen25
Ever made a hole-in-one? Bet you (and the kids!) could do it with this game.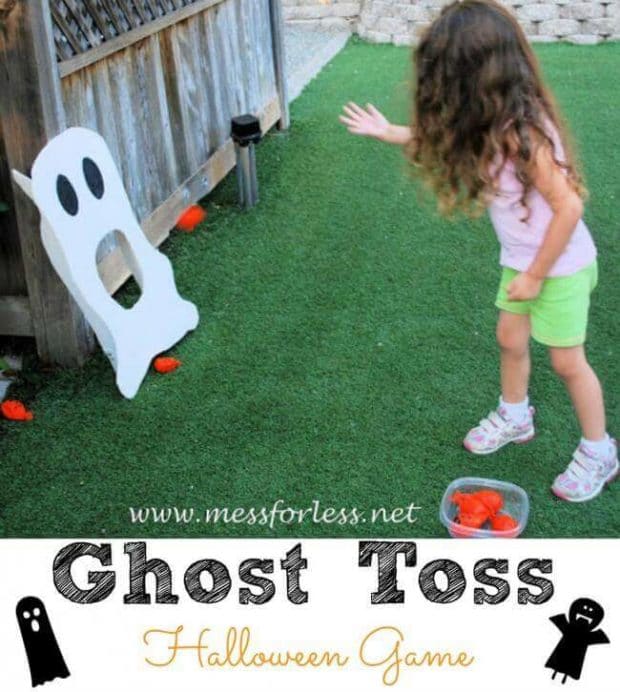 14. Ghost Toss 
From Mess for Less
Flour-filled, orange balloons make super toss-it's to throw at a Halloween ghost.
15. Halloween Party Photo Props plus Free Printables 
From No Biggie
Who's the fairest of them all? Everyone gets in on the fun posing with free photo props.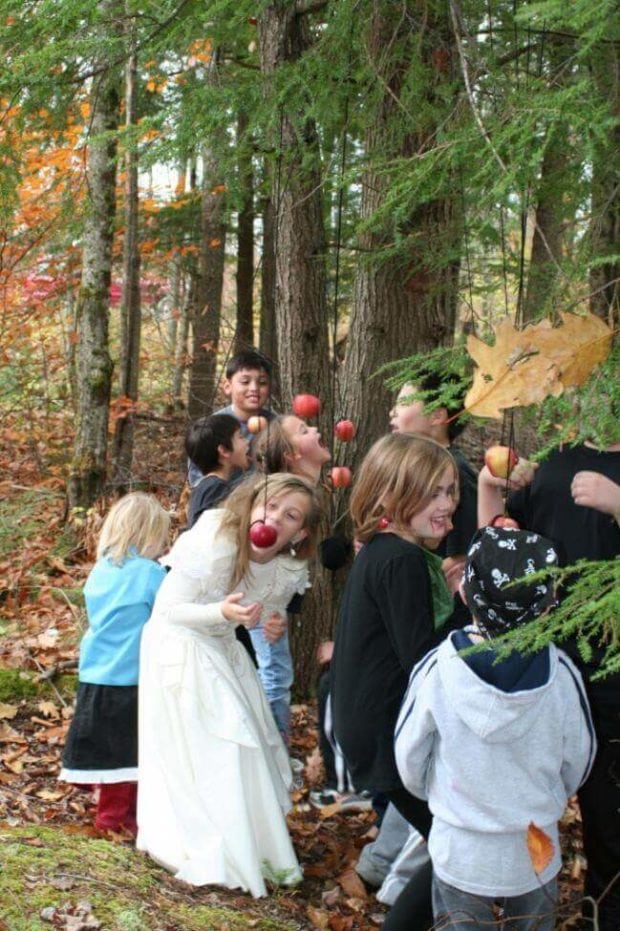 16. Bobbing for Apples 
From List Plan It
All the excitement of bobbing without any of the water mess.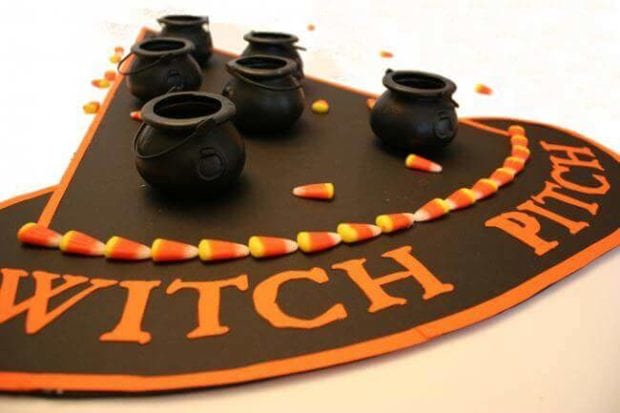 17. Witch Pitch
From Chica and Jo
Candy corn and cauldrons make perfect game partners.
18. Halloween Bucket Game 
From Gets Bored Easily
Maybe you'd like to add this toss game to your bucket list?
19. 3 Free Printable Halloween Games 
From Card Store Studio
Themed BINGO, a word search and a pin-the-nose game are here for your printing pleasure.
20. Witch Hat Ring Toss 
From Wine and Glue
Here's another seasonal ring toss game, this time featuring a purchased witch hat and cardboard rings.
21. Disney Villains Bowling Pins 
From Disney Family
Knock down the villains with a magic ball…or simply use them as party décor.
Planning a Halloween party but don't want to make the games yourself? Buy these Halloween party games and activities.
(Amazon Affiliate Links)
Add a handmade, DIY touch to your festivities this year with these great Halloween Party ideas: