14 Halloween Mason Jar Crafts
Table of Contents
We love to craft with Mason jars because they are easy to find and easy to work with. This great Halloween Mason Jar Crafts round-up is full of inventive constructs for a terrific Halloween-themed party. They would be awesome as decorations, you can use them on a party dessert table and you might even want to use some of the ideas as make-and-take party favors.
See Also:
---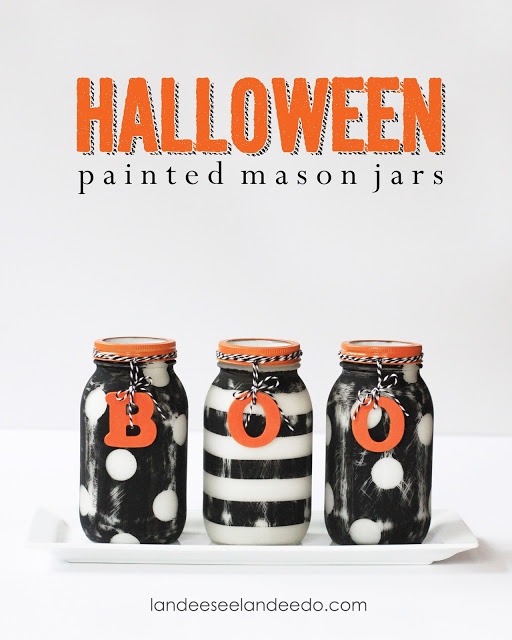 These painted Halloween mason jars make an adorable Halloween centerpiece for your kitchen table or coffee table. They are a fun and easy project to try before the holiday. Swirl the inside of the mason jars with white paint, then use painter's tape on the outside to create polka dots and stripes before painting black. Some sandpaper to distress the paint and some cute orange accents make them Halloween-ready.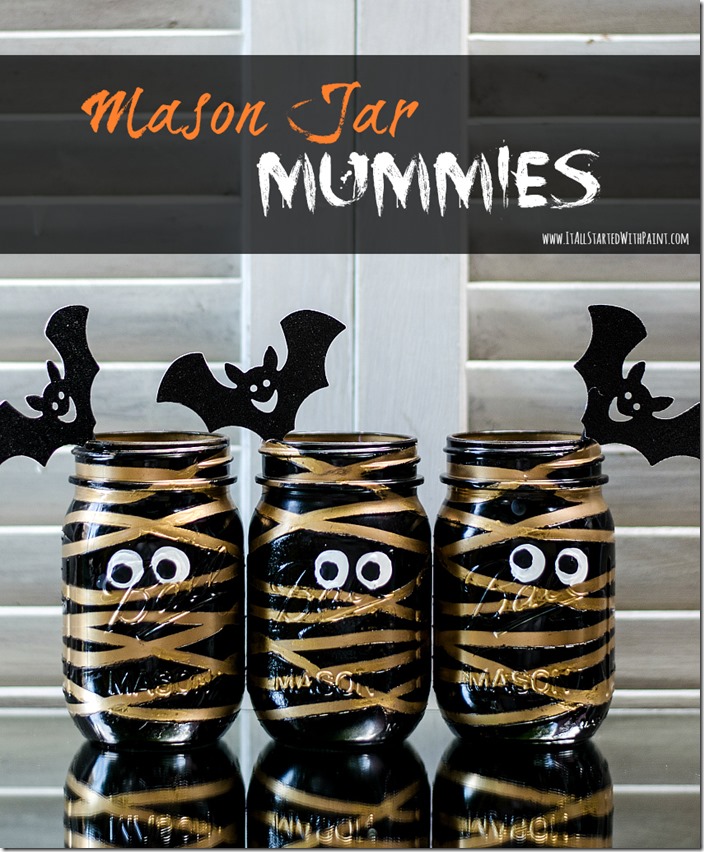 Paint your mason jars with a base color then, once dry, stretch a bunch of elastic bands around the jar to make your mummy bandages. Two little wandering eyes complete the new mummy mason jar. This craft is easy to make yourself or have some fun making with your kids.
These spooky mason jar witches make a fun Halloween decoration. In the daytime, they look super cute sitting on a shelf or front hall table, and they flicker in the night for a spooky surprise. The mason jar itself gets filled with some green cellophane and a flameless candle right in the middle. Top it with an easy-to-make felt witch hat and you have your mason jar witch ready to display.
Halloween and Thanksgiving are the perfect times to make these beautiful pumpkin mason jars for a centerpiece or for gifting. A little bit of orange paint, some cardstock leaves and vines, and a stained wooden peg turn into these adorable pumpkin jars. Then all you have left to do is fill them up with your favorite fall-time goodies or arrange them on your table.
You can knock out these super easy and quick mason jar ghosts in just a few minutes and reuse them for years and years. Spray paint cleaned mason jars white then attach two little googly eyes. Pop an LED tea light in the jar to transform them into the cutest Halloween lanterns. They flicker like real candles, but you don't have to worry about the jar getting too hot and cracking.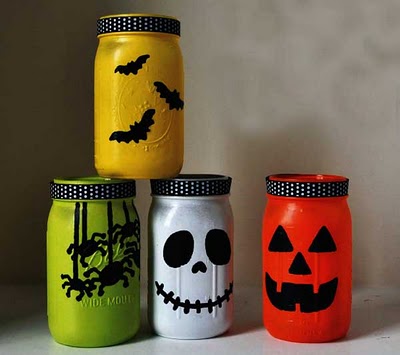 The perfect accessories for your Halloween party are these do-it-yourself Halloween glass mason jar lanterns. Four simple steps and a few regular craft supplies are all it takes to create these darling little decorations. Choose from a cheery pumpkin, a smiling skeleton, flying bats, creepy crawly spiders, or use your own creativity to make your own design. A little bow around the rim and a twinkling tea light take these jars up a notch.
7. Fizzy Pumpkin Halloween Drinks
Hosting a spooktacular Halloween party this October? Make sure you check out these adorable and delicious Fizzy Pumpkin Halloween Party Drinks. The single-serve mason jar cups are decorated with stick-on jack-o-lantern faces, making them a cute decoration as well. The actual drink is made with a tasty combination of orange juice, lemon-lime soda, pineapple juice, and orange sherbet.
Get creative with this crafty Halloween idea that you can do with the kids.
What's not to love about the deliciously sweet Halloween candy? Show off your candy corn love with these fantastic candy corn mason jars. A perfect Halloween decoration for centerpieces or front hall tables, these orange, yellow, and white jars are great for holding a bouquet of "dead" black roses.
Looking for a fun and festive dessert for your Halloween party, school snack, or family celebration? Look no further. These mason jar graveyard spooky cakes are the perfect single-serve size and are always a hit with kids. The tiny jar cakes are topped with squirmy gummy worms, chocolate sprinkles, and Milano cookie tombstones. All it needs is a little miniature candy zombie!
11. Jar-O-Lanterns
Give a great little gift or leave candies out for display in these super cute Jar-o'-Lanterns! The insides of the mason jars are painted with orange and yellow enamel paint, then the outside is decorated with a sweet little jack-o'-lantern face. For the handle, just make a lasso shape with some wire and loop the ends around the jar's mouth. Fill with some wrapped candies, candy corn, or any other treats your kids would enjoy.
12. Halloween Cookies In A Jar
Halloween cookies in a jar are great homemade gifts for teachers and friends! It is an incredibly fun project to do with kids, especially because the recipe calls for mixing the ingredients up with your hands. What kid doesn't like to get a little messy? M&M cookies are crazy yummy, and you can use printable decals which are to die for. Tie some Halloween ribbon around the top of the jar and you have the perfect, thoughtful gift.
13. Candy Corn Scarecrow
Candy corn is such a fun fall treat. We love each of the white, orange, and yellow layers, and it always looks so festive around Halloween. Gift a full jar of candy corn to teachers, friends, or your children in this sweet scarecrow mason jar. You can use mostly recycled materials to make them and they are a blast to make with the kids too. The plastic cup scarecrow hat is so creative!
You and your kids will have so much fun making this glittering monster slime. The kiddos get to do most of the work making it a super fun family activity close to Halloween! Follow their simple recipe for DIY glitter slime then decorate little mason jars to transform them into a crazy monster creation. They are the coolest little monsters out there.
Don't miss these great craft projects: