25 Spooky Halloween Drinks (Non Alcoholic)
Table of Contents
Double, bubble, toil, and trouble? Nah, no toil and trouble if you make one of these spook-a-licious Halloween drinks for kids (and adults of any age). Best of all, most of the drinks are insanely easy to make.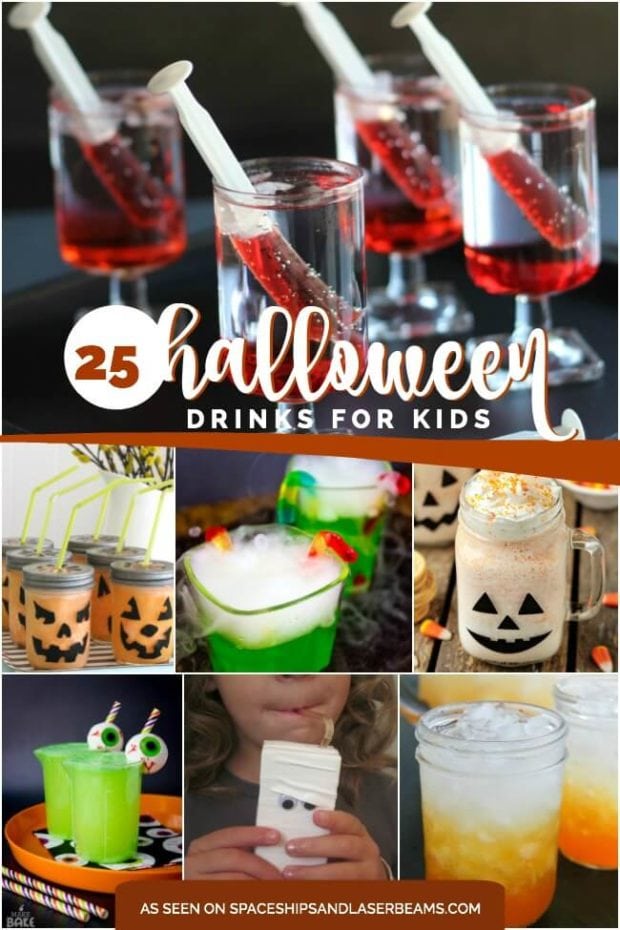 Slime, fog and swamp water beverages are joined by bloody Shirley Temples, Jack-o-Lantern shakes, voodoo punch and all sorts of mysterious-looking potions, just right for chilling Halloween parties. (Take a peek at these kid-friendly Halloween movie ideas to enjoy while sipping one of your drinks!)
---
See Also
---
SPOOKY HALLOWEEN DRINKS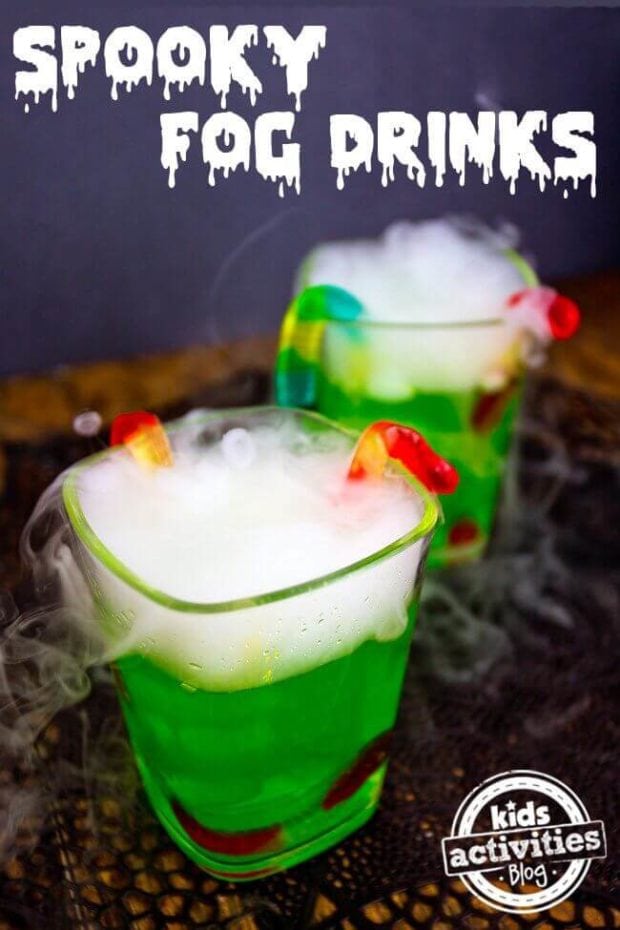 1. Spooky Fog Drinks
From Kids Activities Blog
A Halloween party rink should be a little eerie and a whole lot of fun. That what makes these Halloween fog drinks prefect for adding some festive fun to your Halloween bash.
Add some creepy crawly gummy worms to green Kool-Aid or Gatorade.
The final ingredient for your foggy witches brew is to add a few small pieces of dry ice.
Watch the children's eyes grow wide with amazement as their drinks turn into a spooky, foggy masterpiece.
2. Creepy Cool Halloween Drinks
From Easy Peasy and Fun
Any kind of needles are a very popular fear out there, making syringes the perfect creepy cool addition to your Halloween drinks.
The glasses are rimmed with green, black, and purple sanding sugar and then filled with a tasty Ginger Ale and lime Kool-Aid punch.
Plastic syringes are filled with a raspberry and Sprite mix then dipped into the drinks.
Guests will have so much fun pushing the syringe with delicious fake blood to finish their drink!
3. Bloody Shirley Temples
From This Grandma is Fun
This brilliant blogger transformed the classic favorite Shirley Temple drink into a very cool and creepy Halloween drink.
While some kids may be grossed out by the syringes filled with fake blood made from Grenadine, most of them are going to think it is awesome.
Guests will have a blast squirting the fake blood into their drinks.
If your kids are anything like mine, they will keep drinking these just so they can use the syringe over and over again.

4. Halloween Vampire Ice Cream Floats
From Living Locurto
Get your family ready for Halloween with these easy Vampire Ice Cream Floats. These fun and easy treats make an amazing Halloween party dessert or special treat before trick-or-treating.
Red soda is topped with a heaping scoop of vanilla ice cream, making it fun and fizzy.
Top each vampire themed float with a swirl of whipped cream, a set of plastic vampire fangs, and some red gel icing for a spook-tacular treat.
5. VooDoo Punch, Perfect Halloween Party Drink
From Wheel'n Deal Mama
Perfect for the kids, this fun and scary Voodoo Punch is an awesome Halloween themed drink that is sure to get party guests excited.
Tall glasses are rimmed with purple sanding sugar, filled with Lime Kool Aid and ginger ale punch, then garnished with a spooky looking syringe filled with edible fake blood.
Your Halloween party guests will love plunging the syringes into their tasty drink.
6. Spooky Halloween Eyeball Punch
Spooky desserts require something just as creepy to wash them down. This Spooky Halloween Eyeball Punch is a fun Halloween drink that tastes delicious, too.
The spooky looking eyeballs are totally edible, made by poking a blueberry into canned lychee fruits.
Pop a few frozen fruity eyeballs into the Hawaiian juice punch for a beverage that will make your guests squeal with error.
7. Vampire Floats
From Shaken Together Life
Have no fear friend, while these Vampire Floats may look like you are about to guzzle a glass of B+, they are really just a delicious combination of Hawaiian punch and vanilla ice cream.
Garnished with a striped paper straw and a set of glow in the dark vampire teeth for good measure.
Feel free to add a splash of Sprite for a little fizz or a shot of your favorite complimentary alcohol for the adults.
They are sure to be a scream at your Halloween party.
FUN HALLOWEEN DRINKS
8. How to: Layered Candy Corn-Inspired Shake Recipe
From Artsy Momma
We love finding artsy food ideas for the holidays, so I am so excited to share this yummy Halloween treat. Layered candy corn inspired shakes look really cool and taste delicious to boot.
It is made with thick and creamy layers of mashed banana milkshake, orange sherbet blended together with TruMoo Orange Scream, and fluffy whipped topping.
It looks just like candy corn, but tastes so much better.

9. Trick or Treat Halloween Punch Recipe
From Spend With Pennies
What could be cuter than a spooky layered punch to serve up on Halloween?
This Trick Or Treat Halloween Punch is really simple to make, looks adorably festive, and tastes great.
It is an especially fun recipe for kids because the layers of bright purple, orange, and blue are super fun.
It is also made with the perfect mix of Kool-Aid or Gatorade and the cutest patterned green and black straws.
10. Candy Corn Punch
Have you seen the Fourth of July drinks floating around Pinterest that have distinct layers of red, white, and blue? Well, check out this fantastic Halloween version from High Heels and Grills!
Orange, yellow, and white drinks are perfectly layered for a fun candy corn themed punch that your Halloween party guests will go crazy for.
The layers are made with orange soda, yellow Gatorade, and lemonade with an easy pouring method.

11. Lemon "Slime" Halloween Punch
From Make Bake Celebrate
Halloween treats are some of my favorite to make because you can get so creative with the decorations.
This green slime punch can be used for all kinds of celebrations, but it is perfect for a spooky Halloween drink.
Serve the delicious electric green punch in clean glass beakers and then top each drink with some gummy eye cupcake toppers and a festively colored straw.
12. Fizzy Pumpkin Halloween Drink + Party Tips
From The House of Smiths
The only thing better than a delicious party punch is a delicious party punch served in the most adorable way possible.
These fizzy pumpkin drinks are made with a tasty mix of orange juice, lemon-lime soda, pineapple juice, and orange sherbet.
They are served in mason jars decorated with adorable Jack-O'-Lantern faces made using black vinyl stickers. These would make a super cute addition to any Halloween themed dessert table.
13. Orange Flavored Jack-o-Lantern Shakes
From Artsy Momma
Looking for an easy, last minute Halloween recipe that is sure to have all of your little party guests giggling with delight?
Look no further! These orange flavored jack-o-lantern shakes are super simple to make with just two ingredients.
Serve them in some fun homemade jack-o-lantern plastic cups for a festive treat that looks great on the dessert table.
14. Orange Vanilla Potion
From Homespun With Love
Halloween time is typically filled with an overabundance of sweets and overindulgence, so we thought it would be nice to add this healthy alternative to our list of Halloween drinks.
It's just as festive and tasty, without all of the sugar and unhealthy ingredients.
Orange Vanilla Potion is guaranteed to taste great, with a delicious mix of orange juice, unsweetened coconut milk, pure orange extract, and a peep ghost garnish.
EASY HALLOWEEN DRINKS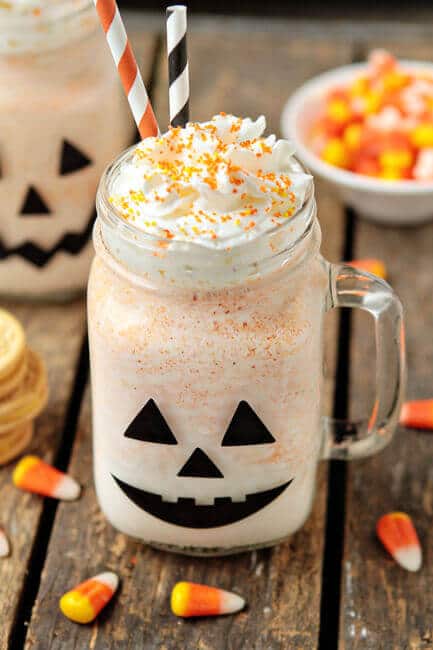 15. Oreo Milkshake
From My Baking Addiction
Do you cook up a special dinner or dessert for your family on Halloween? This Halloween Oreo Milkshake is the perfect way to celebrate trick-or-treat with your kiddos.
Candy Corn Oreos and vanilla ice cream combine to create a deliciously festive treat that your whole family is sure to love. Serve these tasty shakes in homemade Jack-o'-Lantern mason jars, then top with some whipped cream and orange sprinkles.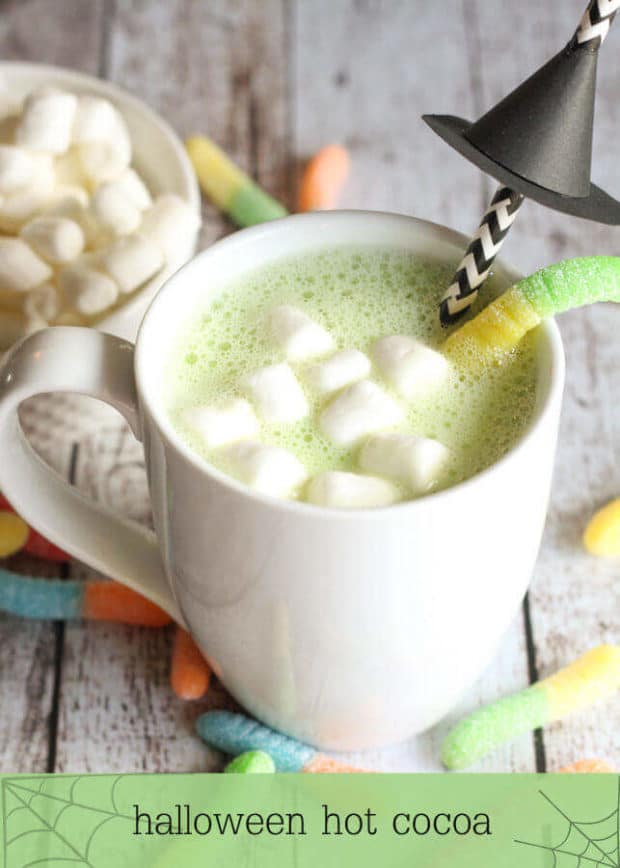 16. Halloween Hot Cocoa
From lil'luna
If you live a little further north, you know that Halloween can sometimes be a little chilly.
War up after your trick-or-treating tour with this delicious Halloween Hot Chocolate.
Creamy and sweet white hot chocolate is turned into the perfect shade of witches brew green with a few drops of green food coloring, and then topped with some fluffy marshmallows and a creepy gummy work.
It's so warm and delicious, your whole family will want a big mug.
17. Witch's Potion Drink
From lil'luna
Lime and pineapple is a totally delicious flavor combination that kids just love, plus it makes the perfect color when mixed together for Halloween drinks.
Add some ginger ale and spooky garnishes to make this Witch's Potion perfect for serving at any Halloween celebration.
Top the refreshing punch with a few wiggly gummy worms and a slice of lime then pop in a striped paper straw.
18. Halloween Orange Sherbet Punch
From the casual craftlete
Looking for a fabulous punch to serve at your Halloween party? Well, look no further.
This Halloween Orange Sherbet Punch is amazing and makes the perfect party drink or even dessert.
Orange Kool-Aid, pineapple juice, Sprite, and orange sherbet are blended together to make a decadent drink full of orange flavor. The bright orange color also looks perfectly festive displayed on a drink table.
19. SPOOK-alicious Halloween Smoothie for Kids
From Artsy Momma
If you are a fan of both smoothies and Halloween, you are going to love this spook-alicious smoothie creation.
This Halloween smoothie is made with just five ingredients and can be enjoyed by kids and adults alike.
They are whipped together with a super yummy combination of frozen bananas, TruMoo Orange Scream, and yogurt then topped with some whipped cream and spooky garnishes.
MORE HALLOWEEN DRINKS FOR KIDS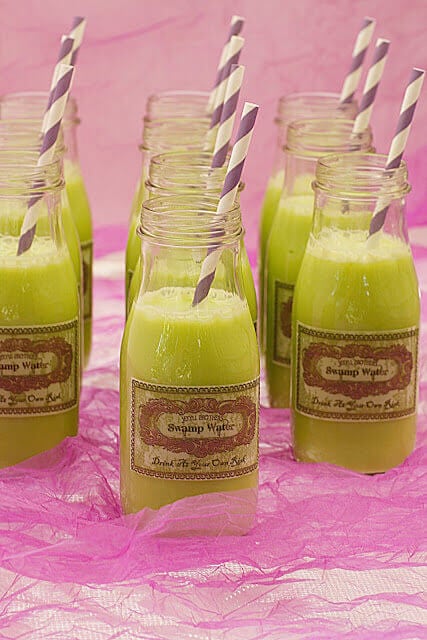 20. Swamp Water Punch
From Purple Chocolat Home
Welcome guests to your spooky affair with this delicious looking swamp water served in decorated milk jars.
The murky greenish drink looks straight out of the swamp, created with a fruity mix of pineapple juice, limeaid, Sprite, and sweetened condensed milk.
Decorated with a cute custom label and topped with a striped paper straw, these swampy drinks look great on the food table and taste amazing.
21. Halloween Juice Box Mummies
22. Hocus Potion Halloween Drinks
From Shaken Together Life
There is just something that gets into me during the holidays that makes me want seasonal drinks, and this fruity purple and green float is no exception.
Hocus Potion is the perfect drink to accompany your Halloween dinner or to serve to the guests and your costume party.
Fill a mason jar half way with ice cold grape juice and then add two scoops of lime sherbet.
Add a festive striped straw complete with a bat washi tape flag to serve to your goblin guests.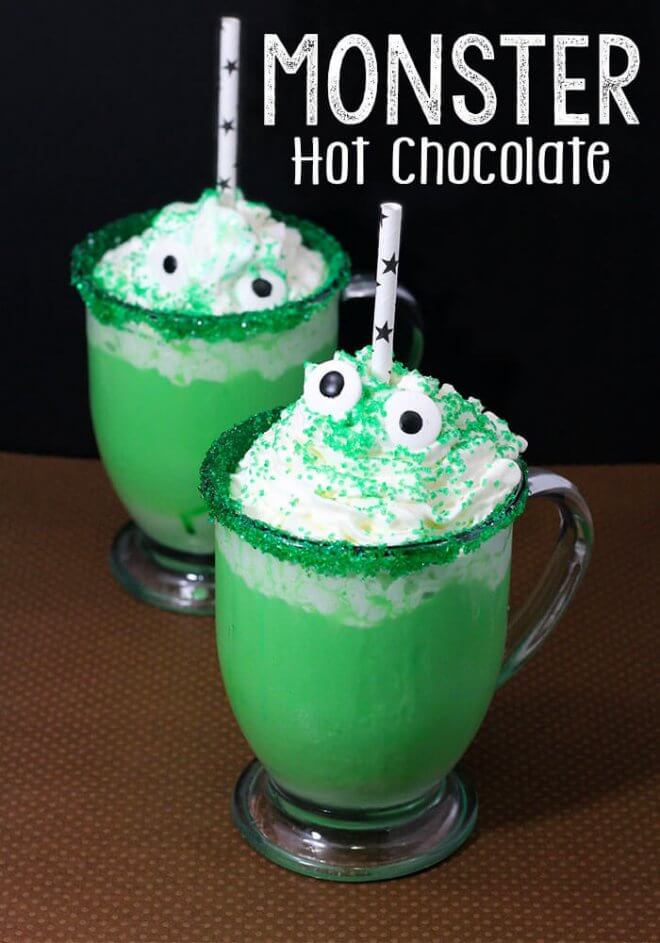 23. Monster Hot Chocolate
From Easy Peasy and Fun
Surprise your little ones this Halloween with a cool and warm Halloween drink.
Whip up a few of these delicious monster hot chocolates for a creamy, decadent drink with a twist. White hot chocolate is colored green using a few drops of food dye and then topped with a swirl of whipped cream, green sprinkles, and two wandering eyes.
What a perfect way to warm up on a cold October day!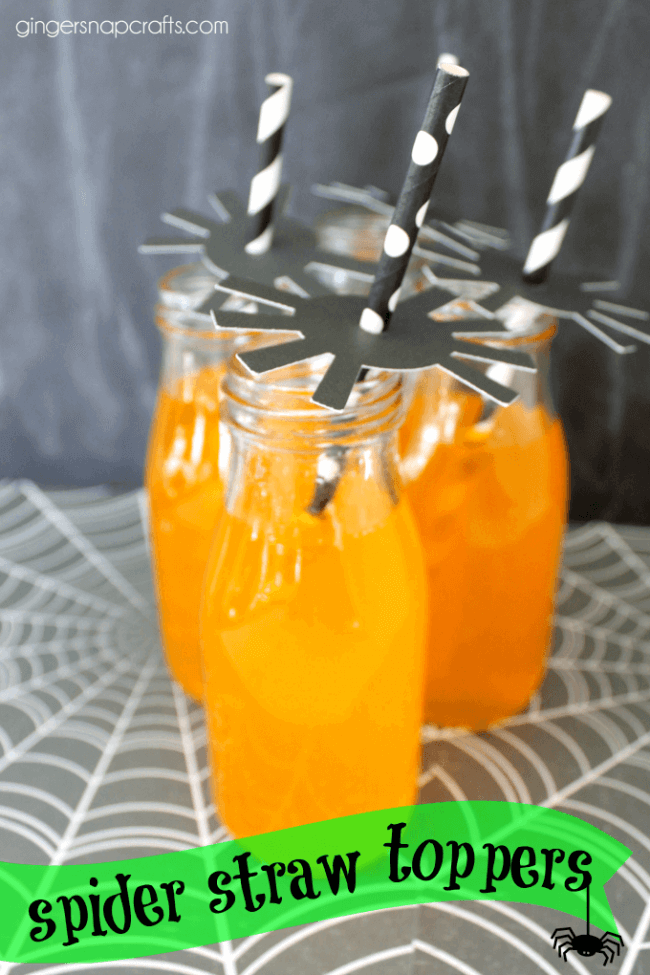 24. Spider Straw Toppers Halloween Craft
From See Vanessa Craft
Every spooky Halloween themed drink deserves an equally spooky garnish or topper.
These spider straw toppers from See Vanessa Craft are an easy way to take your Halloween party punch to the next level. They are super easy to make yourself with some black card stock and a spider paper punch.
Punch a hole in the middle of each spider and slip a patterned paper straw through the middle.
25. Hocus Pocus Halloween Punch
From Nourished Simply
Halloween drinks are often on the unhealthy side, filled with sugary sodas and ice creams. Make a healthier version of Halloween punch with this tasty leach mango recipe.
It's made with a delicious mix of mango sorbet, V8's peach mango drink, and sparkling peach drink.
There are no artificial colors in the ingredients, but it still makes a fun dark orange punch that your kids will love. It's the perfect Halloween orange.
Optional Halloween Drinks Non-Alcoholic Supplies
The basics are cheap party cups, fun glasses, spooky goblets, fun straws, special Halloween candies, etc.
There are plenty of options for ways to dress up your Halloween drinks. The store shelves are loaded with fun and spooky party cups. Check out the dollar store for Halloween-themed straws for sipping or stir sticks to add to the glass.
Ghost-shaped peeps can be found in some specialty candy stories, adding them to a skewer in your drink would be a fun garnish.
Best Ways to Serve Halloween Drinks
Serve Halloween drinks in fun goblets, glow-in-the-dark glasses, or even simple paper cups with Halloween designs.
Halloween Drinks Non-Alcoholic FAQ
What is the potion in Hocus Pocus?
The Life Potion is an evil green elixir used by Sarah, Mary, and Winifred Sanderson. The recipe for this elixir can be found in the Manual of Witchcraft and Alchemy.
What do you drink while trick or treating?
There are plenty of options to keep warm while trick-or-treating. Hot chocolate, apple cider, or pumpkin spice latte will all get you in the Halloween spirit.
How do you make foggy drinks?
Adding dry ice to your Halloween drinks will make them smoke for a spooky effect.
MORE GREAT HALLOWEEN PARTY FOOD IDEAS
More You'll Love