22 Amazing Halloween Cupcakes
Table of Contents
Here are some incredible ideas for Halloween Cupcakes including such yummy delights as Halloween Spider Cupcakes, Spider Web Halloween Cupcakes, Cauldron Cupcakes, Broomstick Cupcake Toppers, Itty-Bitty Bat Cupcakes, Oreo Spider Cupcakes, Haunted Cupcakes, and Mickey Halloween Cupcakes. There are also several fall-themed ideas that could be made for any occasion. Wow! That's a lot of cupcakes!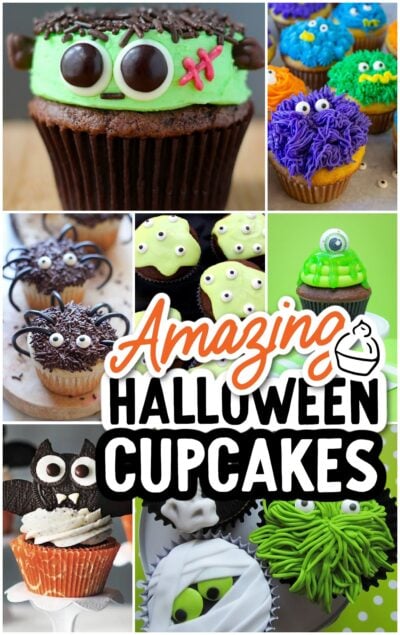 ---
See Also:
---
1. Halloween Cupcakes
Learn to make 7 new Halloween cupcakes! Stock up on Oreos, Milano Cookies, Reese's Pieces, candy eyeballs, sprinkles, buttercream frosting, and Hershey Kisses. Buy or whip up a batch of your favorite cupcakes, decorate at will, and get ready for some spooky cupcake decorating fun.
Every Halloween dessert table needs to feature spiders in some form. We happen to love this tutorial for creating Halloween spider cupcakes. The how-to walks you through the process of creating this creepy crawling cupcake topper out of black fondant and gum paste and looks easy enough for even beginners.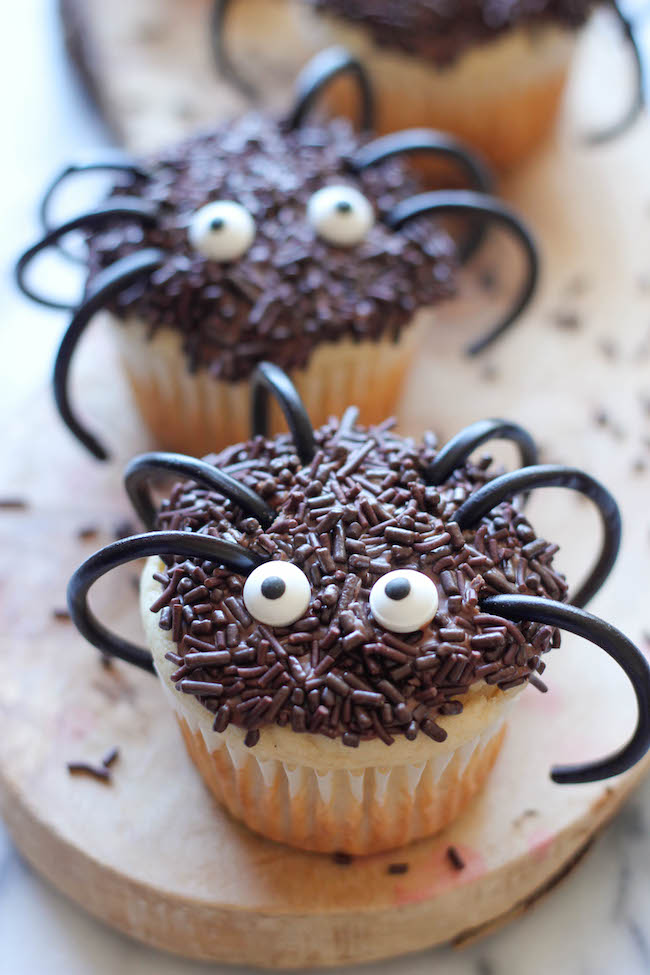 Grab your kids and get to the kitchen, pronto! These Halloween spider cupcakes are a must-make treat and simple enough that children can help make them. Cupcakes. Chocolate ganache and sprinkles. Candy eyes. Licorice lace legs. Easy, right?
4. Spider Web Halloween Cupcakes
White cotton candy looks an awful lot like spider webs, making it the perfect topper for Halloween cupcakes. Since cotton candy sticks to itself, you can literally build a web right on top of the cupcake. Add a plastic spider to complete the look, or create an edible spider out of chocolate on waxed paper to place on the web.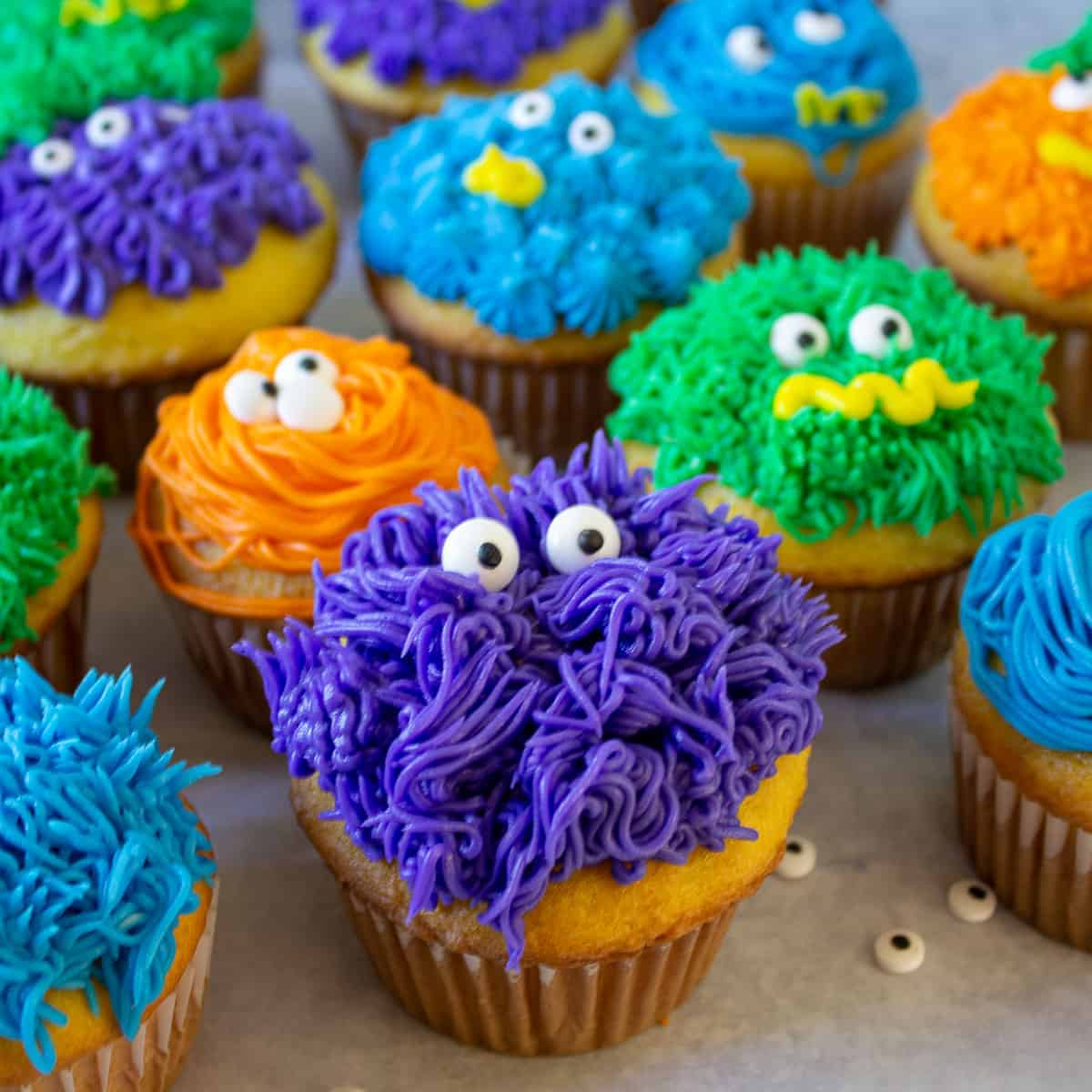 Camouflage plain cupcakes in their own monster-themed frosting for this year's Halloween celebration. Decorating cupcakes as monsters for a Halloween party is easy! Simply print and cut out the printable monster cupcake wrappers which include amazing monster faces. Use frosting and candy to create monster eyeballs for a really cool look.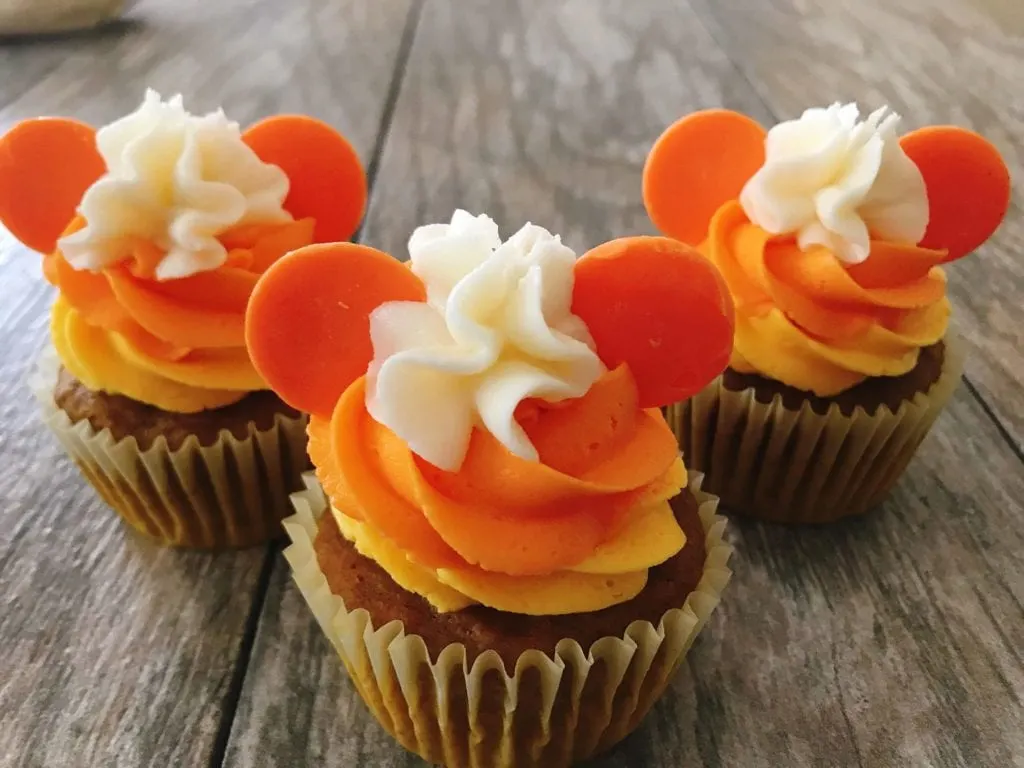 Disney fans, these Mickey Halloween cupcakes will make you smile! If you've ever been to a Disney theme park during Halloween Time, you'll recognize the inspiration for these cupcakes. They look an awful lot like Mickey and Minnie's Halloween Time costumes which they debut at Mickey's Not-So-Scary Halloween Party. Would you believe that these beauties are made with cupcakes coated in frosting and black sanding sugar and topped with hand-crafted fondant pieces?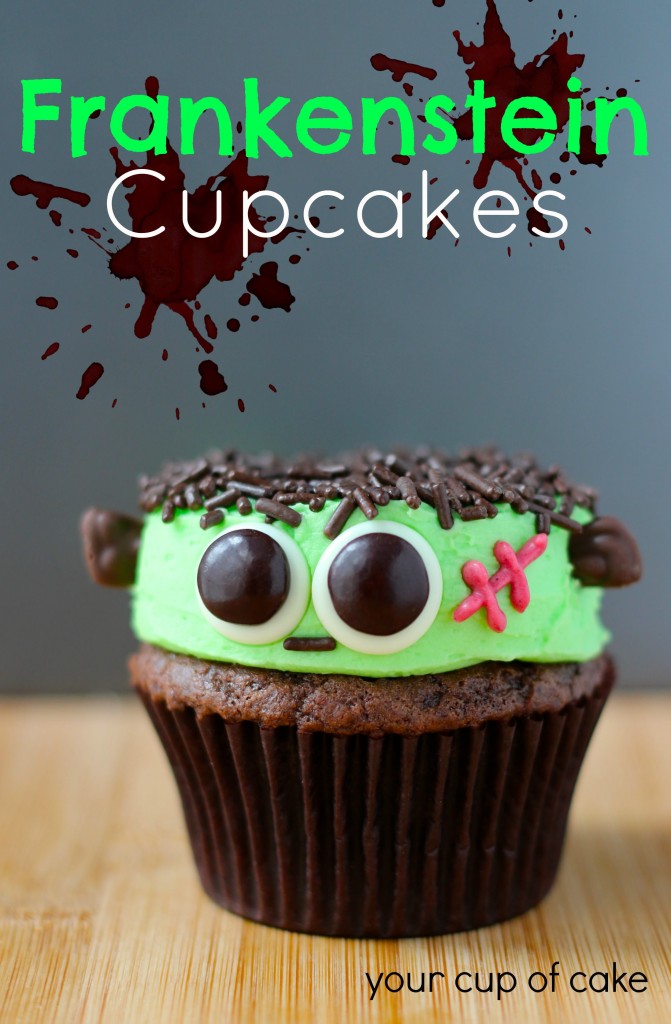 Bring your Halloween party dessert table to life with these spooky Frankenstein cupcakes. Frankie's face is made from green frosting. Black sprinkles make the best edible hair. Step-by-step instructions will guide you through the process of adding the eyes and bolts, which really bring Frankenstein (in cupcake form) alive!
Genius! That's what we have to say about these graham cracker Frankenstein cupcakes. Use frosting and cut marshmallows to decorate a graham cracker square like Frankenstein. Use a graham cracker stick with Frankenstein's bolts, and situate the adorable topper on top of the Halloween cupcake, using frosting.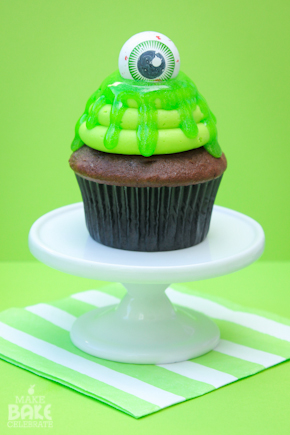 Neon green gel icing and candy eyeballs make these slimy cupcakes ideal for Halloween. You might gross out your guests, but isn't that what Halloween parties are for?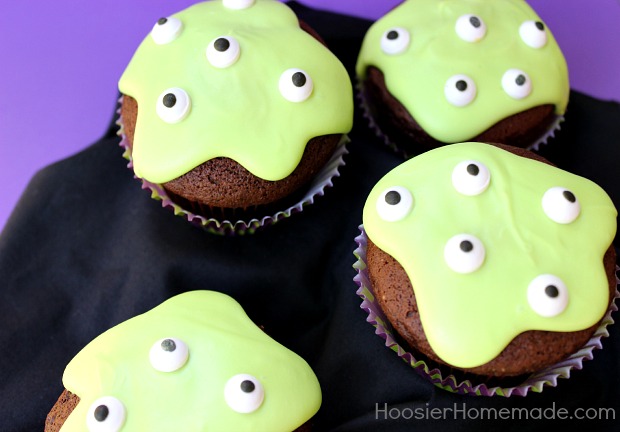 Kick off the Halloween season by baking these monster eye cupcakes with your kids. They are easy enough for the kids to help with and make a great Halloween classroom treat. The lime-colored frosting is slightly melted to create a spoon-able ganache for creating that creepy drip look. Add candy eyeballs to give that monstrous look.
Your best witches will love these witch-inspired Halloween cupcakes featuring adorable broomstick cupcake toppers. You can DIY your own using materials you may already have around your home. Dig through your craft supplies for some Halloween-colored paper straws (black and orange work great), coordinating baker's twine, and a sheet of corrugated Kraft cardstock. Print out small "Broomstick Parking Only" signs from your printer, and cut them down to size with rugged edges. Follow the simple steps for assembling them.
Move over witch's brew. Cauldron cupcakes are here! These naked cupcakes have licorice lace handles and are filled in the middle with a green bubbling concoction made from green gel frosting, green sprinkles, and candies. The stir stick is a chocolate-covered pretzel stick.
Whether you're heading to the pumpkin patch or just want to bring a taste of the patch to your home, these pumpkin patch cupcake poppers will delight all pumpkin lovers. Your kids will have fun squishing the tops of cupcakes together with frosting and adding colorful candies to create an edible pumpkin patch. Use the bottom halves of the cupcakes to create larger-sized jack-o-lanterns.
14. Itty-Bitty Bat Cupcakes
Bite-size itty-bitty bat cupcakes are about to swoop into your Halloween dessert dreams. These cute bats are made from mini cupcakes and cookie wings. To create the bat wings, use a moon cookie cutter. The bat's adorable face is made using miniature white heart sprinkles (fangs), black candy-coated sunflower seeds (ears), black jimmies (eyebrows), and candy eyes.
15. Oreo Spider Cupcakes
There are probably as many variations of spiders as there are spider cupcakes, but we just couldn't pass up sharing this tutorial for Oreo spider cupcakes! I mean, how cute are those licorice legs that drape over the sides of the cupcake? To create this adorable version for your Halloween treat display, you'll need to whip up a batch of red velvet cupcakes for starters. Next, you'll dip Oreos in chocolate almond bark and sprinkle the tops with chocolate jimmies. Add a big dollop of electric green frosting to the top of your cupcake, and perch the Oreo on top to act as the spider's body. Use a little of the leftover melted chocolate to attach a pair of candy eyes and the licorice lace legs.
Let Halloween spirits soar while assembling these haunted cupcakes inspired by bats! With a simple assembly using cupcakes, Oreos in both regular and mini sizes, frosting, white chocolate chips, and chocolate candies, children can help!
If you want to be the queen of cupcakes this Halloween, be sure to check out the assortment of Halloween cupcakes featured here. Inspiration abounds. You'll see cupcake ideas inspired by mummies, jack-o-lanterns, witch feet and cauldrons, monsters, and skeletons. Try one idea or make them all!
There is nothing quite like monster cupcakes to get kids and adults both in the mood for Halloween. Kids will have fun squirting melted candy melts in a variety of colors into fun squiggles to top their cupcakes. Add some candy eyes, and you've got some silly monster cupcakes to show for an afternoon of baking fun.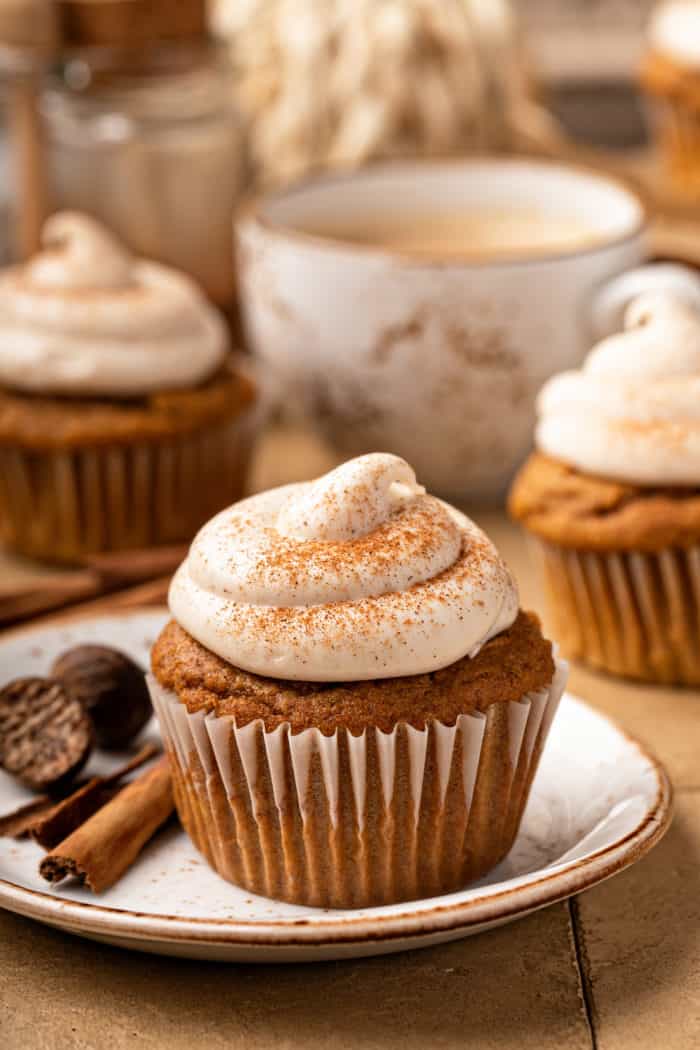 These pumpkin spice pudding cupcakes are so tasty, that you'll be dreaming of Halloween (and wishing you could celebrate it) all year long. Be on the lookout for the pumpkin spice pudding mix and stock up once it hits store shelves. Embellish with Halloween baking picks, and follow the tutorial for making your own Halloween-inspired moon using melting chocolates, sprinkles, and a lollipop stick.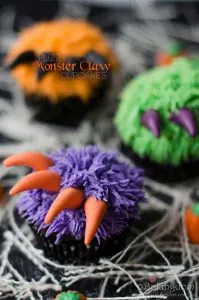 If yummy chocolate cupcakes topped with vanilla buttercream weren't awesome enough, you can bring some fright to your Halloween festivities by turning them into creepy monster claw cupcakes. You can use store-bought fondant, or make your own marshmallow fondant to create the monster claws. Don't forget to add some red frosting for bloodied claw marks!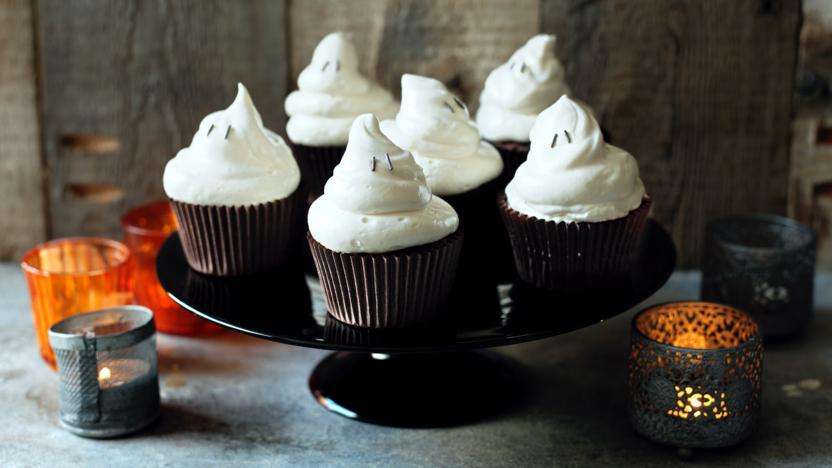 These ghost cupcakes are the perfect treat to bring to any Halloween party this year. You'll have a good time making these spooky Halloween cupcakes.
Bring the creepiness of a cemetery to your Halloween cupcakes! Use this cupcake recipe or one of your choosing. Then recreate the look of these R.I.P. tombstone cupcakes using Wilton's tombstone decorating kit. Gift these scary graveyard cupcakes, or display them at your Halloween party.
Get more ideas for spooky Halloween food with these great recipes: