25 Spooktacular DIY Halloween Wreath Ideas
Table of Contents
Howl-le-lu-jah—it's almost Halloween! If you're among the masses that love to craft Halloween décor, you're in for a treat. Whether you're hosting a party or not, you'll find spooky inspiration and how-to ideas for making a front door statement piece that run the gamut from creative through creepy. Bones, eyeballs, candy, skulls, spiders, pumpkins and ghosts…it's all the fodder you need to welcome (or warn!) seasonal guests.
---
See Also
---
1. Boneyard Wreath for Halloween
From Happy Hooligans
Perfect for toddlers and preschoolers to make, this boneyard wreath can be DIYd with just a handful of craft supplies. It's a great décor item to hang on your front door for Halloween. White paint, glue, pasta "bones", foam Halloween shapes, cardboard "wreaths" and googley eyes are the basic supplies needed to make these Halloween wreaths.
2. Printable Eyeball Wreath for Halloween
From See Vanessa Craft
Do you love Halloween, but prefer to avoid the dark, spooky, and gruesome sides of the holiday? This printable eyeball wreath is fun and quirky, but definitely isn't spooky. It makes an easy-to-create Halloween decoration. You simply download, print and cut out the free eyeball printables. Use a wreath form and simply start layering the eyeballs (big and small) around the wreath.
3. Halloween Spider Wreath
From Delicate Construction
You know those extra plastic spiders you have left over after every Halloween? Put them to use in this "Halloween wreath for slackers" idea. Visit your local craft store and pick up a wooden grape vine style wreath form. Use glue or wire to attach the plastic spiders to your grape vine wreath. Add any additional plastic Halloween creatures you may have hiding in your holiday stash.
4. Festive Halloween Mesh Wreath Tutorial
From DIY Inspired
Would you believe that in order to make this festive Halloween mesh wreath, you just need to make an inexpensive trek to the craft store and complete a few simple steps? It's true! You'll need a work wreath frame, some deco mesh, ribbon, floral stem wire, and some festive Halloween embellishments (Halloween sign, Styrofoam candy corn). Follow the tutorial directions, which include detailed photos, to recreate the look.
5. Candy Corn Wreath
From lil'luna
Candy corn is the quintessential Halloween candy. What better way to display it than on a wreath! This candy corn wreath does require some gluing time, but the project is relatively simple and definitely results in a cute project! Black fabric strips are wrapped and glued to a foam wreath. Four rows of candy corn are added, with each row of candy corn facing the opposite direction. A bow and framed printable are added to complete the look.
6. DIY Candy Corn Wreath
From The Mommy Evolution
The only downside to this candy corn wreath is the fact that you can't actually eat the candy corn! Once it is used to make this awesome Halloween wreath, it's not safe for consumption. On the upside however, is the fact that it is a frugal fall/Halloween decoration, is easy to make, and only requires a foam wreath, hot glue gun, and candy corn.
7. DIY Halloween Wreath
Get your Halloween craft on with a DIY project that will add some festiveness to your front porch! This DIY Halloween wreath starts with a basic straw wreath. Leave the shrink wrap on, and wrap the wreath with orange yarn. Embellish with black yarn, making a cross pattern. Add fun Halloween embellishments like plastic spiders, googley eyes, a foam skull and faux bat.
8. Halloween Wreath
A Halloween wreath made for less than $5? Trick or treat? Definitely a treat! You may even have the materials hanging around your house already. Take a peek and see what you can round up. You'll need scissors, Halloween garland, cardboard, and some black and orange ribbon. No glue needed. It doesn't get easier than this!
9. Halloween Candy Wreath
From Uncommon Designs
Do you boo your neighbors and friends? Start this fun Halloween tradition by creating a Halloween candy wreath perfect for leaving on their door. It's fun to make using a flat ring wreath form, strips of grosgrain ribbon and packaged candy. What a fun surprise to find on a porch!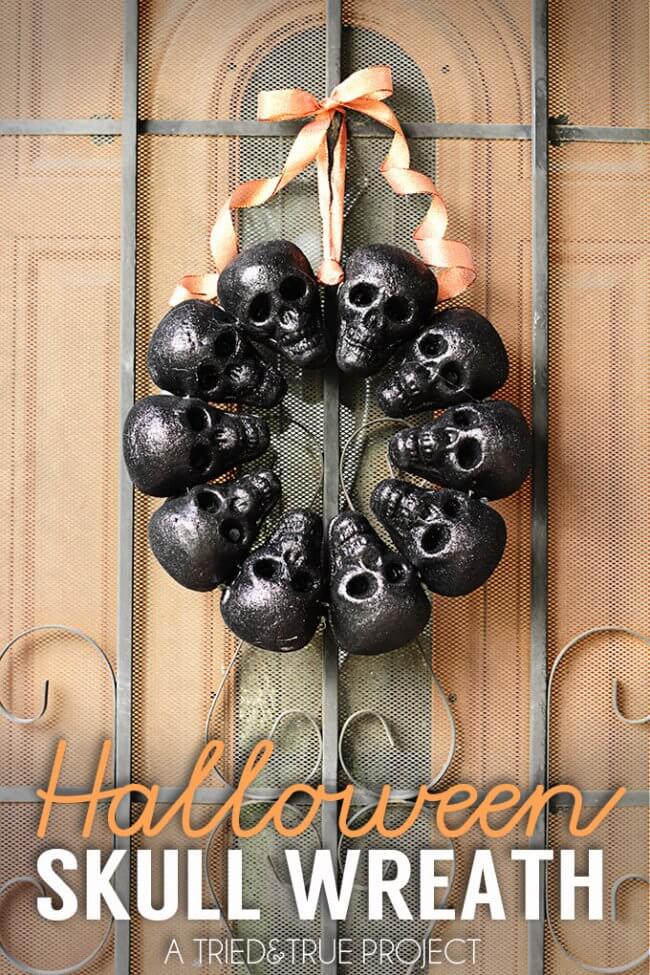 10. Halloween Skull Wreath
From Tried and True
When it comes to making a Halloween wreath, frugal can be fa-BOO-lous! This Halloween skull wreath is made using Styrofoam mini skulls found at the dollar store! You'll push lengths of 16.5 gauge rebar tire wire through the skulls to create a wreath. Hang it with orange ribbon.
11. Eerie DIY Halloween Wreath
From DIY Inspired
Get creative this Halloween by making your own eerie Halloween wreath! Begin this "spooktacular" project by covering a grape vine wreath in gauze. Add feather bunches as instructed. Affix rhinestones to bling out a skull and to wooden letters that spell, "eek". Hot glue these items to finish off the eerie design.
12. Turquoise BOO DIY Skull Wreath
From Mod Podge Rocks
Orange and black might be the traditional Halloween color palette, but this idea for a turquoise boo DIY skull wreath is here to mix things up a bit. It features a turquoise skull with turquoise, silver, and lime green flowers and paper die cut bats. If you're looking to be out of the ordinary this Halloween, check out the step-by-step instructions for making this Halloween wreath.
13. Spooky Eyeball Wreath
From A Pretty Life
Add this spooky eyeball wreath to this year's Halloween décor! It can be made with just a few supplies! Is there anything scarier than a bloodshot eyeball? "I've got my eyes on you!" You'll need 92 eyeballs (these were from Michaels), a glue gun, a grapevine wreath, and black spray paint.
14. Cupcake Liner Wreath
From Fun-a-Day
If you're looking for a great Halloween craft for kids, this cupcake liner wreath is simple, fun, and definitely frugal! To keep things extra easy for little ones, set up this craft by cutting the middles out of paper plates to create a simple wreath shape. Set out orange paint, cupcake liners in Halloween colors, paintbrushes, glue, and black permanent markers. Kids will have fun painting their paper wreaths orange, drawing jack-o-lantern faces on the orange liners, and drawing any details on their wreath.
15. Pumpkin Wreaths
From Parents
Welcome Halloween trick-or-treaters this year with a fun pumpkin wreath made from burlap, batting and black craft foam. You will need to cut a cardboard circle to cover the back of a wreath form before filling the center with cotton batting. You'll cut 15-20 strips of the orange burlap to wrap the wreath and create your pumpkin. Add a face, cut from the black foam!
16. Halloween Wreath
From The Typical Mom
You've heard the phrase, "One man's trash is another man's treasure"? Well this Halloween wreath stands to prove that phrase's truthfulness. It's literally made from trash bags! Strips of garbage bags are cut and tied onto a metal wreath form to create this out-of-the-box Halloween wreath. Talk about an economical front porch decoration, perfect for Halloween.
17. Happy Halloween Wreath
From lil'luna
Ribbon and trim transform an ordinary foam wreath into this adorable happy Halloween decoration. Hot glue helps keep the ribbon in place on the wreath. A framed Halloween printable sets this wreath apart.
18. Spooky Spider Web Halloween Wreath
From A Night Owl
You'll love the finished look of this spooky spider web Halloween wreath, especially after making it yourself! Can you believe it is made from a ceiling medallion? It's hung using tulle. Dimensional silhouette spiders and some coats of paint make this Halloween ready!
19. Halloween Spider Web Wreath
From Design Improvised
If you've got 5 minutes to spare, you've got plenty of time to whip up this easy Halloween spider web wreath! Everyone needs simple handmade holiday decorations, right? The supply is short for this spider web wreath. You'll need a grapevine wreath form, faux spider web, and some plastic spiders. You'll also need some large felt spiders (store bought or hand cut), hot glue and scissors. Check out the pictures and instructions for crafting your own wreath.
20. Halloween Wreath from an Old T-Shirt
From Blue Bear Wood
If I told you this awesome Halloween wreath is made for an old t-shirt and scraps of felt, would you be surprised? I was! It looks rather stunning decked out in glittered toy spiders and a black spray painted twig for interest. Don't throw out your old t-shirts! Just think of all the Halloween wreaths you can DIY.
21. Simple and Elegant Halloween Wreath
From Rosyscription
You won't believe how easy it is to make this simple and elegant Halloween wreath! Would you believe it's from a ceiling medallion that you can purchase at your local home improvement store? The darling black and white sash was a discarded clothing item. Great repurposing! The orange center is a hand-me-down orange sash wrapped around a small foam wreath (fabric or ribbon would work too). What a beautiful Halloween wreath!
22. Halloween Coffee Filter Wreath
From lil'luna
If you've seen a tutorial for a coffee filter wreath before, this Halloween approved wreath, kicks things up a notch for the spooky holiday. A Styrofoam wreath and coffee filters are the main supplies, but spider webs and a Halloween printable are what bring in that frightening Halloween vibe.
23. Mom and Tot Craft Time: Spooky Halloween Wreath
From Toddler Approved
Are your kids obsessed with Halloween? Host a mom and tot craft time and whip up a spooky Halloween wreath together. This wreath is made using a Styrofoam wreath (or substitute a paper plate with the center cut out), tacky craft glue, googly eyes, ribbon, plastic spiders, foam stickers and any additional embellishments you have on hand. The beauty of this craft project is that there is no "right" way to decorate the wreath. Let the kids use the materials and their own creativity.
24. Spooky Eye Halloween Wreath
From Craftulate
Craft up some spooky fun this Halloween. This DIY spooky eye Halloween wreath starts with a wire wreath frame. Add that mysterious look using black tulle, black maribou feather boas and sparkly black tinsel garland. Transform ordinary Styrofoam balls into spooky eyeballs using black marking pens. Ribbon, hot glue, and black cardstock help to finish the look.
25. Ghost Family Halloween Wreath
Something spooky this way comes! DIY a ghost family Halloween wreath to scare up some festivity on your porch this Halloween. You can use scraps of white fabric, filled with cotton to create your family of ghosts. Use a permanent marker to add faces. Attach the ghosts to a rustic wreath.
Looking to DIY your own Halloween crafts and décor? We think you'll love these supply sources put together by the Spaceships and Laser Beams crew.
(Amazon Affiliate Links)
Monster Magnet Craft Kit
Halloween Foam Craft Stickers
Pumpkin Decorating Craft Kit
Shrinky Dinks Halloween Fun
Halloween Friendly Acetate Die-Cuts
Foam Halloween Masks
Halloween Foam Stickers Set
Google Eyes
Plastic Spider Rings
Spider Webs
Grapevine Wreaths
Styrofoam Wreath
Black Boa Feather Craft
Coffee Filters
Halloween Eye Balls
Be sure to check out more Halloween project ideas here: