8 DIY LEGO Travel Cases To Keep You Organized
Table of Contents
What girl or boy likes to sit still, be quiet and do nothing? Is that even possible?! Whether traveling, waiting for an appointment, or sitting in the car, a kid just needs something to do. One great something is building with LEGO.
Who doesn't like to play with LEGO? Before you dismiss the idea of all those small pieces balancing on a squirmy lap, look at this list of eight ways to make compact LEGO travel kits. These clever moms made travel kits out of a baby wipe case, an empty cheese box, a metal lunch box, a plastic bead holder, wooden craft boxes, and fabric. You can do it too!
---
See Also:
---
Before you throw away those empty baby wipes containers, check out this awesome DIY Travel LEGO case. It's made from an upcycled baby wipes case. Notice the blue building plate adhered to the top of the wipe case. LEGO bricks are housed at the bottom of the case. Not only does this allow for LEGO storage and LEGO play on the go, but it is also nice and compact, and easy to transport.
It doesn't take much to create a DIY LEGO travel box and make your LEGO-obsessed children's dreams come true. This LEGO travel box was created from a cheese box. A quick paint job later and the addition of a LEGO base cut to size and affixed provided just the right solution for a traveling box for storing LEGOs and playing with them while traveling.
There are many ways to assemble a portable LEGO kit for your little travelers. This one utilizes an old-school-style metal lunchbox. To make this version, you'll also need a large LEGO building plate, some sharp scissors, a sanding sponge, mounting squares, white felt, craft glue, and a bunch of LEGO bricks. You'll begin by cutting down the building plate to fit securely in the lid of the lunchbox. The corners will need to be sanded down a bit to make them rounded to match the shape of the lunchbox lid. Removable mounting squares (adhesive) will hold the building squares in place. You'll cut the felt to fit inside the bottom of the lunchbox to help cut down on the noise of the LEGO bricks (which tend to clang against the metal lunchbox). A scrap piece of the building plate is glued in place to help keep the LEGO pieces in place.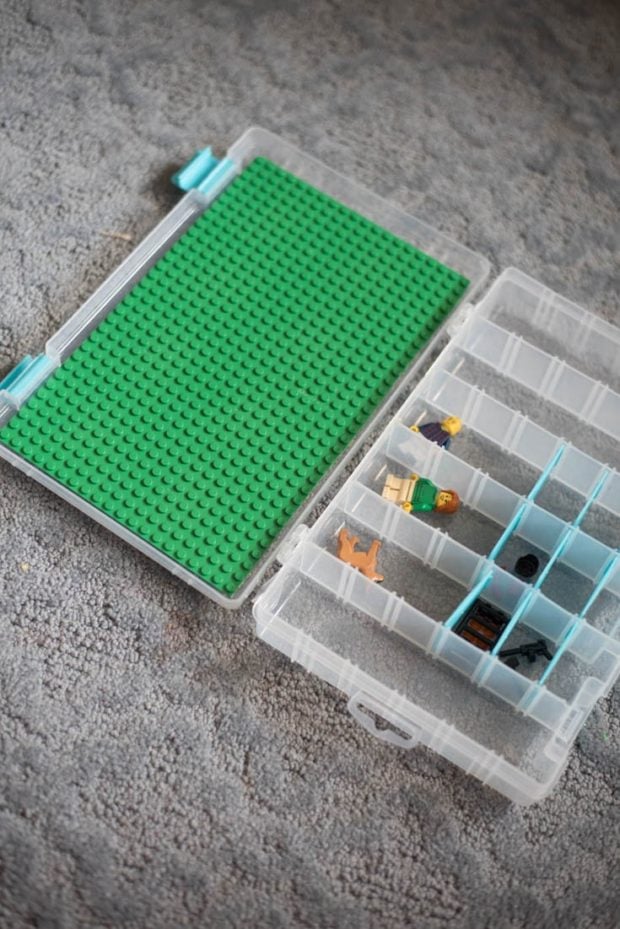 Chances are good that you've seen the plastic craft storage boxes with square compartments at your local craft store. Many people use them to sort beads, small embellishments, and other crafting essentials. Have you ever thought to use one of these boxes to sort Legos and function as a LEGO travel box? Simply sort LEGOs into each of the small compartments and glue a LEGO building plate on the top of the box!
5. DIY LEGO Activity Storage Box
If you're looking for the perfect gift for your LEGO-loving child, this DIY Lego activity storage box is a perfect idea! And the great thing is that it can be adjusted to be any size you'd like. You'll need a lidded storage box, LEGO plate, contact cement, razor blade knife, and LEGOs. Simply follow the included tutorial to create your own activity and storage box.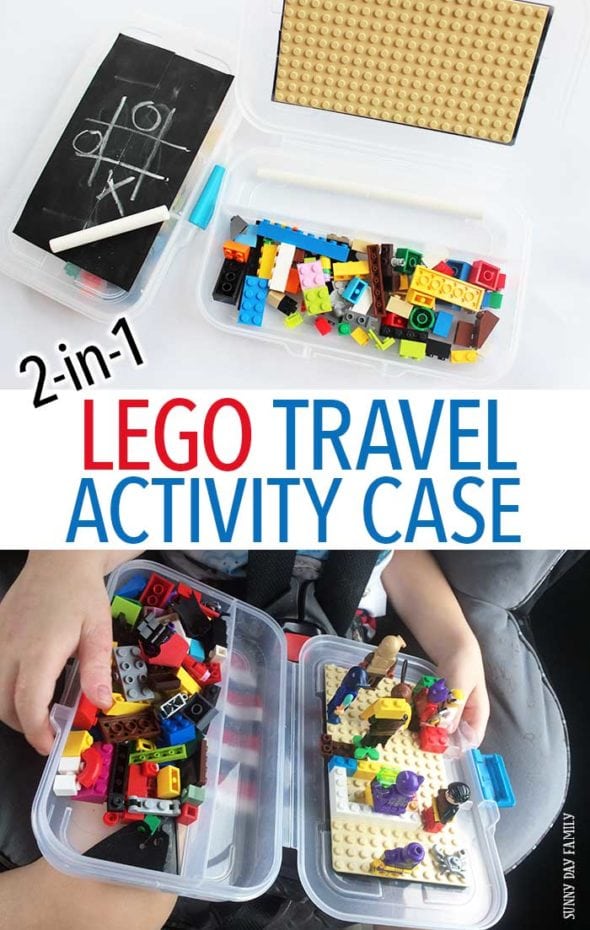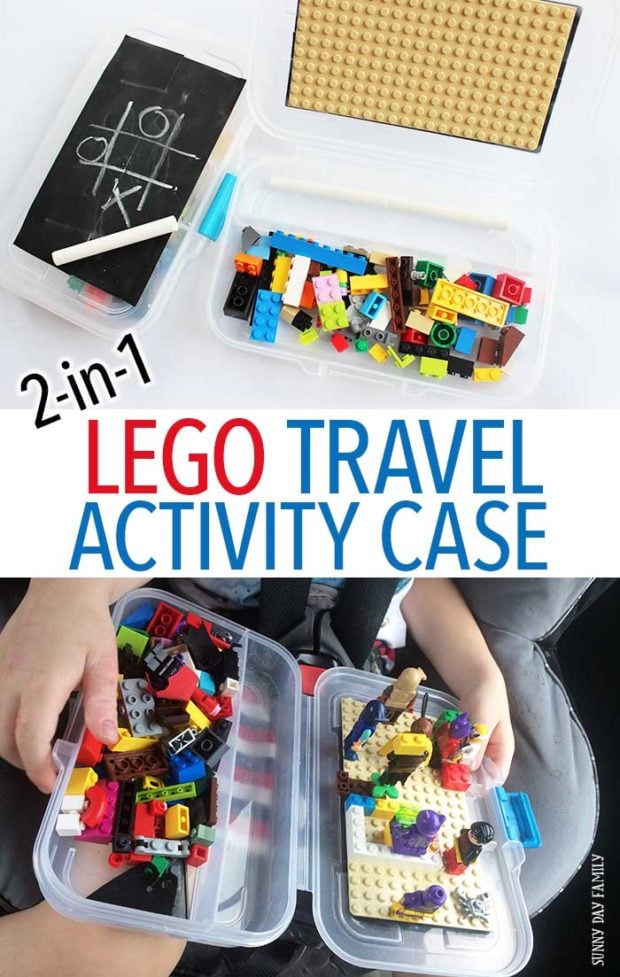 You can DIY your own LEGO case out of a simple plastic school supply box. Fill the bottom of the box with an assortment of LEGOs and affix a LEGO building plate to the inside of the lid. You can add chalkboard duct tape to the front for more creative fun.
With a few simple supplies, you can create a travel LEGO box for hours of LEGO building on the go! To recreate this travel LEGO box, you'll need to pick up a flip-top wooden box, Modge Podge, the fabric of your choice, paint, and LEGOs! Using Modge Podge, you'll cover the box with the fabric you chose. Any exposed wood will be painted for a finished look. The top of the lid is the perfect place to glue on a LEGO base plate. The inside of the box becomes the home for all of the LEGO building blocks.
Get ready for some awesome indoor and outdoor fun and easy cleanup with this all-in-one toy bag and play mat. Because it uses water-resistant fabric, even wet ground can't spoil the fun! You can follow the detailed instructions that include pictures. The final result is a great play mat that also functions as a LEGO toy storage bag. So creative and fun, while also being functional!
Don't miss these fun-themed ideas for a birthday party: