22 Monster Birthday Party Ideas
Table of Contents
Whether you're looking for a birthday party idea or hoping for a Halloween party theme, a colorful Monster Bash will leave 'em screaming for more! Silly monsters only exist in the imagination so dessert tables and party decorations can roll off in any direction you want. Use spare parts for supplies, bake a goofy cake with eyes, get those invitations out and you're ready for a monstrously good time. Be sure to check out some of our favorite party haunts around the neighborhood for suggestions to thrill everyone with silly fun.
---
See Also:
---
You'll love the winsome monster, food, and serving ideas! The Loch Ness Monster cupcake holder is especially clever.
An orange FUR (faux) table covering, a marvelous hanging backdrop, and monsters on the drinking glasses are just a few of my favorites at this fun spot.
Great set-up! We love the woodland scene and the birthday cake looks wonderful inside and out.
The coloring wall of monster characters is a brilliant idea! See especially cute favor ideas here, too.
Even the rock candy and marshmallows have eyes for you at this party! Of course, you'll see zaps of color and pick up terrific monster ideas here.
Color blocking on this monstrous party table is so effective. Love the party hat-wearing monster on top of the cake? The pedestal is awesome, too. Yarn-wrapped frames starring little monsters are cute.
7. Silly Monster 1st Birthday
Bright orange, blue, green, and yellow were used to arrest attention and delight small guests. Monsters on the cakes, decorations, and handmade favors were too silly to scare!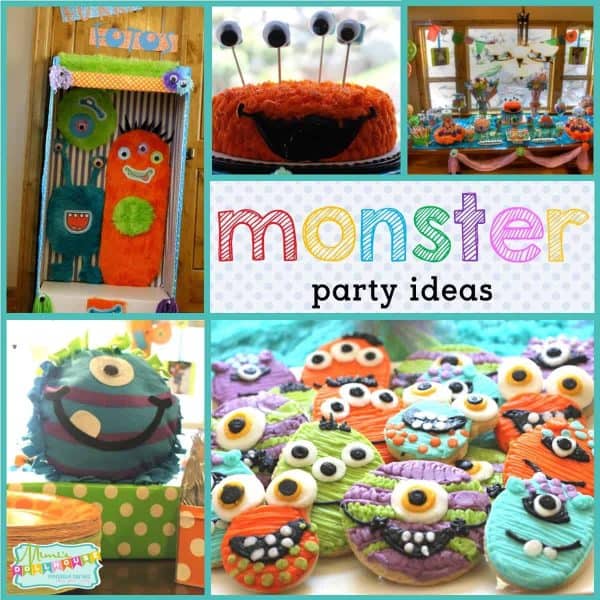 This Furry Foto booth has to be one of the best. Favor cones are especially celebratory and of course, the colorful energy is great.
Four-foot-tall monsters would certainly thrill short little kids! Color AND texture were used to create this party environment.
10. Monsters University Birthday
Clever details and cheery colors build on the fun characters from the Disney world of Monsters University. This party-loving mom really wows us!
All of the monsters are smiling at this party – and there are a lot of 'em. Place settings, serving dishes, and photo props all have funny little monster adornments.
Just imagine a room full of kidlets wearing these eyeball hats! HA! See lots of friendly little monsters wearing their best party colors.
A watermelon monster-wrapped mummy hot dogs and an awesome orange monster cake fill up a fun party table.
See another really cute cake here. We really liked the "monster factory" idea for a craft station, too.
Even the table has become a monster at this delightful celebration. We love the collection of containers at the beverage station. All the party monsters seem to be cheering for a happy time!
Chevron and stripes work well with bright pops of solid colors. The photo display beautifully utilized the play environment at this sweet party.
17. Monster-Themed Birthday
Our Monster Fest Collection is used in yet another way. A fun cake and raspberry and orange fruit monsters add a lot to the table, too.
The aqua, yellow and brown décor departs from the usual party. Great cake!
Subtract the Halloween elements and you still have a great monster bash. Dimensional monsters add an interesting element. Watch out for the fur-covered guest table — there are monsters over there!
A sweet book and a delightful party theme – doesn't it make you giggle just to think of the tickles?
Even the little birthday boy or girl can get dressed as King of the Wild Things at this party!
Here's a monster of a monster party! This one is also done in color blocking and it is filled with colorful candies, little monsters, and details to excite your imagination.
If you're getting ready for a themed birthday party, check out these ideas as well: