12 Easy DIY Decorations For Your New Year's Eve Party
Table of Contents
These Easy DIY New Year's Eve Decorations have lots of glitter and sparkle to make sure you ring the New Year in right! The Sparkly Bubbly Sign is perfect for the Bubbly Bar or Gold Glitter Dessert Table. How cute are these DIY Confetti Dipped Balloons, and New Year's Eve Ball Drop Cupcake Toppers?
The New Year's Eve Bottle Centerpiece and Lighted NYE Background is perfect for a dessert table or buffet. Get ready to dazzle! If you want, even more, check out this ultimate NYE Party Guide with these New Year's Eve Games, Ideas, Decor and More.
See Also:
---
Confetti makes everything better. Once you start dipping things in confetti, it becomes an addiction! These confetti balloons are absolutely perfect to decorate your New Year's Eve party with. You can even throw a confetti-dipping party! When you make these, you want to use gold foil confetti so you don't risk popping the balloons. If you are using helium balloons make sure you don't add too much confetti or they won't float!
This is easily one of the most elegant decorations you'll have at your soiree. Start by spray painting some empty glass bottles and then hot glue some giant new year's numbers onto the glasses. Don't forget the glitter to complete them. You can even theme this bottle centerpiece to match the decorations at your party: black and white, gold, silver, or whatever you can think of!
3. Sparkly Cake Toppers
Almost any New Year's Eve party has to have a cake. These easy cake toppers will definitely make it stand out! They are easily customizable to match your party's theme as well. All you have to do is make the design using sparkly pipe cleaners and use a straw to protect your cake from the pipe cleaners.
When we hear New Year's, there are two things that come to mind: glitter and bubbly. This decoration combines both of those in the perfect way! Just get the wooden letters, and paint them gold or silver. Next comes the glitter! Lots of it. Add your letters to dowel rods and insert them into some foam to complete your amazing centerpiece.
Décor is always the most exciting part of planning a party, it gives you the chance to be creative and really let your style sparkle! Clocks are a definite staple of new year's so what better way to decorate than incorporating them into your decorations by creating a beautiful mantelpiece with them? We love this idea!
Building a beautifully elegant bubbly bar for your New Year's Eve party has never been easier with this in-depth tutorial. They explain how to add different elements to make your bar show-stopping!
7. Hanging Holiday Decor
We love this idea! Hanging your decorations above your serving tables takes all the stress out of ensuring that you have enough table space for all of your food and drinks. This article also has some amazing tips for making sure your next New Year's Eve party goes off without a hitch.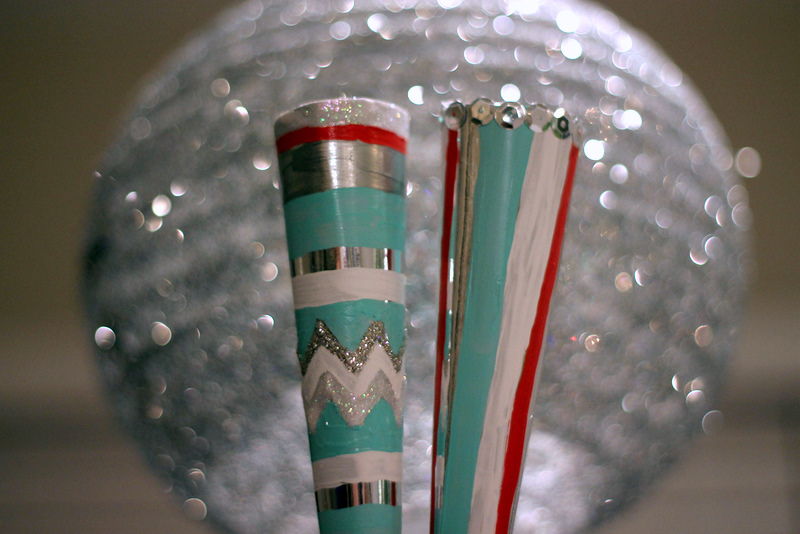 If you haven't noticed, New Year's is not complete without ample amounts of glitter! This glitter lantern is so easy to make and adds a great touch to your party by adding something most people would overlook your lighting. All you need to do is glue and add glitter to the lantern and you are ready to light up your evening! The glitter even acts as a makeshift disco ball.
9. Sparkly Pom Pom Toothpicks
These sparkly pom poms will definitely up your appetizer game. The simple addition of pom poms to the toothpicks will make your New Year's appetizers look party-ready. These almost remind us of the Ball Drop idea brought to your appetizers. Great idea!
These gold-fringed numbers take inexpensive items and create an awesome party decoration! All you need is cardboard and gold tinsel. Cut out the numbers you'd like to wrap and wrap them up. They are super flashy and bound to stand out at your New Year's Eve Party. The craft uses classic gold to create the numbers, but you can use any color that will match your party. You can hang them up from the ceiling because they are super lightweight.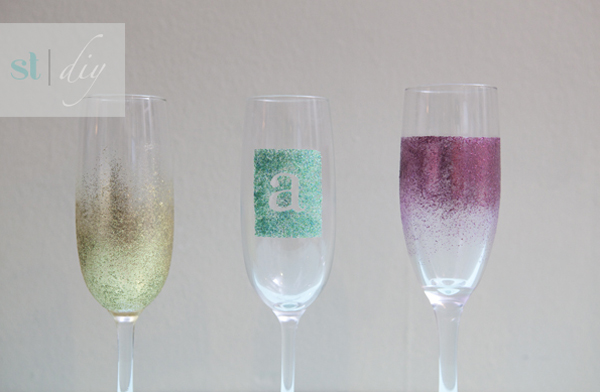 Champagne glasses are always a staple of any New Year's Eve. Even if you don't drink alcohol, you can make these for everyone and just fill them with any sparkling beverage! In this link, they explain how to make several different styles of decorated toasting glasses, my favorite is the one with the personalized lettering. All you need to make these is glue, glitter, stencils, tape, and of course champagne glasses!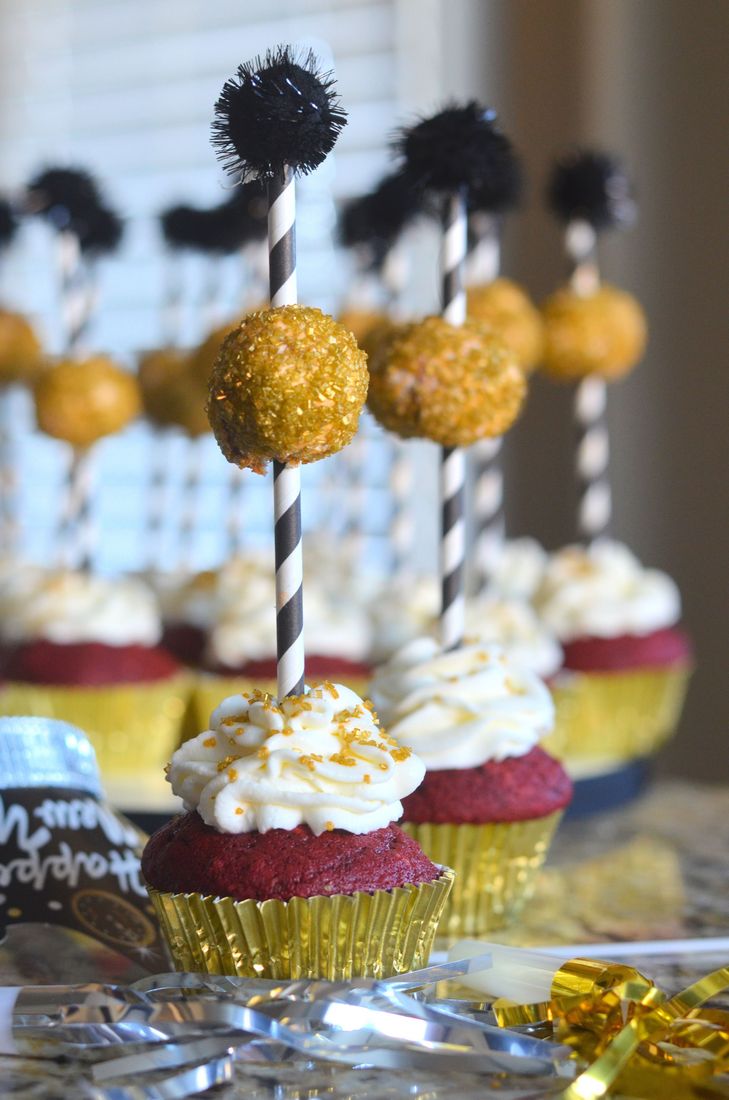 These cupcakes are so adorable! The cupcakes can even be made in advance and in whatever flavor you'd like. The balls are so shimmery and shiny and look so cute on top of the cupcakes. Try baking your cupcakes in gold or silver foil to add some extra flair to the final product. They will definitely look amazing front and center at your big bash this year.
Celebrate with more great ideas for a fun New Year's Eve party: