The Ultimate NYE Party: 15 New Year's Eve Party Games, Ideas, Decor & More
Table of Contents
If you love ringing in the New Year with family and friends, this post is for you. We're sharing our favorite tips for throwing an amazing New Year's Eve party, including ideas for invitations, decorations, and party refreshments. And if you're worried about how to keep your party guests entertained until the ball drops, don't worry. We've also included a roundup of New Year's Eve party game ideas for adults, kids, and teens. There is a little something for everyone.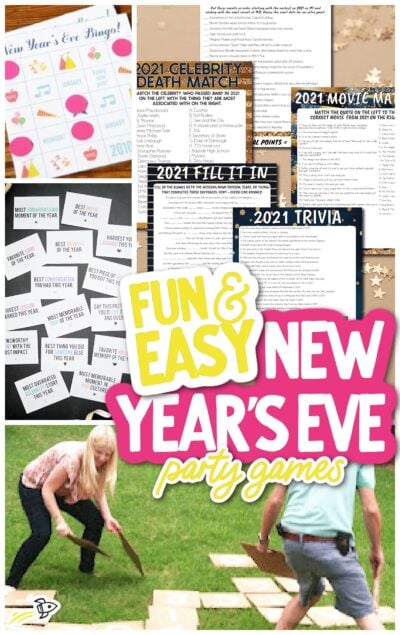 ---
See Also:
---
Invitations
Chances are, Santa blew the holiday budget on Christmas, leaving very little extra funds for fancy New Year's Eve party invitations. Don't dismay! While a printed invitation is always in style, friends and family will most likely be just fine with a digital invitation or even a text or phone call sharing the party details.
Be sure to give invitees plenty of notice so they can plan to attend, especially if childcare or travel arrangements need to be made. Include any important details such as desired dress (formal or casual), whether the party is for adults only, and what guests should plan for in terms of food and entertainment (a simple "appetizers & desserts will be served" notification alerts guests that they should eat dinner prior to coming). Provide any requests or party assignments at this time.
Decorations
Having just wrapped up Christmas festivities less than a week before, you may still have evidence of Santa lingering. While Santa is certainly welcome to ring in the New Year with you, we suggest removing anything overly Christmassy from your décor and sticking to a more classic holiday look. If you haven't had time to take down your Christmas tree, don't worry. Leave the tree up and the lights on, plus any gold or silver metallic balls or clear glass ornaments.
Add a New Year's look by hanging party horns, tiaras, hats, beads, and glass ornaments filled with confetti to your tree to create a celebratory tree. Change out any red and green holiday décor for silver and gold. Gold and silver trays can display party favors like sparklers, festive horns, and hats, or display beautiful refreshments and drinks. Glass jars and bowls can be filled with gold and silver tinsel, glittered pinecones, or leftover metallic ornaments.
Glass candle holders can be dipped in gold and silver glitter for a glam look! Balloons can be dressed up with vinyl numbers representing the New Year! Tissue tassel garlands and streamers are simple to hang and add a festive touch.
Refreshments
New Year's Eve always includes delicious food and beverages. With a party sure to go past midnight, we suggest foregoing dinner service and starting the celebration in time for later evening snacks, appetizers, and desserts.
Finger foods are always a popular New Year's Eve party choice! They don't require a slew of silverware, and guests can eat them on the go as they mingle. Choose a few of your favorite go-to finger appetizers and desserts to make ahead.
Charcuterie plates filled with a variety of nuts, cheeses, meats, crackers, slices of bread, spreads, and fruit are a lovely addition. Petite desserts like mini pies, cupcakes, cookies, and dessert shooters provide guests with many lovely options for taste testing and help to prevent wastefulness by being small in size.
You can easily dress these up by adding fresh whipping cream, a drizzle of caramel or chocolate sauce, festive dessert spoons or picks, and even edible glitter. Don't forget to embellish your appetizer trays with garnish such as sprigs of rosemary, romaine lettuce, or other edible greens.
A big part of any New Year's Eve celebration is the beverage station. Whether you serve alcohol or go the sparkling cider route, you will want to have plenty of options for guests. This could include sparkling or bottled water, sparkling cider, a signature cocktail or two, mixed drinks or punch, coffee, tea, or a hot chocolate station, as well as flavored waters and soda.
If children will be in attendance, a milk bar is a fun idea. Add some strawberry and chocolate syrups for a flavored milk option. Plan for multiple drinks per person. You'll need plenty of stemware, paper or plastic cups, party straws, drink stirrers, and napkins. Plus, don't forget the ice!
The cost of refreshments can add up quickly, not to mention the amount of time to collect and prepare everything. Guests can be invited to contribute to the refreshment table and beverage bar to save on budget and prep time!
Games/Entertainment
One of the best parts of New Year's Eve is spending time reminiscing, laughing, and celebrating together. Costly entertainment isn't necessary. You can have fun with a few simple preparations. First, put together a great playlist and flashback the best moments in music from the past year. Invite guests to sing and dance along to the music!
If you have access to a Karaoke machine(or YouTube), have it set up for some easy guest entertainment. Next, add a photo booth to your celebration. Guests love having a meaningful way to capture the fun of the night. Set up a simple backdrop using streamers, lights, a "Happy New Year" banner, and balloons.
Put together a small basket of New Year's related photo props like sparkling tiaras, hats, party horns, and noisemakers, plus some good old photo booth basics like silly mustaches, faux lips, oversized glasses, and funny signs. Games are also a popular source of entertainment at a New Year's Eve party. Whether you pull out classic board games or put together something new, you can't go wrong with party games.
New Year's Eve Party Game Ideas
There are great ideas for putting together a trivia game, playing more active games of hilarity inspired by Minute to Win It, and even free printables for playing more classic games like Bingo. Games are a great way to mix things up and keep your guests entertained long past midnight. Check out the list below and choose your favorite New Year's Eve game ideas.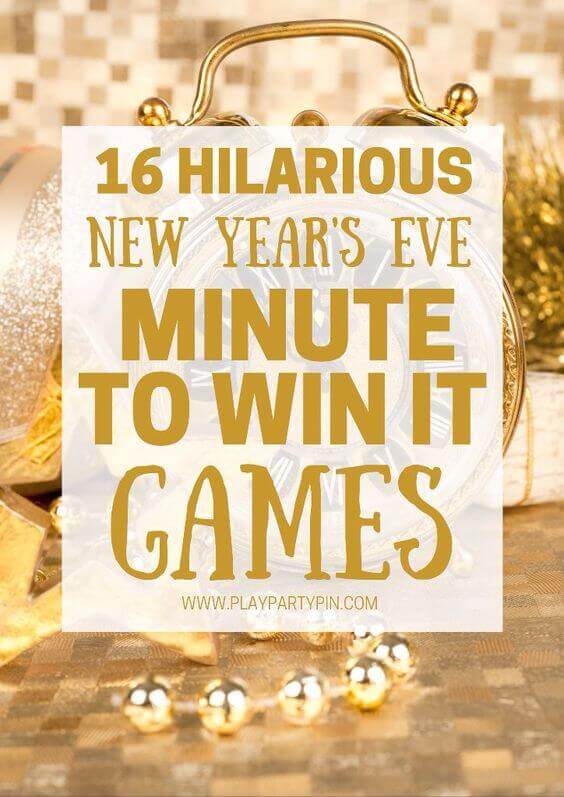 Inspired by the Minute to Win It game show, these 16 hilarious New Year's Eve Minute to Win It Games are perfect for a group to play. You can pick and choose from the 16 games or play them all! Be prepared for lots of fun and laughter!
2. M & M Straw Game
This M & M straw game is easy to set up and sure to result in lots of fun and giggles. Players use their straws to suck as many M & Ms from the bowl as possible before the player to their left rolls a double on the dice. The player with the most M & Ms at the end of the game wins!
This Bingo game includes a free printable game board with New Year's Eve images (balloons, confetti, streamers, etc). Kids can easily fill up their boards while watching New Year's festivities on the television.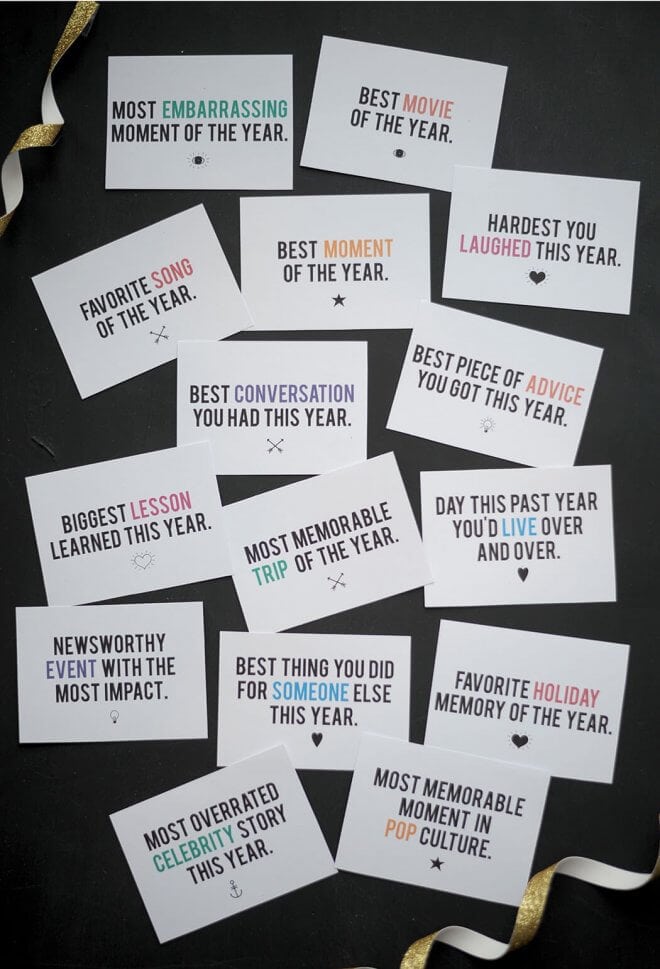 This game is a great way to get the conversation flowing on New Year's Eve with questions about the best song of the year, the best movie, and even embarrassing moments. Simply print the free game cards, cut them out, and put them into a bowl. Have guests pick a card and challenge them to answer it!
What's better than playing scrabble with friends and family on New Year's Eve? Playing giant Scrabble with 12 x 12" sized tiles you've made yourself!
This game is perfect for the movie and music lovers in your party group! Lyrics and quotes from popular movies and songs from the year have to be matched to the corresponding work of art. Bonus points are given for writing down the artist of the song or the character/actor that said a specific movie line.
This dice game is great for adults and kids! Using a paper clock with movable hands, dice are rolled to move around the clock. The number rolled must correspond with the next clock time needed. For example, if you are trying to get to 7:00, you must roll a combination of 7 on your dice.
This fun free printable party game uses a custom printable die and board game. Players take turns rolling the die (which has a combination of numbers and actions like "skip") trying to roll numbers to cover up the year on their board game!
9. New Year Baby Balloon Pop
This active game is great for a group of 8 or more people. Guests will have fun racing to sit and pop as many balloons as possible to collect the most mini plastic baby New Years!
These 5 awesome New Year's Eve games for adults are loads of fun! They are perfect for testing what guests remember about the current year while also getting them excited for the new year. There are printable trivia games, a "name that tune" game using popular playlist songs, and more.
Kids will love this glow-in-the-dark ring toss game made from recycled bottles, mini glow-in-the-dark tape, and glow stick bracelets used for the rings!
Teens will love these 10 New Year's Eve games and activities created with them in mind! From guessing games to dancing games and everything in between, let your teens have some good clean fun suited to their age!
his fun musical New Year's Eve game involves children floating their little walnut boats to different islands in order to predict their fortune for the coming year. Now that you have plans in place for invitations, party decorations, food and beverages, and a lineup of fun entertainment and games for the evening, you're ready to get your party started. We can wait to see how you choose to ring in the New Year! The joy of celebrating with friends and family is the best part of the night!
Celebrate with more great ideas for a fun New Year's Eve party: