THIS HEALTHY TURKEY CHILI RECIPE IS A ONE-POT MEAL GAME CHANGER – AND IT'S DELICIOUS!
Jump to Recipe
Table of Contents
This Healthy Turkey Chili Recipe is a One-Pot Meal Game Changer – and It's Delicious!
There's something nostalgic about a big hearty bowl of turkey chili. Growing up, my mom always preferred to cook with ground turkey so this turkey chili was a common staple in our household.
My mom is such an excellent cook and how to cook homemade meals is something she taught both my brother and me.
While I tend to throw it all into a slow cooker and turn it into a crockpot turkey chili recipe — my mom always served it stovetop style with cornbread or cheese biscuits. You can't go wrong with either.
I remember coming home from school after high school pep-rallies on Friday afternoons to the kitchen smelling of sauteed garlic and spices — dinners like turkey chili were a definite sign it was finally the weekend.
I also loved how she served it — with tons of toppings! Crunch up some chips, put a dollop of sour cream and even fresh avocado, it was definitely a "build your own" kind of style at my house.
For extra spice, I always liked to add jalapenos like I do on chili dogs — but the avocado always gave a good balance.
You could even make chili cheese fries (<- the cheese sauce in this recipe is amazing).
Now that I live on my own, this turkey chili still makes an appearance. It's a perfect Sunday meal-prep dish! Simple to cook, easy to clean and delicious to eat on for dinner all week.
Now let's get to making this tasty turkey chili.
TURKEY CHILI INGREDIENTS
This healthy turkey chili recipe calls for easy to find and fresh ingredients. Don't skimp on the veggies either, throw in all your favorites!
The best turkey chili is made from scratch and that's exactly how we're making ours today. Head off to the store or raid your pantry for these yummy ingredients. (Or try this beef and bean chili if you want an alternative.)
Fresh from the produce aisle, pick up firm green bell peppers, a white onion and 4 cloves of garlic for some good flavor and of course that kitchen-filling fragrance.
Next, check out your spice cabinet for the chili trifecta — cumin, chili and onion powder. We're not here for bland chili so don't forget these necessary spices!
The combination of these spices will make for a deep chili flavor and that's exactly what we're going for!
In order to make this a turkey chili, you're going to need some ground turkey. Grab 2 pounds of the lean stuff and you're in business! Healthy and so easy to cook!
Now, I know this can be a big debate in the world of chili but for this recipe, we're adding beans.
Trust me on this one, all good chili recipes have beans and meat!
Pick up a can of pinto beans and kidney beans for this turkey chili recipe. If you fancy other types of beans like white beans, go for it. Pick two of your favorites to create a perfectly rounded out turkey chili.
Last but not least, tomato sauce, diced tomatoes and brown sugar make this turkey chili a home run.
If you're feeling extra fancy (and I highly suggest it) perfect garnishes for this turkey chili include green onion, sour cream and shredded cheese!
When I've wanted to amp up the dish even further, I add elbow macaroni and make it chili mac and cheese!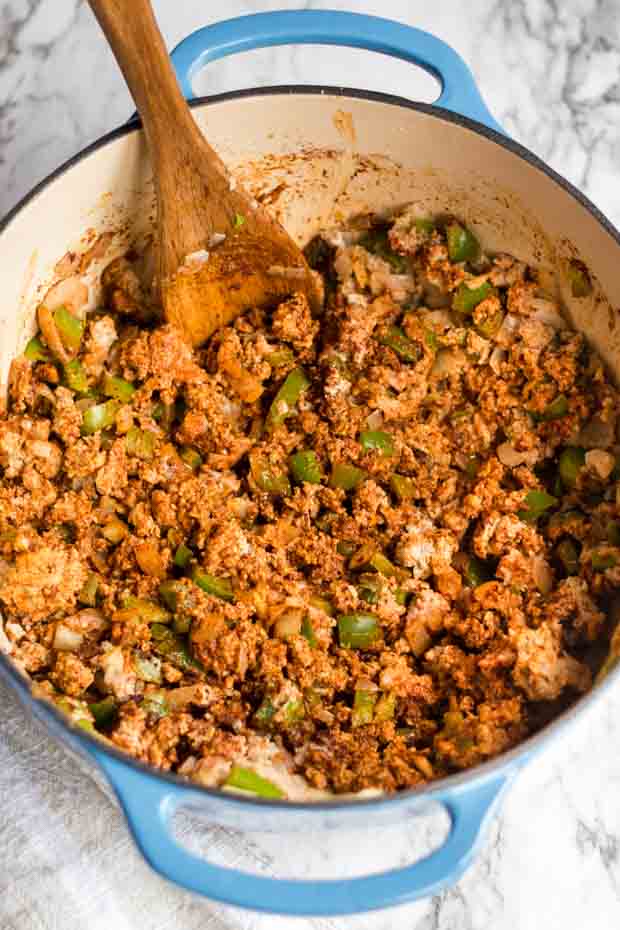 HOW TO MAKE THIS TURKEY CHILI RECIPE
Let's get to cooking! It doesn't get easier than this turkey chili which is why I find myself making it over and over again.
With minimal prep work and only one dish to clean, you better believe this makes it into my weekly dinner rotation often!
Heat up the stove top and a large dutch oven then add 1 tablespoon of oil.
Sautee the chopped green pepper and onion for 2-3 minutes before adding the ground turkey.
Cook the ground turkey until just done and add in all the spices! Add in the cumin, salt, onion powder and chili powder to make as spicy (or not) as you want! Cook for an additional 1 minute, stirring occasionally.
After the turkey and spices, time to bring out the sauce.
Pour the tomato sauce and diced tomatoes and add in the brown sugar. Bring the chili to a simmer over medium heat for 15 minutes. Mmm, we're cooking now!
After 15 minutes, add your two beans of choice and a small amount of baking soda and stir until the bubbles disappear.
Hold on tight, simmer for an additional 10 minutes before serving warm.
Kick up the flavor and garnish with sour cream, green onion and shredded cheese — I personally love to add jalapenos for an extra spicy kick!
WHAT TO SERVE WITH TURKEY CHILI
The best thing to serve with turkey chili is anything that absorbs the yummy goodness.
Cook up a side of rice and serve the turkey chili on top or make homemade cornbread to dunk and dip into the chili — delish. I love dinner rolls or yummy beer bread as well!
If you're up for an All-American meal, serve the chili on top of a bed of Fritos for a hearty Frito Pie! This is my personal favorite and it's always a big hit. I love the different textures and crunchiness the Fritos give the chili.
If you are wanting to add more veggies, you can't go wrong with a side caesar salad! The creaminess of the dressing goes perfectly with the spices in the chili. They make a great pair!
HOW TO FREEZE TURKEY CHILI
Another home run for this chili — you can freeze it and eat it later!
Follow these easy steps to freeze your healthy turkey chili.
Let the chili cool all the way down and ladle the chili into freezer plastic bags. Freezer bags tend to be a bit more expensive than the other plastic bags but trust me, freezer burn does not go well with chili.
Once you fill the bags with the chili, lay them flat and place them in the freezer. Freezing the chili flat will make for an easy freeze and even easier defrosting later! Viola, turkey chili for later!
Serve with dinner rolls or beer bread on the side!
MORE RECIPES YOU'LL LOVE:
Pair this recipe with:
Turkey Chili
THIS HEALTHY TURKEY CHILI RECIPE IS A ONE-POT MEAL GAME CHANGER – AND IT'S DELICIOUS!
Ingredients
2

green bell peppers

1

large diced onion

4

cloves

minced garlic

1

T

cooking oil

2

lbs

Ground Turkey

chopped

2

T

cumin

3

T

chili powder

1

T

onion powder

1/2

T

salt

2

15-ounce

cans diced tomatoes

1 8

oz

can tomato sauce

1

can pinto beans

rinsed and drained

1

can kidney beans

rinsed and drained

1

T

brown sugar

1

t

baking soda

Green onions

sour cream, shredded cheese (optional for garnish)
Instructions
Heat oil in a large dutch oven. Saute green pepper, onion, and garlic for 2-3 minutes. Add ground turkey and cook until just done.

Add in cumin, chili powder, onion powder, and salt and cook about 1 minute, stirring continuously

Pour in tomato sauce and diced tomatoes. Stir in the brown sugar. Bring to a simmer over medium heat and cook for about 15 minutes.

Add in the pinto and kidney beans.

Add the baking soda and stir until the bubbles disappear

Simmer 10 minutes more

Serve warm. Garnish with sour cream, green onion and shredded cheese
Nutrition