Crockpot Chicken and Dumplings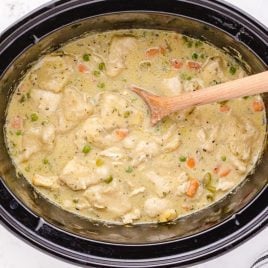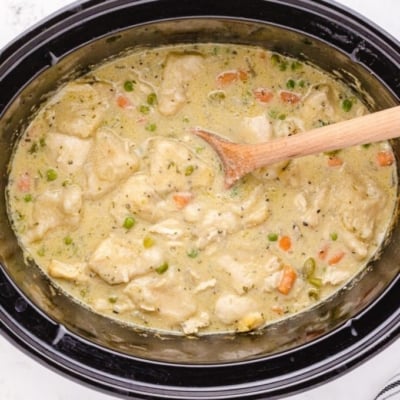 Crockpot Chicken and Dumplings are the perfect comfort food. With a delicious and creamy chicken soup base and fluffy biscuit dumplings, you'll have just the right meal for a busy weeknight dinner.
Jump to Recipe
Table of Contents
Loaded with fresh vegetables, creamy sauce, tender chicken, and soft dumplings, our crockpot chicken and dumplings takes old-fashioned comfort food and makes it even easier to make by letting your slow cooker do the work.
Our stovetop version is just as delicious as this great recipe. Check out our Chicken and Dumplings to be convinced or, for another creamy chicken dish, try our Chicken Marsala.
CROCKPOT CHICKEN AND DUMPLINGS INGREDIENTS
You will need:
1 cup diced carrots
1 cup diced celery
1 cup diced yellow onion
4 boneless skinless chicken breasts (frozen or fresh)
22.6 ounces cream of chicken soup (1 family size can or 2 regular cans)
2 cups water
1 teaspoon chicken bouillon
1 teaspoon dried parsley
1 teaspoon dried oregano
½ teaspoon black pepper
1 cup frozen peas
1 8-count can of refrigerated Grands biscuits (homestyle/buttermilk)
SUBSTITUTIONS AND ADDITIONS
CHICKEN: You could use chicken thighs in place of the chicken breasts in this easy recipe. Pre-cooked chicken such as rotisserie chicken can also be used, as can diced raw chicken. The cook time should remain about the same regardless, as the vegetables will also need time to cook.
VEGETABLES: Frozen veggies can be used in place of fresh vegetables for this recipe.
SOUP: This easy crockpot chicken and dumplings recipe is flexible as far as what flavor of cream soup you use. You could replace either all or half of the cream of chicken soup with cream of mushroom or cream of celery soup.
HOW TO MAKE THIS CROCKPOT CHICKEN AND DUMPLINGS RECIPE
STEP ONE: Layer diced carrots, celery, and onions in the bottom of a 6-Quart crockpot.
STEP TWO: Place frozen chicken breasts on top of the vegetable layer.
STEP THREE: Pour soup, water, bouillon, parsley, oregano, and pepper over the chicken and vegetables.
STEP FOUR: Place the lid on the crockpot and cook for 4 hours on the high setting or 7 hours on low.
STEP FIVE: After the cooking time has completed, remove the chicken from the crockpot and shred with a couple of forks or cut into small pieces. Return the meat to the crockpot.
STEP SIX: Add frozen peas and stir to distribute evenly.
STEP SEVEN: Remove the biscuit dough from their packaging. Flatten each biscuit, just a bit, with the palm of your hand or by rolling with a rolling pin. Cut each biscuit into six pieces and spread in a single layer over the top of the chicken mixture in the crockpot. If all of the biscuit pieces do not fit, discard the remaining pieces or use them for another purpose (I used 7 biscuits).
PRO TIP
A pizza cutter is an excellent tool to cut the dumpling dough quickly and easily.
STEP EIGHT: Continue cooking on HIGH for an additional 1.5 hours. Do not open the crockpot lid as the steam and trapped heat are what cook the biscuits. The biscuits will be matte and puffy when done; if biscuits are still completely dough, cook them for a little bit longer.
PRO TIP
Because slow cookers vary in heat and cooking times, you will want to keep an eye on the biscuits when it gets close to the 45-50 minute mark.
Try to assess doneness by looking through the lid rather than opening the crockpot. Slow cookers will lose their heat quickly causing your biscuits not to cook through if the lid is removed too many times.
HOW TO SERVE
Dinner time just got easier with this easy chicken and dumplings with biscuits. The creamy chicken and flaky biscuits is a full meal in itself. To add a bit of extra fresh greens, serve this comforting meal alongside a fresh Caesar Salad.
STORAGE
IN THE FRIDGE: Refrigerate these delicious dumplings and chicken for up to 4 days in an airtight container.
IN THE FREEZER: Freeze these homemade chicken and dumplings for up to three months in an airtight container.
This easy slow cooker chicken and dumplings recipe is pure comfort food. The hearty creamy taste will be a huge hit with the whole family and you will love how easy it is to make and how simple cleanup is.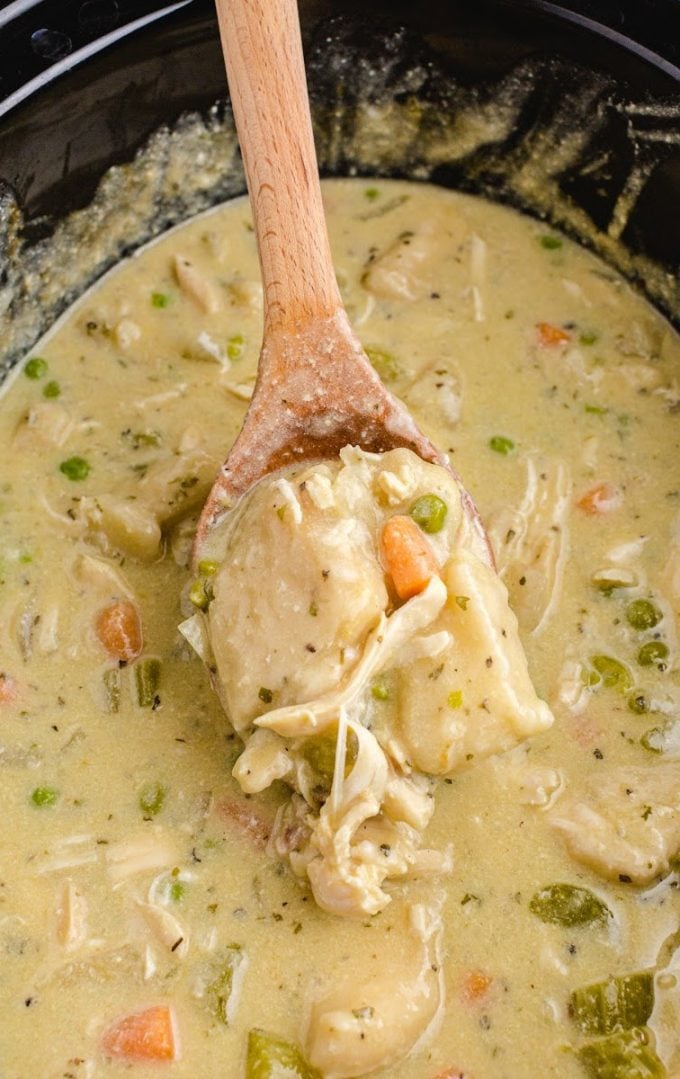 FREQUENTLY ASKED QUESTIONS
How do I shred chicken?
To shred chicken, use two forks. Holding one in each hand, use them to pull the chicken apart.
Can I make my own homemade dumplings for this crockpot meal?
If you have a preferred recipe for your own dumplings, you are more than welcome to whip up a batch and drop them into the slow cooker.
What can I use instead of canned biscuits?
You have a few options in place of canned biscuits. Bisquick or canned crescent rolls are great substitutes or you can make your own dumplings from scratch.
MORE RECIPES YOU'LL LOVE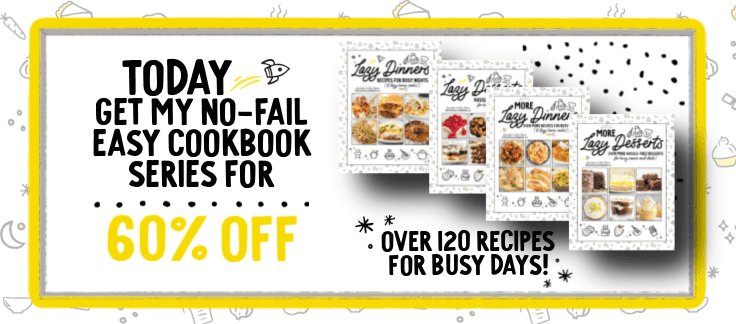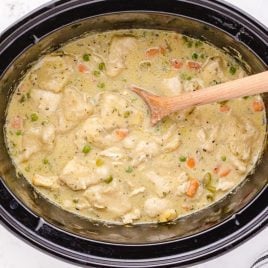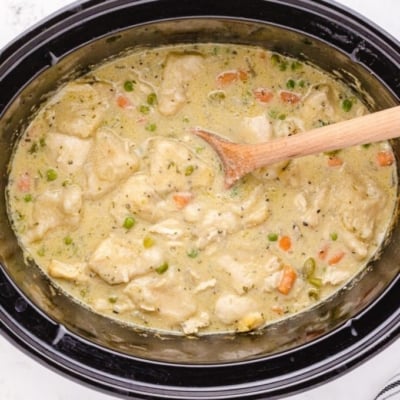 Crockpot Chicken and Dumplings
Crockpot Chicken and Dumplings are the perfect comfort food. With a delicious and creamy chicken soup base and fluffy biscuit dumplings, you'll have just the right meal for a busy weeknight dinner.
Cook Time
5

hours
30

minutes
Total Time
5

hours
45

minutes
Ingredients
1

cup

carrots

diced

1

cup

celery

diced

1

cup

yellow onion

diced

4

chicken breasts

skinless and boneless (frozen or fresh)

22.6

ounces

cream of chicken soup

1 family size can or 2 regular cans

2

cups

water

1

teaspoon

chicken bouillon

1

teaspoon

dried parsley

1

teaspoon

dried oregano

½

teaspoon

black pepper

1

cup

frozen peas

1

can

Grands refrigerated biscuits

homestyle/buttermilk (8-count can)
Instructions
Layer diced carrots, celery, and onions in the bottom of a 6-Quart crockpot.

Place frozen chicken breasts on top of the vegetable layer.

Pour soup, water, bouillon, parsley, oregano, and pepper over the chicken and vegetables.

Place the lid on the crockpot and cook for 4 hours on the high setting or 7 hours on low.

After the cooking time has completed, remove the chicken from the crockpot and shred with two forks or cut into chunks. Return the meat to the crockpot.

Add frozen peas and stir to distribute evenly.

Remove the biscuits from their packaging. Flatten each biscuit, just a bit, with the palm of your hand or by rolling with a rolling pin. Cut each biscuit into six pieces and spread in a single layer over the top of the chicken mixture in the crockpot. If all of the biscuit pieces do not fit, discard the remaining pieces or use them for another purpose (I used 7 biscuits).

Continue cooking on HIGH for an additional 1.5 hours. Do not open the crockpot lid as the steam and trapped heat are what cook the biscuits. The biscuits will be matte and puffy when done; if biscuits are still completely dough, cook them for a bit longer. (Try to assess doneness by looking through the lid rather than opening the crockpot.)
Nutrition
Calories:
592
kcal
|
Carbohydrates:
54
g
|
Protein:
41
g
|
Fat:
23
g
|
Saturated Fat:
5
g
|
Polyunsaturated Fat:
7
g
|
Monounsaturated Fat:
9
g
|
Trans Fat:
1
g
|
Cholesterol:
106
mg
|
Sodium:
1688
mg
|
Potassium:
999
mg
|
Fiber:
4
g
|
Sugar:
7
g
|
Vitamin A:
4073
IU
|
Vitamin C:
15
mg
|
Calcium:
95
mg
|
Iron:
5
mg
Popular Recipes