It seems the calendar turns to November and then it's Christmas Eve! And if you're like me, there's a long list to do before bedtime.
With so many hopes and expectations pinned to the holidays, it's easy to get stressed with tinsel overload and although I love parties, I've found everyday moments can be just as magical as big-deal events.
For example, we make it a habit to linger over dinner as a family. I try to incorporate little surprises like a new ornament or a special treat to add holiday glow to the everyday. I believe the reports that say strong family connections mean healthier and happier people.
Sam, ever the ham, loves it when I serve our drinks in wine glasses so he has an excuse to make up toasts, so I do that more often during the holiday season.
Welch's Non-Alcoholic Sparkling red and white grape juice is perfect for that. It's festive, flavorful and it's been a favorite with families for over 140 years.
That's one way I've learned to make some merry and keep my sanity.
I've also learned a few tips to host a fun holiday party for friends and family…without going bonkers. Here are some of my best ideas.
THE BASICS
Plan ahead. Make a timeline to-do list. Eliminate as many last-minute chores as possible to cut down on stress.
Get your invitation out two to four weeks before your event. The holidays are busy for everyone so get on your friends' radar early to up the chance of time together. Casual or formal? Let guests know.
A casual buffet with finger foods and nibbles is easier than a formal sit-down meal.
A non-alcoholic beverage bar means self-service and that's one less busy-hostess chore. Welch's Non-Alcoholic Sparkling red and white grape juice is perfect.
Consider seating arrangements; folding chairs or extra cushions for the floor are great for a casual get-together.
Make and bake anything that can be ahead of the party date—but not everything has to be homemade. This is a great time for your best recipe hacks and ready-made options. Don't turn down offers when someone asks what they can bring!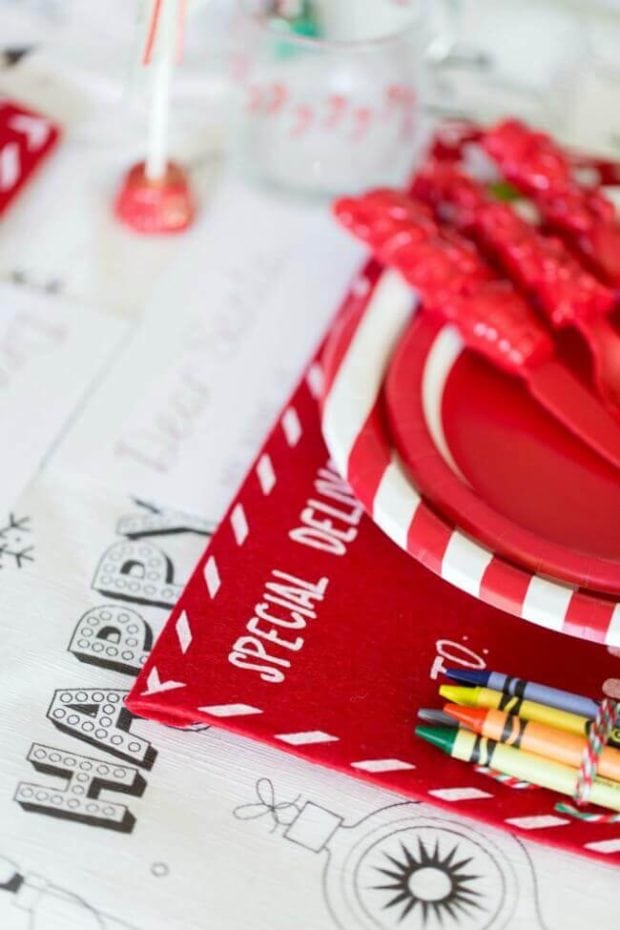 Have plenty of dishes, table service, and glasses (probably more than you think you'll need).
General housekeeping chores still need to be done during the busy season but on party day inspect the main party area, kitchen, and bathrooms (have extra hand towels and toilet paper ready).
Where will guests put their coats?
Where will guests park?  A neighbor's driveway might be an option—but check first.
ADD SOME MERRY
Twinkling Christmas lights, flameless candles, and simmering potpourri add to party atmosphere.
Have a music play list ready.
If there will be adults and kids, set up a children's table. Tuck it into a corner of the room close to the adults. You can referee if needed but kids will have their own special cozy spot.
Give kids something to do. Busy kids are happy kids. A color-in table cover and an invitation to write on the table? Merry Christmas! Include personal bundles of crayons to avoid conflict.
Another easy, no-mess idea: Imaginative kids will bend chenille stems (pipe cleaners) into all sorts of shapes.
Paper plates and napkins, especially at the kids' table, make clean-up a snap. Also, no worries about chips in your good dishes.
Use felt chargers in seasonal shapes (Santa, snowmen, trees, etc.). I like the adorable over-sized "To Santa" envelopes which can be played with later too.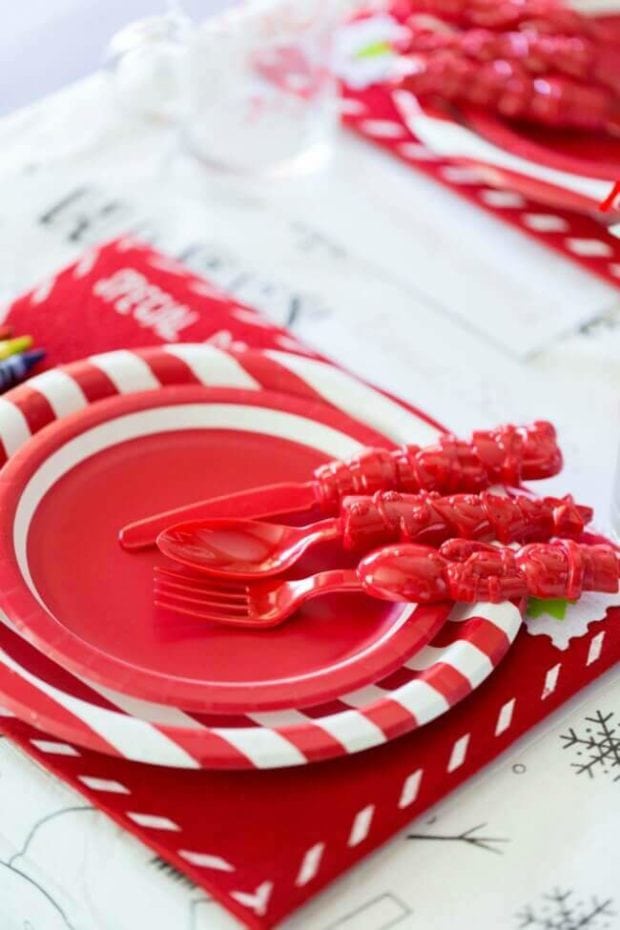 Special seasonal cutlery does double duty as a take-home favor.
Even if the kids have already written to Santa, a second reminder won't hurt. (download our free Dear Santa template here.)
The traditional Christmas stocking can show up at the table, too. Purchase a pair in seasonal colors for each child. Stuff the toe with the rolled-up mate and fill the rest with small trinkets or candies. Mittens can be used in the same way.
Christmas is the most wonderful time of the year. My best tip? Put celebrating with family and friends at the top of that long to-do list—bedtime can wait!