8 Christmas Eve Traditions You Can Start This Year
Table of Contents
If you're looking for new ways to celebrate the holidays, here are some great ideas for Christmas Eve traditions. Your kids will love making these memories as they help make reindeer food for Santa's visit. They will be astonished to see the trail Santa left behind with the Snowy Magical Footprints. If you don't have a chimney, your kids might wonder how Old Saint Nick gets into the house, so making a Glitter Key Ornament for the Christmas Eve Box is a great DIY idea. We also recommend the Snowman Breakfast, which is a perfect way to start Christmas morning.
See Also:
Add a Christmas Eve box to your list of Christmas traditions. This fun idea results in a dose of magic for children on an already memorable night. Children will enjoy opening a special gift just for them. Ideas of what this box may include are plentiful, and could consist of: a new book to read before bed, new holiday pajamas, a magic key for Santa (for getting into your house on Christmas Eve), reindeer food (for Santa's reindeer), a special holiday movie to watch before bedtime, and items for making a letter to Santa.
Once your kids are in bed on Christmas Eve, leave no doubt in their minds that Santa has visited. Create some snowy magical footprints that they can easily spot. Flour, powdered sugar, or artificial snow will do the trick. Using cardboard footprint cutouts or a large pair of boots or shoes, sprinkle your chosen "snow" around them to create these snowy Santa footprints.
Your kids will love making glitter key ornaments using ornamental keys, spray paint, and glitter. In fact, you can turn one of the keys into a special key for Santa. Let your children hang the glitter Santa key on your front door as part of your Christmas Eve traditions. Santa can come in the front door, and your little ones won't have to worry about him getting stuck in your chimney or fireplace.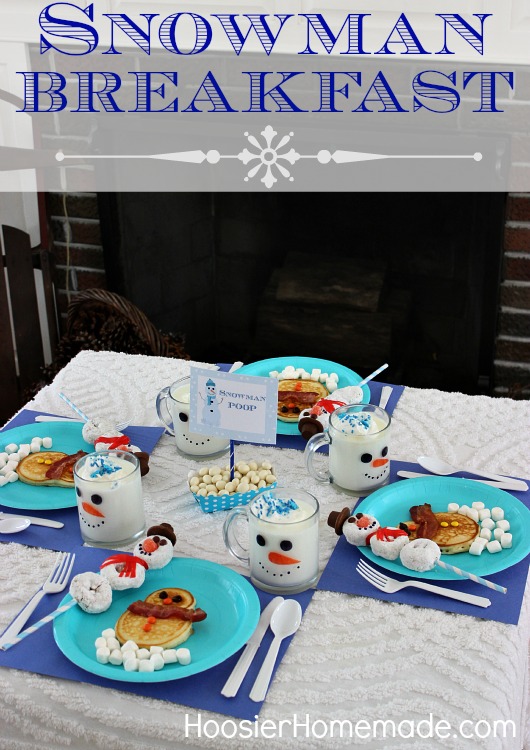 We are certain that your children will happily welcome this Christmas Eve morning tradition—a snowman breakfast. Put together a snowman-themed breakfast that includes snowman-shaped pancakes with bacon scarves, snowman poop (marshmallows), a snowman doughnut building station (snowmen are made from powdered donuts and edible embellishments), and snowman mugs filled with white hot chocolate. Your children will love eating and creating so you can finish wrapping presents and prepping for Christmas Day.
5. How To Make Reindeer Food
Santa's reindeer work overtime on Christmas Eve. Reward them by making their favorite reindeer food using a recipe that has their "hoof stamp" of approval. Making this special reindeer food and sprinkling it outside before Santa's visit makes for a fun and memorable Christmas Eve tradition. The magical ingredients even sparkle, making it easier for the reindeer to find their food on Christmas Eve.
We're pretty sure that whoever wraps all the presents for Santa on Christmas Eve will especially love this Christmas Eve tradition. Santa Sacks are reusable gift sacks that are slightly larger than pillowcases and made from fabric. Give each member of your family one to lay near the Christmas tree or by the side of their bed on Christmas Eve. While visions of sugar plums dance in their heads, Santa fills each sack with gifts to be opened on Christmas morning. No wrapping is involved. Because the Santa sacks each have a drawstring/elastic opening, each gift must be taken out and seen one at a time.
If you haven't heard of the Christmas pickle ornament tradition, it's a fun one. Every Christmas Eve, you set out the pickle ornament near the Christmas tree (maybe on a tray next to Santa's cookies and milk). The tradition goes that on Christmas Eve when Santa comes, he hides the pickle ornament in the branches of the Christmas tree and leaves behind a special present for the first person to find it. (This special gift can be something like Christmas candy.) Print out the simple poem, and purchase your own Christmas pickle to start this fun Christmas Eve tradition in your home.
If you participate in the Elf on the Shelf tradition at your home, you know saying goodbye on Christmas Eve can be tough for little ones. Use this printable goodbye letter from your elf for a magical and meaningful send-off on Christmas Eve. Your little ones will appreciate the special note, and the chance to do what they've been longing (and tempted) to do all season long—touch their elf.
Bonus:
A fun Christmas Eve tradition to start (or continue) with your kids is writing a letter to Santa. This free printable letter makes the process even easier. Just download and print the letter to Santa and help your children fill it out. It includes plenty of places for personalization and even includes a place for your children to thank Santa for last year's gifts. They will love adding their Christmas wish list and reporting to Santa on how they've been this year.
Don't miss more great Christmas craft ideas kids will love: