15 Free Printable Letters from Santa Templates
Table of Contents
Imagine their surprise when they receive a letter from Santa!
Magical and motivating, we've rounded up 15 printable letters from Santa templates you can send to a special child.
Whether you want an "official" letter from the North Pole, or one sent from Santa's desk (or workshop), you can find what you are looking for here.
There are even "naughty list" notices and warning letters for kids who may need a little…encouragement…to try harder. And for those good girls and boys on the "nice list," there are darling printable Santa "certificates of niceness" to reward positive behavior.
Children around the world send countless letters to Santa each year. Make sure they get one back.
---
See Also
---
1. Free Printable "From the Desk of Santa Claus" Letter
From Lia Griffith
Kids will be excited to receive a personalized letter "from the desk of Santa Claus". The coordinating envelope makes it very believable, so kids won't need much convincing to believe that this letter really is from Santa himself!
2. Free Printable Official Letter from the North Pole
From Frosted Events
Send special children an official letter from the North Pole to brighten their spirits! This letter even has Santa's signature at the end. It will encourage them to keep up the good behavior until the big day!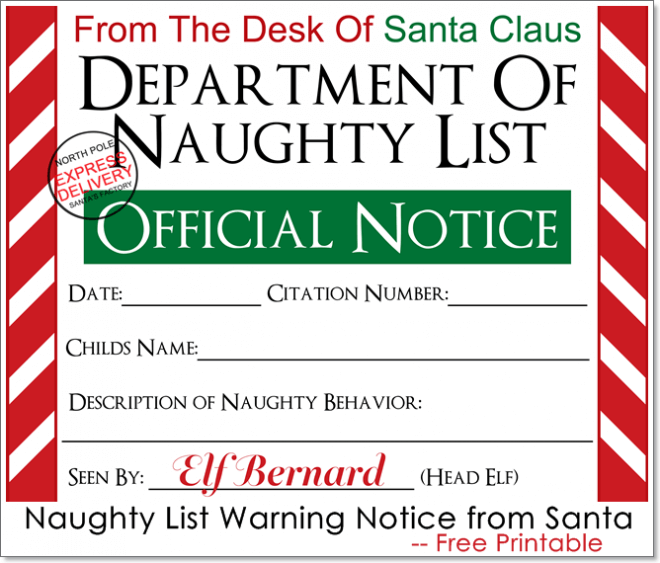 3. Free Printable Naughty List Warning Letter from Santa
From Las Vegas Fit Mom
Have a child who has been "naughty"? Remind him Santa and his elves are always watching! This naughty list warning letter may help them change their ways.
I'm pretty sure this would be a VERY effective strategy any time of year, so if the kids are acting up, keep a couple of these Naughty List Warning Notices handy.
4. Free Printable "Santa's Workshop" Letter
From The Shady Lane
Add a little magic to the Christmas season with a free printable letter from Santa and his elves. Just choose from one of the designs and print.
This is a great option because with a few of designs to choose from, you can change things up from year to year.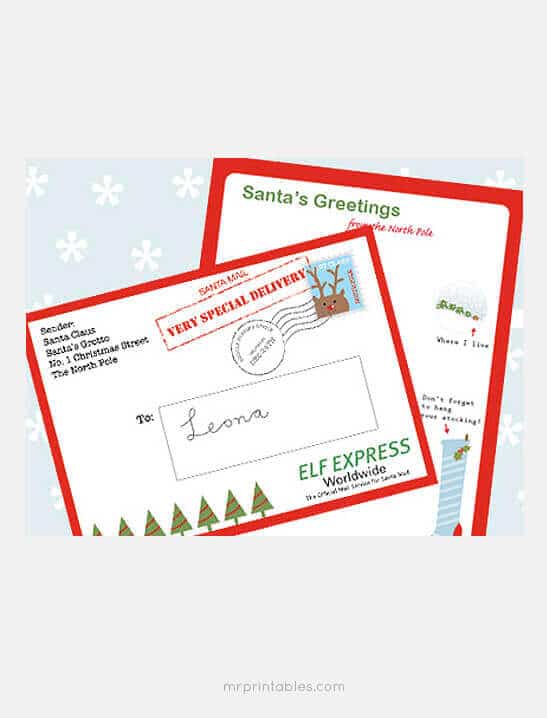 5. Santa Mail
From Mr. Printables
Use this printable writing paper and envelope to pen a personalized letter from Santa. A handwritten letter makes it just a little more personal and convincing, and it will really make kids feel special.
It also means that you can personalize the text to your heart's content, so get those creative juices flowing. If your kids will recognise your handwriting, ask a friend or family member to write it out for you.
6. Printable Santa Certificate of Niceness
From Hallmark
Surprise your well-behaved little ones with a special envelope containing this printable Santa Certificate of Niceness.
Rewarding kids when they've been good is often more important and effective than disciplining them for bad behavior, so this may just be the thing to encourage them to continue their good behavior all year long!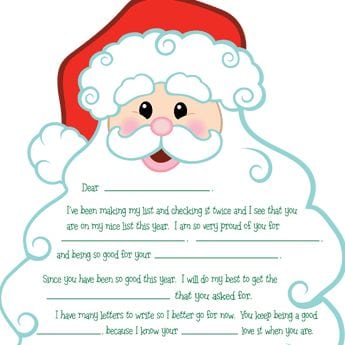 7. Free Printable Santa's Beard Letter
From Free Fun Christmas
Is anyone's beard more recognizable than Santa's? This printable version provides spots for handwritten personalization along with a pre-formatted printed dialogue.
It gives you the space to personalize the letter and get creative, but it's not all left up to you.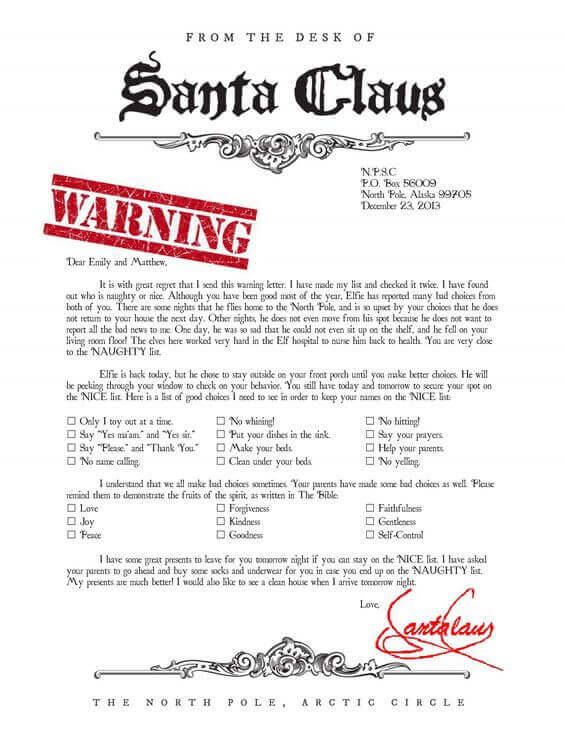 8. Free Printable Santa Warning Letter
From Ashley Nicholson, as seen on Pinterest
Have a child in need of a little reprimanding? I would definitely have responded to a letter like this as a kid, as it looks very stern and official. It's worth a try!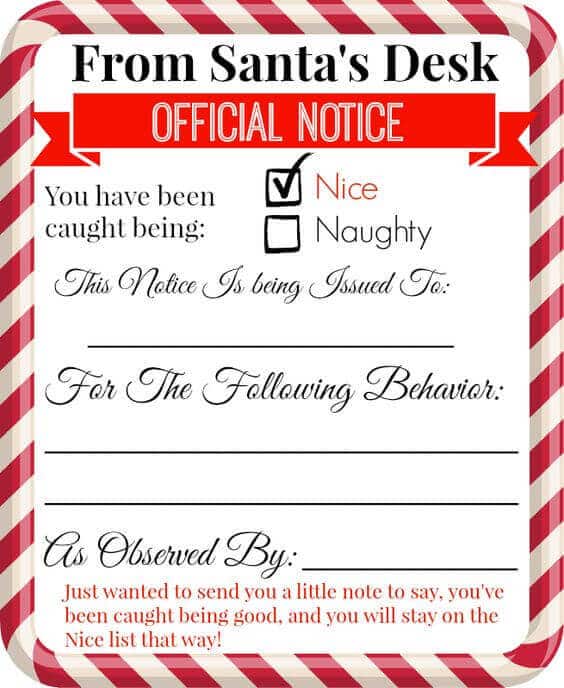 9. Free Printable "From Santa's Desk" Notice
From Love Laughter Forever After
Santa can check off whether your child has been naughty or nice with this free printable notice straight from his desk! Plus, record the witnessed behavior and who it was witnessed by to make things official.
This will give kids the idea that you're in constant dialogue with Santa, so they should always watch their behavior!
10. Official Nice List Notice
From Tip Junkie
Santa can send this official nice list notice with your family elf. Just fill out your elf's name and mark the appropriate reasons for being chosen for the nice list.
It definitely looks official, and I love the stamp! Plus, you get to come up with a name for your family elf, which sounds like fun.
11. Everyday Party Magazine via Design Dazzle
From Free Santa's Reminder Letter
Whether it's delivered in an envelope or rolled up and tied with ribbon, a tangible reminder from Santa might be all your children need to keep that good attitude. Here you go!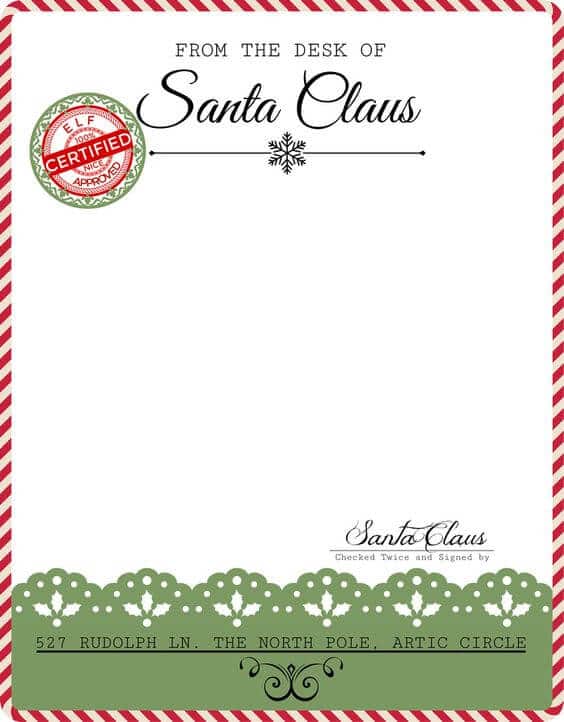 12. Free Santa's Christmas is Coming Letter
From New Grace Photography
From Elf-approved and certified "nice", Santa shares his candy-cane striped stationery with you. Handsome graphics and cute snowflake and holly details mean all you have to add is your personalized message.
13. Free Printable Letter From (and to) Santa
From SOHO Sonnet
Print this free letter from Santa to remind any child to be good because Santa is coming … soon! I love the addition of the email address, modernizing the Santa experience.
14. Mother's Niche
From Free Letter from Santa Questionnaire
More than asking for an "I want list", this printable template includes a thoughtful Santa asking children about things such as their favorite memory from the year, kinds of books they want to read, and toys they like to play with.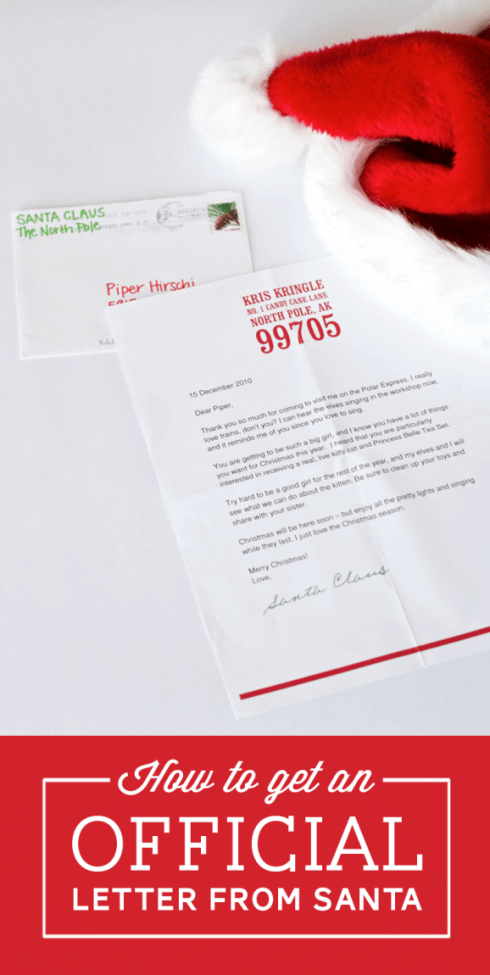 15. Official Letter from the North Pole
From Paging Supermom
Make your Santa letter look even more official with a North Pole postmark. It's surprisingly easy to get, but you do need to leave enough time to get the letter there and back.
Just make sure that it arrives before December 10, because the North Pole can get pretty busy!