15 Unique Christmas Gift Wrapping Ideas
Table of Contents
It's so fun to give presents that look great! For the person getting the Christmas gift, gorgeous wrapping builds anticipation of what's to come. We've rounded up 15 creative ideas that prove that when it comes to Christmas gifts, it's not only what's on the inside that counts. We just love the Cozy Sweater DIY, Mini Wreath Wrapping, DIY Christmas Tree Gift Toppers, Reindeer Pom Pom Gift Wrap, and Photo Wrapping Paper. Your presents will be sure to stand out with the Gift Bow Santa, Christmas wrappings, washi tape gift wrapping, Holly Jolly Reindeer prints, and the Snowman clippie. If you've got a little spare time and some DIY determination, try out the DIY Embroidered Gift Paper, Cupcake Liner Gift Toppers, Snowflake Cutout Gift Topper, DIY Polka Dot Paint Wrapping Paper, or Wax Paper Bow. Your gifts will look like pieces of art!

See Also:
---
Seeing a Santa bow on top of a gift will bring a smile to the lucky recipient! This tutorial walks you through using a paper punch and die cuts to create a jolly old Santa.
2. Christmas Wrappings
Brown paper packages wrapped up in patterned paper, ribbon, and glittered tags will be amongst your favorite things after you glimpse this cute wrapping idea.

3. Mini Wreath Wrapping
Add a mini wreath to your package by clipping a few evergreen sprigs and hot gluing them to a paper circle. It looks fantastic tied onto butcher paper wrapped with some red and white twine.
Who knew washi tape could be used in many fun ways to dress up gifts for the holidays? Loads of ideas can be found, including a washi tape bow!
Kids can get in on the gift-wrapping action with this adorable holly jolly reindeer print wrapping paper idea! Their little fingers dipped in craft paint make for some pretty cute reindeer heads. Just draw on antlers and eyes and glue on a red pompom nose for the cutest wrap job in town!
Decorating gifts with an embellishment that can act as a second gift is a win-win. This snowman clippie makes for a cute package accent but can be removed from the wrapping upon opening to be a fun winter hair clip for the recipient.
So simple, yet gorgeous, you will love the finished look of this DIY embroidered gift paper. You only need a needle and twine (plus brown Kraft paper).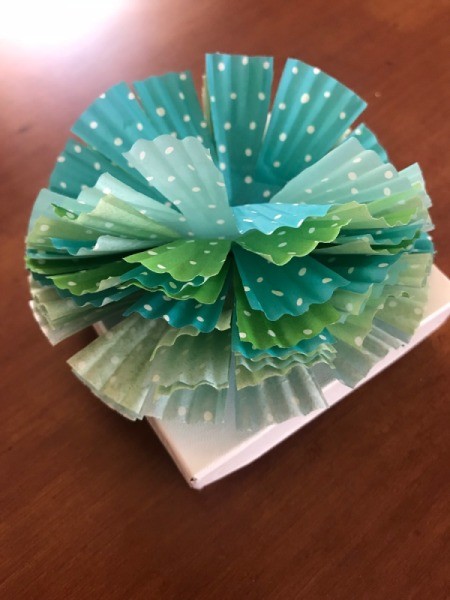 If you knew how easily 10 cupcake liners could be transformed into the cutest cupcake liner gift toppers, you'd own cupcake liners in every color.

9. DIY Christmas Tree Gift Toppers
Round up some sticks from your yard and embroidery thread from your craft stash to DIY these Christmas tree gift toppers. They are adorable and oh-so-simple.

Easy enough that kids can even help, these snowflake cut-out gift toppers are just made from thin sheets of paper (white or color).
If you love family photos, this photo wrapping paper will definitely be right up your alley.

12. DIY Polka Dot Paint Wrapping Paper
Easily dress up plain old wrapping paper with painted polka dots using this great tutorial.

No bow? No problem! Wax paper, a simple accordion fold, a few snips with the scissors, and some fluffing will give you one awesome wax paper bow.
Pompom paper is the new trend. Make your own using a reindeer stamp and a cute pompom nose added.

Chances are pretty good that you have some old sweaters laying around that are too small, stained, or snagged. Don't throw them out quite yet! This cozy sweater DIY may just add a little extra swag to your gift-wrapping game this year.
Don't miss these great ideas for more festive holiday fun: