23 Delicious Party Appetizer Ideas
Table of Contents
There's nothing quite like a party platter full of appetizers! Treat your guests to any of these 23 delicious party platter appetizers at your next event.
There's a wonderful variety to choose from including antipasto salad kabobs, cauliflower pizza bites and even wedge salad appetizers.
Plus, don't miss the beautiful ideas for a cheese or vegetable platter.
---
See Also
---
1. Strawberry & Goat Cheese Bruschetta
From Homemade Hooplah
Get ready for summer with this festive appetizer featuring a unique and delicious flavor combination.
Sweet strawberries, tart balsamic vinegar, and tangy goat cheese are all nestled upon a comforting slice of baguette.
This Strawberry and Goat Cheese Bruschetta makes for a lovely low-hassle appetizer to serve at dinner parties or special nights in.
2. Caprese Salad
From Oh My! Creative
You don't need to be a foodie to love Caprese Salad! It is so simple to make with just a few ingredients and the vibrant red, white, and green colors make it a feast for the eyes as well.
This Caprese Salad recipe is a great way to use up those fresh tomatoes from the garden or pop over to a local farmers market to get that homegrown taste.
You can cut the tomato, mozzarella, and basil ahead of time and add the dressing just before serving.
3. Jalepeno Popper Stuffed Mushrooms
From Life Tastes Good
Jalapeno Popper Stuffed Mushrooms are loaded with everything we love about traditional jalapeno poppers, only better.
All of the spicy, cheesy, bacony deliciousness of jalapeno poppers stuffed into the savory goodness of cooked mushrooms and this twist on a classic appetizer is sure to become a new favorite.
There is no doubt in my mind that your party guests will be begging for this recipe before they go.
4. Chicken Nacho Bites
From Divine Lifestyle
I am always looking for quick dinner solutions for our busy family, and I especially like dinners where kids can help put them together. These Chicken Nacho Bites can easily be assembled by little hands and they taste great. Scoops tortilla chips are overflowing with tender chicken bites, chopped green chilies, black olives, and a creamy spiced sauce. If there are any olive-haters in your family, you can easily leave them out.
5. Irish Potato Bites
From Home Made Interest
Celebrate St. Patrick's Day or add a tasty bite to your party appetizer line up with these Irish Potato Bites! They are super easy to make and super cute little bites of corned beef goodness. Boiled red potatoes are turned into tiny bowls and then stuffed with a savory mix of mashed potato, cheddar cheese, diced corned beef, and melted butter. Top with a dollop of sour cream and pop them in your mouth.
6. Quick & Easy Salami & Cream Cheese Bites
From The Kitchen is My Playground
Need to whip up a tasty crowd-pleasing snack or party food quick? Look no further that these quick and classic Salami and Cream Cheese Bites. With just three simple ingredients, you can have a platter of these appetizers ready in mere minutes. Simply spread a slice of salami with softened cream cheese, roll it up, add an three olives with toothpicks, and cut between each one.
7. Wedge Salad Appetizers
From BigOven
This Simple Wedge Salad with Homemade Blue Cheese is so easy to make at home, plus it is super satisfying and delicious. A thick wedge of ice berg lettuce is drizzled with homemade chunky blue cheese dressing, fresh tomatoes, chopped hardboiled eggs, and crumbles of blue cheese. For a little something extra you could also add some shredded grilled chicken or crispy bacon. The blue cheese really takes it to the next level.
8. Roasted Balsamic Cranberry & Brie Crostini
From Neighbor Food
There is nothing like the fearlessness of a teenager to get you out of your crostini rut. These Roasted Balsamic Cranberry and Brie Crostini appetizers are so hip and fun, they might even learn how to text. Their bright red and green color would be absolutely perfect for party trays, and the combinations of sticky sweet cranberries and brie offset with the piney rosemary just screams Christmas time!
9. Marinated Cheese Tray
From A Fork's Tale
This delicious marinated cheese tray makes a beautiful appetizer that is perfect for entertaining a crowd.
This cheese platter perfectly combines creamy aged cheddar cheese, cream cheese, and Monterey Jack Cheese marinated in fresh herbs and savory pimento.
The fresh herbs bring out some magical flavors! The presentation of this platter is so vibrant, fresh, and completely stunning.
10. Slow Cooker Rotel Dip
This slow cooker Rotel dip recipe is easy to make with only three simple ingredients. Cheesy, flavorful, and loaded with ground beef, it's one of our go-to yummy appetizers. Whip up a batch to share with your friends – the dipping potential is unlimited.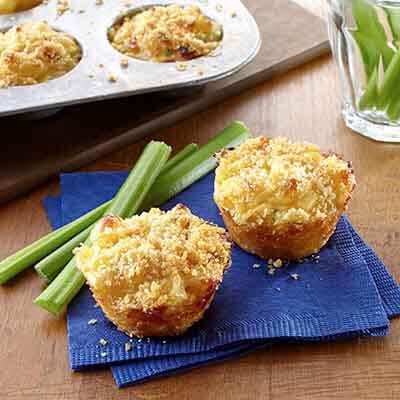 11. Mini Macaroni & Cheese Cups
From Land O Lakes
Turn your family's favorite lunch into a fun party appetizer with this recipe for Mini Macaroni and Cheese cups!
Perfect as an after school snack or game time appetizer, these cheesy bites definitely won't last long. Creamy homemade macaroni and cheese gets scooped into muffin tin cups and then topped with crushed cracker crumbs.
Pop them in the oven until crispy on the outside and melty on the inside.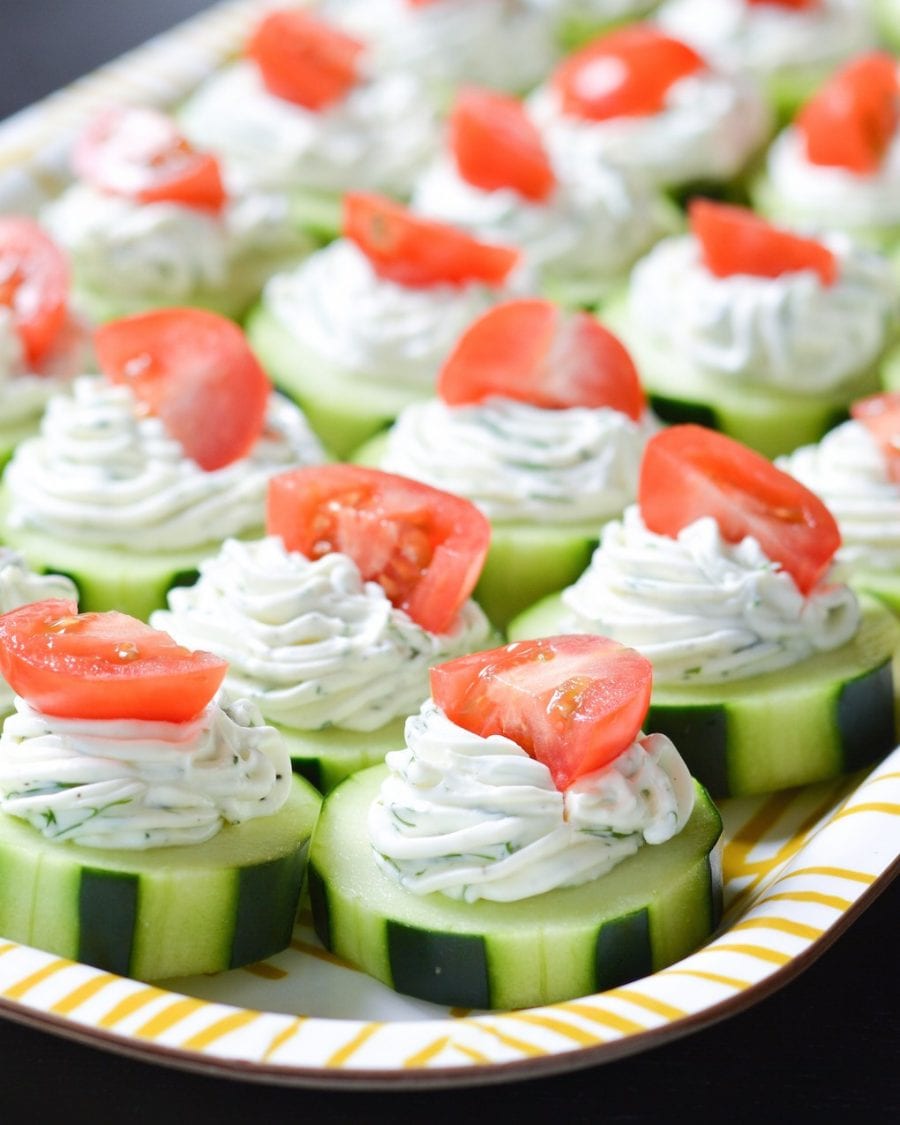 12. Dilly Cucumber Bites
From Flying on Jess Fuel
These fresh Dilly Cucumber Bites make a great healthy option to add to your party's appetizer buffet.
Crisp cucumber slices are topped with a fresh dill cream cheese and yogurt mixture, and then finished with a juicy cherry tomato.
These little bites are so tasty and you don't have to feel too bad eating a million of them since they are mostly made of veggies. They make the perfect healthy snack for guests young and old.
13. Cauliflower Pizza Bites
From Wicked Spatula
We have all heard of cauliflower pizza crust before, but these fun Cauliflower Pizza Bites are an unheard of low-carb alternative.
Who wouldn't fall in love with pizza muffins? Plus, they are customizable and super easy to make.
Mix up the savory grated cauliflower filling and then toss in your favorite pizza toppings. My favorite add-ins are pepperoni, black olives, and green peppers but you can use just about anything.
14. Reuben Pinwheel Sandwich
From 52 Ways to Cook
Next time you are asked to make a tray of appetizers for an event, pull out this recipe for Reuben Pinwheel Sandwiches! Fans of the classic Reuben sandwich will never believe just how much these appetizers capture the flavors and textures.
Soft flour tortillas are rolled with cream cheese, Swiss cheese, thinly sliced corned beef, sauerkraut, and Russian dressing. People love finding these in the appetizer spread.
15. Spinach Pesto and Feta Pinwheels
From Create Make Bake
I am a sucker for anything that contains pesto, and when there is feta involved as well, chances are high that it is going to be a recipe I keep forever.
Not only are these Spinach Pesto and Feta Pinwheels a great vegetarian snack, they are also perfect for your next party, a quiet night in watching the game, or a lunchbox snack for the kids.
16. Reuben Fritters
Reuben sandwiches become one-bite party food with these delicious Reuben Fritters with a Thousand Island Dipping Sauce.
The base is mashed potatoes stuffed with chopped corned beef, melty Swiss cheese, and tangy sauerkraut.
They are formed into balls, coated in Panko bread crumbs, and fried until golden brown. It's a great recipe to make when you have leftover mashed potatoes!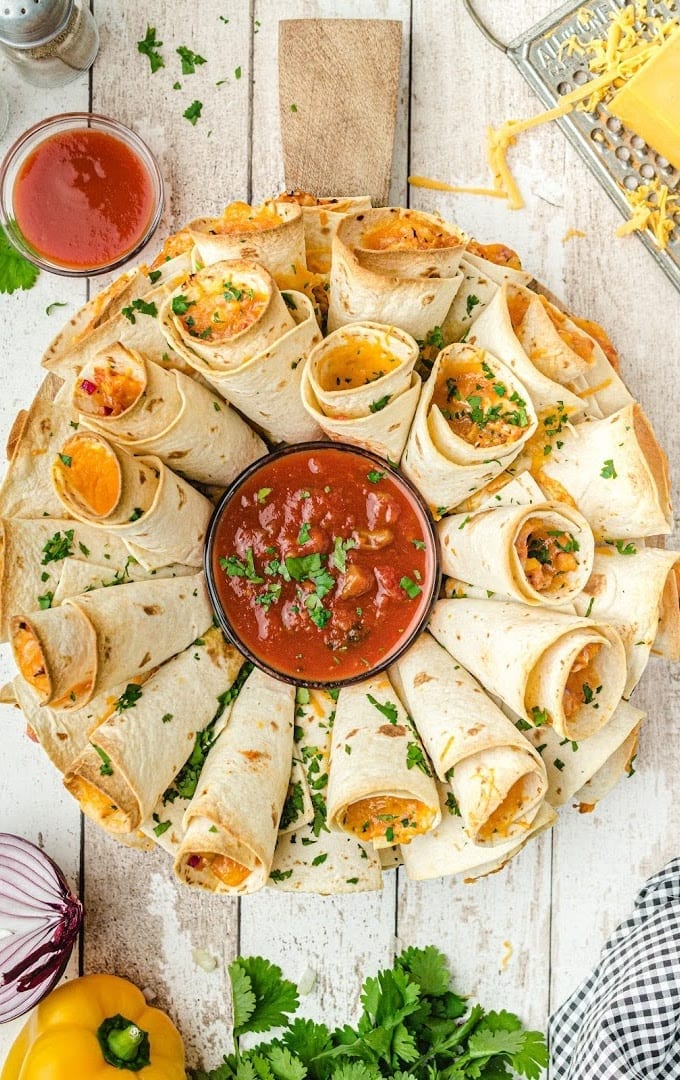 17. Blooming Quesadilla Ring
Quesadillas are one of those Mexican recipes that everyone loves to make (try this awesome recipe for steak quesadillas, too!) (try this awesome recipe for steak quesadillas, too!). There are loads of fillings you can add and they are always quick to make. But with this recipe, you can make a Blooming Quesadilla Ring where the cones of tortillas are arranged around a tasty sauce. They are delicious and look amazing on the table too!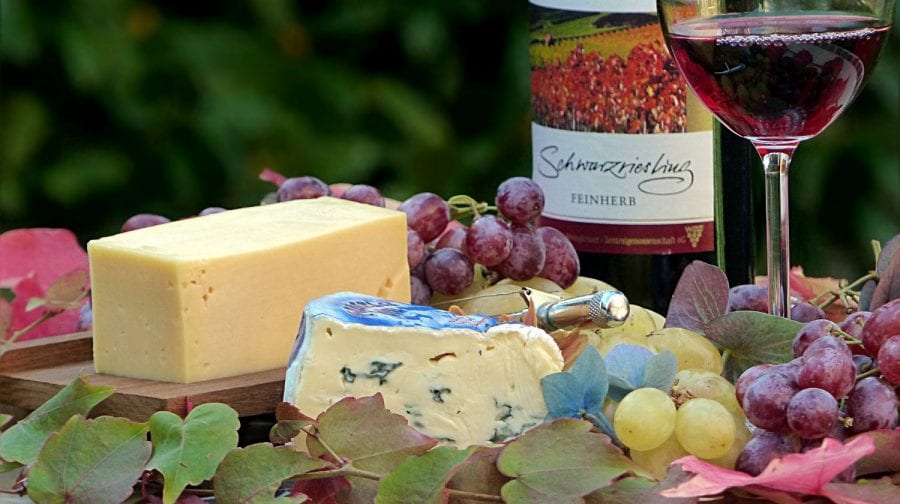 18. Cheese Platter
From Homesteading
Looking for cheese platter ideas for your next party? If you need to whip up something quick and attractive, the ideas on this list are sure to give you some inspiration.
These fantastic cheese platters each use unique ingredients, pretty garnishes, and creative displays to make them especially appetizing.
My favorite additions to cheese platters include fresh sliced figs, sprigs of rosemary, and fresh cut flowers.
19. Easy Deviled Egg Recipe
My recipe is for a tried and true classic deviled egg. But, as with many classic recipes, it's just your starting point to get creative! There are tons of ways you can spice up this recipe and give your deviled eggs a twist. Or keep them traditional and you can't go wrong.
20. Antipasto Salad Kabobs
From Mantitlement
These Antipasto Salad Kabobs are a perfect appetizer to serve to a crowd because there is truly something for everyone. All you have to do is grab your favorite meats and cheeses, along with whatever your family likes most on an antipasto platter.
My favorites additions include roasted red peppers, blue cheese stuffed olives, and bright cherry tomatoes.
Finish with a drizzle of your favorite vinaigrette or put some different dressings out for dipping!
21. Boozy Brie Appetizer
From FoodySchmoody
Warmed brie is a classic appetizer that is always a huge hit at dinner parties and beyond.
While baked brie is typically topped with preserves or puff pastry, this Boozy Brie Appetizer is topped with toasted almonds, sweet honey, and toasted chestnut liqueur.
It is cooked in the oven until warm and ooey, gooey, then served with sliced bread or crackers.
22. Fruit Cups
From Joseph Borg, as seen on Flikr
Fruit salad has never looked so adorable! Amp up your fruit salad game with a delicious mix of fresh ingredients and a fun presentation that makes it easy for guests to eat on the go.
Simply mix up your favorite fruit salad, spoon into personal sized dishes, and top with a mint leaf.
The vibrant colors look beautiful on a dessert table and the small servings make great on-the-go snacks.
23. Vegetable Platter
From Saveur
There is nothing new about serving fresh cut vegetables as appetizers, but that doesn't mean it can't be exciting.
Use this vegetable platter as inspiration for your next healthy appetizer needs. Use classic vegetables and then add in some unexpected veggies like zucchini, radishes, miniature bell peppers, asparagus, and more.
Check out these delicious recipe ideas…