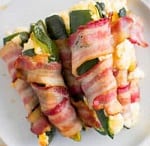 This delicious and easy appetizer recipe will have your guests asking for more!
Jump to Recipe
Table of Contents
This is a sponsored post written by me on behalf of Oscar Mayer Bacon. All opinions are 100% mine.
These Bacon Wrapped Poppers are the perfect appetizer recipe!
Alright everyone, it's time to talk about something very near and dear to my heart: bacon.
I'm obsessed. It's one of my very favorite foods. It's versatile, it's delicious, it's crispy. It's just so, so good.
I'm of the belief that just about anything can be improved by adding bacon to it.
A salad. Breakfast. A bad day. These stuffed peppers. Bacon is the answer, people!
I love those family favorite recipes and look forward to enjoying them at our gatherings — but I also love to experiment with new dishes as well. That's how these bacon wrapped poppers came to exist. I tried them once and was hooked! I think you will be too.
They are an appetizer that everyone will request time and time again because they're so good.
As soon as you try it, you'll see why and you can expect it to be often requested at your family's table, too.
Ingredients for Bacon Wrapped Poppers
This easy recipe will taste like you slaved, but really you won't. It only takes 10 minutes to bring everything together and another 30 minutes to cook. It's so easy to make and even easier to devour. All the components of the very best recipes! 😉
You'll need poblano peppers, which are a medium/mild heat. We'll also be using cream cheese, shredded cheddar cheese and diced pineapple. (Pineapple is a close second to bacon for me… so really this recipe is like all my true loves coming together).
And let's not forget the star of the show: Oscar Mayer naturally hardwood smoked bacon. I love Oscar Mayer Bacon because they always deliver on excellent quality and taste. Good ingredients go far in making delicious recipes shine.
Oscar Mayer Bacon provides superior taste and quality because they carefully select cuts for premium, consistent quality. Their bacon is naturally sugared cured and naturally smoked — this means you can enjoy the same amazing flavor in every bite!
If you don't love poblanos, you could also try green peppers or sweet peppers instead. Any kind of bacon wrapped peppers are going to be a winner if you ask me. 🙂
This recipe will serve 8. So depending on how much your gang loves mini peppers, cheese and bacon… you might want to be doubling, tripling or quadrupling these ingredients. Don't worry — no judgement here.
How to Make Bacon Wrapped Poppers
This homemade appetizer is easy to cook in the oven while you get other meal components ready. You can even make them ahead of time and freeze them until you're ready to bake… details on that in a moment.
First up, you'll preheat your oven to 350 degrees. While that gets going, you'll blend the cream cheese until smooth and then fold in the pineapple and shredded cheddar cheese.
Slice each pepper in half then rinse it off and remove the seeds. Once the seeds are completely removed, you will add a scoop of the cheese mixture to each pepper.
Wrap each of your peppers in a slice of bacon. Helpful hint: use toothpicks to hold the bacon onto the pepper while baking.
Bake for 30-35 minutes or until bacon is browned. Don't forget to remove the toothpicks before serving!
Can Bacon Wrapped Poppers Be Frozen?
The answer is yes!
If you plan to freeze them, instead of baking them once they're prepared, you'll place them lined up in a freezer safe bag on a cookie sheet and place inside the freezer for a couple of hours. After they're frozen solid, you can take the cookie sheet out and they won't stick together once they're all hanging out in the bag. You can remove the number of bacon wrapped poppers you want to make and leave the rest in the freezer.
You may or may not find me noshing on these in the kitchen late at night because they're so easy to bake and serve in small portions from the freezer. 😉
More Ideas for Bacon Wrapped Poppers
Not only can you bake these bacon wrapped poppers, I would suggest you do yourself a favor and try them grilled as well. Because hello amazing flavors.
You could also try different cheeses like a Mexican blend or mozzarella instead of shredded cheddar if you want to get creative with the flavor combinations.
As we look towards our next big family meal together, I'm excited to showcase these bacon wrapped poppers on the menu.
No matter what kind of pepper or cheese you use, these bacon wrapped poppers will be a family favorite appetizer recipe you'll all love. (If you love this recipe, try our bacon wrapped pineapple, too!) Enjoy!
More Recipes You'll Love
Sushi Bowl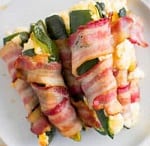 Bacon Wrapped Poppers
This delicious and easy appetizer recipe will have your guests asking for more!
Ingredients
poblano peppers

mild/medium heat

8

ounces

room temp cream cheese

1

cup

shredded cheddar cheese

1/2

cup

diced pineapple

8

strips of Oscar Mayer bacon
Instructions
Reheat oven to 350°

Blend cream cheese till smooth.

Fold in cheese and pineapple.

Cut the peppers in half and wash and remove seeds.

Stuff peppers halves with cheese mixture.

Wrap each half in a slice of bacon. Use toothpicks to hold the bacon onto the pepper while baking.

Bake for 30-35 minutes or until bacon is browned. Remove toothpicks before serving.
Nutrition