Free Back To School Lunch Note Printables
Table of Contents
It seems like we were just starting to talk about summer plans and here it is time for school to begin–—again. Let your kids know you're thinking of them and send a little (a lot of!) love with these FREE downloadable, printable notes. Tuck them in lunches or backpacks to inspire and encourage them, especially in those first days of back to school.
---
See Also:
---
Polka-dots in eight colors have eight message beginnings for you to personalize: "You are smart"; "Surprise!"; "I love you because"; "You make me smile"; "Have fun today"; "Great job!"; "I am proud of you"; "Have a great day."
Not only will you find a cheery "Hope your 1st day was a piece of cake" note, but there are also suggestions for including a decorated cupcake.
There are fourteen colorful and positive messages in this printable collection which include: "The world needs more people like you"; "Think big"; "Oh, hello gorgeous";" Think BIG".
"Hey there smartie pants, hope your 1st day is going great!"
Find six encouragements, such as "Never forget mommy loves you" and "You are my sunshine", plus six scriptures about courage, trust, and strength, including "The Lord is my helper; I will not be afraid". There are also four blank, color-framed notes for personalization.
An owl reminds your student to "Seize the day" and a line-up of pencils encourages: "Be smart. Be honest. Be kind." Chalkboard-style notes say, "Make today amazing" and "It always seems impossible until it's done."
See a collection of eight colorful printables with eight different messages that include: "Some buggy loves you"; "Have a whale of a time"; "You are the apple of my eye"; and "You brighten my day."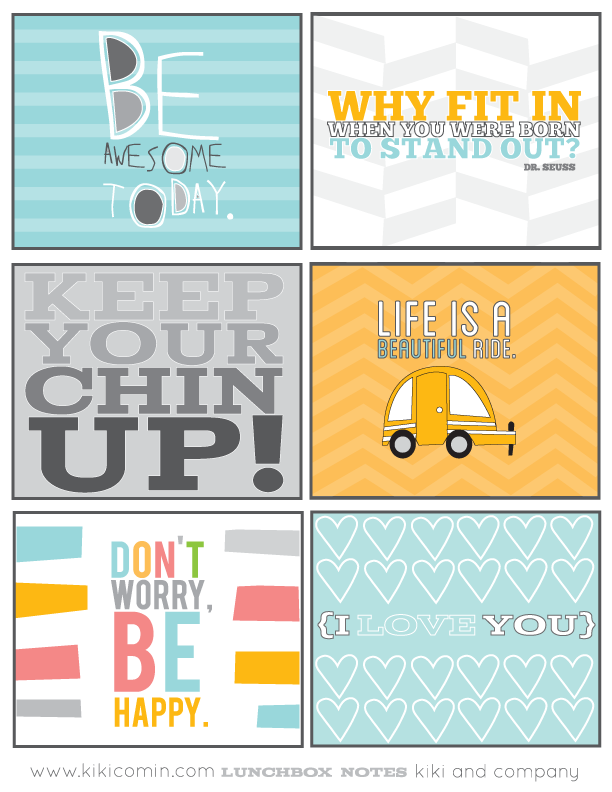 Discover a half dozen positive notes and modern style for your kids with these messages: "Be awesome today"; "Why fit in when you were born to stand out"; "Keep your chin up"; "Life is a beautiful ride"; "Don't worry, be happy"; and "I love you."
Eight different jokes, such as, "Why couldn't the pirate play cards? Because he was sitting on the deck"! There are also eight blank cards so you can write your own jokes and puns.
There are a dozen notes here; six are blank and six have phrases for you to complete, such as: "I can't wait to…"; "You are special to me because…"; "You will do a great job on…". All have attractive borders and colors.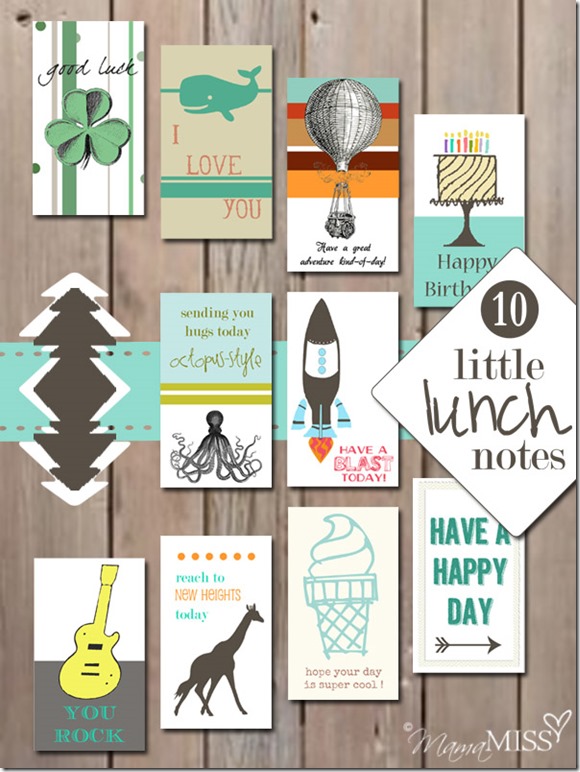 Some vintage images, some more contemporary, but all with encouraging messages like: "You rock"; "sending you hugs today octopus style"; "Have a blast today."
Use these prompts to fill in a daily message: "To ____, I hope you have a ____day. Remember to _____. I'll see you ____. Lots of love."
Silly pictures and funny jokes are sure to garner a grin. An example: "What do you call a pig that knows karate? A pork chop"!
Print these on any color note. There are a half dozen affirming messages, such as: "You are one amazing kid!" and "You are epic awesomeness in one cute little package!"
Six artsy fun and bright-colored pictures accompany notes like: "You are dino-mite!" and "Superkid".
Be sure to check out more party ideas here: