15 Awesome Glow-In-The-Dark Birthday Party Ideas
Table of Contents
Check out these cool Glow-in-the-Dark Birthday Party Ideas. They include neon cakes, decorations, drinks, food, party games, and more. Coming up with the right birthday party theme for older boys and girls can be difficult, but glow-in-the-dark parties are awesome enough for those hard-to-please tweens. Whether it's a basketball party, a Star Wars celebration, or a cool club atmosphere, black lights and neon give everything a new look. You'll find all sorts of decoration ideas plus beverages and foods that glow, food picks that glow, guest, and dessert tables that glow, and even games that glow.
---
See Also:
---
1. Glow In The Dark Basketball Party
Black lights, glow sticks, neon colors, and plenty of cool basketball details make this glow-in-the-dark basketball party for two brothers extra special. If the sweet treats on the dessert table aren't cool enough as they are, the glowing effects definitely take things to a whole new level of awesome.
Add glowing party drinks to your glow-in-the-dark party. The secret is adding tonic water to your beverage of choice before exposing it to a black light!
3. Glowing Star Wars Birthday Party
Take guests to the dark side with a glowing Star Wars birthday party. Black lights, glowing lightsabers, and a few neon details really make the décor in this party seem like it's from a galaxy far, far away.
4. Glowing Centerpiece Design
Use glow sticks, LED ice cubes, and glassware to make your own glowing table centerpieces. Top them off with glow stick orbs for some playful décor guests will love to look at and toss around.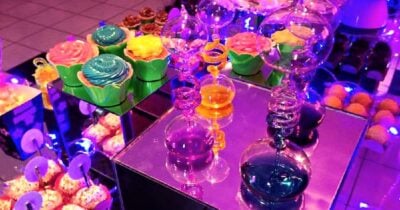 5. Neon Glow Dessert Table Backdrop
Give your desserts a place to shine with a neon glow dessert table backdrop. Attach paper rosettes and paper circle garlands in neon colors to a black paper backdrop for a totally awesome look!
6. Glow Stick Ring Toss
Creating a glow stick ring toss game is easier than you think. Just insert glow sticks into water bottles and toss glow stick rings (use the connectors that come with the glow sticks to create the rings) around the bottles to play.
7. Glow Decoration For Walls
Create your own glow decorations for an amazing glow-in-the-dark party. Whether you splatter neon or glow-in-the-dark paint on black butcher paper or create fun designs using neon paper and tape, the results when the black lights come on will be awesome!
A glow-in-the-dark party needs glow-in-the-dark food. White cotton candy turns luminescent when the lights are off and the black lights are on. Plus, add a glow stick to the cone-shaped cotton candy holder for an even cooler glowing effect!
9. Glow Light Chandelier
DIY your own glow light chandeliers for a huge impact at your glow-in-the-dark party! You can create these by using cardboard, plastic flagging tape, neon paper circles, a hula hoop, and a push light!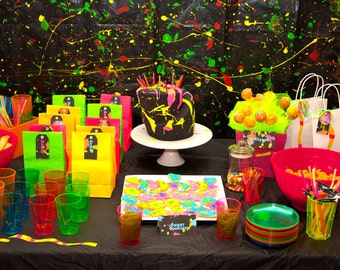 Help your food stand out at a glow-in-the-dark party by using clear neon food picks. Blacklight + neon = magic!
11. Glow Game Idea
Guests at your next glow-in-the-dark party will like this glow game idea! Turn an ordinary game of Twister into glow-in-the-dark Twister! Fun, right?
12. Glowing Guest Table
If you want to create a glowing guest table for your next celebration add neon cups, plates, and decorations that really make your table pop!
13. Glow-in-the-Dark Game Ideas
Try out these fun glow-in-the-dark game ideas, including glow-in-the-dark hopscotch using neon tape. You can even set up a game of glow-in-the-dark bowling using neon tape on the bowling pins.
Playful and fun, these neon guest table centerpiece balls are totally fabulous. Not only are they colorful, but they collapse too!
Nothing screams the 80s quite like neon and glow-in-the-dark parties! This glowing neon dessert table combines neon balloons, favors, treats, and decor that glow to create the coolest party vibe!
Check out more great party ideas perfect for a themed birthday: