if you are after a traditional pumpkin pie without the fuss of the crust, this six step recipe is for you!
Jump to Recipe
Table of Contents
This crustless pumpkin pie recipe could not be easier to make. After just six simple steps, you've got a classic pumpkin dessert. It's just as good as a traditional pie, but crustless pumpkin pie will save you so much time when putting together your Thanksgiving day meal.
This No Bake Pumpkin Pie and these Pumpkin Cheesecake Bars are a couple more fall treats that also use pumpkin, and are totally delicious. If you like the Crustless Pumpkin Pie, you will love both of these!
---
MORE PUMPKIN RECIPES
Pumpkin Delight Dessert | Pumpkin Cheesecake Bars
---
INGREDIENTS FOR CRUSTLESS PUMPKIN PIE
You will need:
1 15-oz can pumpkin puree
1 cup evaporated milk
3 large eggs
½ cup sugar
¼ cup packed light brown sugar
1 tablespoon cornstarch
1 ½ teaspoons pumpkin pie spice
½ teaspoon vanilla extract
Whipped topping (optional)
SUBSTITUTIONS AND ADDITIONS
TOPPINGS & GARNISHES: Whipped topping is a classic garnish for pumpkin pie. It's usually my go-to. You can get creative and add other toppings as well. Pecans would add a nice crunch, a dusting of cinnamon would bring out the spicy pumpkin flavors, and you can't go wrong with a scoop of French vanilla ice cream.
HOW TO MAKE THIS CRUSTLESS PUMPKIN PIE RECIPE
STEP ONE: Preheat the oven to 325 degrees and spray a 9-inch pie pan very lightly with non-stick spray. Set aside.
STEP TWO: In a small bowl, stir the evaporated milk and cornstarch until smooth.
STEP THREE: In a large mixing bowl, whisk together all of the ingredients and the milk/cornstarch mixture until completely blended.
STEP FOUR: Pour the pie filling into the pan.
STEP FIVE: In your preheated oven, bake pie for 1 hour and 5 minutes, or until a knife inserted into the center of the pie comes away clean.
STEP SIX: Allow the pie to completely cool. Serve with whipped topping if desired.
---
STORAGE
IN THE FRIDGE: It's best to store pumpkin pie in the fridge to keep it as fresh as possible. Loosely cover your pumpkin pie with foil or plastic. It will last in the fridge for 3 to 4 days.
IN THE FREEZER: If you're not planning to eat your pumpkin pie within four days, you can store it in the freezer to enjoy later. After it is completely cooled, wrap tightly in foil or plastic and place in a freezer Ziploc bag. Keep in the freezer for up to four months.
Crustless pumpkin pie is full of all the same delicious flavors as a traditional pumpkin pie, but it's much easier and quicker to make (try our custard pie for another classic holiday recipe). It's the perfect easy dessert for your Thanksgiving dinner. Pumpkin pie is a must have for fall desserts, it'll hit the spot every time!
MORE RECIPES YOU'LL LOVE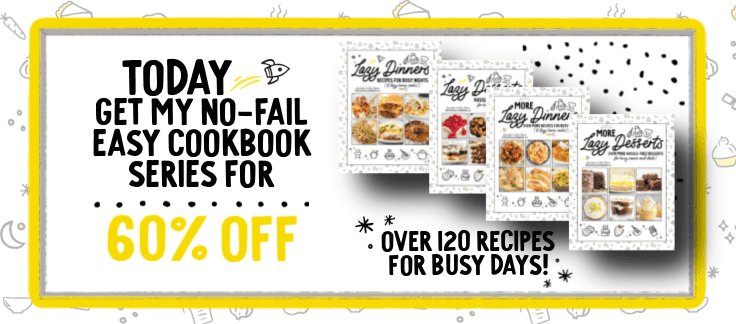 Crustless Pumpkin Pie
if you are after a traditional pumpkin pie without the fuss of the crust, this six step recipe is for you!
Cook Time
1
hour
5
minutes
Total Time
1
hour
10
minutes
Ingredients
15

oz

can pumpkin puree

1

cup

evaporated milk

3

large eggs

1/2

cup

sugar

1/4

cup

packed light brown sugar

1

tbsp

cornstarch

1 1/2

tsp

pumpkin pie spice

1/2

tsp

vanilla extract

whipped topping

(optional)
Instructions
Preheat oven to 325*

Spray a 9" pie pan very lightly with non-stick spray

In a small bowl, stir the evaporated milk and cornstarch until smooth

In a large mixing bowl, whisk all ingredients and the milk mixture together until completely blended

Pour the pie filling into the pie pan

Bake for 1 hr and 5 minutes, or until a knife inserted into the center of the pie comes away clean

Allow pie to completely cool

Top with whipped topping if desired
Nutrition
Sodium:
62
mg
|
Calcium:
115
mg
|
Vitamin C:
3
mg
|
Vitamin A:
8438
IU
|
Sugar:
24
g
|
Fiber:
2
g
|
Potassium:
238
mg
|
Cholesterol:
71
mg
|
Calories:
165
kcal
|
Saturated Fat:
2
g
|
Fat:
4
g
|
Protein:
5
g
|
Carbohydrates:
28
g
|
Iron:
1
mg