Boyish Charm
15 Free Printable Letters from Santa Templates
By
| Last Updated:
Children around the world send countless letters to Santa each year. Imagine their surprise when they receive a letter from Santa this season! Magical and motivating, we've rounded up 15 printable letters from Santa that you can send to a special child.
Whether you want an "official" letter from the North Pole, or one sent from Santa's desk (or workshop), you can probably find what you are looking for here. There are even "naughty list" notices and warning letters for kids who may need a little…encouragement…to try harder. And for those good girls and boys on the "nice list", there are darling printable Santa "certificates of niceness" to reward positive behavior.
---
See Also
---
1. Free Printable "From the Desk of Santa Claus" Letter with Coordinating Printable Envelope :: Lia Griffith
Kids will be excited to receive a personalized letter "from the desk of Santa Claus" himself. The coordinating envelope makes it very believable, so it kids won't need much convincing to believe that this letter is from Santa himself!
2. Free Printable Official Letter from the North Pole :: Frosted Events
Send special children an official letter from the North Pole to brighten their spirits! This letter even has Santa's signature at the end. It will encourage them to keep up the good behaviour until the big day!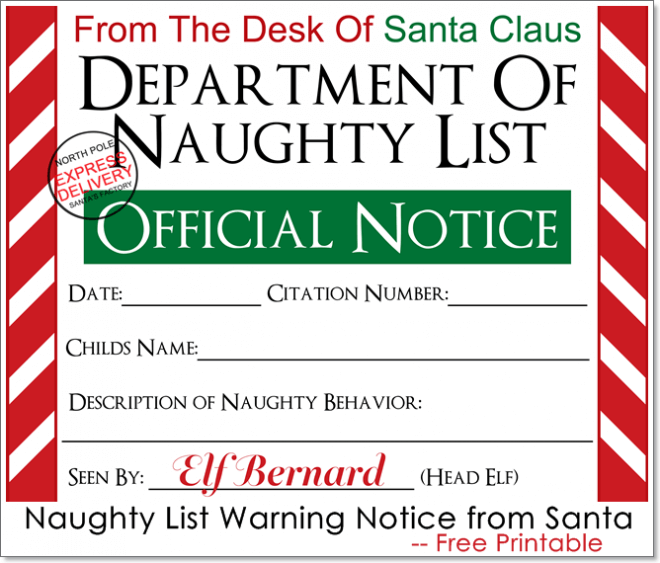 3. Free Printable Naughty List Warning Letter from Santa :: Jacqui Writes
Send a reminder to a child who has been "naughty" that Santa and his elves are always watching! This naughty list warning letter may help them to change their ways. I'm pretty sure that this would be a VERY effective strategy at any time of year, so if the kids are playing up, try to keep a couple of these Naughty List Warning Notices handy.
4. Free Printable "Santa's Workshop" Letter :: The Shady Lane
Add a little magic to the Christmas season with a free printable letter from Santa and his elves. Just choose from one of the designs and print. This is a great option because there are a couple of designs to choose from, so you can change it up from year to year.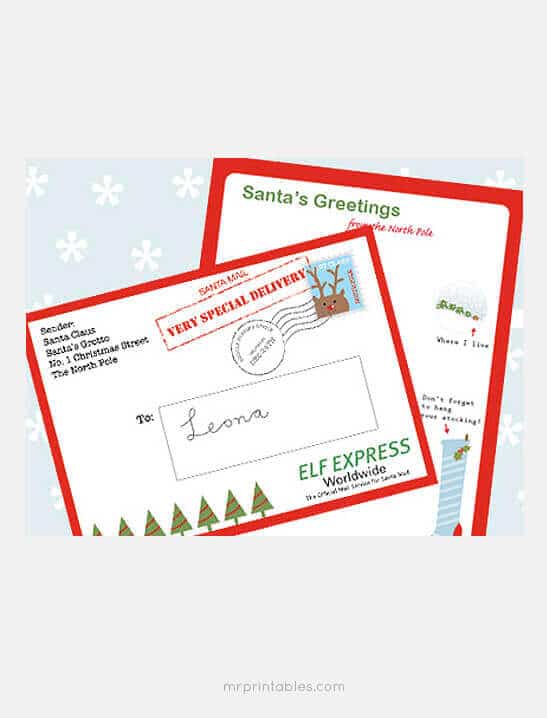 5. Santa Mail :: Mr. Printables
Use this printable writing paper and envelope to pen a personalized letter from Santa. A handwritten letter makes it just a little more personal and convincing, and it will really make kids feel special! It also means that you can personalize the text to your heart's content, so get those creative juices flowing. If your kids will recognise your handwriting, ask a friend or family member to write it out for you.
6. Printable Santa Certificate of Niceness :: Hallmark
Surprise your nice little ones with a special envelope containing this printable Santa certificate of niceness. It may just be the thing to encourage them to continue their good behavior all year long! Rewarding kids when they've been good is often as important and effective than disciplining them for bad behaviour, so this will do just the trick.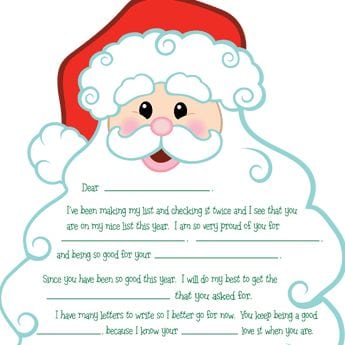 7. Free Printable Santa's Beard Letter :: Free Fun Christmas
Is anyone's beard more recognizable than Santa's? This printable version  provides spots for handwritten personalization along with a pre-formatted printed dialogue. It gives you the space to personalize the letter and get creative, but it's not all left up to you.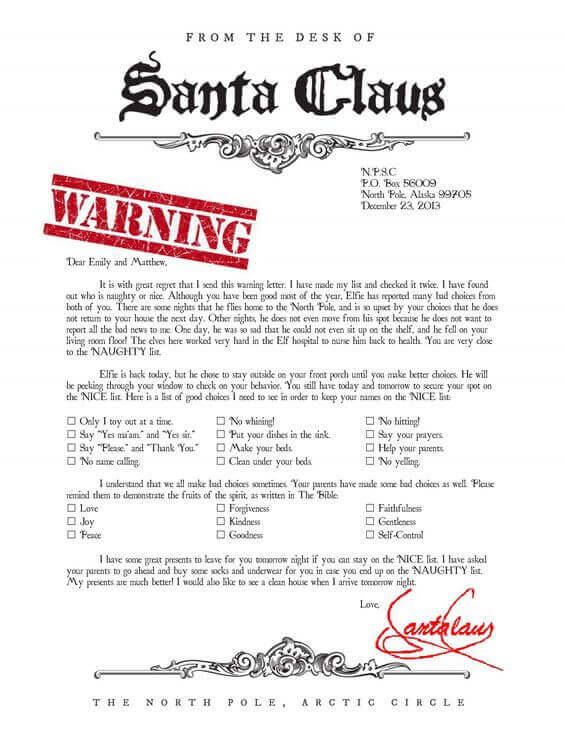 8. Free Printable Santa Warning Letter :: Ashley Nicholson, as seen on Pinterest
Have a child or two in need of some reprimanding from Santa? I would definitely have responded to a letter like this as a kid, and it looks very stern and official. Give it a try and let us know if it works!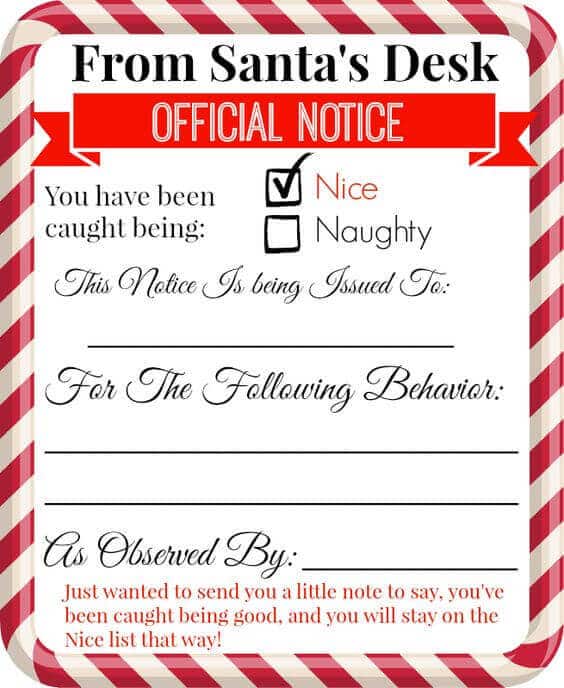 9. Free Printable "From Santa's Desk" Notice :: Love Laughter Forever After
Santa can check off whether your child has been naughty or nice with this free printable notice straight from his desk! Plus, record the witnessed behavior and who it was witnessed by to make things official. This will give kids the idea that you're in constant dialogue with Santa, so they should always watch their behaviour!
10. Official Nice List Notice :: Tip Junkie
Santa can send this official nice list notice with your family elf. Just fill out your elf's name and mark the appropriate reasons for being chosen for the nice list. It definitely looks official, and I love the stamp! Plus, you get to come up with a name for your family elf, which sounds like fun.
11. Baby's First Christmas Letter from Santa :: Top Santa Letters
Memorialize your baby's first Christmas with this custom letter from Santa. This is definitely something you'll cherish in years to come, so keep it somewhere safe or even frame and hang it on your baby's nursery wall.
12. DIY Santa Letter :: Beyond the Woodland, as seen on Etsy
Use editable text boxes or your own handwriting for a DIY Santa letter that uses printable Santa Claus Stationery, available in white or classic off-white. Having printable envelopes means that you can post the letters (or just pop them into your postbox) to make them extra official. I love the old-school aesthetic of these — just gorgeous!
13. Free Printable Letter From (and to) Santa :: SOHO Sonnet
Print this free letter from Santa to remind any child to be good because Santa is coming … soon! I love the addition of the email address, modernizing the Santa experience.
14. Printable Letter from Santa Kit with Envelope :: My Party Design, as seen on Etsy
Your child will be so excited to get an official letter from Santa this Christmas.  This kit includes a printable letter from Santa, envelope template and address labels, which means it's another one that you can post yourself (ie pop into the postbox). I also love the look of this one — it's absolutely classic without being boring, so it's pretty convincing!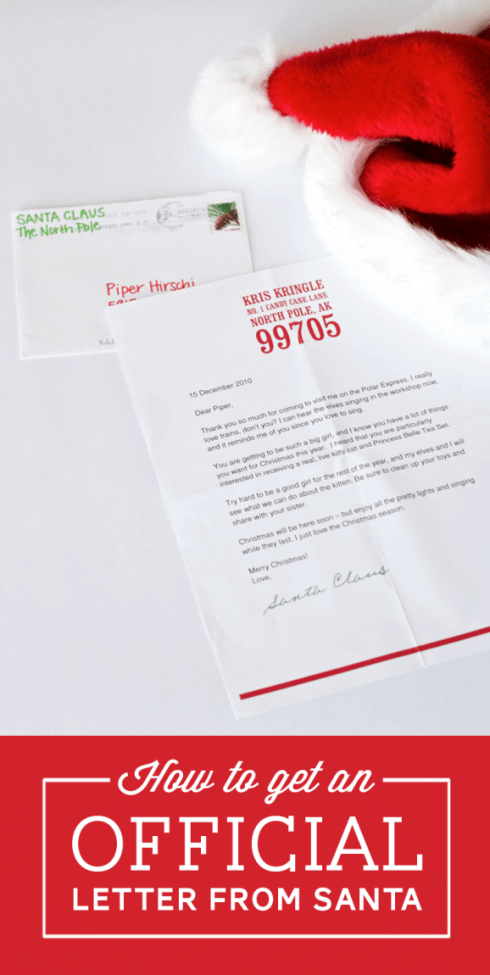 15. Official Letter from the North Pole :: Pear Tree
Make your Santa letter look even more official with a North Pole postmark. It's surprisingly easy to get, but you do need to leave enough time to get the letter there and back. Just make sure that it arrives before December 10, because the North Pole can get pretty busy!
Celebrate the holiday spirit with these festive craft ideas gathered by the team at Spaceships and Laser Beams.
(Amazon Affiliate Links)
Don't miss these holiday ideas perfect for kids of all ages.