19 Ways to Display Kids' School Art Projects
Table of Contents
What do you do with all of the pictures that come home from school? I've quickly realized I cannot keep EVERY piece of paper that Sam draws on, but there are definite keepers.
This round-up is full of terrific ideas on how to save/display the creativity of our budding artists. You'll find suggestions for rotating displays as well as more permanent features.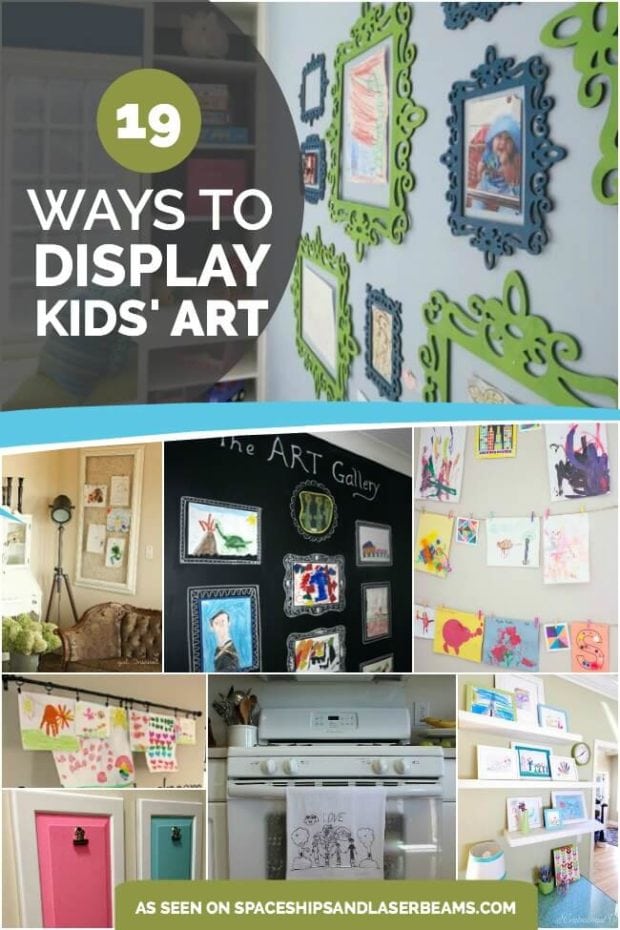 ---
See Also
---
Ways to Display Kids Art
Did you ever think of using a curtain rod and rings, wood, wire and clips or a repurposed cabinet door for showcasing artwork? There are simple display ideas, corkboard tiles and clipboards.
Use clothespins, wood hangers or make colorful temporary tape frames. Learn how to re-size art for a changing gallery in a multi-windowed frame, transfer images onto fabric or transfer images to polymer clay.
There are some great ways here to admire and save our kids' art without every surface of the house being over taken by pieces of paper. You'll be inspired by these attractive ways to display your kids' school art projects!
1. Art work on a curtain rod
From Frills, Fluff, and Trucks
Liven up your playroom with this brilliant children's artwork display. This blogger got thrifty and used an inexpensive curtain rod and matching clips to hang their kids' art right on the wall.
Get a Pottery Barn style for less and easily change out the pieces as your little artists create more.
2. Create a gallery with colorful tape
From Real Simple
Show of your children's wonderful art without making nail holes using colorful, wall-safe painter's tape. It is easy to make a gallery with the tape and you can peel off the "frames" to change the exhibit whenever you like!
3. Display art on the wall
From Infarrantly Creative
These magnetic wall frames are a great way to display the art masterpieces that your kids bring home from school or create right at home.
It's also super easy to scale down paintings and drawings that are too big for the frames, just scan them or take a picture and reprint.
4. Create an art display
From Apartment Therapy
Painting may be one of the easiest ways to personalize your home, but thankfully it's not the only one.
Decorate with your walls with your kids' art! This creative crafter made a grid-like structure to display art prints and other favorite things without damaging your walls.
5. Chalkboard gallery
From Artful Kids
Use chalkboard paint to create a fun and funky feature wall that displays the best artworks your kids make.
All you have to do is paint a bare wall with a few layers of chalkboard paint, hang the art pieces, and get creative with chalk to design frames and captions around them.
6. DIY wood and wire art display
From Liz Marie Blog
This easy DIY wood and wire art display has a big impact in any room. You don't need very many items to make it and it's customizable to nearly any space and style.
Switch out the art as often as you want and switch it up to display children's artwork, photos, and more.
7. Clothes pins and twine
From Design Improvised
If your kids are anything like ours, you have an endless stream of beautiful art coming your way. Whether it's scribbles at home or projects from school, this simple art display is a great way to admire their creations.
It's as simple as tying some lengths of twine to nails and adding mini clothespins to hold the artwork.
8. Display wall
From Honestly
Follow these instructions to creatively display your kids' art using clothes hangers. Shop your closet for hangers or find some inexpensive ones at a thrift store or dollar store.
You can leave the hangers bare or paint them for an extra colorful display. Attach your child's artwork and you have an instant gallery.
9. Cork tile display
From Everyday Reading
Turn a plain and boring wall in your child's playroom into a fun and creative art gallery with cardboard tiles!
Carefully hang them then reuse the space to display artwork after artwork as your kids create. This easy and inexpensive display idea in sheer brilliance.
10. Cabinet door gallery
From Dimplicity
Head to your local thrift shop or Habitat Restore for some old cupboard doors to create this awesome playroom artwork display.
Refurbish them with a fresh coat of bright and cheery paint, then add a fancy clip to hold your children's artwork.
11. Simple artwork display
From Simply Organized
Framed cork boards are a simple and beautiful way to display children's art in your home. Before pinning up that great artwork, try adding the kids first name initials to the top of each board.
It's a great way to personalize each frame and let your kids' artwork truly shine.
12. Clothes pin display
From Worthing Court Blog
Every play room needs a place to proudly display children's art, right? This super easy DIY project is the perfect way to do so.
Paint a spare piece of moulding or plank of wood in a color that matches your playroom, then add some creative details to clothespin hangers. It makes the perfect piece to hold the drawings and paintings that your kids create.
13. Inexpensive frames
From Sawdust Girl
Use bare space on your playroom wall to hang these awesome picture frames and display your kids' art.
It's easy to find wooden frames at the craft store or dollar store, then all you have to do is remove the backing and paint them to match the space. It's easy to tape up art inside to display.
14. DIY mini canvas image transfer
From Crafts Unleashed
These tiny, adorable and affordable canvases are begging to be covered in art and shared. Easily scale down your children's masterpieces on the computer and wrap them with Mod Podge.
You can display the projects on a matching tiny easel or add a hanging loop to make a holiday ornament.
15. Tea towels
From Hometalk
Here is a fantastic way to display your kid's art in a space your family spends a lot of time in – the kitchen! Turn your kid's art into DIY tea towels and your kids will feel so special seeing their drawings on display.
These tea towels also make excellent gifts for grandparents, teachers, and other family friends.
16. Art gallery wall
From Centsational Girl
Dedicate a little station to your budding artist with this gallery shelf in a bedroom or playroom! Spray paint some cheap picture frames from Goodwill or the craft store clearance section to show each artwork it a cute display.
The best part is that you can change out each drawing super easily.
17. Collage
From Simple As That
As backpacks full of artwork come home during the school year, use this simple and adorable DIY project to make a memorable collage of all your kid's artwork.
Follow these instructions to take pictures of each piece and turn them into a beautiful collage at the end of the year.
18. DIY polymer magnets
From This Heart of Mine
Transform your child's doodles into these awesome polymer clay magnets in just a few simple steps.
Your favorite doodles can decorate the fridge, hold up new artwork, and even work as art themselves. You can even decorate them after they bake with extra color or metallics.
19. Chicken wire display
From The Girl Inspired
Rotate all kinds of art projects from your kiddos with this kids' art display board made from chicken wire.
Making the board doesn't take long at all, and it is pretty enough to hang up in your living room. Your kids will love seeing their artwork displayed in your house.
Looking to display your child's school work? Check out these ideas.
(Amazon Affiliate Links)
Easy Change Artwork Frame
Lil Davinci Art Cabinet
Cable to Display Kids' Artwork
Umbra Hangit Photo Display
Hanging Art Gallery
Children's Masterpieces Vinyl wall sticker
Expandable Accordion Style Art Portfolio
Circo Wall Art Display
Plus, don't miss After School Organization Ideas…