21 Back to School Homework Stations
Table of Contents
As we head full steam into autumn, one thing that is a priority for lots of households is a great homework station.
This post is FULL of stylish and affordable ideas for homework stations that help your kids focus on homework and keep their school materials in order.
No matter if you like contemporary, vintage, industrial or mom's kitchen style, you're going to find homework stations to help your favorite students do their best.
---
See Also
---
Whether you typically use the kitchen table or a desk for schoolwork, you'll be impressed with the huge variety of inspiration here:
There are portable totes for spaces that multi-function; portable tri-folds help kids focus on their own work when they share a table; rolling carts and a DIY lazy Susan are great for tight spaces.
There are cozy cubbies in a closet, desks in an armoire, desks in bookcases and desks that fold down from the wall.
How about a homework station on the side of the refrigerator?
Chalkboards, calendars, crafts and collections all find ways to dovetail with a student "office".
1. Boy's Homework and Art Station
From The Crafted Sparrow
Instead of keeping art and school supplies hidden in cluttered drawers, keeping them organized in the open is a great option. This makes them easy to find in no time.
The chalkboards are also a fantastic way to keep track of to-do lists, whether it's listing homework assignments or chores.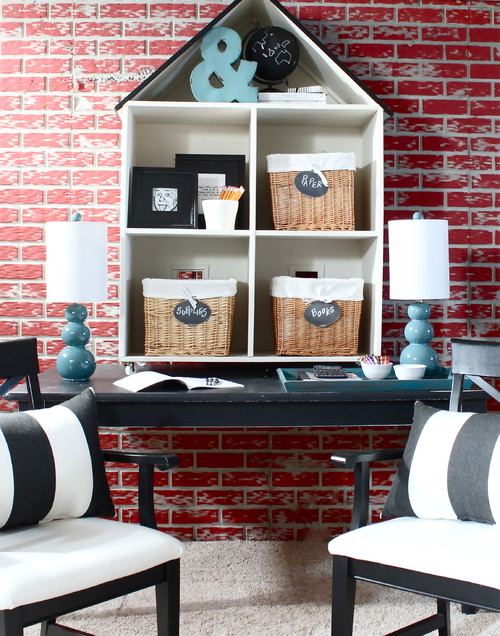 2. DIY Homework Station
From Houzz
Sometimes you need a designated spot in the house to get stuff done, this homework station does just the trick. Find a quiet spot in your home and get started!
By up-cycling old furniture and making it look new, this homework station easily comes together. Use an old bookshelf for a simple storage solution and to keep your new homework station from getting cluttered.
3. Laundry Room, School Room, Craft Room
From Teal and Lime
This gives some great inspiration as to how to make one room into a place with multiple purposes without it becoming messy! By using an assortment of bins and shelves, it's easy to make make a room fit to your needs.
Keeping everything in labeled tubs and bins will also make it easier for kids to put everything back where it came from, keeping their new homework space or your crafting space clean all the time.
4. Homework Station Caddie
From Save the Phillips Family
This simple to put together homework caddie makes starting homework a breeze! The caddie keeps all the essential homework supplies in one place, making it easy to find and put back everyday after school. This homework station is also portable, making it easy to do homework anywhere in the house.
5. Homeschooling School Room
From The Pioneer Woman
With creative light fixtures and other fun features, a homework station like this is something your kids will want to spend a lot of time in! Something they might find really cool is a tabletop they can write on. This can be helpful to them when they're solving their math homework, or just might be fun to draw on.
6. Vintage Library Cart Homework Station
From 4 Men 1 Lady
By keeping everything organized in one place with all the supplies needed, homework can become a breeze for any household. This cart or shelving system can keep multiple kids' work and things to be done organized at the same time.
This homework station also keeps all the supplies needed clutter-free by keeping them in cups, paper dividers, or whatever is necessary. This could be a great addition to any home needing some homework organization ASAP!
7. Home School Work Station
From Giggles, Wiggles, and Wonder
This home school work station has a lot to offer between being a room for school and a room for play! Having a room in your home just for school work or play time could be a great asset if you have the room.
Educational posters and artwork keep the room fun and lots of shelving and bins keep the room organized. There are a few different work stations for computer time or just regular work, giving lots of space for whatever you may need it for.
8. Back to School Homework Station
From The 36th Avenue
This easy to put together homework station includes all of the back-to-school essentials. By putting to-do lists, calendars, and supplies on a magnetic board, it's easy to keep track of everything at once.
This also prevents counters and cabinets from becoming cluttered with school supplies. Put this together for your school year in no time!
9. Small Space Home Office
If you don't have the option to dedicate an entire room to a homework space, these small space home office solutions are just for you. Turn a corner or any small section of your home into a space that works for you and your kids.
Pick a quiet corner and simply add some bookshelves or a desk to make that space a perfect spot for homework in your home.
10. Ultimate Closet Desk Station
From I Heart Organizing
For this homework station, you don't even need an entire room! Clean out a small closet in your home, add a desk, and it's an office space.
Hang up some decorations such as pictures or artwork to make it feel a little less like a closet and a little more cozy. This makes a perfect quiet corner to get work done.
11. Dining Room Homework Station
From The Handmade Home
By adding some organization solutions to the dining room and keeping the school supplies there, your kids can just come in from school and sit down at the table to start their work. This also gives you a spot to make sure they're getting things done and be around to help them out.
Some shelving and decorative bins make a great place to store all of the odds and ends that your kids may need for their schoolwork, while still keeping it out of sight in your dining area.
12. Black and White Playroom Homework Station
From Classy Clutter
A playroom is also a perfect place to get homework done! Chances are, you already have one in your home. By adding some desks and all the supplies they need, it's a perfect solution for a homework station.
Decorating it with a cute theme can make homework-time a little more fun, such as this black and white playroom and homework station above.
13. Homework Organization
From Centsational Girl
Homework stations can also be as simple as placing a small shelf with the essentials for homework next to a desk or table. This makes it easy to find whatever is needed for the homework or projects your kids will be working on throughout the year, and gives them a familiar spot to work. A homework station like this is simple, budget-friendly, and not time consuming at all.
14. Flip Down Desk
From Ana White
If you happen to be tight on space, this flip down desk may be a perfect solution. Not only will it provide a space to work at, but it can also double as storage for the assortment of school items needed. Not only for homework, but it can make a good art station, or possibly even a computer station! There are tons of ways to make it work for your family.
15. DIY Free Standing Homework Station
From Simply Organized
This homework station is simple to put together and can be done in a flash if needed. Using a cheap shelving unit and organizing all the homework supplies in baskets, cups, or however works best for you, this homework station comes together easily.
By getting a shelving unit with wheels, your homework station could even be portable, making it more flexible to fit the needs of your family.
16. IKEA Cart Rolling Homework Station
A rolling cart would be a perfect homework station that can make it easy to get homework done everywhere in your home. Pile all the essentials onto the shelves and go–it's that simple! Kids might even have fun rolling this handy cart to wherever they may want to work on their homework that day.
17. DIY Homework Crate
From Uncommon Designs Online
This DIY homework crate is a perfect small solution for a homework station. Place it in your dining room, living room, or your kids' rooms, and they'll be all set for the year. Simply get a crate and stock it with everything they may need to do their assignments, and it's that easy.
18. Homework Study Station
From Mom Advice
While there may not be a spot for a specific homework station in your home, these study stations can make anywhere the perfect quiet corner. These can easily be folded up and placed somewhere when they're not being used that way you get your living space back too. This might make for a fun project for kids too if you let them decorate their own!
19. DIY Lazy Susan Organizer
From Home Stories A to Z
For easy organization, this DIY Lazy Susan organizer is perfect. By keeping everything separated in different buckets or cups, kids can easily spin it and reach for whatever they may need. They'll also know exactly where to put it back. Just place it wherever your kids do their homework, and no worries about clean up after!
20. Bright and Cozy Homework Space
From Tiny Oranges
By giving kids their own space to work on homework, they may actually want to work on it more rather than putting it off. Add some decorations that they love, or give them their own space to work at and it might make a huge difference. Placing this homework space in a living area or your own office will keep them close and you'll be able to answer questions they may have too.
21. Home School Work Station
From Naturally Caffeinated Family
Homework stations don't have to be extravagant, but can be as simple as placing a small desk and shelf in the living room. As long as there's a dedicated space for work, kids will be able to get their homework done more efficiently. This homework station is a perfectly simple set up, and gets the job done!
Creating your own homework station at home? Check out these supplies:
(Amazon Affiliate Links)
School Supply Pack
Kindergarten Supply Pack
Second Grade Supply Pack
All-Purpose School Glue Stick
Pink Pearl Premium Erasers
Crayola Crayons
Elementary Arts & Crafts Bundle
Washable No-Run School Glue
Get the kids ready for school with these great ideas.