Bike-Themed Birthday Party
Table of Contents
Kids and bikes make for a "wheelie" fun party theme. This bike birthday party by Katie of Petite Social is the perfect inaugural party to showcase under the bike party category. It may also surprise you that Katie planned this event for her own son, Cole's, 5th birthday party in less than a week. Her tips for executing a party on such a tight timeline can help you plan your own child's bike-themed birthday. You can find ideas for DIY cupcakes and desserts, budget-friendly party activities, and cool theme-coordinating party favors. Check out the photos so you can plan a stress-free celebration for your own bike-loving child.
---
See Also:
Bike party-themed printables helped kick off the party theme and create a coordinated look. Guests received invitations letting them know Cole was turning 5. They were requested to pack up their bikes and trikes and come join them for a ride.

As party guests arrived with their bikes and helmets, Katie directed them to a clever bike parking lot, complete with a sign, that she established for bike parking when bikes were not in use.

Yellow, black, and white made up the party color palette—a nice choice to coordinate with the DIY bike crossing sign Katie made from the poster board for the party favor table. The dessert table featured these colors in the table linens, dessert options, and printable decorations. Keeping the color palette simple creates a cohesive look.

One way Katie simplified her party prep was by purchasing customizable printable decorations online. The Happy Birthday bunting, cupcake toppers, food labels, and tags all coordinated and featured a simple bicycle silhouette that was carried throughout the party styling. Printables are a quick and inexpensive way to dress up a party table and give that personalized, well-planned look to a party.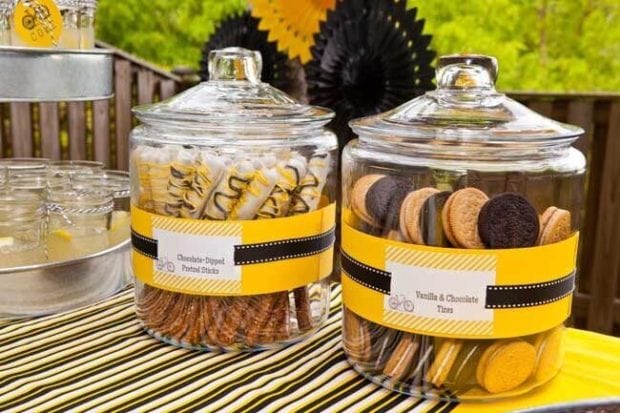 Katie kept the dessert table on the simple side, foregoing a cake and opting for a variety of smaller desserts instead. Highlights included vanilla and chocolate "tires" (regular Oreos and Golden Oreos), chocolate-dipped pretzel sticks, chocolate cake pops, gum balls, and cupcakes.
Lemonade served in glass jars was a refreshing beverage choice. (Don't those drinks look so cute with printable bicycle tags tied on with black and white baker's twine and the addition of black and white striped party straws? We think so!) Because Katie made most of the gourmet treats herself, the dessert table was very budget-friendly.
Party activities were kept loose and only semi-structured. Kids loved being kids at this birthday party. They enjoyed participating in a bike parade as well as leisurely bike rides around the cul-de-sac. Katie even set up a friendly bike race by using cones to divide the party guests into two groups. Free time to peddle around bikes was the perfect party activity!
After enjoying a casual pizza picnic and choosing treats to devour from the dessert table, party guests loved popping by the party favor table. It featured buckets full of parting gifts, and a water bottle with an adorable printable tag that read: "Hope you had a wheelie good time." What a great favor idea to send home with each rider.
If you love the pace of this party as much as we did, consider putting together your own bike-themed birthday party following Katie's tips. Give yourself permission to allow flexibility and free time in the activities. Focus on just a few simple desserts. Use printables as the primary decorations. Send guests home with one really great birthday party favor. We are sure you'll be "wheelie" glad you did!
Be sure to check out more dirt bike birthday party ideas here: