A Whale-Themed Baby Shower
Table of Contents
Nautical parties are such a popular trend, and they especially make a great baby shower theme. This whale-themed baby shower is such a fun twist, and the darling details are sure to delight. Gorgeous shades of navy, turquoise, and aqua set the tone for festive preppy baby shower decorations, nautical-themed props, and the cutest whale-inspired baby shower cake you can imagine!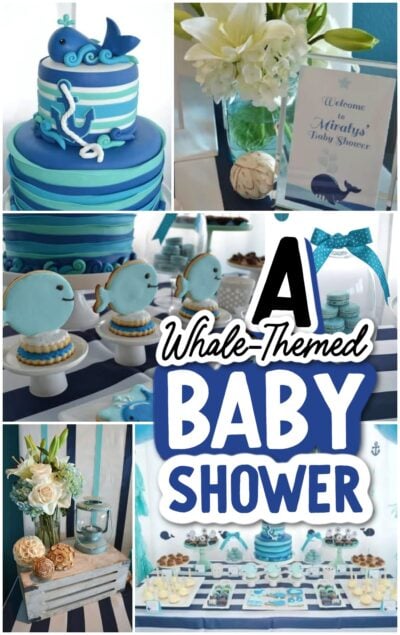 ---
See Also:
---
Carol Colon, of Partylicious Events, has done it again with her impeccable styling. Carol's client picked the nautical theme for her baby shower since her baby's nursery will include this décor style.
All of the sweet, sea-inspired details were planned with this in mind. Carol reached out to Basic Pixels by Pixels Paper and used their graphic design skills to add a cute baby whale that went with the chosen color scheme. You'll see cute signs and labels and other printable décor featuring this adorable ocean friend.
As a party guest, it is always nice to be welcomed by an inviting entrance. At this shower, guests were greeted by a beautiful welcome table with nautical-striped linens, beautiful flower arrangements, and other nautical decorations in just the right places. We love the clever guestbook: guest fingerprints are stand-ins for water bubbles spouting out of the little whale's blow hole. Adorable! A cozy seating area was also set up and included plush carpet, vibrant throw pillows, and even a huge stuffed puppy dog to bring in a little juvenile feel.
Baby showers are known as social events where guests love to eat yummy desserts and chat about motherhood with the mom-to-be.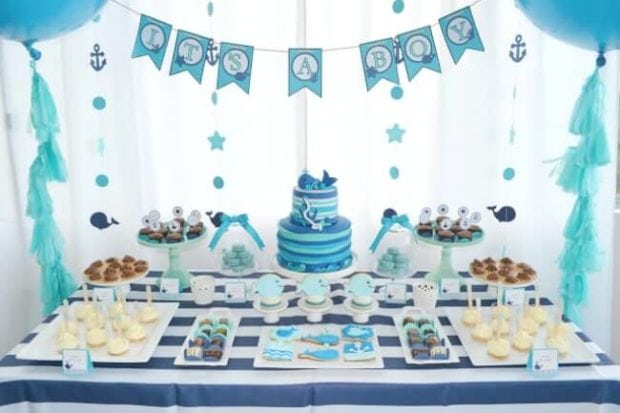 At this event, a beautiful dessert table was styled to provide plenty of sweet moments.
Covered in a turquoise tablecloth topped with navy and white striped linen, the dessert table gave rise to some mouth-watering, delicious-looking desserts.
A smorgasbord of treats from Sugar Bliss by Mari filled the table beautifully. French macarons, chocolate truffles, and Nutella tarts are some of our personal favorites!
And if they didn't make you drool, check out the mini cheesecakes, macaroons, and wonderfully decorated sugar cookies.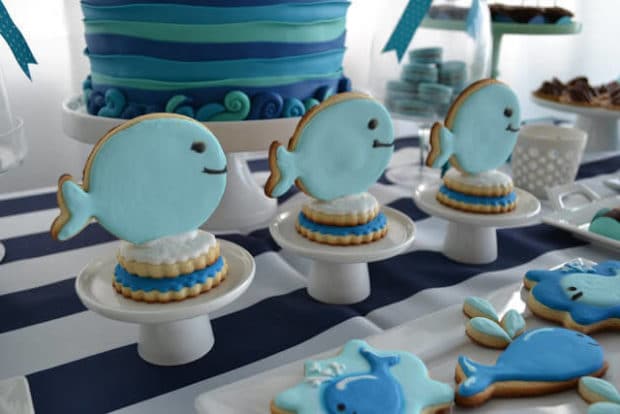 And those 3-D whale cookies? So fun! We love how they are each displayed on individual mini-cake pedestals.
And let's talk about that cake! Carol's friend Jovanna Valentn created this wave-covered masterpiece. We love the nautical and whale-inspired details, all done in fondant. Impressive! Our favorite part is definitely the cute little whale on top.
So many sweet details—including printable toppers, washi tape embellishments on mini dessert spoons, ribbon accents, colorful petite blossom cups, and a variety of lovely cake plates and platters—made this a classically gorgeous table.
The back of the dessert table was decorated with custom-made nautical garlands and a layered "It's a Girl or Boy!" banner framed by big blue balloons and aqua tassels. This added to the sweet setting.
Guest seating was kept simple with pristine white tables topped with blue lanterns and lovely floral centerpieces. What a whale of a baby shower!
More amazing inspirations and birthday party ideas: