21 Spiderman Birthday Party Ideas
Table of Contents
Are your Spidey senses tingling? Ours is and we've put together a roundup of 21 Spiderman birthday party ideas, party decorations and party supplies. Save on your next birthday with an awesomely fun theme—use these great ideas to pack your party with a punch. You can make Spiderman masks, birthday cakes and cupcakes, and even a piñata, not to mention some amazing decorations, party favors and birthday party games, too.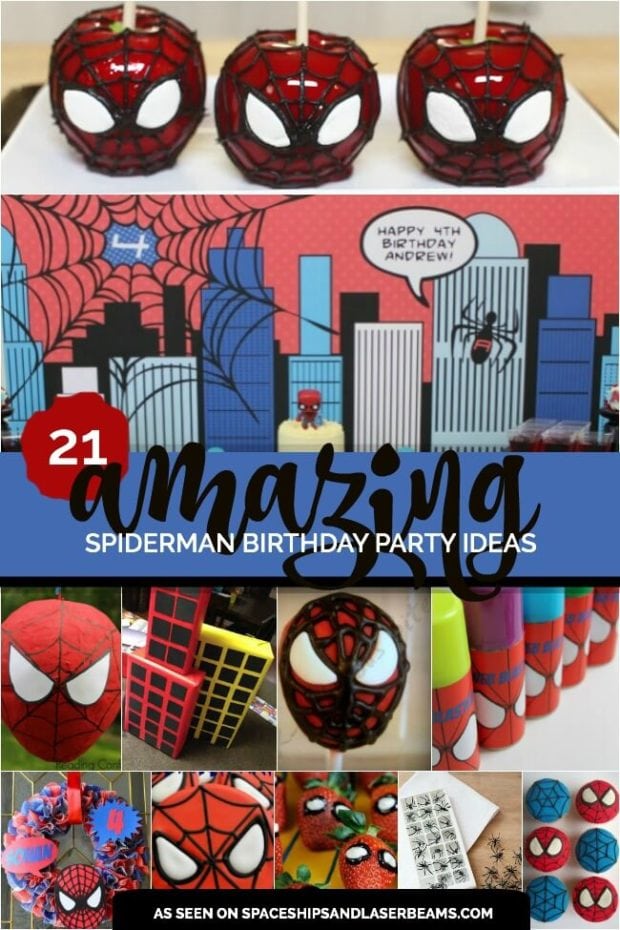 ---
See Also:
---

Creating Spiderman cupcakes requires just a little extra effort. Top with red and blue icing or fondant and pipe on web details or hand-draw with a black food marker.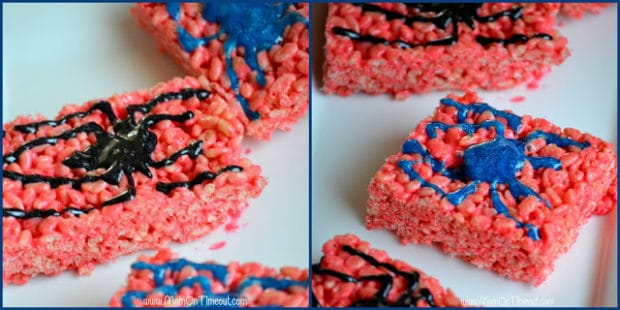 2. Spiderman Rice Krispy Treats
A little red food coloring and blue and black sparkle gel are the magic ingredients for transforming ordinary Rice Krispy treats into super cool Spiderman Rice Krispy Treats, Just mix in the red food coloring with your marshmallows and butter, and be sure to coat Rice Krispies evenly to achieve the red treats. Then use the sparkle gel to embellish the tops of the treats with blue and black spiders.
If you have some time to spare and would like to save yourself the expense of a store-bought piñata, you can recreate this Spiderman piñata yourself inexpensively. Just follow the paper tutorial above.
Who would have thought that cupcake liners could make such an amazing Spiderman wreath for hanging on your front door to welcome guests? Just scrunch up red and blue cupcake liners and hot glue them to a Styrofoam wreath. Add a few die-cut themed accents from paper and hang with a red ribbon.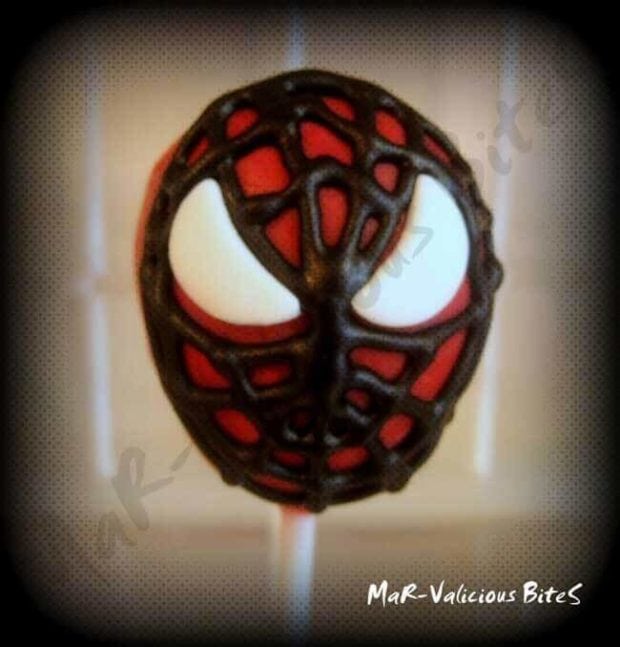 5. Spiderman Cake Pops and Cookies
All the guest superheroes at your Spiderman party will go crazy over Spiderman cake pops and cookies, and you can feel extra special if you made them yourself! You'll need an egg-shaped cookie cutter for the cookies, fondant, and royal icing. For the Spiderman cake pops, after molding the head into that perfect shape, you'll give each Spidey head a quick dip in red candy melts before piping on the black web detailing.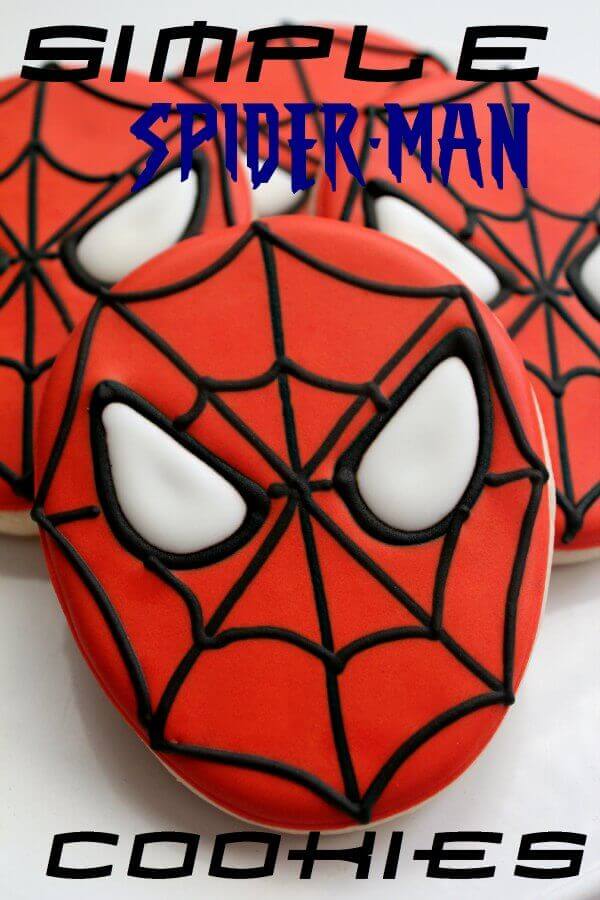 6. DIY Spiderman Cookies
Follow this great tutorial to DIY your own Spiderman cookies. It's simple enough for beginners and requires just a few simple items: an egg-shaped cookie cutter, red piping and flood icing, black piping icing, white 20-second icing, and a black food color marker.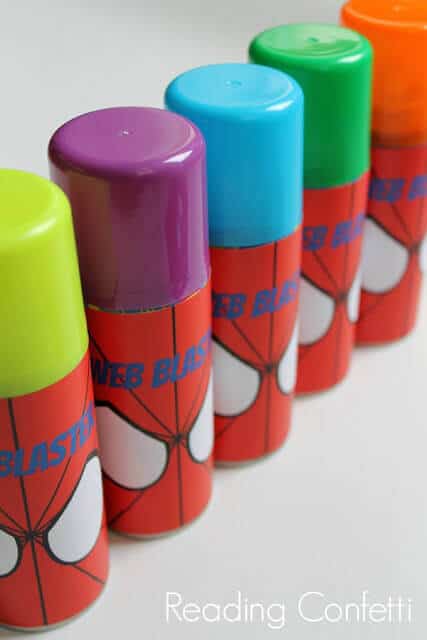 7. Web Blaster Silly String Party Favor
Everyone knows that Spiderman shoots webs to help him catch criminals and move from place to place in the city. Purchase cans of silly string and add your own printable "Web Blaster" label creatively transforming them into the coolest Spiderman party favor.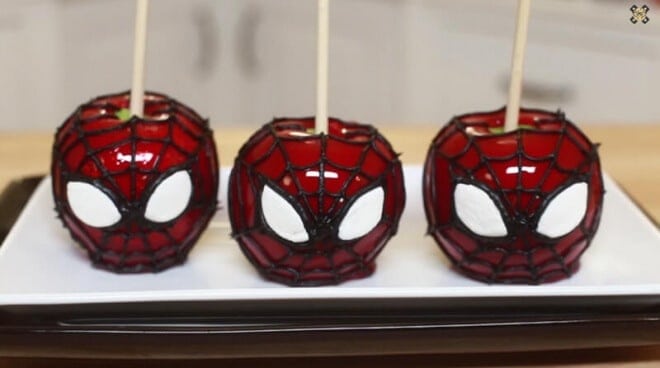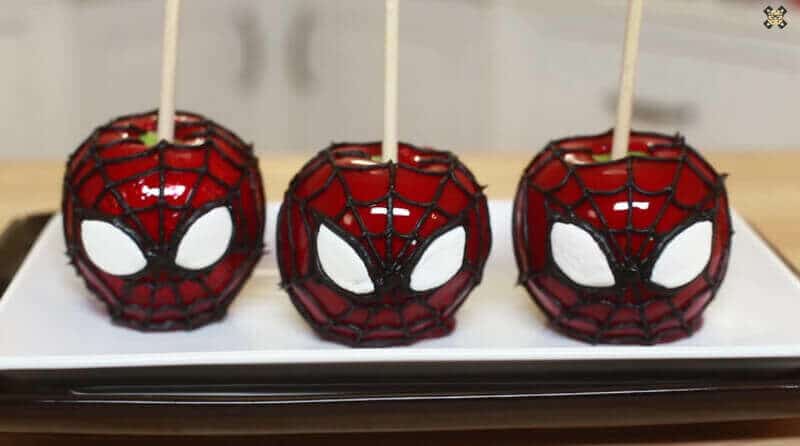 8. Spiderman Candy Apples
Wondering what you need to make your own Spiderman candy apples? The ingredient list may be shorter you than think: food coloring, water, sugar, apples, corn syrup, marshmallows, and black icing! Get ready to have the most amazing candy apples.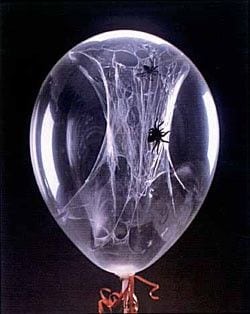 If you want to create the coolest spider web balloons, grab a product called hi-float, which is typically used to help helium-filled balloons stay afloat longer. By applying hi-float at one pressure before deflating the balloon, stressing it, and inflating it again at a higher pressure, you can cause the film of hi-float to come unattached to the inside walls of the balloon, creating a web effect.

Can you imagine the fun of a party full of little Spidermen running around? DIY a bunch of Spiderman masks using felt, a permanent ink pen, and some elastic, and make it a reality for your next party.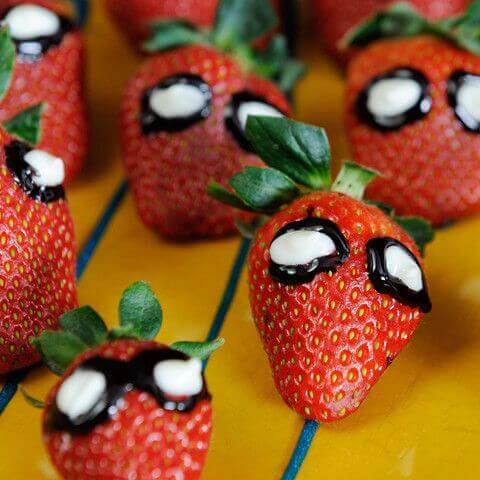 11. Spiderman Strawberries
Spiderman strawberries are quick, and easy and can be a stand-alone treat at your next Spiderman party or added to a cake or pie. You only need strawberries, white chocolate and black decorating gel.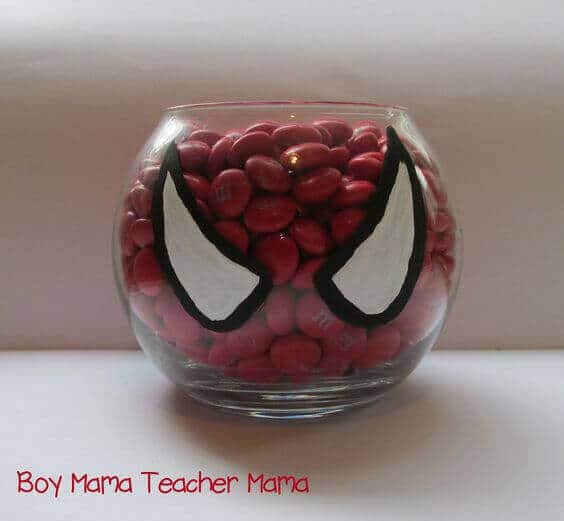 12. Spiderman Candy Dishes
Serve up your favorite red or black candy at your child's Spiderman party in DIY Spiderman candy dishes. These are easy to make using glass dishes from your local dollar store, acrylic paints, and a steady hand. You may want to first draw out a printable template.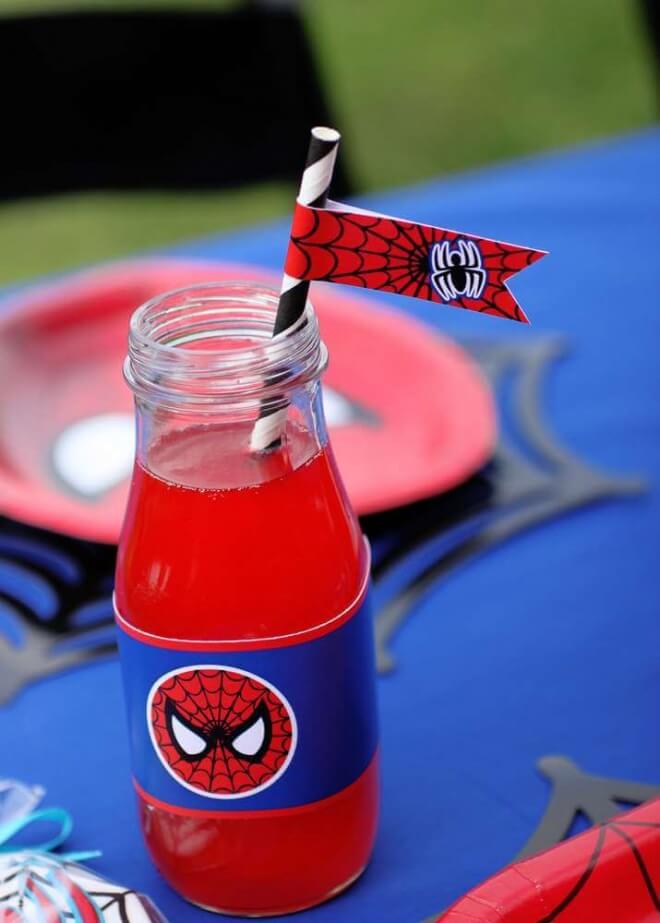 13. Spiderman Beverages
Dress up those party drinks at your amazing Spiderman birthday party. You can make or buy a Spiderman-themed drink wrap to tape or glue to bottles or jars filled with red and blue punch or soda.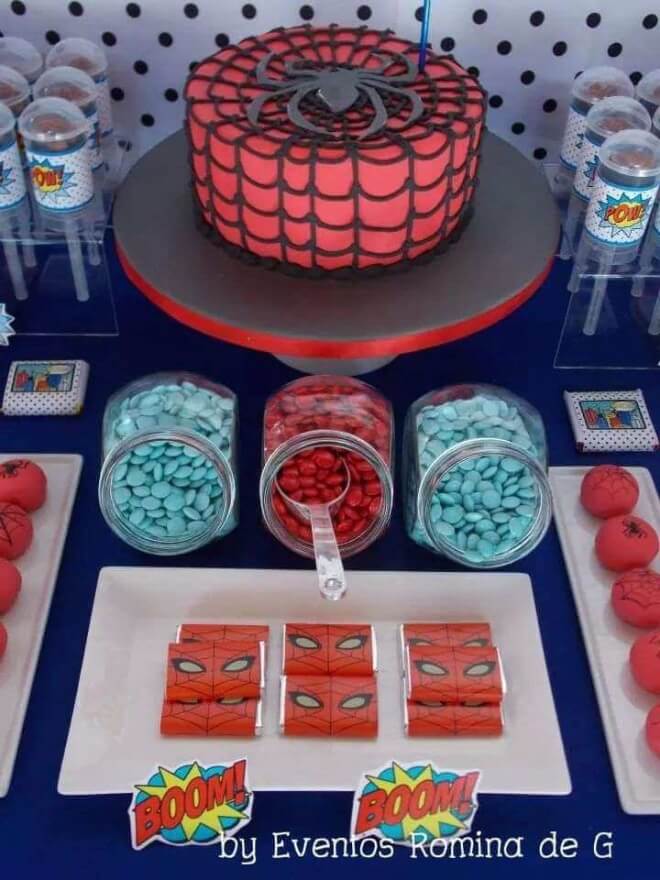 14. Spiderman Dessert Table
Take a cue from this pop art style Spiderman birthday party and add printable labels to candy bars, coordinating tags to favor boxes and cool "POW" wraps to push pop containers. Create your own cityscape from cardboard boxes to set the scene for one amazing Spiderman birthday party.
Craft up your own Superhero bean bag toss, perfect for a Spiderman birthday party. Cut out appropriately sized holes from a recycled cardboard box prior to giving your game of fresh coat of spray paint. Add on the points scored for accurate tosses for each hole and any other embellishments out of cardstock.
16. Spiderman Goodie Bags
Send home guests with amazing Spiderman goodie bags made by you. You'll just need red favor bags, glue and some black and white cardstock to create Spidey eyes.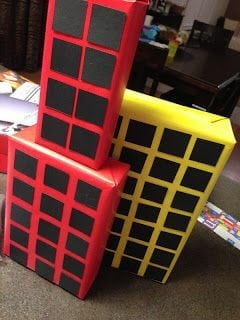 17. Spiderman Birthday Party Decorations
Recreate the city Spiderman saves for some amazing Spiderman birthday party decorations. Cover a variety of sizes of recycled cardboard boxes in colored wrapping or butcher paper and add black rectangle windows to create that big city feel.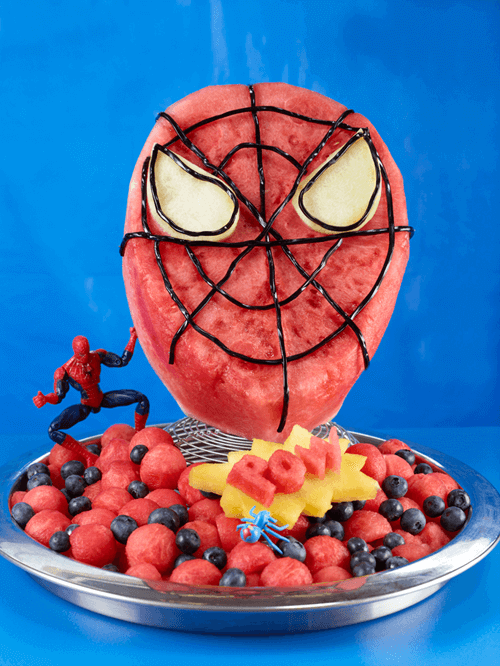 Did you know you could replicate Spiderman's face on a watermelon? This tutorial walks you through the process of using a watermelon and some black licorice laces for the facial details.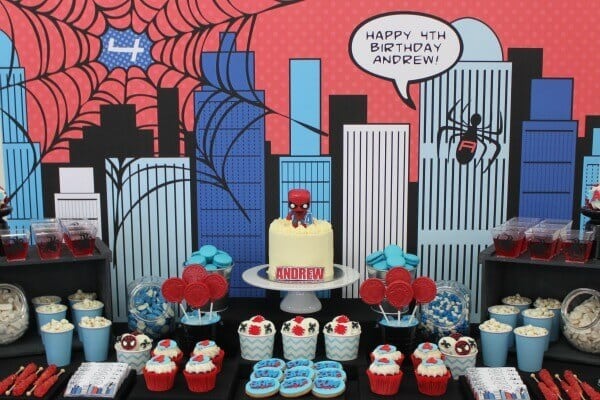 Simplify your Spiderman dessert table prep by using an entirely printable Spiderman backdrop poster. Then focus your efforts on including awesome themed desserts, like chocolate spider suckers and spider-topped chocolate-covered Oreos.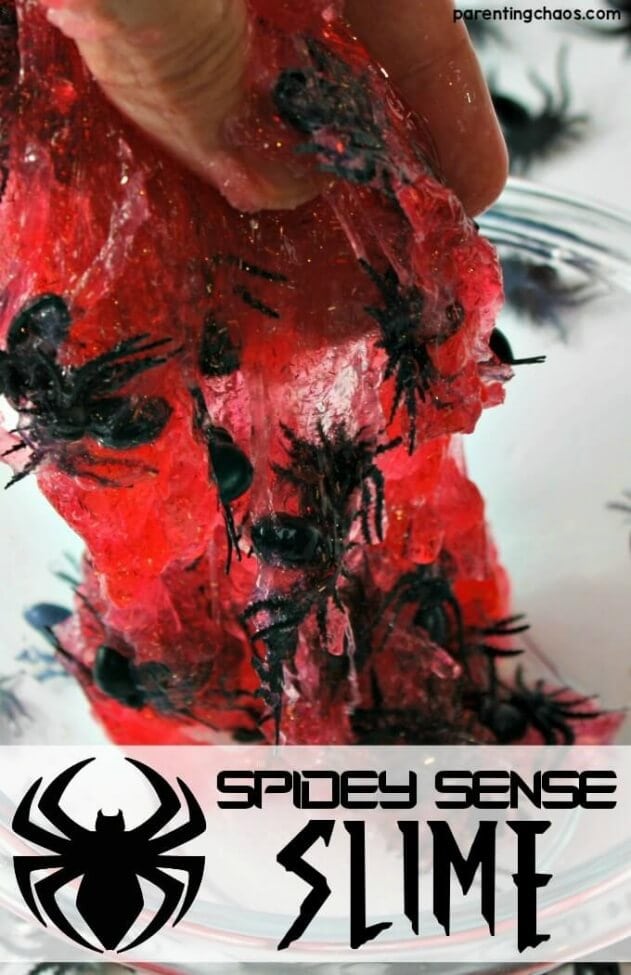 20. Spidey Sense Slime
There's homemade slime, and then there is this awesome Spidey sense slime. If you're having a Spiderman party, this stuff is awesome and easy to make with red Elmer's glitter glue, liquid starch, and plastic spiders.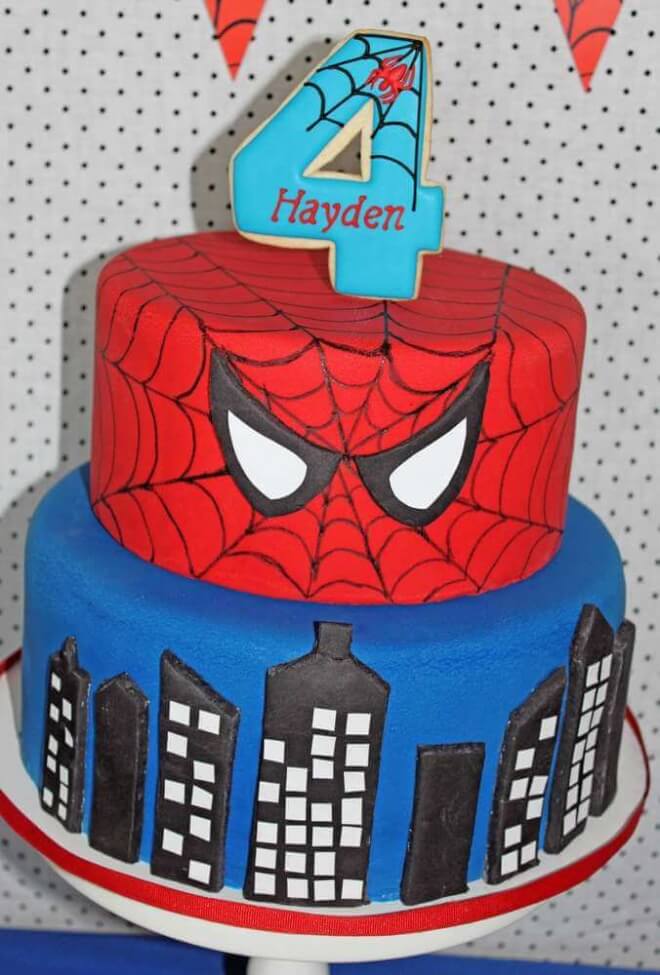 Everyone knows Spiderman is famous for swinging his web throughout the big city, fighting crime, and saving citizens. This two-tiered cake pays tribute to the man in the webbed mask and the city he saves, all created from fondant details and edible ink, topped off with a sugar cookie number on top. Try your hand at making your own version.
Be sure to check out more great superhero party ideas here: