11 Halloween Paper Cup Crafts
Table of Contents
Halloween is such a fun holiday when it comes to decorations. Inspiration for fun party decorations, home décor, and Halloween-themed items is not hard to come by with the ideas you will find here. From Halloween treat cups, cup spiders, aliens, ghosts, and monsters, to mummies, snakes, and calendars, your kids are sure to love these paper cup decorations, and they'll love to make them, too!
---
See Also:
---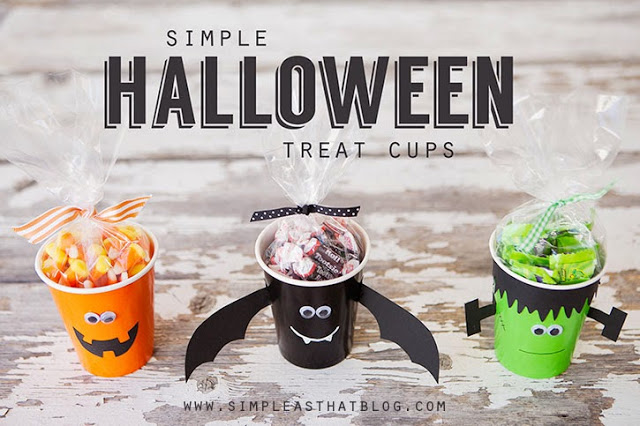 These little Halloween treat cups are quick, inexpensive, and would make great party favors at your Halloween bash. Treat cups are always a great option for classroom treats or just a cute Halloween craft for the kids. Make three varieties using different materials- pumpkins, bats, and Frankenstein monsters.
It can be so tricky to find crafts that are suitable for the little one but look no further. These Styrofoam cup spiders are fun and engaging Halloween crafts that incorporate all of your preschooler's favorite things. Making them involves painting, pipe cleaners, and googly eyes. By the end of it, you will have a small army of spiders to set on the ground and welcome trick-or-treaters to your yard.
It isn't too early to think about fall decorating and we think a few of these little spiders would be adorable when scattered around the Halloween table. They are the perfect craft for kids, too. All you need to make them is a used and washed K-Cup, a scrap of black fun fur, two wiggle eyes, and a red rhinestone.
Take your plain old plastic party cups to the next level with a few simple supplies and this brilliant DIY tutorial. Use some black and orange plastic or paper cups to create fun Halloween characters with googly eyes and a Sharpie marker. It takes less than twenty minutes to make enough for a whole party and is a great solution to identify unmarked cups.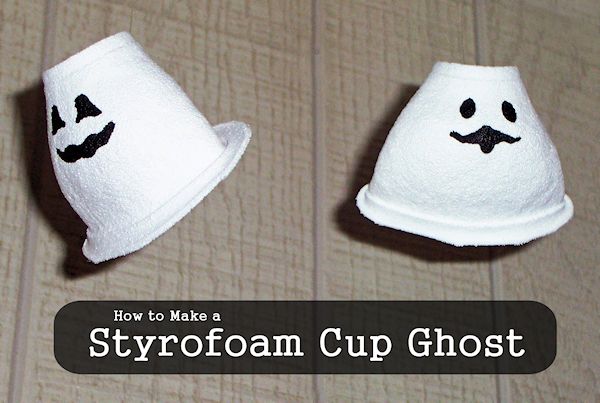 You can make these little Styrofoam cup ghosts and hang them around your home to decorate for a Halloween party or just for the fun of it. Use it as a great excuse to gather the family together and have a Halloween craft night. You probably already have everything you need to make this lying around your house.
6. Alien Cup
Add an out-of-this-world twist to your Halloween crafting with these adorably spooky paper cup aliens! They are the perfect simple craft for nearly any age group and add a touch of fun to an outer space-themed Halloween party. All you need to do is add some pipe cleaner antennae and an alien expression to some plain green paper cups from the dollar store.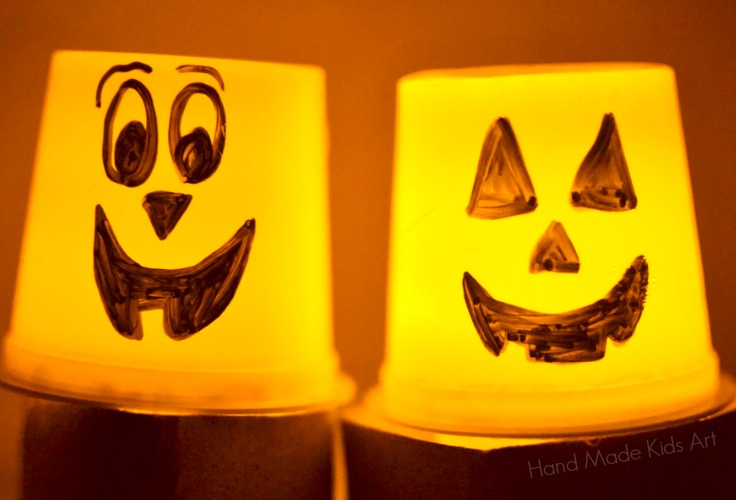 If you are a Keurig coffee fanatic then you surely have a bunch of those plastic K-Cups lying around the house. Reuse and upcycle them to make these fun glowing lanterns for Halloween. It is easy enough for the kids to make with only a few basic supplies. Empty and clean your K-Cups, add spooky jack-o-lantern faces, and add an LED Tealight Candle inside.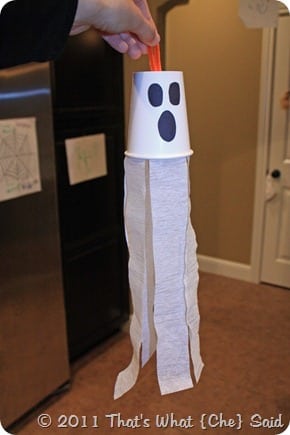 Want something fun to do with your kids around Halloween? Make some ghostly wind socks out of white paper cups, white crepe paper streamers, black construction paper, and a pip cleaner. October seems to be a particularly breezy month, which means you can hang your ghostly kites outside to watch them blow in the wind.
Follow the simple picture tutorial to make your own snake by stringing together some patterned paper cups and then adding two beady eyes and a wooden fork tongue.
10. Mummy Treat Cups
Make a scary-cute mummy treat cup perfect for holding all that Halloween candy. Just grab a small plastic or paper bathroom-sized cup, an old white cotton shirt or fabric, and simple craft supplies like googly eyes, glue, and construction paper to create this simple, yet spooky treat cup.
Are your teeth aching from sharing in the trick-or-treat stash your kids' collected? We found this DIY advent calendar at Alpha Mom that can use up that stash. Just arrange and glue paper cups to a cardboard backing, fill each with candy, and glue numbered tissue paper over the rim. Most of us probably have enough candy to countdown all the way to Christmas!
Get more Halloween craft inspiration with these great ideas: