Pinocchio Themed First Birthday
Table of Contents
Leo is one lucky little kid! His Pinocchio-themed first birthday party is a wish that came true. Lettuce & Co. styled this darling event based on the classic wooden toy Pinocchio that both adults and kids recognize and love. All inspiration for the party comes directly from Pinocchio.
---
See Also:
---
The party is cohesive and celebrates all aspects of the little wooden boy's story. The tale is made modern by a minimalist approach, using items inspired by the book and movie.
The colors used are white, red, blue, and yellow — all originating with Pinocchio himself.
The decorations start on simple, bare wood. Treats are housed in clear, glass containers.
We love the use of wooden slabs to display the cookie treats on! Beverages were served in classic glass bottles with personalized labels. The striped straws offer a beautiful pop of color.
We love the custom signs as well which ties back to both Pinocchio and Leo. They are also a great way to have a keepsake to treasure forever. Favors are presented in unique paper bags that look just like Pinocchio's outfit. The bags contain healthy treats and craft items for guests to enjoy later. The red, metal birdcage is also a great touch — simple, yet effective in reminding us of the theme.
Little touches like quotes from the story add special touches for guests to enjoy. Custom paper goods including invitations, food labels, and bottle tags come from Lori at Lajari.
The food for this party keeps with the theme — simple, bright colors in simple dishes with great taste. There are bright red apples for a sweet crunch.
Guests can also enjoy a number of cupcakes including moist bananas and fresh coconut, all topped with the classic little hat.
Then, there is mouth-watering mini vanilla cheesecakes and caramel tartlets with chocolate ganache.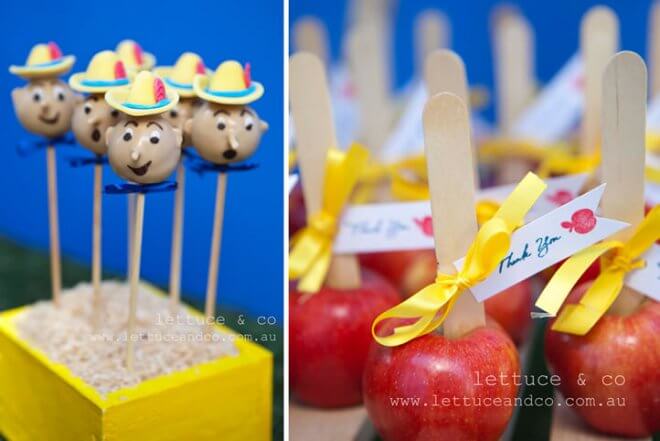 But the real stars of the food are the "Pinocopops" which are delicious cake pops decorated to look like Pinocchio himself. Finally, the cake! It's a white chocolate mud cake with real raspberries. The bright colors on each tier are perfect for the theme. Pinocchio sits on top. We love how detailed his little wooden joints are.
Every detail of this party is beautiful. Everyone worked together to create a classic, yet modern first birthday party. We are sure the memories are completely priceless.
Be sure to check out more parties inspired by our team: