19 Children's Storybook Party Ideas
Table of Contents
Beloved children's books make great party themes. Here are 19 children's storybook party ideas that will pique your imagination and have you clamoring for your favorite bedtime story.
Which book is your favorite? I'm not sure that I can choose just one—there are so many great stories from which to draw party inspiration.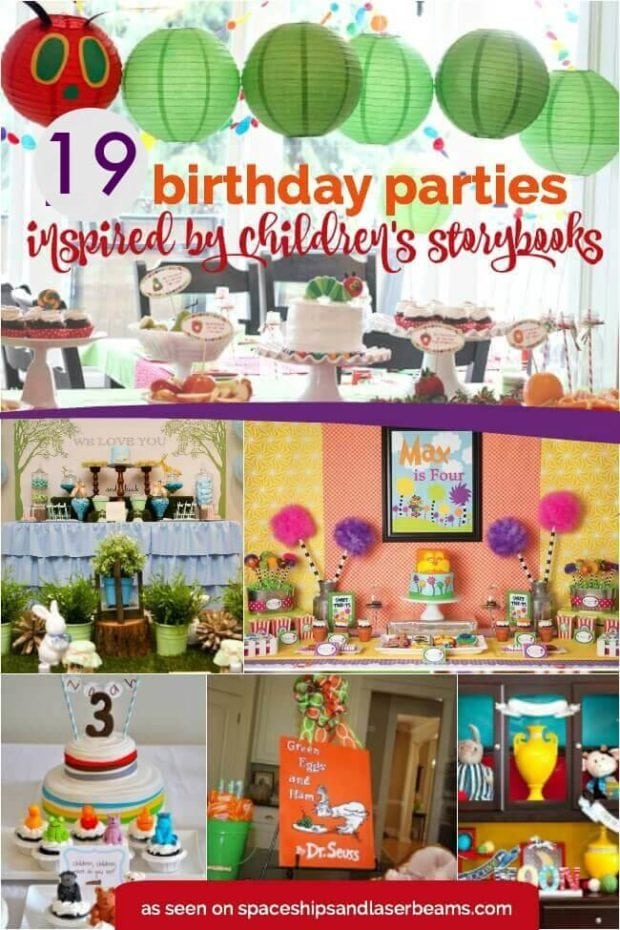 ---
See Also
---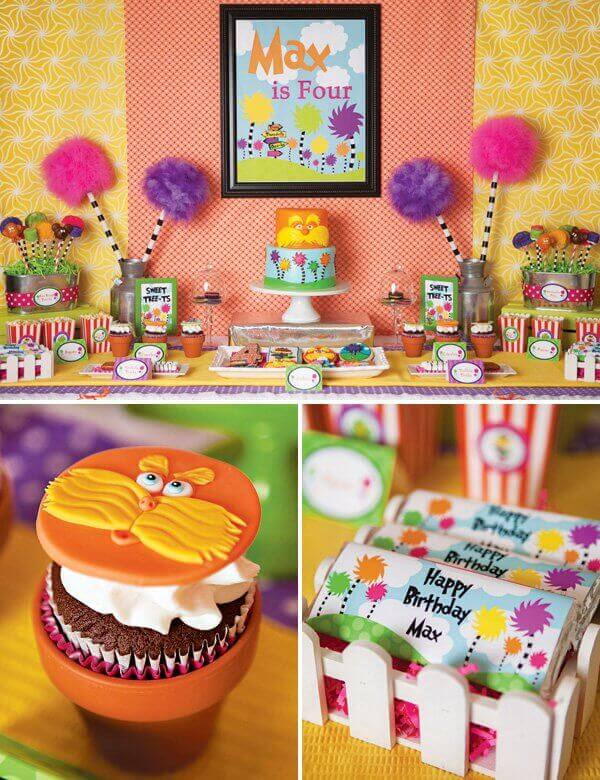 1. The Lorax Birthday Party
From Banner Events, as seen on Hostess with the Mostess
Dr. Seuss parties are always a classic, but the story behind this vibrant and fun Lorax party makes for such a sweet botanical twist! I am feeling incredibly inspired by the classic and whimsical Seuss vibes and fluffy Truffula trees. The colorful tablescape is decorated with faux grass placemats, Truffula tree centerpieces, and mini shovels. Lorax mustache photo props, terracotta potted cupcakes, and Truffula tree trunk pretzels are the perfect touches.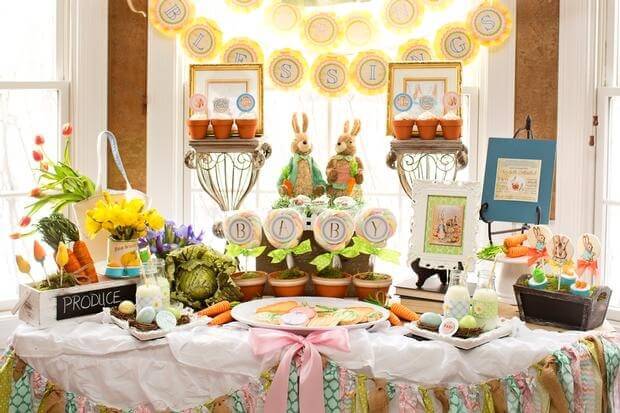 2. Peter Rabbit Inspired Baby Shower
From Charming Touch, as seen on Spaceships and Laser Beams
Hop with us through the gorgeous detailed of this Blossoming with Love, Peter Rabbit inspired and gender-neutral baby shower. It is filled with so many sweet decorations perfect for welcoming a new baby. Bunny bum donuts, vegetable garden iced cookies, and cupcakes served in flower pots are beautiful additions to the dessert table. I also love the rustic pastel garland made with strips of fabric.

3. A Very Hungry Caterpillar Birthday
From August in Bloom via Spaceships and Laser Beams
The Very Hungry Caterpillar is a classic storybook that is loved by children everywhere. This Very Hungry Caterpillar birthday party pulls all the great details and elements of this beloved tale and brings it to life. Green grass and trees and even wood tree bark rounds to mimic the outdoors are used as decor and sets a great backdrop to the bright and fun colors of the book. Apple cake pops, candy, and cookies, with bite holes, shaped into the catepillars favorite foods, are out on display on this perfectly details dessert table.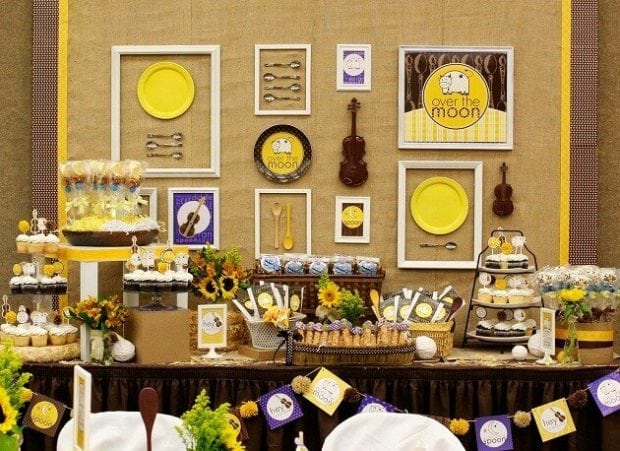 4. Over the Moon Baby Shower
From Operation Shower, as seen on Celebrations at Home
Inspired by the classic nursery rhyme, this Over the Moon theme could not be more adorable. All of the references to the cow jumping over the moon and the dish and the spoon are magical. From the dessert table to the seated tables and everywhere in between, the details are flawless. The dessert table is full of cupcakes, marshmallow pops, and other delicious treats. Yarn ball "moons" make the cutest additions to the tables!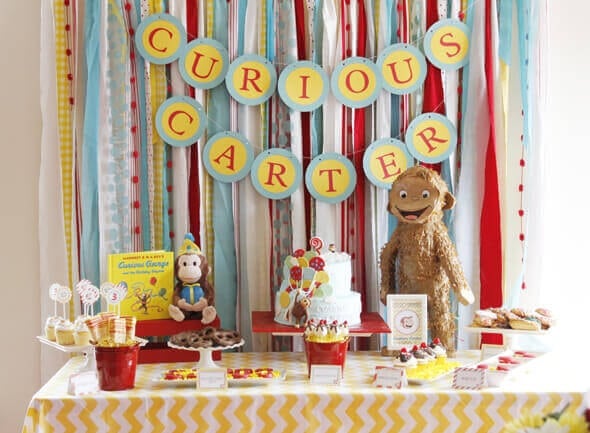 5. A Curious George Dessert Table
From Pretty My Party
Curious George has always been one of our kids' favorite story books, making this Curious George birthday party very dear and dear to my heart. This fun and modern take on the classic monkey offers a brilliantly happy color scheme of red, teal, and yellow. Chevron patterned tablecloths and a fabric pieced banner backdrop set the scene. The perfect dessert table includes banana split cupcakes and plenty of banana candies.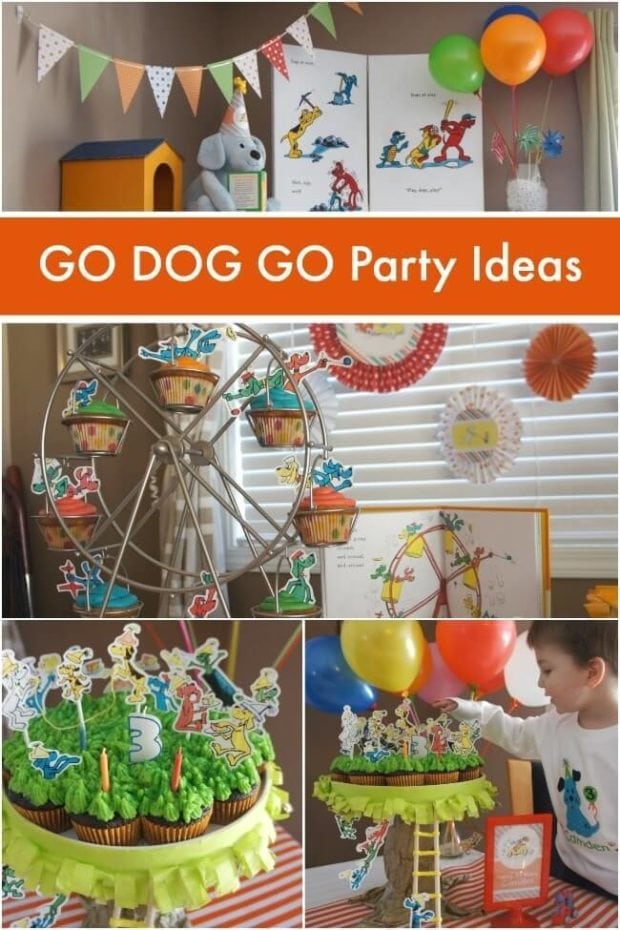 6. Go Dog, Go Birthday Party
From Dolled Up Design, as seen on Spaceships and Laser Beams
Step right into the pages of Dr. Seuss' Go, Dog, Go! With this amazing themed birthday party! Carefully coordinating the bright colors from the book, this blogger brought the book to life with DIY decorations, a delicious menu, and fun party favors. My favorite parts of this party are the whimsical scene recreations on the food table. A cake stand is made to look like a tree to hold leafy green cupcakes with carefully placed paper dogs.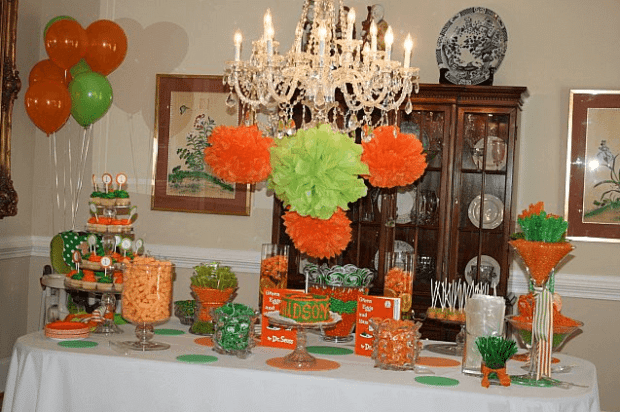 7. A Green Eggs and Ham First Birthday Party
From Erin Akin Carrol
Bright green and orange, and fun printable decals take this Green Eggs and Ham themed party to the next level. The dessert table features a colorful array of cake pops, cupcakes, and plenty of green and orange candies. Creamsicles and limesicles made an excellent, on-theme party treat. I am also in love with this blogger's guest book idea. On the way into the party, guests were asked to write a birthday message in a copy of the book.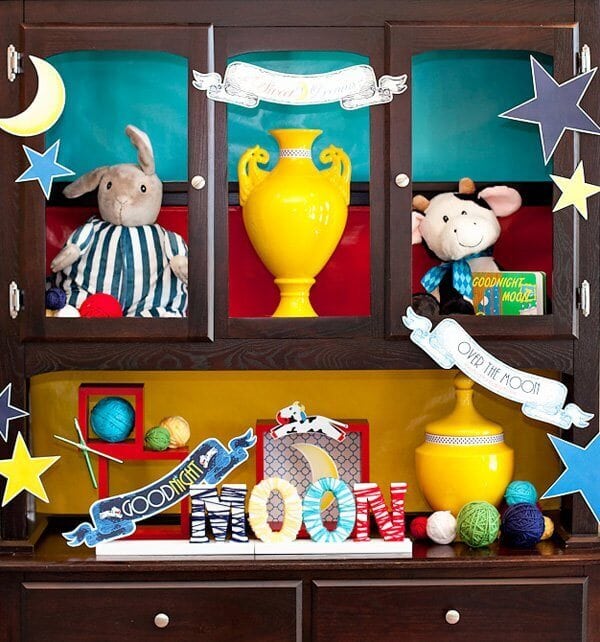 8. A Goodnight Moon Baby Shower
From Hostess with the Mostess
Goodnight room, goodnight moon, goodnight cow jumping over the moon. Inspired by the popular children's book, this baby shower theme is absolutely precious and packed with beautiful decoration ideas. The tables are transformed into "beds" with inexpensive pillows, stuffed animals, and beautiful decorations like colorful yarn balls. Each chair back is tied with a wide ribbon and a wrapped ball of yarn.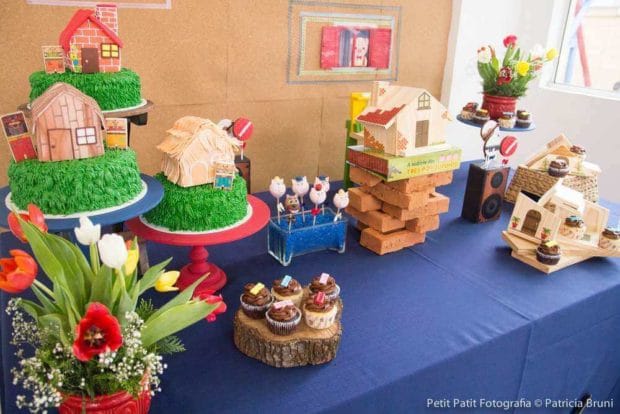 9. The Three Little Pigs Birthday Party
From Juliana S, as seen on Catch My Party
Little pig, little pig, let me in! This Three Little Pigs inspired birthday party is full of fun details that any child would love. The dessert tables is decorated with the pigs' building materials, and displays three gorgeous cakes featuring each of the pigs' houses! These parents also created the perfect, kid-sized cardboard houses for party guests and the birthday boy to decorate and play in during the party!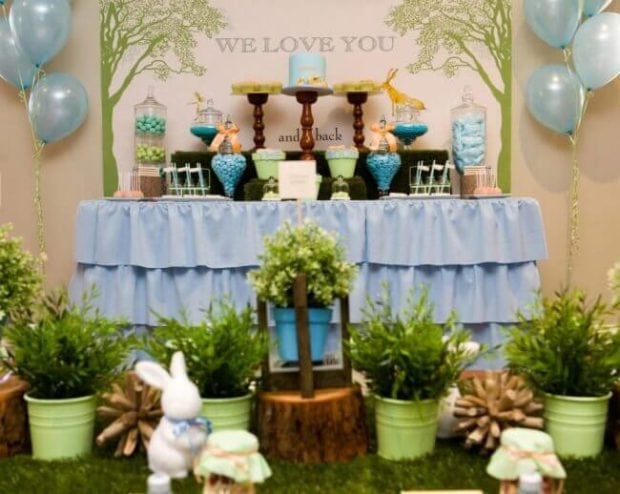 10. Guess How Much I Love You Inspired First Birthday
From Sweet Tables by Chelle, as seen on Spaceships and Laser Beams
How about a breath of fresh air? This boy's gorgeous first birthday celebration will transport you to a hidden grove in the forest filled with cupcakes and springtime décor. Based on Sam McVratney's book, Guess How Much I Love You, the fresh dessert table is decorated in pale blue, green, and peach. The children's table featured tree stump centerpieces, pastel banners, and a personal sized picnic basket for each guest.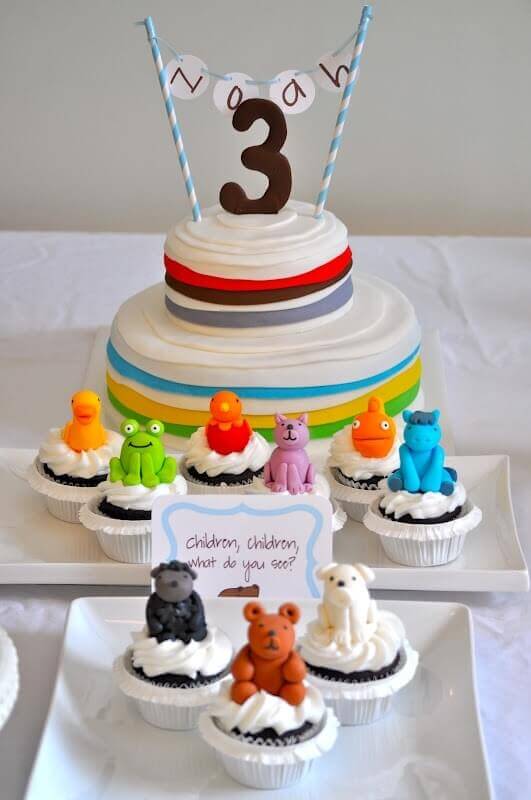 11. Brown Bear, Brown Bear Book Party
From Koehler Family Blog
This blogger built a whole third birthday party around her son's favorite Eric Carle book, Brown Bear Brown Bear What Do You See? The simple and adorable party is filled with sweet details that bring all of the book characters to life. Wonderful fondant cupcake toppers represent each animal in vibrant and bright colors. The hosts also sent guests home with two animal squeaky bath toys and a personalized thank you note.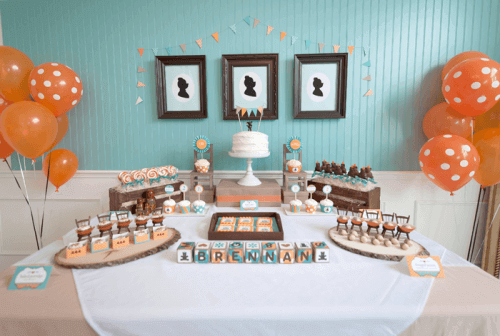 12. Goldilocks and the Three Bears Birthday Party
From Frog Prince Paperie
The bed shaped and adorable treat display are the two focal points for this fabulous Goldilocks and the Three Bears birthday bash. Marzipan acorns, three bears baked porridge cakes, and bear shaped brownie pops make the perfect desserts! Cheerful tangerine and turquoise decorations, as well as a fun blue bead board background complete the party along with a few simple and creative touches!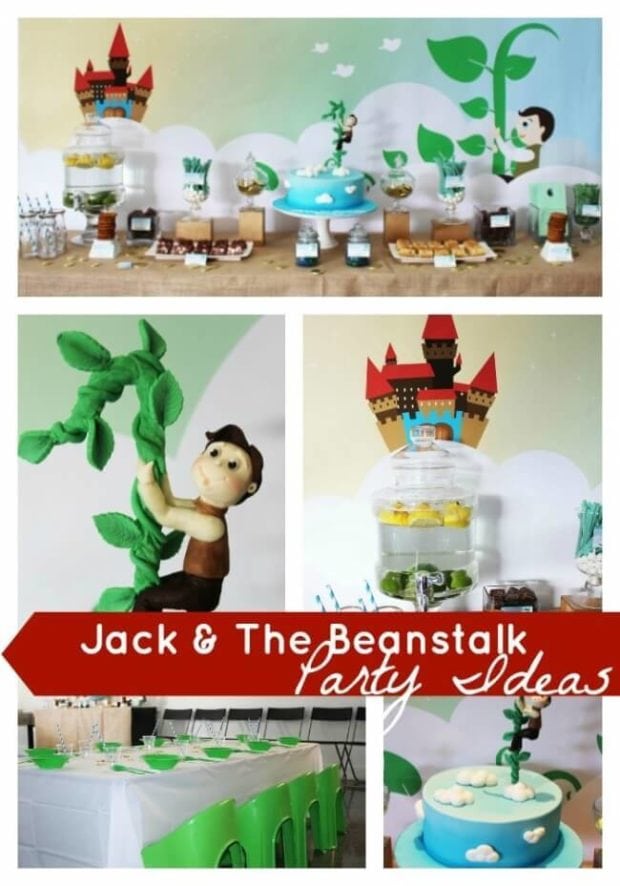 13. Jack and the Beanstalk Party
From UR Invited, as seen on Spaceships and Laser Beams
Inspire love of reading into your boys with this whimsical and fun Jack and the Beanstalk themed birthday party, complete with magic (jelly) beans! The dessert table is the main attraction, decorated with a simple swath of burlap and a clever display of magic jelly beans, rocky road treats, edible gold, and a beautiful cake showing Jack up in the clouds. Fee fi fo fum, you know this party was lots of fun!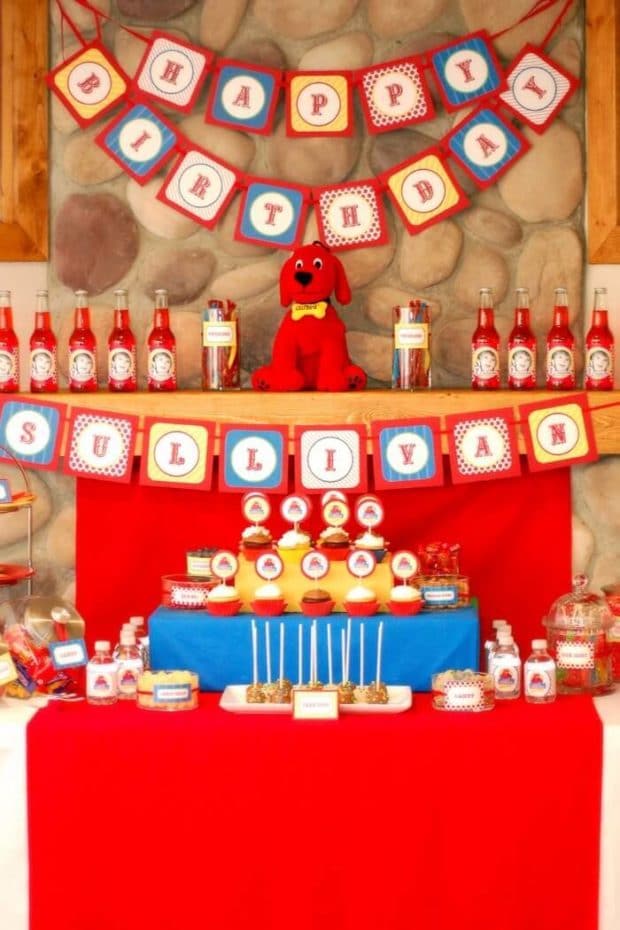 14. Clifford the Big Red Dog Birthday Party
From Potter and Butler
Every child's favorite big red dog is front and centre at this exciting Clifford party. A giant stuffed animal Clifford stands proudly at the centre of the dessert table, which is covered in a bright red table cloth and adorable printable birthday banners. Red, blue, and yellow decorations are used throughout, including multicolored Twizzlers and fun cupcake toppers.
15. Where the Wild Things Are Birthday Party
From NikkiikkiN
Always a classic and beloved story, Where the Wild Things Are makes a memorable party theme and this birthday celebration is full of gorgeous decoration ideas. The dessert table is covered with a fun furry fabric, then decorated with real wooden slices and an absolutely beautiful fondant cake! The lush, exotic background was created with all different shapes, sizes, and shades of green paper and a dash of creativity.
16. The Little Prince Birthday Party
From Stunning Party, as seen on Spaceships and Laser Beams
It is so hard to find a perfectly executed boy-girl combined party, but this one is perfect. Neither the little boys or girls would feel out of place. Based on The Little Prince, the party theme came to life with fun wall stickers, two beautifully decorated cakes, and a delicious selection of sweet treats. Marshmallow pops, candy floss pops, sugar cookies, and jelly shots would all be favorites with our kids!
17. Winnie the Pooh Birthday Party
From Lynlee's
Winnie the Pooh has always had a special place in my heart. The classic books are whimsical with a vintage feel, making the perfect theme for a backyard party. This blogger used neutral colors paired with shades of yellow and a pop of red for their 100 Acre Wood celebration. The honey themed food offerings include honeycomb cereal, honey graham s'mores, teddy graham cookies, and honey vanilla cupcakes! The food tags are also the cutest things I have ever seen.
18. Humpty Dumpty
From The Petite Soiree, as seen on Hostess With the Mostess
The classic Humpty Dumpty nursery rhyme inspired this charming and wonderfully nostalgic party. It would make the perfect theme for a first birthday party or baby shower. Our party highlights are the amazing paper mache humpty dumpty sitting on a real brick wall, the embellished bubble tin and crayon box party favors, the fabulous yarn pom garland and coordinating party hat toppers, and the simple but delicious treats!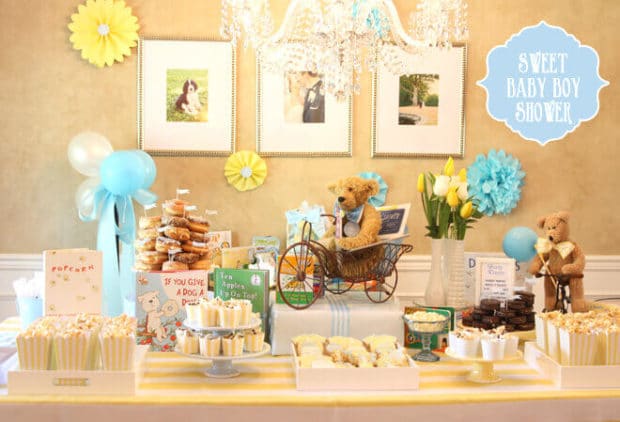 19. Storybook Baby Shower
From Pizzazzerie
This sweet baby shower celebrated the arrival of a darling baby boy with a party based on favorite children's stories from around the world. It was a great way to build a baby library for the little one on the way, too! Guests signed a sweet "library book" poster that was later framed for a keepsake, and bold yellow and white stripes made the perfect pop of color.
Check out these great book themed birthday party supplies sourced by the Spaceships and Laser Beams team…
(Amazon Affiliate Links)
Glass Drink Dispenser
Paper Lanterns
Curious George Stuffed Animal
Chevron Tablecloth
Ferris Wheel Cupcake Holder
Paper Tissue Pom Poms
Striped Paper Straws
Polka Dot Balloons
BE SURE TO CHECK OUT MORE STORY BOOK PARTY IDEAS…