21 Creative Christmas Decoration Storage Ideas
Table of Contents
While Christmas is definitely "the most wonderful time of the year", post-Christmas cleanup can be anything but. We're sharing a roundup of 21 creative Christmas decoration storage ideas so you can take the post-Christmas chaos off the agenda.
From ideas for storing Christmas ornaments to tips for putting away Christmas lights and everything in between, these hacks will help you put away the Christmas clutter and keep you organized from year to year.
---
See Also:
---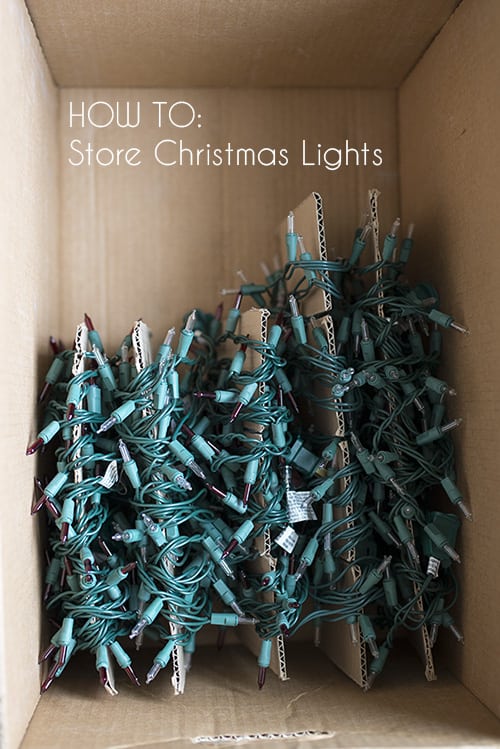 1. How To Store Christmas Lights
Who wants to spend hours untangling lights when getting into the holiday spirit? This is a much easier way to store your lights at the end of the season for a tangle-free light situation next time. All you need are some cardboard boxes and flat pieces. Try it out and see how much easier it is to put your lights up.
Have you ever gotten your ornaments out just to find some shattered or broken ones at the bottom of the box? This handy trick with fruit containers allows you to keep your ornaments safe in these plastic containers. If you can't find apples in these containers, try out cupcake containers instead.
3. Organizing Christmas Décor
Decorating your entire house for the holiday season consists of a ton of bits and pieces. Storing them all can be a hassle when it's time to find them again year after year. With some festive bins and some labels, your life would be so much easier when November and December roll around.
All those tubes of wrapping paper lying around can become messy and unorganized quickly, especially during the holiday season. This simple trick allows you to conveniently and easily store your wrapping paper and keep it hidden away. That way when you're trying to find the perfect paper for your gifts, it won't be a hassle!
5. Egg Carton Ornament Storage
Here's another super easy way to store your ornaments safely at the end of the holiday season. Start saving up egg cartons that your family uses. These are the perfect size and shape to keep Christmas ornaments in. This means no more sharp pieces at the bottom of your ornament bin.
6. Storing Christmas Lights
This makes storing your lights so much easier. Keep them organized and untangled when you're not using them by wrapping them around a flat piece of cardboard. This will make putting up decorations and getting into the holiday spirit easier and faster.
Don't spend hours trying to untangle bead garland for your Christmas tree this holiday season. By placing it into a bottle, it stays untangled and ready to use, meaning less fighting with it and more Christmas fun. These are also compact and make storage a lot easier in the long run.
Maybe your family has a ton of Christmas ornaments and you just don't know where to start when it comes to them. These are some good solutions for organizing your family's ornament collection. This will make it a lot easier and less stressful when it comes time to decorate the tree. You'll just be able to enjoy the family fun because everything is where it's supposed to be.
9. Packing Away the Christmas Tree
You know it's the end of the holiday season when it's finally time to take down the Christmas tree. Though it's not necessarily a joyous task for most, it can be a pain to get back into the box. Tying securely with a series of old belts makes putting away your tree so easy. You can make sure it gets put away with no hassle, making holiday clean-up that much easier for you.
This fancy container makes it easy to not only put away your festive lights but to also put them up again when the time comes around. Another tip is to label where the lights came from so there's no guessing when it comes to decorating again. Perfect and stress-free storage!
11. Gift Wrap Storage
Wrapping presents during Christmas time can become a huge task. This gift wrap storage station has the ability to make that task go smoothly. There won't be any hunting around your house for any gift tags, because they'll be easy to find with this storage solution.
Putting the Christmas tree away can be quite a task, especially after an exhausting holiday season. This might make your tree easier to put away and then put up again when you need it next. It's worth a try when January rolls around and you just want to finish the holiday cleaning!
13. Store Christmas Lights Around Coat Hangers
This one is so clever! Keep your Christmas lights neat and tidy when you're not using them, try this out. Simply using a coat hanger lying around the house, wrap your lights around it for simple storage. Use the top part of the hanger to label each strand of lights to make putting them up again an easy task as well.
It's almost Christmas card season! Soon enough you'll not only be receiving a ton of Christmas cards, but you might also be sending a lot out. This card organizer will make it easy to find the perfect card to send to your family and friends.
Are your wrapping paper tubes cluttering up a corner of your closet? This can be the answer to freeing up that space. With an over-the-door organizer, it won't be laying around somewhere taking up precious storage space. It will also make picking out which paper to use so much easier.
16.
Label Your Decorations
Sometimes storage solutions can be as simple as making sure everything is labeled to keep things organized. Use some leftover gift tags for making little storage tags. When you're looking for those specific ornaments or colored lights next year, they'll be easy to find.
A ribbon can easily become a mess or tangled if it's just thrown in a drawer. Using this easy slotted bin storage will make your ribbon not only organized but easier to use as well! Simply pick the ribbon you want to use and pull.
Christmas ornaments can range from simple bulbs to family keepsakes. Either way, you're sure to want to keep them safe and unbroken when they're not hanging on your tree. Simply using some plastic cups is a simple way to keep ornaments from bouncing around or being broken.
19. Wreath Storage
Keep your Christmas wreaths in perfect condition for the next holiday season by placing them on a hanger and covering them with a bag. This will keep your favorite wreaths from getting crushed or becoming dirty.
Wrap gifts anywhere in your home with this portable gift-wrapping station. Everything you'll need minus the actual gift and gift wrap will be in this container, making it easy to find that perfect ribbon or gift tag. Not only will it be easy to find, but you could also put this together in no time at all.
With all of the Christmas cards your family receives from relatives and friends, you may want to save some special memories or letters. These little books make saving those memories easy. It will also make them accessible if you wanted to look through them year after year.
Check out more great holiday ideas: