18 Christmas Handprint & Footprint Crafts
Table of Contents
These Christmas Handprint and Footprint Art ideas make adorable crafty gifts. What little boy or girl doesn't love sticking their hands in something colorful and messy in the name of art?! Unleash their inner artist with these fun ideas for Christmas Handprint and Footprint Crafts. There are plenty of cute ornament ideas too, like the Handprint Snowmen, Baby Footprint, Salt Dough Santa Hand, and Reindeer Christmas Cards and Ornaments. The kids will love helping you create homemade decorations for your Christmas party with these ideas!
---
See Also:
---
Fun for kids and easy for adults to pull together, this handprint reindeer craft is the perfect choice for Christmas! Plus, the supplies can easily be found at the dollar store.
Handprint and footprint crafts definitely carry sentimental value! This painted placemat table runner incorporates both and is the perfect gift for parents and grandparents. Snowman feet and handprint trees? Adorable!
If you need a quick and personalized gift for a loved one, this handprint snowmen ornament idea is adorable! It's definitely a keepsake!
There is nothing quite like a baby's first Christmas! This baby footprint ornament made from clay celebrates that special first year and is a great gift for special relatives.
A child's foot, a little brown paint, some google eyes, and a red pom pom nose later and you've got yourself one darling reindeer footprint! Cut them out and turn them into awesome gift tags!
No need to spend a lot to have a meaningful gift! These reindeer Christmas cards and ornaments are big on the heart, but low on spending!
7. Handprint Angel Craft
Relatively mess-free, this handprint angel craft doesn't require paint! Simply trace your child's hands-on paper prior to cutting them out, and add some additional paper details, as well as a hand-drawn face.
8. Holiday Handprint Charms
These holiday handprint charms use Shrink Plastic and are easy to create with just a few supplies. They make perfect ornaments for decorating your tree and also work as charms for necklaces and key chains!
Go green for this Grinch handprint craft! Coat your child's hand with green paint and stamp it on paper before adding in some Grinch face details with markers!
10. Thumbprint Christmas Lights
No electricity is required for these Christmas lights, just some paint, thumbprints, and paper! Kids will love dipping their thumbs in a variety of paint colors to create a festive strand of Christmas lights!
If the shape of these adorable penguins looks familiar, you probably realized they are made from children's footprints! This is such a great and inexpensive craft to do and makes a great gift!
12. Christmas Footprint Art
Add some Christmas footprint art to your holiday décor this year! A white footprint can easily be transformed into a snowman for a nice wintry scene.
Candy canes mean sticky handprints! What better way to decorate a plain white candy cane than with red handprint stripes?
14. Handprint Snowmen
A painted handprint with penned details can create a whole family of adorable snowmen!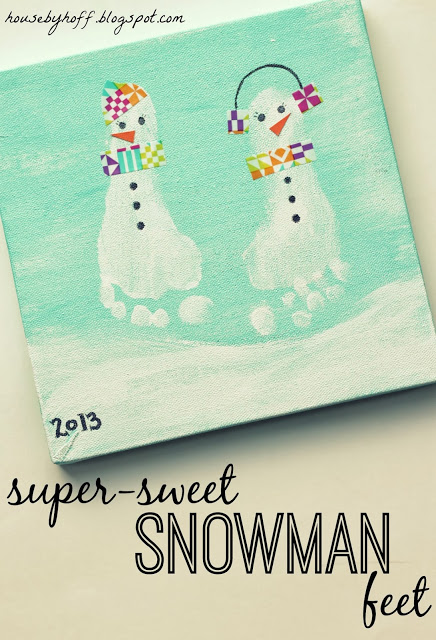 Make the perfect winter artwork by creating snowmen from painted footprints on canvas! Add cute paper or washi tape scarves for some extra cute details!
Create the perfect Christmas Eve scene for Santa with a painted footprint sleigh and the cutest thumbprint reindeer!
One thing is for sure, Santa looks good and made into a salt dough ornament! This cute idea proves that! Children will love transforming their handprint into a cute Santa ornament to hang on their tree!
18. Handprint Snowman Ornaments
These little handprint snowman ornaments are made on mini canvases and are the most adorable, sentimental works of art perfect for hanging on your tree!
Check out these great holiday DIY ideas to keep you and your kids busy: