11 Thanksgiving Handprint & Footprint Crafts
Table of Contents
Handprints and footprints are popular crafts for kids these days. A little messy, yes, but you create fun décor and you end up with sweet keepsakes. We've rounded up several witty ideas for Thanksgiving Handprint and Footprint Crafts. How great are these projects? Pretty fantastic, and they are perfect Thanksgiving dinner table décor as well as for gifts to family and friends. We are all for kids having fun projects where they stay busy and "gobble up" an enjoyable time with you!

See Also:
Teach your kids about the history of Thanksgiving while having fun painting and crafting with this adorable Handprint Mayflower craft. Your children's handprints get dipped in brown paint and then stamped on light blue construction paper. A few more creative paper details and their handprint is transformed into the magnificent Mayflower ship.
Thanksgiving just isn't Thanksgiving without a classing handprint turkey. Take a little twist on the classic craft using trendy burlap. Along with some cardboard, paint, dyed noodles, and construction paper, these sweet little turkeys make a beautiful addition to your Thanksgiving decorating and a cute keepsake for the future.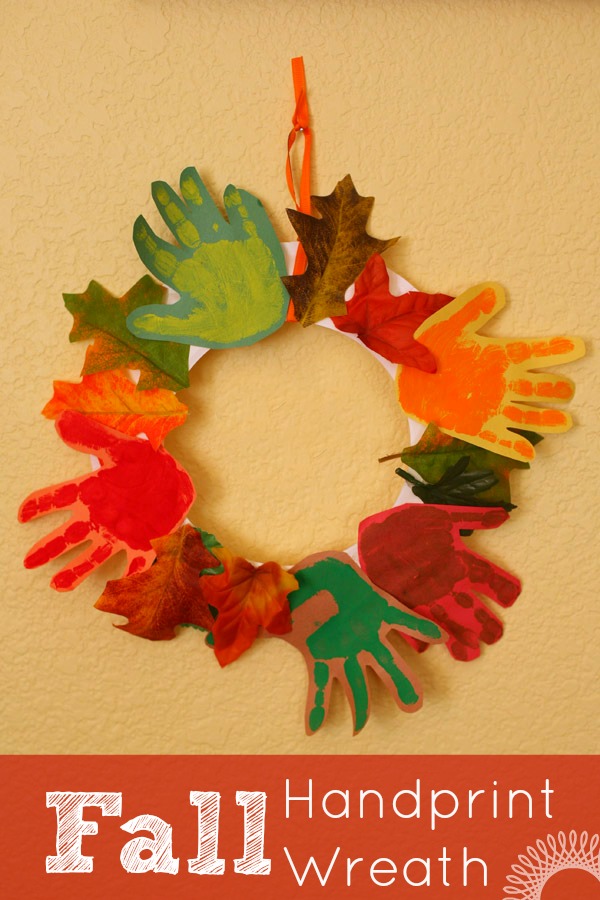 This fall handprint wreath is perfect for the multitasker or lazy decorator in your life. It works perfectly as a wall or door decoration for both Halloween and Thanksgiving. Help your little ones decorate a paper plate wreath with faux fall foliage and painted handprints cut out of construction paper in the best fall colors.
Another classic Thanksgiving craft that cannot be forgotten is the paper bag turkey. It's practically a tradition to make these in our house at the beginning of November. These paper bag turkeys are easy to make with an assortment of crafting materials you probably already have on hand. They would be fun to make with the kids before Thanksgiving dinner, too.
A few supplies you will need are kid-safe paint and a paintbrush, googly eyes, craft feathers, glitter glue sticks, glue, and scissors.
6. Hand Gobbler
A turkey a day keeps the doctor away, at least around Thanksgiving. Cut out your child's handprint using cardstock paper, then stand it up with wooden clothespin legs. Let your imaginations run wild with feathery decorations and googly eyes galore.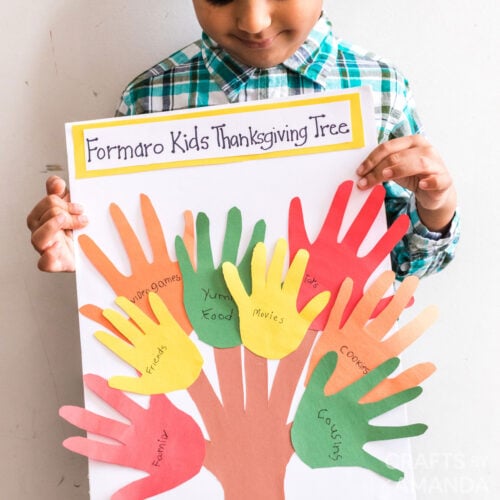 Just the mention of Thanksgiving conjures up a handful of wonderful family memories. Make more amazing memories and start a family tradition by making these Thanksgiving Trees as a family every year. Use the template to cut out the outline of a tree and several fall-colored leaves. Each family member is given a leaf to write down one thing they are thankful for.
8. Thanksgiving Cards
It is a whole family full of turkeys! Get your whole family together to make adorable keepsake craft perfect for gifting to grandparents and other family members on Thanksgiving. Trace everyone's hands in an accordion-style fashion, then add cute little details like beaks and feathers. These cards also work great as a table decoration.
The Gratitude Tree makes an adorable keepsake or gift, and it is the perfect activity for Thanksgiving. Three handprints make the perfect tree branches full of leaves, then every branch gets decorated with words representing what your child is thankful for. This craft also doubles as a great character lesson. Teach kids about thankful, loving words!
Create these cute little toe print acorns with your kids for a Thanksgiving keepsake craft that you will cherish every autumn for years to come. A little bit of brown paint and creativity can go a long way. Decorate two brown paint toe prints with some acorn hats and turn the page into a beautiful oak tree. This craft is fun and kid-friendly.
These little guys are absolutely adorable, making a perfectly festive place card holder or homemade decoration for Thanksgiving. A recycled toilet paper roll gets spruced up with the help of patterned scrapbook paper, some googly eyes, handprint feathers, and an adorable message sign. Start collecting your toilet paper rolls now!
Create a festive and fun kid's party with these great ideas full of inspiration: