Cute Thanksgiving Crafts For Kids
Table of Contents
Before we know it, Thanksgiving will be here! Whether you're entertaining with a Thanksgiving dinner party or you just want to add Thanksgiving decorations around the house, we've found some great ideas that will get the kids involved in creating new holiday crafts. Want more ideas? Don't miss these Free Thanksgiving Games, Crafts, Coloring Pages, Decor, and More!

See Also:
---
What better time to make an adorable turkey craft with your children than at Thanksgiving? If you've got an old kitchen brush that is near retirement (we like to replace ours a few times a year), this dish brush turkey craft is a superior way to use a dish brush. (Who wants to wash dishes, anyway?) In addition to the brush, you'll need brown, red, and orange paper, googly eyes, yellow, red, and orange paint, scissors, and glue.
Kids love keeping busy with crafts during Thanksgiving meal prep. Tickle their fancy with these cute little gobblers. Creating pinecone turkeys using felt, feathers, and wiggle eyes sound like a whole lot of fun to us. Kids love to play with feathers. The kids can have fun gathering the pinecones on a nature walk earlier in the day.
What do you get when you layer two maple leaves together with glue, add a construction paper beak and tissue paper waddle, and finally complete the look with a pair of googley eyes? The answer is an adorable googley-eyed Tom turkey. Add this maple leaf turkey craft to your Thanksgiving plans. Your children will love crafting their own turkey.
Creating this colorful gobbler is definitely a multi-step process and involves a lengthier supply list than the first 3 Thanksgiving craft projects on this list. But, the cute factor when finished is definitely worth it. You can mount your finished turkey on the wall or door for a splash of witty seasonal décor. Start gathering the following supplies so you are ready for some awesome Thanksgiving crafting: Styrofoam discs, felt (brown, black, white, light grey, gold), paper twist (brown, red, orange, yellow, cream), chipboard, floral picks with wire, glue gun, glue sticks, heavy gauge floral wire, cardstock, letters, and templates.
Post-Halloween, you'll be excited to pull out your very own flouncy-tailed Thom the turkey tulle wreath to hang on your front door in honor of Thanksgiving, but first, you'll have to make him. This tutorial walks you through the process and includes all the supplies needed for this simple Thanksgiving craft. This little wreath is charming, and we all but guarantee that guests can't help but grin when they see Thom!
While you're busy finishing up preparing the big Thanksgiving meal, turn your little turkeys loose on this easy-to-assemble Thanksgiving craft. These paper bag turkeys are not only fun to make, but they are also fun to play with as puppets. Since no glue is used, this is one craft that isn't too messy. You'll just need brown paper bags, google eyes, crepe paper, crayons, tape, scissors, and cardstock.
If there is one item that signifies the fall harvest more than others, it just might be pumpkins. Now you can make a bunch of paper pumpkins for your fall and Halloween decorating and transition them straight into Thanksgiving too. Create an entire patch of paper pumpkins or just an armload. This paper pumpkin craft tutorial makes it easy, with very few supplies needed. Hang multiples from the ceiling or suspend a few in the window. Cute!
Pinecones, acorns, leaves, and a basic orange are the main supplies for this easy-to-make, kid-friendly Thanksgiving centerpiece craft. Wouldn't a flock of these look terrific on the kid's table? Round up the following supplies for a great afternoon of crafting with your children: yellow and red construction paper, pipe cleaner, oranges, googly eyes, pinecones, fall leaves, scissors, glue, and acorn caps.
Kids of all ages would appreciate a few extra sweets to take home. These turkey treats are a fun Thanksgiving craft to make for family and friends. They can double as a super cute decoration for your Thanksgiving table too. You can have them ready-made by following this easy DIY tutorial, or even use this as a day-of Thanksgiving craft to entertain the kids while you complete meal preparations.
Craft projects that recycle and even upcycle are particularly great. This pop-can tab turkey craft is especially clever. Pop tabs are used as feathers. You'll need to save 6 soda pop tops per turkey and gather acrylic paint, googly eyes, glue, scissors, paintbrushes, and various colors of craft paper (red, orange, white, and brown).
If you need an easy craft to dress up your Thanksgiving table, this is it. Just print, cut, and fold these free printable place cards. What could be easier? You can even involve your kids in the process so you can keep working on the Thanksgiving feast.
12. Turkey Placecard Holders
Popsicle sticks, paint, and scrap wood are all you need for these adorable turkey place card holders. Your children will especially love the excuse to eat more popsicles and save the sticks during the summer for this great Thanksgiving craft in the fall (or you can purchase craft sticks). If you don't want to make multiple of these cute little turkeys to use as place card holders, you can always just use them as decorations.
An adorable Thanksgiving craft to do with your kids this fall is these turkey napkin rings. Fabric feathers add color and pattern to your turkey's tail and your Thanksgiving table. Glitter added to his clothespin body adds a little sparkle. Your kids will love helping you select the fabric for these adorable turkeys.
Up the cuteness factor of your table décor this Thanksgiving with these 3-D pom-pom turkeys. Mini pom-poms make these fluffy turkeys almost as cute as real, tiny chicks. Simply download the turkey templates, print them, and cut them out. Follow the easy instructions to DIY your own little tabletop turkeys.
Kids will love getting out of the house to collect leaves for this leaf feather turkey craft. Although you could use artificial leaves for this project, just think how pleasant a preparatory hunt-and-gather nature walk would be. It's the perfect excuse to make some memories and a craft. You can even send out younger children with older children or another adult to collect leaves during the busy dinner prep time on Thanksgiving Day.
What can you do with all that leftover Halloween candy corn (a body can only eat so much!)? Might we suggest making this cheery candy corn turkey? Doesn't the candy corn make perfect turkey feathers? You'll only need a few additional supplies—brown, yellow, red, and orange paper, googly eyes, scissors, and glue. Happy crafting!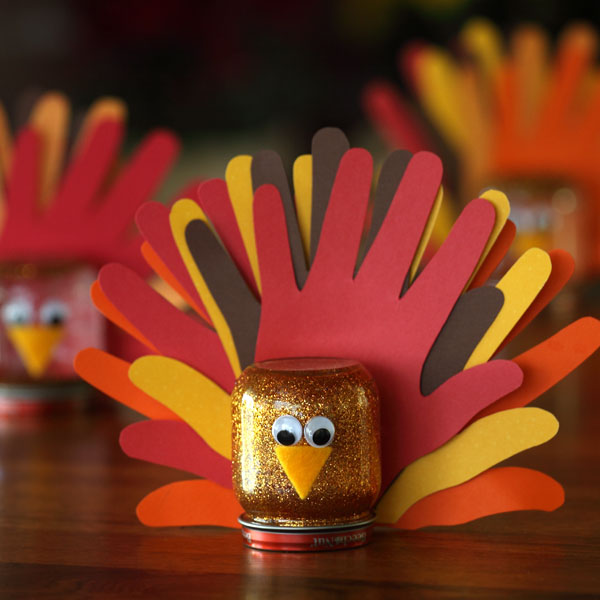 Kids of all ages will gobble up the fun of making their own turkey glitter globes. Not only does this project give participating crafters a glitter fix, but it's also a sweet keepsake for their parents. Add them to your Thanksgiving table as a festive decoration at each place setting.
Check out these great ideas for more party inspiration: