10 Jungle Safari-Themed Party Ideas
Table of Contents
Are you ready for an adventure? No passport or vaccinations are needed to explore these jungle safari theme ideas for awesome birthday parties. There's a wide range of moods represented in these celebration dessert tables; you'll find earthy animal prints in some or some happy sunshine and bright stars in others. Every one of them will inspire your choice of decorations, fabulous cakes, and fun party activities.
---
See Also:
---
Safari and jungle-themed birthday parties are the perfect excuses to pull out all of the fun and graphic animal prints in your arsenal. This blogger created an exotic escape right in their family's living room with a neutral color scheme amped up with rustic elements and a darling dessert table. The perfect finishing touches included a personalized animal print banner and safari animal cake pops.
2. Jungle Themed 7th Birthday
What do you do when your child requests a safari-themed birthday party that is meant for a big kid? You check out this post filled with fun, age-appropriate ideas and deliver a party that is absolutely incredible. The dessert table at this party is stylish and has nothing babyish at all. A burlap table cover makes the perfect rustic décor, combined with animal print buntings and all kinds of tasty treats. We also love the safari sunset-inspired cake!
This orange, green, and blue safari party is filled with bright colors and clever details. The DIY fringed tissue paper backdrop looks fantastic and makes a wildly bold impression paired with neon animal print table runners. The impressive three-layer cake is the star of the show, featuring fun polka dots, zebra print patterns, and a full safari lineup. The other treats are not to be ignored either. Check out those awesome zebra print lollipops!
4. Walk On The Wild Side Safari
Lions and tigers and kids, oh joy! This jungle safari-themed birthday celebrated two birthday boys by transforming their home into a wildly fun party space. Animal prints and jungle green altered the everyday scenery and produced the most delectable dessert table a safari has ever offered. The dessert table is decorated with wood slab pedestals, safari animal-themed treats, burlap-wrapped water bottles, and a watering hole with jungle drinks.
Just look at all of the wonderful details in this monkey-themed jungle party for a little one's fifth birthday. The dessert table is perfectly decorated with a vibrant and fun background, fake palm leaf accents, and a wonderful array of monkey-themed treats. Crepe paper vines were hung from the ceiling and decorated with more palm leaves and hanging monkeys and each table featured paper palm trees.
Bring the zoo to your animal-loving little ones with this jungle-themed first birthday loaded with magical details that bring the theme to life. Personal touches like a birthday banner with the birthday girl or boy's name, gift bags for guests with fun animal masks, and cupcakes topped with beautiful fondant animals add to the fun. We also love the impressive and amazing balloon animal centerpieces decorating each table!
7. Safari Themed 1st Birthday
This first birthday party is certainly something to roar about! It is a jungle safari party full of color and clever details made by mom. Party decorations are perfectly coordinated to produce a lively visual treat featuring the most amazing cake right in the center. The dessert table is also sure to grab your guest's attention decorated with a bamboo backdrop and papier mache animals roaming the table.
Pale blue and green are adorable color combinations for this jungle-themed first birthday party filled with beautiful décor details. The dessert table is decorated with lush greenery and a variety of yummy treats, as well as an amazing three-tiered cake! You can find cute fondant snakes curled up on top of cupcakes, iced lion manes on cookies, candy bananas displayed along with animal print lanterns, and much more.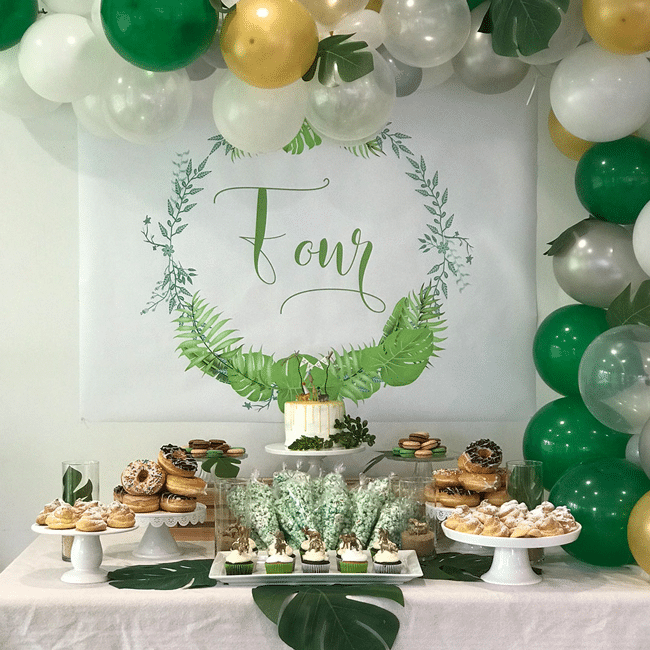 Cristy did this party for her own son's first birthday. Find cheerful orange throughout the fun celebration with cute treats and a darling cake.
Aqua blue, lime green, and chocolate brown make the perfect color combination for this sweet jungle-themed baby shower. The wonderful dessert table is full of special and colorful details including fun polka dot balloons, lollipops decorated to look like babies, and chocolate-dipped marshmallows with green sprinkles! The table centerpieces are also an adorable addition, with wide ribbon bows and the cutest animal cutouts.
Check out more great fun-filled birthday party themes you will love: