TODAY: Get My No-Fail, Lazy Summer Cookbook for 60% OFF!
You'll love how easy these sweet little cupcakes are to serve and customize with different toppings.
Impossible pumpkin pie cupcakes pack all the pumpkin pie flavor into individual servings. A delicious mashup between pumpkin pie and a cupcake, these are a perfect dessert for the holidays, a special dinner, or anytime just to fulfil that pumpkin spice craving.
Speaking of pumpkin, you'll also want to check out our recipe for everyone's favorite Pumpkin Roll or our super yummy No-Churn Pumpkin Ice Cream. As much as we humans love our pumpkin foods, it's also a healthy treat for our canine friends as well! Let you dogs in on the fun by whipping up a batch of Pumpkin Dog Treats.
---
MORE CUPCAKE RECIPES:
Abominable Coconut Cupcakes | Carrot Cake Cupcakes
---
Ingredients For Impossible Pumpkin Pie Cupcakes
You will need:
1/2 cup all-purpose flour
1/8 cup cornstarch
1/2 tsp baking powder
1/2 tsp baking soda
2 tsp pumpkin pie spice
1 15-oz can pumpkin puree
3/4 cup evaporated milk
3/4 cup sugar
2 large eggs
whipped cream and cinnamon for topping optional
SUBSTITUTIONS AND ADDITIONS
Canned Pumpkin Pie Filling: You can use this instead of pure pumpkin puree, just eliminate the pumpkin pie spice from the recipe. Do be aware that the spices in the canned pumpkin pie filling may be different than what is called for in this recipe, so the taste of the finished cupcakes might be slightly different.
Pumpkin Pie Spice: You can mix up your own spice mix instead of using pumpkin pie spice. In a small bowl, combine 3 tbsp ground cinnamon, 4 tsp ground ginger, 3 tsp ground nutmeg, 1 tsp ground cloves, and 1 tsp ground allspice.
Nutmeg: Nutmeg is one of the ingredients in pumpkin pie spice, so you might want to add just a tiny dash to the top of your cupcakes. You can do this instead of topping with ground cinnamon, or along with the cinnamon.
Ice Cream: While most people top their pumpkin pie with whipped cream, some love a scoop of vanilla ice cream. If this is you, try topping the pumpkin cupcakes with a scoop of vanilla bean ice cream right before serving.
Frosting: These cupcakes could also be treated like pumpkin pie muffins. In that case, add a drizzle of your favorite frosting and then a dash of cinnamon.
How to make this impossible pumpkin pie cupcakes recipe
STEP ONE: Preheat the oven to 350°F.
PRO TIP: It is important to NOT use a handheld or stand mixer for this recipe.
STEP TWO: In a medium mixing bowl, whisk dry ingredients (not the cornstarch).
STEP THREE: In another medium mixing bowl, whisk the wet ingredients (and the cornstarch).
STEP FOUR: Whisk the dry ingredients into the wet ingredients. Whisking only until the ingredients are incorporated, do not over whisk the filing.
STEP FIVE: You can line a cupcake pan with foil baking cup liners that have been sprayed with non-stick spray, or use only Baker's Joy spray. If you use plain paper cupcake liners, you must also spray with non-stick spray. The liners will stick if not sprayed.
STEP SIX: Pour filling into the prepared cupcake pan, filling each ⅔ full.
STEP SEVEN: Bake for 25 minutes.
STEP EIGHT: Remove from the oven and let the cupcakes sit in the pan for 20 minutes.
STEP NINE: Remove each cupcake from the pan (even if no liner was used) and place in the refrigerator for 1 hour. This extra hour is needed to ensure the cupcakes properly set.
STORAGE
IN THE FRIDGE: The pumpkin pie cupcakes will stay fresh in an airtight container in your refrigerator for up to five days.
IN THE FREEZER: Store the cupcakes in zip top bags or another airtight container and freeze for up to three months. Thaw completely before topping and then serving.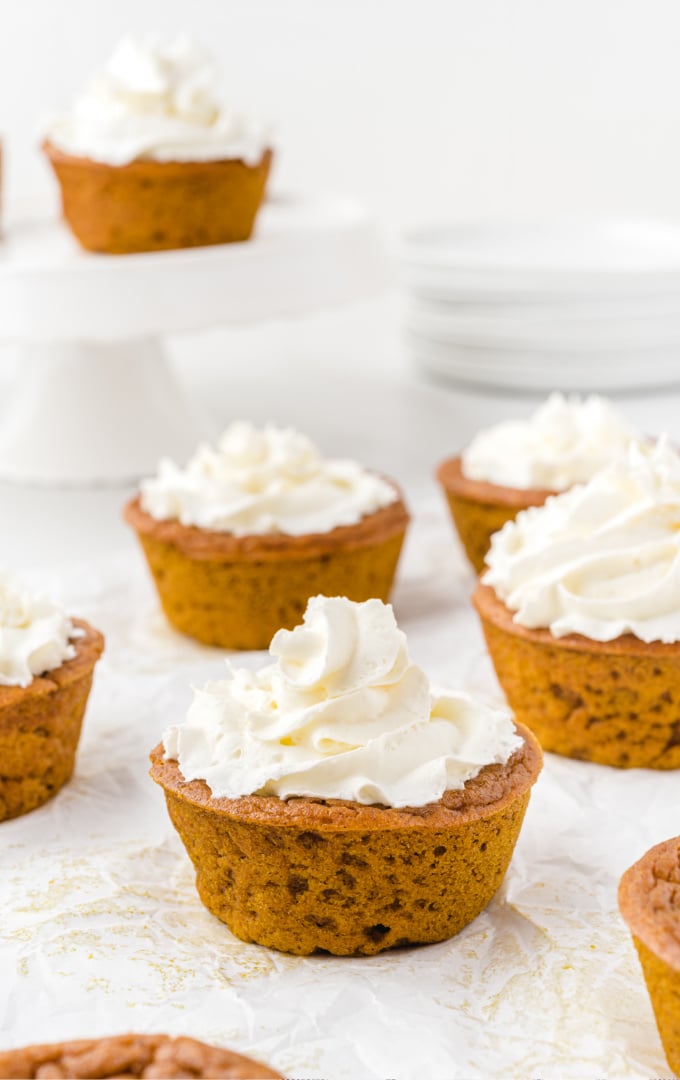 Impossible pumpkin pie cupcakes are the perfect pumpkin flavor filled dessert in an individual serving size that you can make in a snap. You'll love how easy these sweet little cupcakes are to serve and customize with different toppings.
MORE RECIPES YOU'LL LOVE
Impossible Pumpkin Pie Cupcakes
You'll love how easy these sweet little cupcakes are to serve and customize with different toppings.
Print
Pin
Rate
Ingredients
1/2

cup

all-purpose flour

1/8

cup

cornstarch

1/2

tsp

baking powder

1/2

tsp

baking soda

2

tsp

pumpkin pie spice

1

15-oz can

pumpkin puree

3/4

cup

evaporated milk

3/4

cup

sugar

2

large eggs

whipped cream and cinnamon for topping

optional
Instructions
It is important to NOT use a hand held or stand mixer for this recipe.

In a medium mixing bowl, whisk dry ingredients (notthe cornstarch)

In another medium mixing bowl, whisk the wet ingredients (and the cornstarch)

Whisk the dry ingredients into the wet ingredients. Whisking only until the ingredients are incorporated, do not over whisk the filing.

You can line a cupcake pan with foil baking cup liners that have been sprayed with non stick spray, or use only Baker's Joy spray. If you use plain paper cupcake liners, you must also spray with non stick spray. The liners will stick if not sprayed.

Pour filling into the prepared cupcake pan, filling each ⅔ full.

Remove from the oven and let the cupcakes sit in the pan for 20 minutes.

Remove each cupcake from the pan (even if no liner was used) and place in the refrigerator for 1 hour. (This extra hour is needed to ensure the cupcakes properly set)
Nutrition
Calories:
106
kcal
|
Carbohydrates:
20
g
|
Protein:
3
g
|
Fat:
2
g
|
Saturated Fat:
1
g
|
Cholesterol:
32
mg
|
Sodium:
81
mg
|
Potassium:
85
mg
|
Fiber:
1
g
|
Sugar:
14
g
|
Vitamin A:
91
IU
|
Vitamin C:
1
mg
|
Calcium:
57
mg
|
Iron:
1
mg