Homemade Christmas Ornaments Kids Can Make
Table of Contents
Do you have your Christmas tree up yet? We usually start decorating right after Thanksgiving! We love unpacking decorations and spending a great deal of time reminiscing about where they came from or who gave them as gifts. The homemade ornaments are especially dear.
See Also:
An easy DIY ornament, they just scream Christmas and we can only imagine how beautiful they would look hanging on the Christmas tree. All you have to do is melt some spare peppermint candies in fun Christmas shapes using metal cookie cutters! Be sure to save some candies for yourself too.
Aluminum cookie cutters are super easy to find around Christmas time. You can buy them in big bundles at Target, Walmart, and nearly any dollar store. After making your Christmas cookies this year, use the cookie cutters to make these beautiful cookie-cutter ornaments. Use them as a frame to display festive holiday scrapbook paper, favorite family photos, or even children's artwork. They would be great for personalized gifting as well!
Everyone has a collection of old raggedy t-shirts saved up at home. Now you can put them to good use with this wonderful tutorial for handmade jersey pom pom Christmas ornaments. These ornaments look great on the tree and make the perfect Christmas craft project for kids of all ages. It would be so fun to fill a mini tree with all pom pom ornaments. This project is fun. easy, and best of all budget-friendly.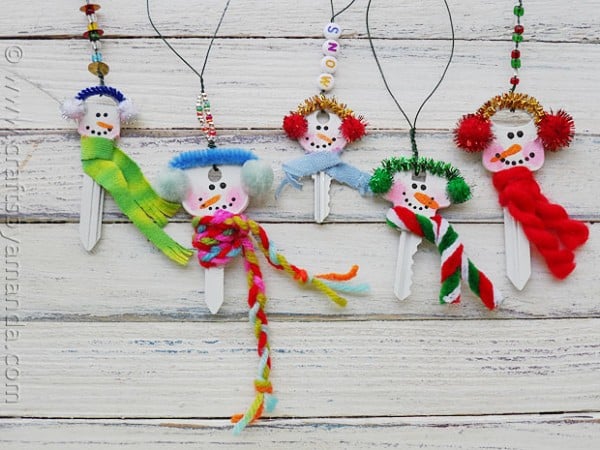 All those extra keys you have lying around now have a purpose. Instead of adding them to our growing landfills, turn them into festive snowman ornaments to keep or give as gifts! Simply paint the discarded keys all white and then add fun and festive decorations like pom-pom and pipe cleaner earmuffs, fabric scraps or yarn scarves, pink paint cheeks, and a beaded string to hang on the Christmas tree.
This tiny little cork snowman ornament only requires four simple supplies but adds the perfect amount of festiveness to a Christmas tree or holiday package. All you need is a recycled cork, some basic craft paint, a picture hanger from the hardware store, and a length of twine or ribbon. With a few crafty touches and you will have created this adorable Christmas ornament. We also think it would be beautiful to use as a gift tag on Christmas presents.
Take your regular ball ornaments to a whole other level with this fantastic tutorial for Reindeer Thumbprint Ornaments! A little craft paint, ball ornaments, a permanent marker, and some tiny thumbs are all you need to help children make a keepsake ornament for recipients to enjoy for years to come. Any grandparent, teacher, or family friend would love being gifted this ornament around the holidays.
These giant ornaments are made up of affordable repurposed elements and still pack a big visual punch on your mantle or front porch.
Help your little ones develop their fine motor skills and practice hand-eye coordination with this fun and beautiful Christmas craft from True Aim. Dip into your craft cupboard to use up old beads, stringing them onto crafting wire to create a spiral Christmas tree ornament. Bonus—it only requires beads, wire, and some ribbon or string to hang the final product!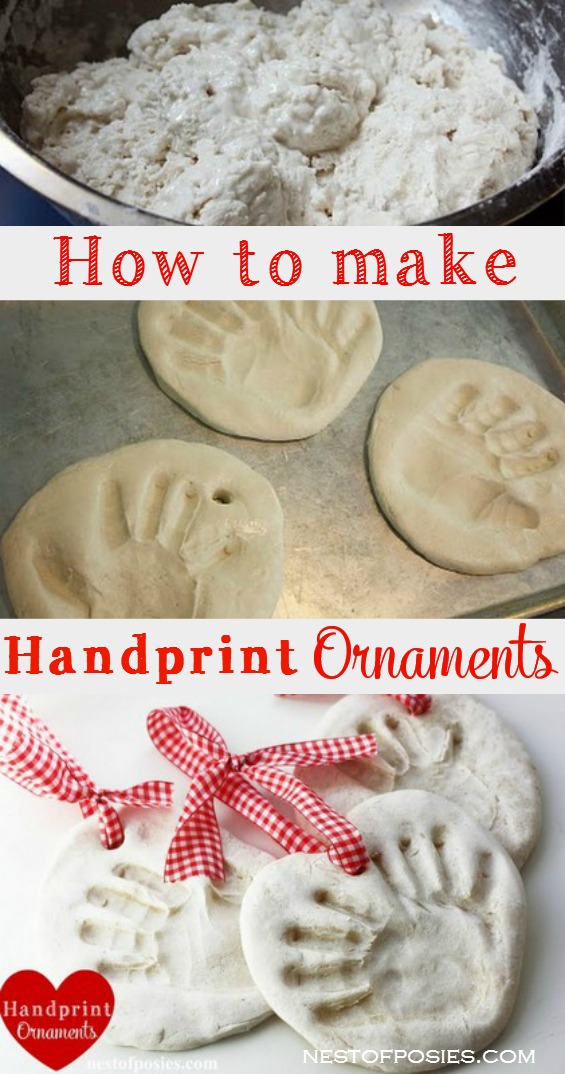 Handprint crafts are always our "go-to" near the holidays because they are fun to create and make the perfect thoughtful gifts for grandparents and other family members. Use a few common kitchen ingredients to help your children freeze their handprints in time with these sentimental salt dough handprint ornaments. A simple recipe and an hour of low-temperature oven baking will result in cherished memories for a lifetime.
We fell in love with these super sweet Rudolf the red-nosed reindeer Christmas ornaments the moment we laid eyes on them. They are super simple to create, even with younger children, and look so festive hanging on the Christmas tree. Clear glass ornaments get a reindeer makeover with the help of chenille stem antlers, acrylic paint eyes and nose, and a brown paper shred center!
Add a little "cowabunga" to your tree this year with Teenage Mutant Ninja Turtle Christmas ornaments! Kids would absolutely love making these to decorate a tree. , All you need to make them are some green glass ball ornaments, the appropriate colors of felt, and some fun googly eyes.
Create more holiday fun with these great ideas:
L