Curious George Themed Second Birthday Party
Table of Contents
Get ready to go bananas over this adorable Curious George birthday party, styled and photographed by Jessica from Live the Fancy Life. Planned for 2-year-old Miles, the son of Jessica's friend Lisa, it is full of modern details in happy shades of yellow and blue, inspired by the cover of a Curious George board book. Take a peek and let us know which detail from this Curious George birthday party is your favorite!
---
See Also:
---
Chevron and polka dots are artfully woven into the party decorations, many of which are pintables from Grace & Guy Paperie on Etsy. Just wait until you see the dessert table covered in treats. We're having a hard time choosing between the cake, cupcakes, and cake pops. They all look heavenly. If you look closely, you may even find evidence of Curious George and The Man with the Yellow Hat. This party boasts a super cute party favor idea and plenty of child-friendly activities for two-year-olds.
Putting a modern spin on a classic party theme didn't slow Jessica down one bit. She put a cute yellow table she already owned to good use as the foundation of the dessert table. Rows of overlapping tissue paper fans in blue and white from Shop Sweet Lulu provided a lovely backdrop for a table filled with a scrumptious assortment of desserts.
We can just imagine the excitement of little toddlers, wide-eyed and drooling over so many yummy choices, stylishly served up on clear chevron scrapbook paper from Archivers. Sleek and simple in style, the cake was kept white and mostly unadorned. A single paper circle bunting by Bee Buzz added a simple touch of flair. A modern party vibe often favors an understated, but intentional approach to decorations and party details.
Salted caramel cupcakes baked fresh by Nadia Cupcakes were dressed up in polka dot wrappers and accented with fun Curious George cupcake toppers from Two Sugar Babies. DIY pinwheels were a perfectly cute and whimsical topper for the mini cupcakes which came in two options —vanilla and lemon drop.
For an easy-to-hold option, carrot cake pops and chocolate peanut butter cake pops made by Jenn at Beyond the Bar Bakery were drizzled in color-coordinating candy melts and served on sticks, nestled in mini treat wrappers. Petite in size, guests could easily accommodate one in each hand. Knowing the never-ending thirst of two-year-old's, the refreshment table included color-coordinating cans of Jamaican lemonade spritzer. The striped paper straws, tagged with cute "Happy 2nd Birthday" flags added a sweet detail.
Bottled water was another child-friendly beverage choice. The personalized "Curious Miles turns 2" labels were a simple detail that reinforced the Curious George birthday party theme in a meaningful way. Toddler birthday parties are always more successful when age-appropriate party games and activities are included in the party plan. An art station for party guests was coordinated for this party and included canvases to paint, custom coloring sheets, and other thrilling goodies.
Party favors for this monkey-themed celebration were genius. To give guests the chance to share in Miles's love for Curious George, they received their very own Curious George board books. Tied up in ribbon and topped off with a cute personalized favor tag, they served as a fun reminder of the party theme.
"Curious Miles" received his own special book at the party's conclusion—a signed Curious George guest book full of birthday wishes from those he loves most—family and friends. What a fun keepsake for him to treasure for years to come.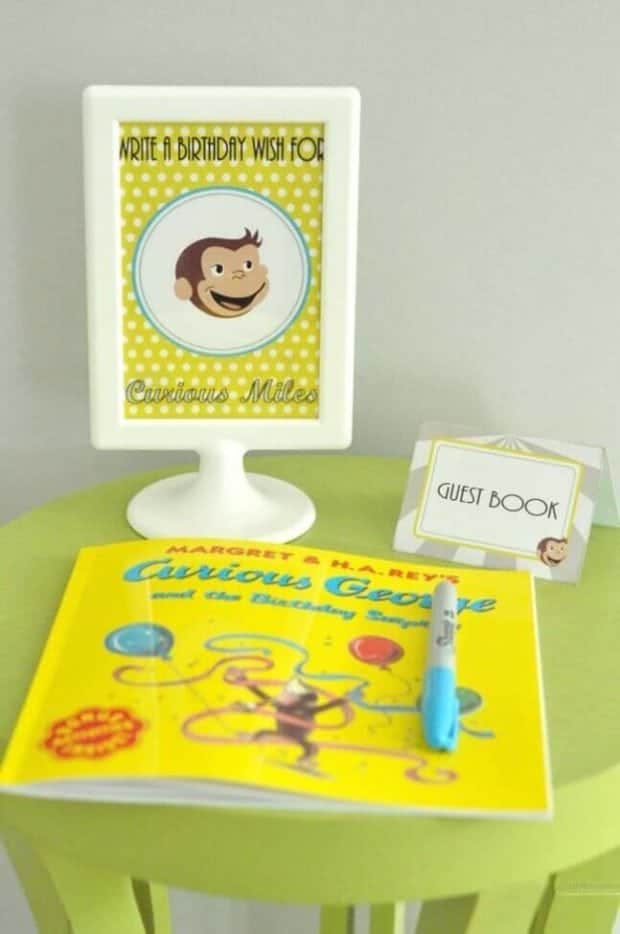 Is there anything better than the energy and excitement generated at a 2nd birthday party? We can't imagine a more joy-filled party for little Miles than this Curious George celebration!
Get more inspiration for great party ideas here: