Party Food
No Bake Pumpkin Pie Recipe
By
| Last Updated:
The countdown to Thanksgiving is on! Are you in a time crunch? I can help you with a fast pumpkin pie short-cut. Since you don't have to bake this pie, the oven will be free for bread and cookies and turkey and dressing and chestnuts roasting on an open fire. Wait—not that part! But this no-bake version is a great idea for a holiday party or dessert table. It just doesn't seem like a holiday without pumpkin pie in my book.
---
See Also
---
Some people love the holidays and some dread them. I'm in the first category and that's an extra blessing to be thankful for, I know. We always go to my grandparent's house for both Thanksgiving and Christmas. I love it! My parents and brother are always there and sometimes extended family members or friends share the day with us. No matter who comes, we always have a feast. I could happily make a meal on Nannie's homemade rolls alone…but then, who would eat all of this yummy pie? Happy Thanksgiving!
NO-BAKE PUMPKIN PIE
Ingredients
2 cups canned pumpkin
1/2 cup sugar
8 ounces cream cheese, softened
2-8 ounce containers of Cool Whip or other whipped cream
1 tablespoon cinnamon
2 teaspoons pumpkin pie spice
1 teaspoon nutmeg
1-3.4 ounce box instant vanilla pudding
1 cup milk
2 pre-made crusts
Top Layer
Mix pudding and milk and stir until thick.
Add 2 cups canned pumpkin.
Add pumpkin pie spice, nutmeg, and cinnamon. Stir until blended.
Bottom Layer
Add cream cheese, sugar, and half of one 8 ounce tub of whipped cream in a separate bowl and blend well with hand mixer.
Fill your pre-made crusts with the bottom layer mix and then add the top layer mix.
Refrigerate for at least an hour before eating so pies have time to set completely.
This recipe makes two pies and you will have extra whipped cream to either cover the top of each pie or use as needed/wanted.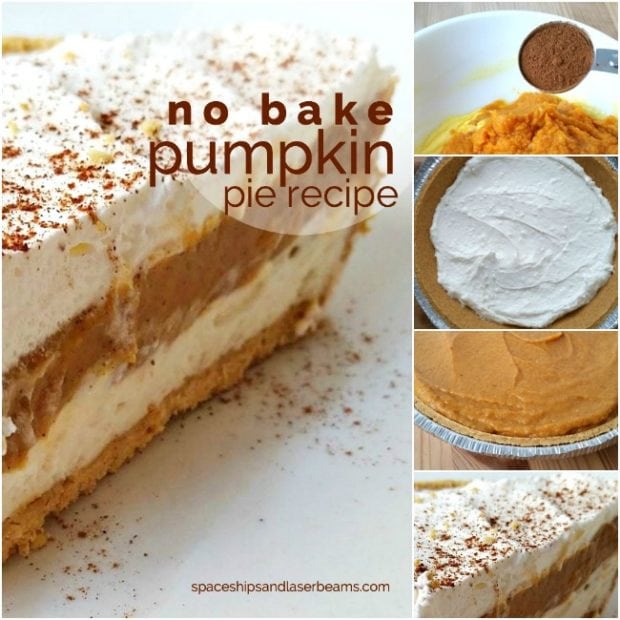 It's the perfect time of year to bake something sweet with these great sources gathered by the crew at Spaceships and Laser Beams.
Check out more tasty pumpkin treat ideas: